Slow cooker meal prep recipes will make getting healthy meals on the table during the week so much easier. In this post, I'm going to give you 5 super simple and smart ways to use your slow cooker for weekly meal prep.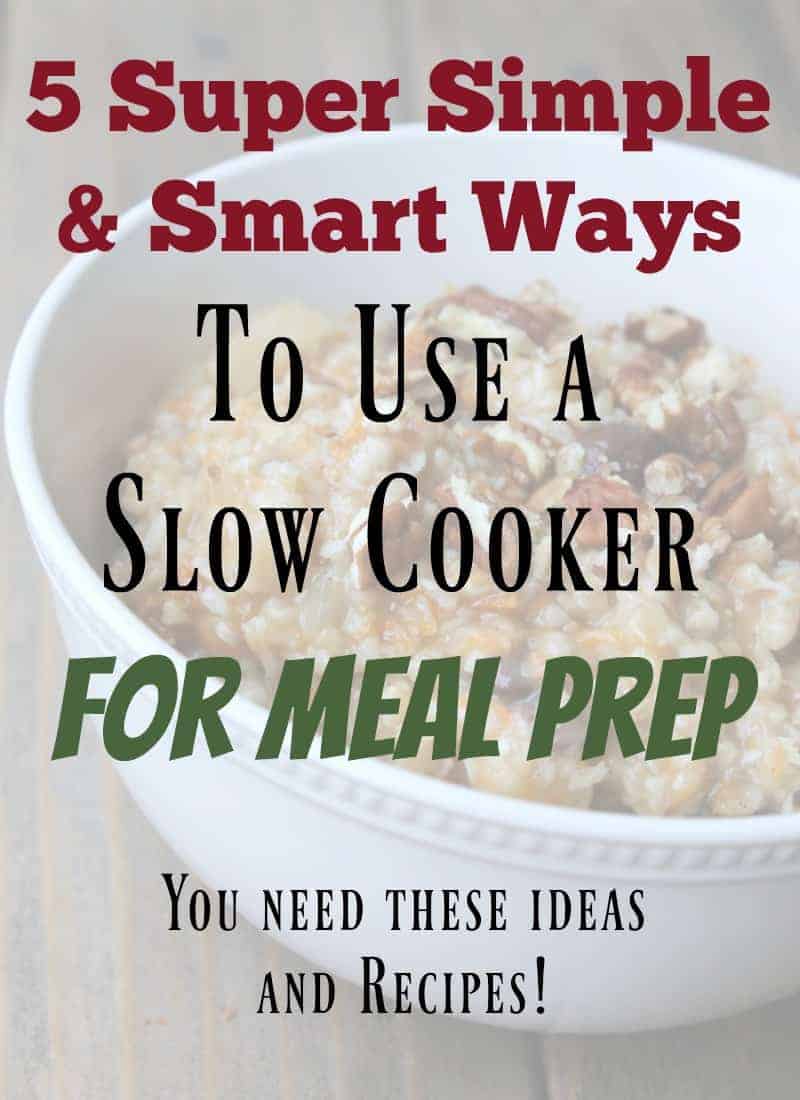 Right now Instant Pots are all the rage. I get it. They serve a lot of functions and work great for getting meals on the table fast. Instant Pots can also be used for meal prep. But what if, for whatever reason, you don't have an Instant Pot? That's right, not everyone wants a new small kitchen appliance. What if you all you have is a slow cooker and your good with that? I totally understand. Having an Instant Pot is nice but it's not essential for meal prep or eating healthy during the week.
Your trusty slow cooker is just fine.
Here are 5 ways I use my slow cooker for meal prep every week.
Slow cooker freezer kits.
I love making any kind of freezer kit, but slow cooker kits are one of my favorites. A slow cooker freezer kit includes most, or all, of the ingredients for a slow cooker recipe. Those ingredients are then frozen. If you're going to eat within the next couple days I reccomend storing the kit in the refrigerator.
Slow cooker freezer kits work great for meal prep for a couple reasons. First, you can make a bunch of kits in one day. I've made slow cooker kits for the entire month before. Let me tell you, there's nothing like opening up the freezer to grab dinner ready to cook.
Second, slow cooker freezer kits, like all kits, assure you'll have the the ingredients when ready to cook them. Think about the number of times you go to make a slow cooker recipe, or any recipe, and you're missing an ingredient. Prepping ingredients ahead of time into a kit solves that problem.
The one issue I've found with slow cooker freezer kits is most recipes are not dump and go. Even though that's what you come across most often on Pinterest. In my experience, many recipes call for browning the meat, sautéed onions or vegetables, or something of that nature. Of course some recipes don't need the extra work but I've found for the best flavor, when using a slow cooker, it's best to do a little prep work ahead of time. Good news, most prep work can be done prior to putting the slow cooker recipe ingredients into a kit. See this post with my best tips for preparing a delicious slow cooker meal every time.
Also, in my experience, kits cook much better when they are thawed out a bit prior to going into slow cooker. So, if I'm going to put one of my kits on our weekly meal plan then I make sure to take it out of the freezer a day or two beforehand.
Most slow cooker recipes can be prepped into a freezer kit in some way, shape, or form – it depends on the recipe. Even if it's simply putting the sauce together, or chopping the vegetables, any little bit will save time during a busy week.
Here are some of my favorite slow cooker freezer kit recipes.
Prep ingredients the night before.
Another way I love to prep ingredients ahead of time for the slow cooker is to do it the night before. Sometimes I don't have time to prep slow cooker recipes on the weekend, or make a bunch of freezer kits, so in this case I simply prep the ingredients, place everything into the slow cooker insert, and then put the insert into the refrigerator.
The next day, all I need to do is put the insert into the slow cooker and continue with cooking.
This is a great way to fit meal prep into your week even if you don't have the time, or desire, on the weekends. My advice is to prep the ingredients after dinner, so you're not making an extra mess, and clean up everything at once. Depending on the recipe it shouldn't take longer than 20 – 30 minutes to get ingredients ready for the next day. Trust me, you'll be a happy camper when all you need to do is turn on the slow cooker in the morning.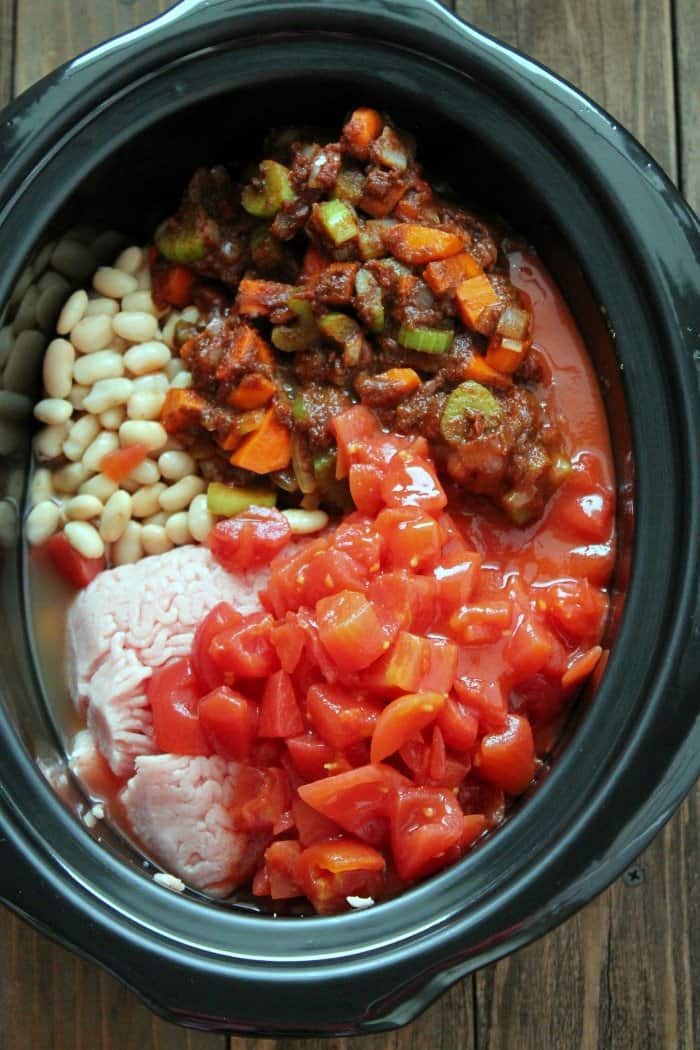 Prepare shredded chicken or other shredded meats for dinners during the week.
This is the most common way I use my slow cooker for meal prep each week. I love making big batches of shredded meat ahead of time. I don't know know about you, but handling raw meat during the week isn't really on my top things to do after work. I love having shredded meat cooked and ready for wraps, salads, pasta dishes, or casseroles. With most recipes, having the meat ready is half the battle.
Making shredded meat in the slow cooker is so easy. Most recipes call for a few ingredients and then it's hands off until it's done. You can work on other meal prep recipes while the meat cooks.
After it's done cooking all  you need to do is shred and store it. Most of the time I'll stick it in the fridge or portion out and freeze for future dinners if we're not planning on eating it right away.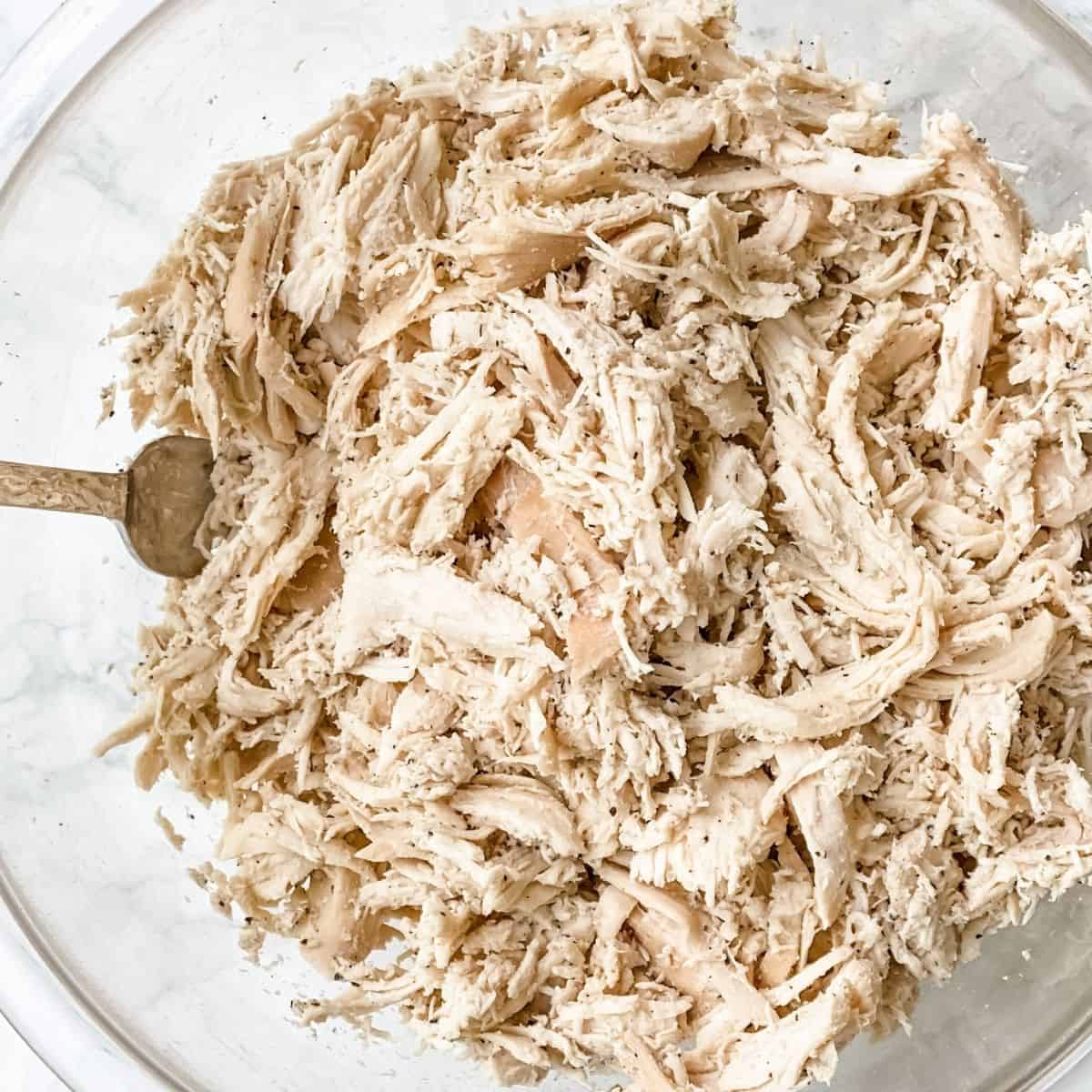 Here are my favorite shredded meat low cooker recipes.
Here's a post I did with recipes ideas for using shredded chicken.
Large batches of oatmeal to freezer and eat during the week.
Steel cut oats take around 45 minutes on the stovetop to cook. I don't know about you but I don't that kind of time during the week.
A super easy way I have oatmeal ready during the week is to make a big batch in my slow cooker on the weekends. Often, I'll make steel cut oats on Saturday so I can use my slow cooker for shredded chicken the next day.
It takes about 4 -5 hours and then keeps great all week in the refrigerator. You can also portion out and freeze for a quick breakfast later in the month. Here are some instructions for freezing steel cut oatmeal ahead of time.
If it's a struggle to eat a healthy breakfast then this could be a solution for you.
Here are my favorite slow cooker steel cut oatmeal recipes.
Make sweet potatoes
Sweet potatoes are a super food filled with TONS of nutrients. However, they take 45 minutes to 1 hour in the oven to cook. Again, during the week we don't have that kind of time…or patience. Making 4-6  in the slow cooker on the weekend is the perfect solution to have nutritious sweet potatoes ready to eat during the week.
Sweet potatoes keep great in the refrigerator and warm up nicely in the microwave or stove. In the past, a few readers asked about cooking sweet potatoes raw in the microwave. Personally, I don't like cooking potatoes in the microwave. They always take longer then I want and I don't think I've ever had one cook evenly. I much prefer to cook sweet potatoes ahead of time using a slow cooker and quickly warming them up during the week. Here are my instructions for slow cooker sweet potatoes.
I hope you find these slow cooker meal prep ideas and recipes helpful. When I first started to use a slow cooker all I knew how to make was leather chicken. Seriously, it was bad. Today, my slow cooker plays a very important role in keeping healthy meals on the table each week.
Get Instant Access to the 7-Day Getting Started With Meal Prep Email Series
Are you ready to learn how to meal prep? Awesome! Sign up now for a free 7-day Getting Started Meal Prep email series that I created exclusively for email subscribers! That's you. I will teach you my favorite meal prep methods and provide lots of delicious easy recipes to get you started with weekly meal prep. You got this, I can help!