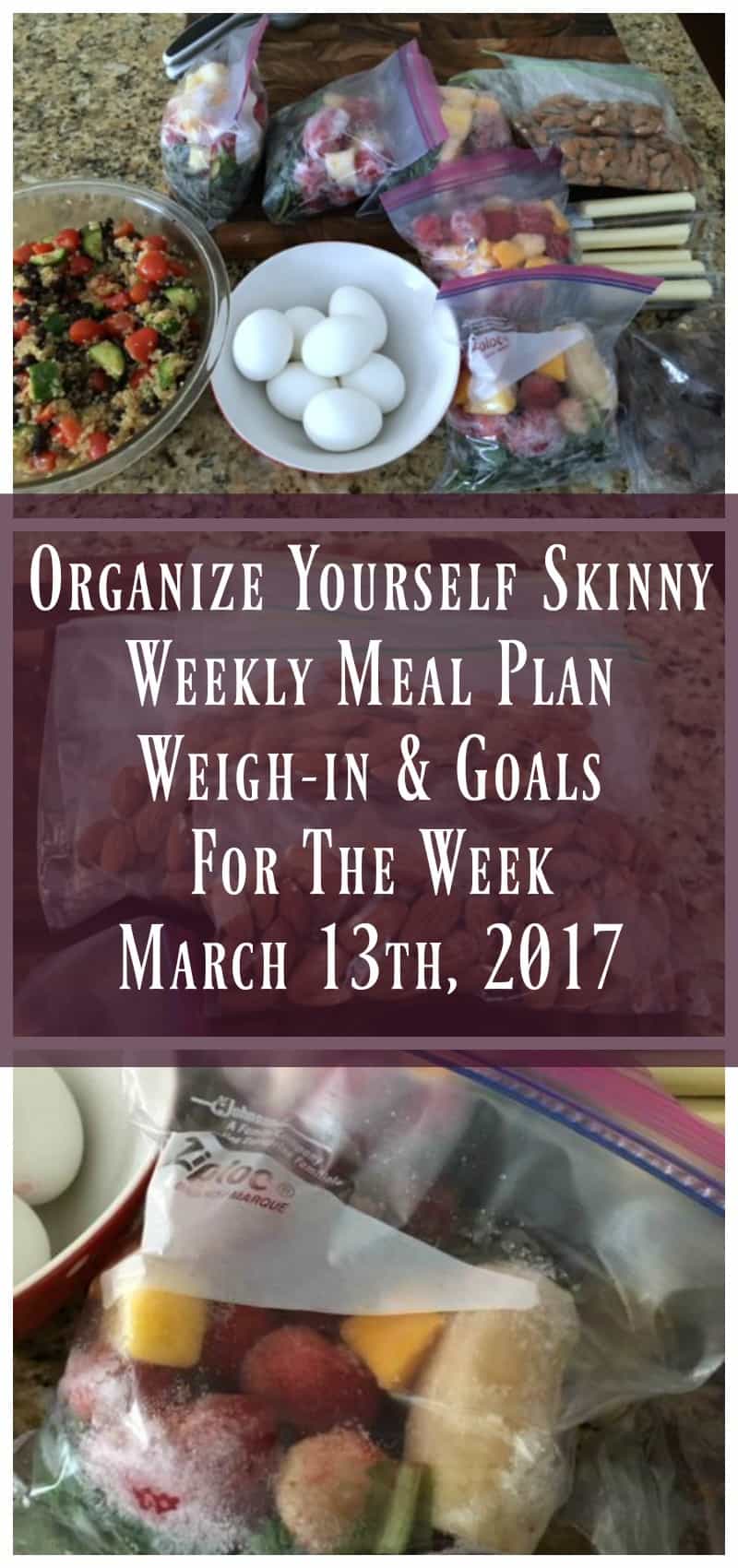 Hey there! I'm back with my weekly meal plan post where I also share my weigh-in and some goals for the week. Before I get to the goodies can I just say how much I don't like the spring forward time change. Guys! I.AM.A.ZOMBIE! Who knew that losing one hour could make me so exhausted. Now I'm not one for excuses but I'm definitely off my game today – I didn't even make it to the gym this morning. Ugh! I hate missing a Monday workout or going longer than 2 days without exercising but I'll be the first to admit that the couch won today.
Oh well, tomorrow is another day and I plan to give a little extra on the treadmill.
Alright lets get to my weigh in. Oh the weigh in.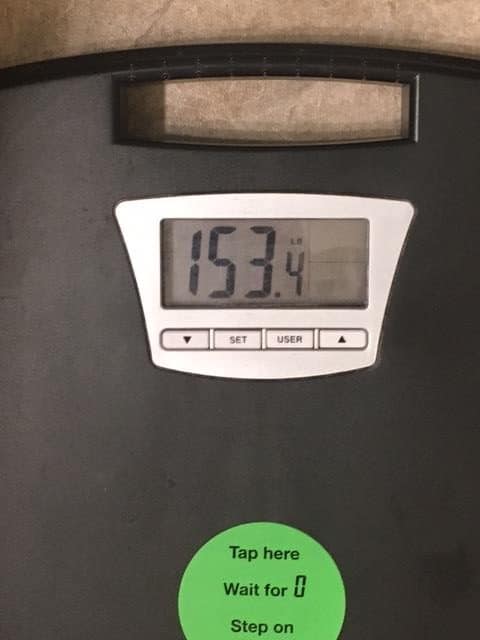 Weigh ins were so much more fun when I was in the low 140s. This week I did lose a pound but I wish it were more. My goal right now is to get below 147 which used to be the max weight I wanted to see on the scale. I'll get there.
Moving on.
I've been totally on point with exercise (well, except for today). Last week I got in 4 solid days of exercise and felt great!
But I got lazy with tracking.
6-years ago I was the food tracking queen! I stayed within my calorie range, religiously stopped eating by 7:00pm, and had much better control over my coffee habit. Now I do great for a few days, then get off track, do great for another day, aaannnndddd then head to Starbucks. I need to get into a routine and stay there!
However, I will say this. I may not be at my ideal weight but I feel great. Like really great! Exercise does something to my mood and brain that I don't get from coffee or food. I have a ton of energy and feel focused. It makes me happy.
The last couple weeks I've been developing an online course to offer on Organize Yourself Skinny. Let me tell you, this is quite the project. It will be a HUGE accomplishment when it's finally done but right now my assistant and I are in the trenches trying to piece it together. What I'm getting at is I need energy and to stay completely focused. Exercise has been key to keeping my brain in the game.
Okay, I'm getting off track. Back to my weigh in. I use my weigh to keep me accountable. It also prevents me from going into denial. However, I'm trying to focus more on habits and non-scale victories because it does get discouraging when there's not a larger weight loss.
My exercise schedule this week is:
Tuesday – 6:30am (45 minutes on treadmill and 20 minutes of toning exercises)
Wednesday – 6:30am (45 minutes on treadmill and 20 minutes of toning exercises)
Thursday – 8:45am (45 minutes on treadmill and 20 minutes of toning exercises)
Friday – 8:45am (45 minutes on treadmill and 20 minutes of toning exercises)
Sunday – 7:00am (45 minutes on treadmill and 20 minutes of toning exercises)
I took time today to prep some meals and snacks for the week. Also, I wrote out my business goals for the week and tonight I'm putting together a cleaning and laundry schedule. Schedules and routines make my life so much easier. Last week I literally wrote out exactly what I wanted to do each day (personally and professionally) and then just followed it like a map. I got a ton accomplished. This week I'm trying to do the same but I already feel off my game cause of this time change. But no excuses, I need to keep moving forward.
Let's go over my meal plan and prep.
For breakfast this week I'll finish up the detox smoothie kits. Also, I have the ingredients to make a spinach and feta oven omelet so I might make that tonight.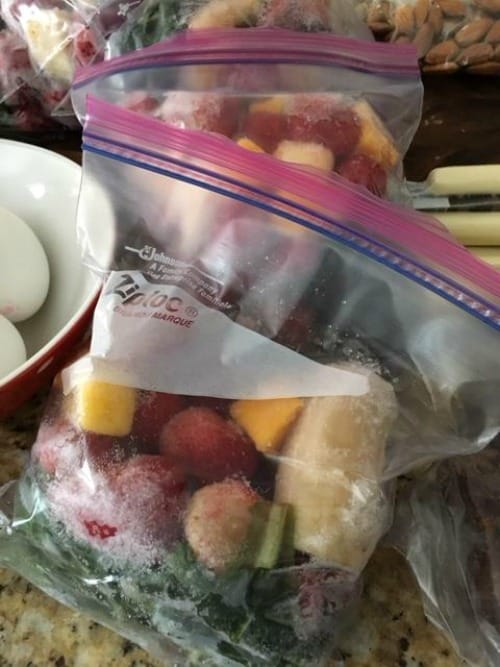 For lunch I made this delicious Mexican-inspired black bean quinoa salad with chili-lime dressing. I did make a few adjustments with the ingredients I had on hand. I'm looking forward to eating this! This should last me all week but if not I'll enjoy some Hello Fresh dinner leftovers.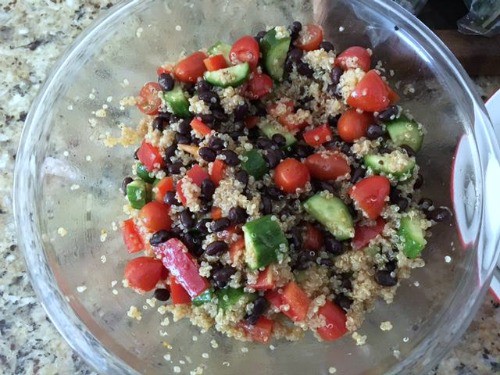 For dinners this week we have 5 meals from Hello Fresh. I'm a huge Hello Fresh fan. Now it doesn't work for everybody but it's been great for my kids and I. Even my oldest likes to try new the new recipes they send and she is a picky eater. My youngest is a little foodie so she tries it all. One of my favorite things about Hello Fresh is it introduces me to recipes and ingredients I would never think to make. Until Hello Fresh I never made cod, now I love it.
I did get 5 dinners but I made the lasagna-baked fusilli yesterday. Tonight I'm going to either make the cod or roasted chicken. I order the 5 meals for 2 people classic plan. This is more than enough food for my girls and I. It's perfect for 2 adults too.
Typically, I prep some Hello Fresh meals ahead of time but had no time or energy yesterday so I plan to make one meal a night.
For snacks this week I have a batch of cranberry almond white chocolate energy bites and dark chocolate cherry energy bites in the freezer. I also plan to have cheese sticks, raw almonds, hard-boiled eggs, and Siggi yogurts.