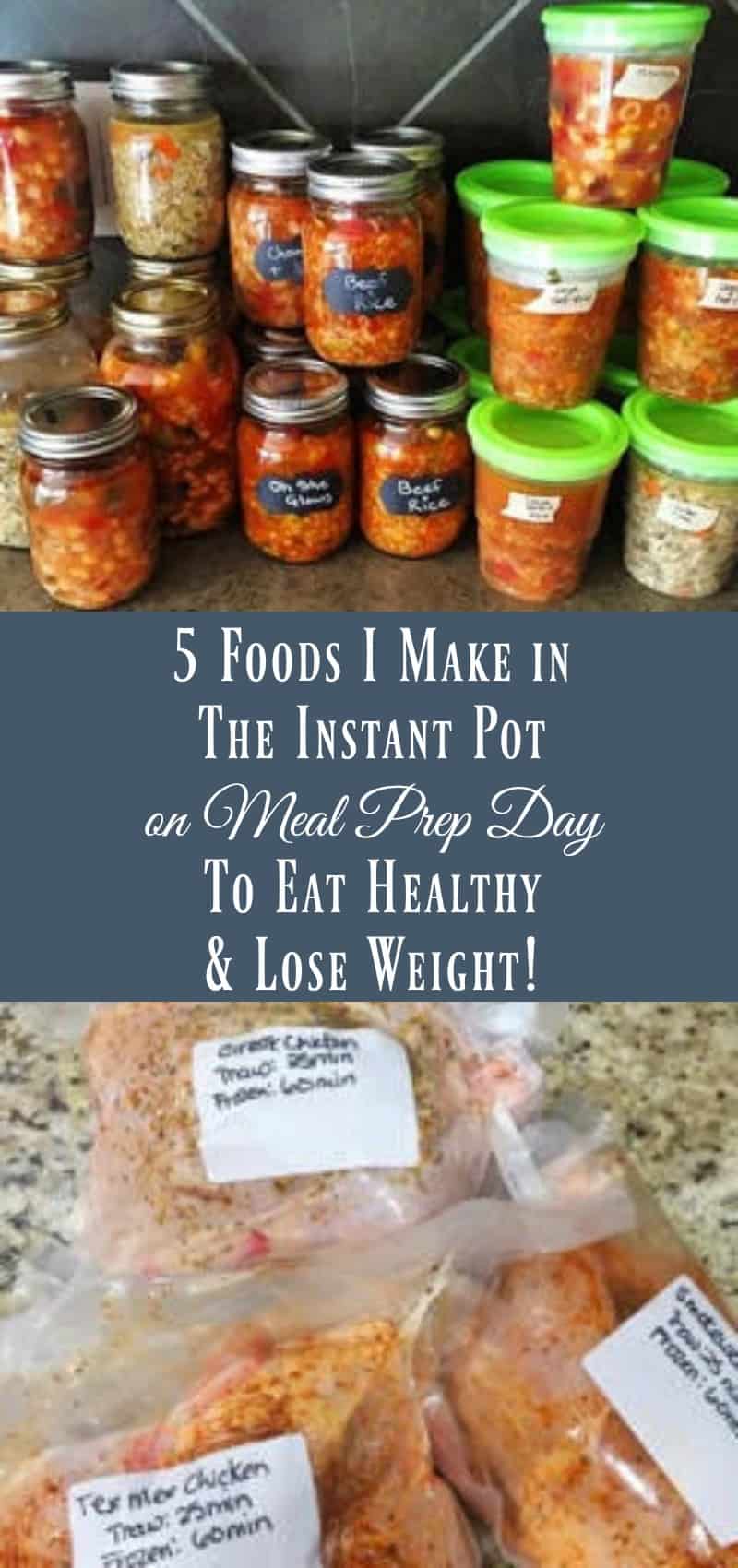 I'm so excited to introduce you to Steph from Confessions of a Meal Plan Addict! I found her on Instagram a few months ago and absolutely LOVED her meal prep posts! You can read more about her on the OYS Team Page. I know you're going to love what she brings to Organize Yourself Skinny. You can find Steph on her blog, Facebook, and Instagram.
---
If you haven't incorporated an Instant Pot into your once a week meal prep habit, you are late to the game!
I mean, the cheesecakes that everyone is making in the instant pot these days are cool too… but, I didn't meal prep myself skinny with cheesecakes! I did however, meal prep myself skinny and I use the Instant Pot as part of my successful meal prep habit.
Just like the appeal of the traditional slow cooker, the instant pot is a counter top kitchen tool (programmable pressure cooker to be exact), where you dump in all of your ingredients, walk away, and then return to a cooked meal.
But, with the Instant Pot, your meal is ready in under one hour, instead of after 4-6 hours.
I have incorporated the instant pot into my once a week meal prep routine because I have been able to find recipes that meet my recipe criteria:
A recipe must be able to be prepped ahead either raw for quick weeknight dinner cooking, or cooked in a large amount to be used in multiple meals throughout the week.
A recipe must be healthy – for me this means limited starchy carbs, sugar, fat, and additives. Bonus points if it is a lean protein.
Quick to cook – limited steps and pretty much dump and go.
After rigorous testing (that's a lie – just lots of eating), here are the top 5 ways I use the Instant Pot for my once a week meal prep habit:
#1. Whole Chicken.
A typical whole chicken is between 3-5 pounds which means it has a pressure cook time of about 25 minutes. The official formula is # pounds X 6 +2 = minutes of pressure cook time – but I find 25 minutes is a good rule of thumb.
Oh, your chicken is frozen solid? No problem, unlike slow cooking, you can cook directly from frozen in an instant pot. A whole frozen chicken takes 50- 60 minutes.
For prep ahead, add your seasonings of choice (garlic is encouraged), and store in a freezer ziplock bag, or use a foodsaver system. At your local bulk grocer you can get a 3 pack of chicken, season them, and seal them in under 10 minutes. That means you prepped 3 dinners in 10 minutes. Or… cook one on Sunday and set yourself up with shredded chicken for the week.
To cook, add chicken and 1 cup of chicken broth to your instant pot and set for 25 minutes.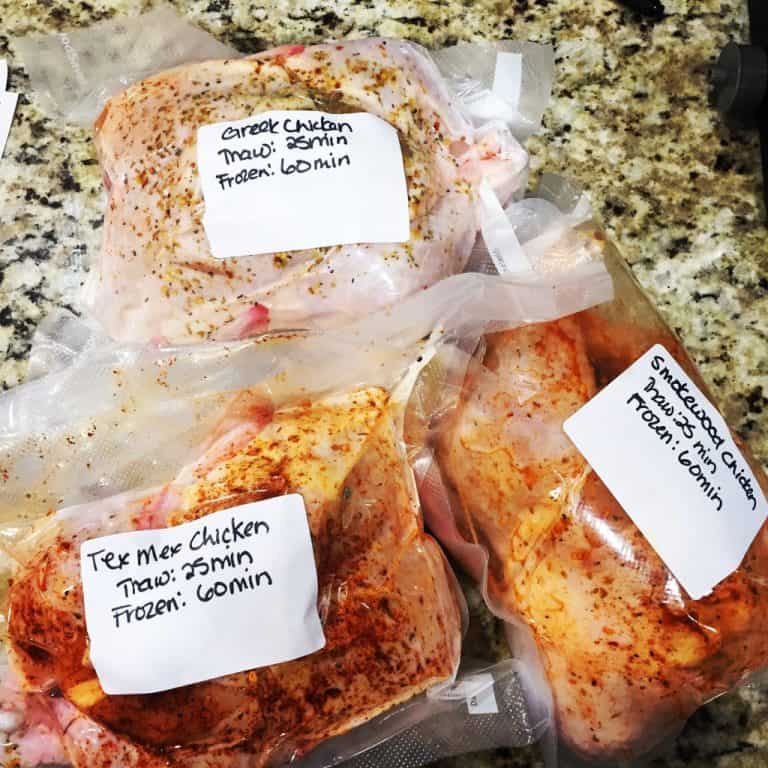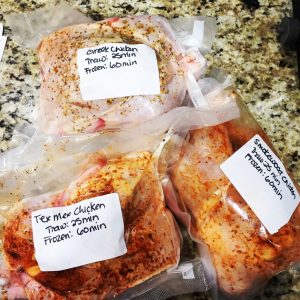 #2. Pork Tenderloin
Pork tenderloin has a 20 minute cook time in the instant pot and the sauce options are endless. Same simple prep applies to these. Pick up a multi pack from your local bulk grocer, put each one in a ziplock baggie, or foodsaver bag and toss with ingredients. When looking for pork tenderloin recipes for the instant pot, make sure there is at least 1 cup of liquid in the recipe so that the pot can come to pressure).
#3. Instant Pot Sandwich (or Salad Topper) Meat
I am always looking for make ahead lean proteins – and this is a weekly go to for me. When I am prepping my veggies on Sunday, I will pop a turkey breast into the instant pot while I chop. At the end, I have meat for OYS No Bread Roll Ups, salad topper protein, or regular old sandwiches (a husband go to!).
This is a great recipe to cook once on Sunday and then have a lean protein to add to meals throughout the week.
Full recipe here.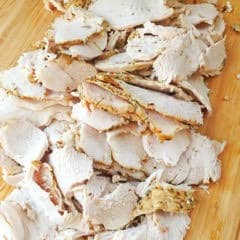 #4. Single Serve Freezer Soups
Soups are a great way to use your instant pot, and single serve freezer soups are one of my go to ways to prep lunch once and eat it for MONTHS!
With the instant pot, you get the flavour of all day simmering, in a fraction of the time. This means you can run through multiple recipes in a prep day and stock your freezer with lunch soups. If you get social, you can team up with a couple of friends that have instant pots, and get a couple going at once and divide up the fruits of your labour.
I did this with friends once and had lunch soups that lasted us all many months (because you likely won't eat it everyday).
Here are the soups we did in the instant pot and how we did this in an afternoon.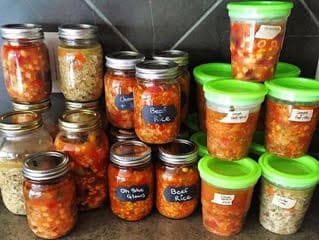 #5. All the Veggies!
I have to admit that the Instant Pot isn't the solution for all of my veggie cooking needs. Veggies that already have a quick steam time in my microwave steamer (broccoli and carrots) are not great instant pot veggies as there isn't really any time or quality savings using it. But, there are a few veggies in my life that only get made in the instant pot now. Those are:
Sweet Potatoes
Spaghetti Squash (in 7 minutes!)
Butternut squash
Beets (because Beet Blueberry muffins are breakfast life)!
The quicker cook times let me prep a whole heap of veggies in one afternoon and be ready for the week – or get veggies on the table after work in no time.
So, have I convinced you to jump on board with using your instant pot for once a week meal prep yet? Good. Wait until you see how to use the instant pot for FREEZER meal prep!
What are your instant pot questions?