If your week is just as crazy as mine, these Quick Healthy Dinner ideas are about to save your life! You guys know I heavily rely on meal prep dinners but sometimes, I just don't have the time to plan my week ahead of time. That's where these quick dinner ideas come in. You're welcome!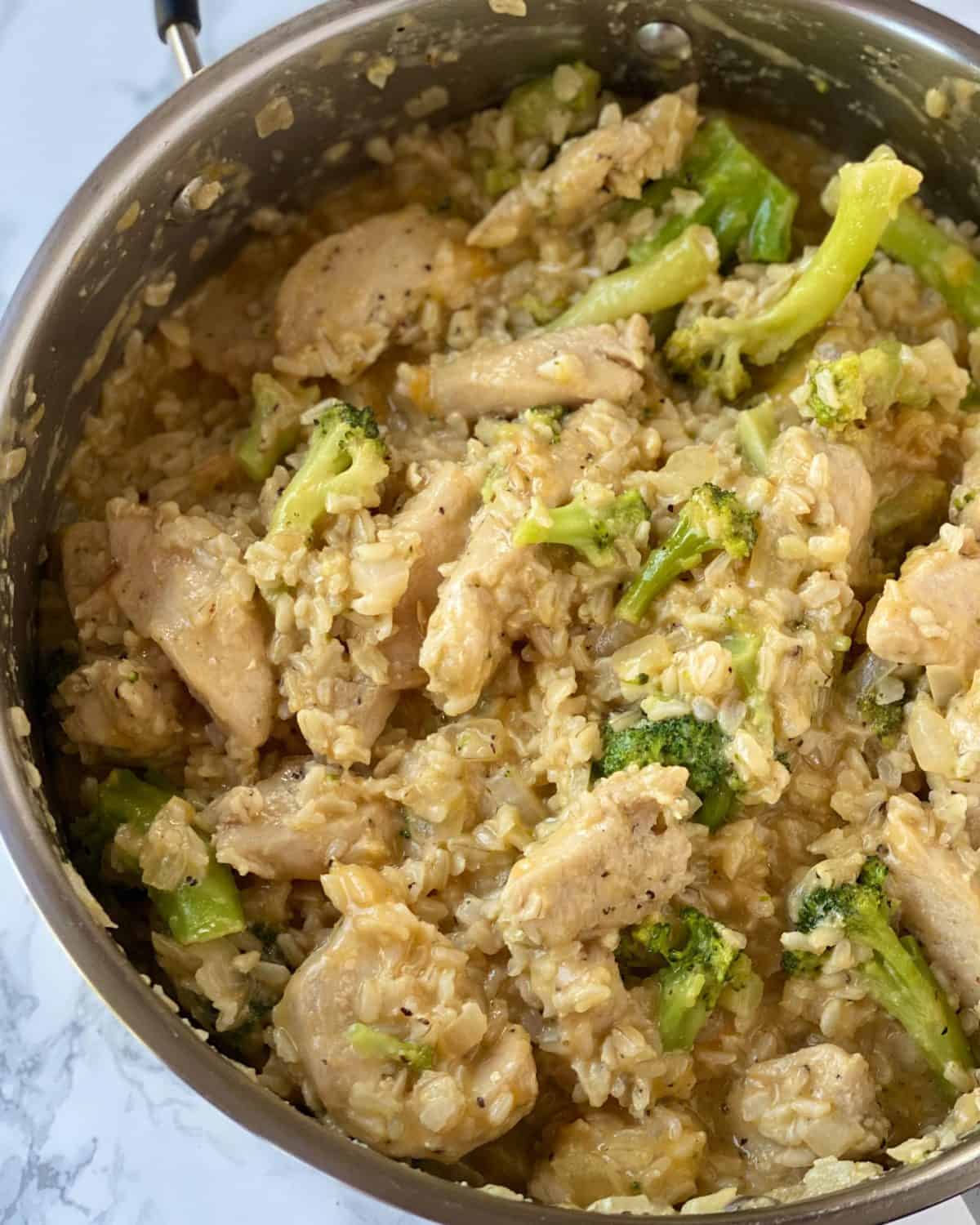 Meal prep has been a total game-changer for my lifestyle!
It helps me stick to healthy eating habits along with keeping weeknight chaos under control. Without weekly meal prep, I'd be a stressed-out, overwhelmed woman!
However, even though I sing the praises of meal prep, and am completely aware of the benefits it has brought to my life, there are still weeks where I'm not able to fit it into my schedule. Maybe I don't have the time, something came up, or I'm simply don't feel like it.
Either way, sometimes I find myself heading into my busy week unprepared with all of my meals.
How To Get A Quick Healthy Dinners On The Table
It usually isn't the end of the world with breakfast, lunch, or snacks – I can typically figure something out quickly and knowing that it won't get me off track. For example, I can throw together a bowl of oatmeal and some turkey roll-ups in just a few minutes, or I can pick up some of my favorite high protein snacks to get me through the day.
However, when it comes to dinner, I tend to panic a little bit more if I don't have meals prepared. My workweek is super busy and there's always something going on.
In the past, if I didn't have something on hand for dinner ready, it's usually ended with me calling the local pizzeria or making something quick and not very healthy (not that the kids minded 😑).
In fact, this is one of the reasons I packed on the pounds when I started working more. I was trying to juggle all of my kids, keep my house in order, and working a full-time job.
Just thinking about it makes the hair stand up on the back of my neck!
Fortunately, I've learned a ton since then.
Here are some of the things I do now when I don't have time to stock my refrigerator with healthy prepped dinners.
Purchase "Healthy" Premade Foods That Are Convenient
Listen, we all know that cooking from scratch is best. We can control the quality of our food when we can control the ingredients.
However, picking up a quick, convenient dinner at the store isn't what it used to be. Many companies have got on board with making healthier clean options that are quick and easy. So, there's no shame in the game!
If you don't have time to meal prep, then picking up some healthy "convenience" foods to get dinner on the table fast could be the solution you were looking for.
Here are some of my favorite foods to grab from the store when I'm on a time crunch:
Rotisserie chicken
Pre-made burgers
Marinated chicken
Pre-washed and cut up vegetables
Pre-washed bagged salad
Steam in bag frozen vegetables
Naan bread
Pita Bread (to make pita pizzas)
Boxed sides from Near East, Annies, and Eden's Organic.
I actually put a list together of my favorite healthy convenience food items that has even more options you can feel good about.
Dinner Ideas With Rotisserie Chicken
Sometimes grabbing a rotisserie chicken is all you need for a healthy dinner. Let me give you an example of some quick healthy dinners I love to put together with a rotisserie chicken.
Chicken Ceasar Salads – I'll grab a bag of washed chopped romaine, a bottle of caesar dressing, and croutons. I can have dinner ready in about 5 minutes.
Chicken Broccoli Alfredo – This one's easy! I'll pick up a bag of "steam in bag" broccoli, a jar of Rao's alfredo sauce, and a package of whole-grain fettuccine noodles. Cooking the pasta takes the longest but dinner is still on the table within 15 – 20 minutes.
Chicken Wraps – I'll grab some low-carb wraps, package of chopped salad mix, feta, and hummus. These wraps are on the table within 15 minutes.
Greek Chicken White Pita Pizzas – All you need is some pita bread, feta, tomatoes, spinach, and fresh mozzarella. I brush the pita bread with some olive oil and sprinkle crush garlic over. Then, I layer the rest of the ingredients and cook for 15 minutes.
Keep Your Pantry, Refrigerator and Freezer Stocked With The Basics
One goal of a healthy lifestyle is to be able to easily whip up a healthy dinner with items that are already in your kitchen. This means keeping your pantry and freezer completely stocked at all times.
Sure, running to the store to grab a rotisserie chicken and a few other things is great but who wants to do that every day? Not me!
Taking the time to grab a few extra food items while grocery shopping will come in handy on weeks where you don't have time to meal prep or do a big grocery shopping haul.
See my ultimate healthy pantry staples guide for all of my favorite pantry items.
Sheet Pan And One-Pot Meals For A Quick Easy Dinner
If I need to cook dinner during the week, you can bet it's going to be some sort of an easy sheet pan dinner or one-pot meal.
Sheet Pan Dinners.
These are great because all you need to do is throw a piece of protein and whatever veggies you have on hand onto a sheet pan. Add a little olive oil, salt, and pepper and that's it! Cook for about 45 minutes in a 375 or 400-degree oven and dinner is done.
Clean up is super easy too!
I just love how versatile sheet pan dinners can be. You can use any kind of protein you like (chicken, smoked sausage, shrimp, salmon, or steak) and add a hearty vegetable for a quick healthy dinner. These are so great for during the week when you want a homemade meal without all the fuss.
Here are some sheet pan dinners I have recently made: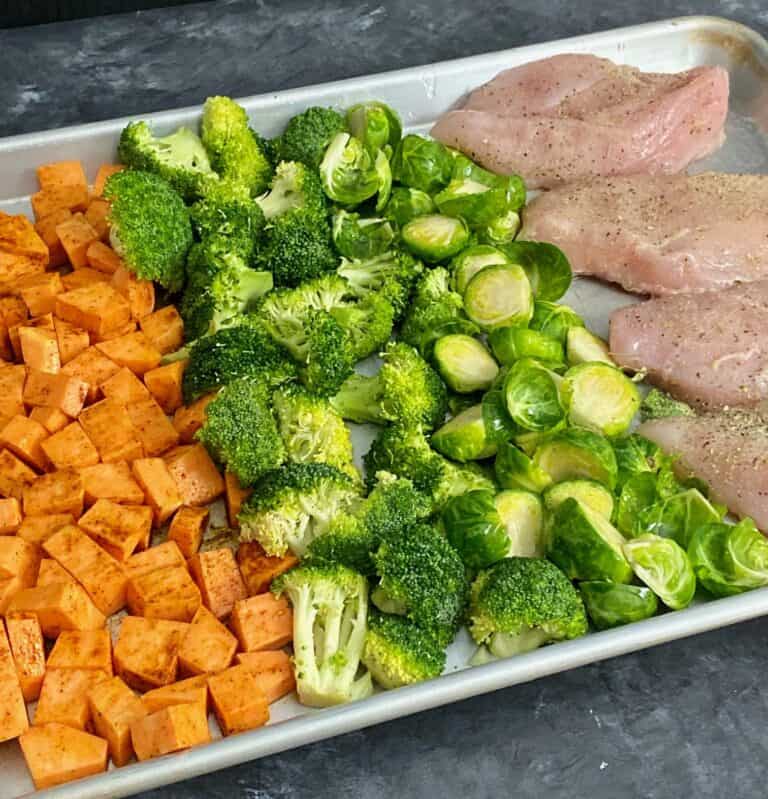 One Pot-Meals.
One-pot meals are not as hands-off as sheet pan dinners but they are still easy to make during the week for a quick dinner recipe.
Again, these are also really versatile. All you need is a protein, starch, and veggie.
Low carb option: You could make them without pasta, rice, or quinoa to keep it low carb. Just add more veggies!
Typically, I'll start by cooking up the starch (if using). Once that's cooked, I'll set it aside and use the same pot to cook the protein and veggies. Most of the time I'll stick to olive oil and garlic as the "sauce" but you can add any kind of sauce to the mix. Give it an Italian flair with red tomato sauce or go Asian with some soy sauce.
Here are my favorite one-pot meals:
Prepare Slow Cooker Meals The Night Before
Another great way to get a healthy dinner on the table during the week is by utilizing your slow cooker – especially slow cooker recipes that can cook all day and still taste good.
My advice is to get the slow cooker recipe ready the night before so all you need to do is get it started in the morning.
Dinner can be ready right when you walk in the door!
Favorite healthy slow cooker recipes: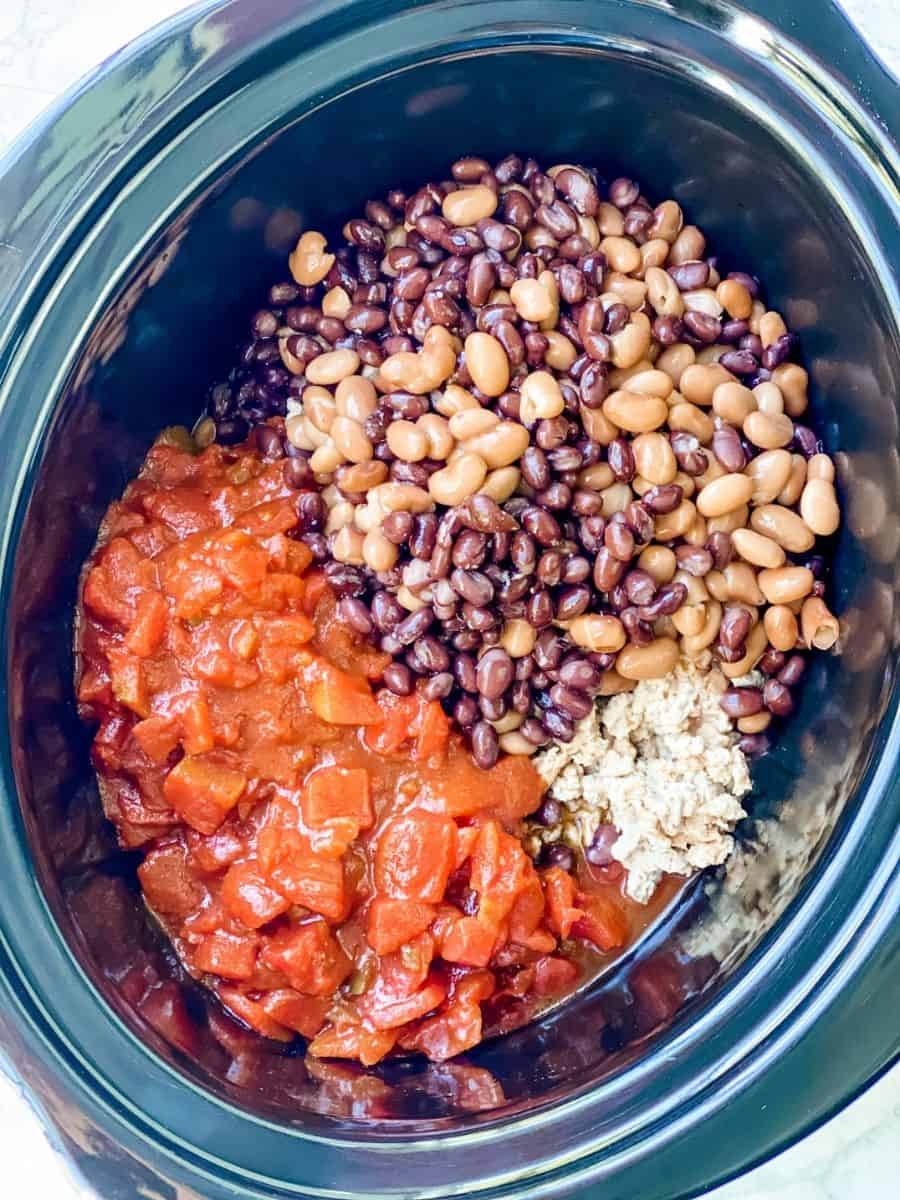 Stock Your Freezer With A Quick Healthy Dinner
Last the not least!
The best thing you can do to give yourself a break from weekly meal prep is to stock your freezer with some emergency dinners every month or so. When you do this, all you'll need to do is open the freezer to grab a healthy homemade meal.
Now, this does take a little bit of meal prep BUT if you put it together while you are meal prepping another day, you will be one step ahead of the game.
Think of it as a contingency plan.
One of my absolute favorite things to have ready for dinner in the freezer is making a bunch of dinner freezer kits. These kits are usually already cooked and all you need to do is warm up, assemble, and eat.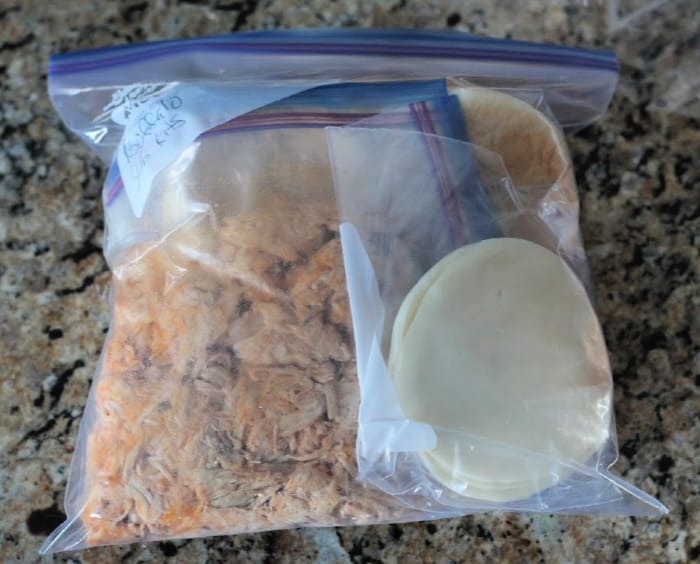 I also like making batch freezer meals. Batch cooking means cooking a bunch of the same recipe to stock your freezer with. It's not necessarily full meals but it could be. I like to cook components of a meal like shredded chicken or taco meat that I can easily create into a variety of dinners.
Here's a list of my favorite easy freezer meals:
As you can see – it's totally possible to get dinner on the table fast with these quick healthy dinner ideas!
Don't freak out and order takeout the next time you didn't meal prep your meals. Make some of these Quick Healthy Dinner Ideas instead and feed your family something delicious and good for them. Share a picture and tag me on Instagram or Facebook if you decide to make them!