Stay on track with your weight loss and calorie consumption by adding some of these high protein snack ideas to your weekly meal prep. Whether you make some homemade protein snacks yourself or buy them from the store, these snack ideas will help you avoid your next food binge. 
High protein snacks are so important to stay on track with a healthy lifestyle. They keep you full in between meals and can give you more energy than processed sugary snacks can. If you're trying to eat healthier and lose weight, then preparing some of these high protein snack recipes ahead of time could be the solution.
In my meal plan, I eat 5 times a day; 3 meals and 2 snacks.
In my experience, snacks are just as important as the foods you eat for breakfast, lunch, and dinner. In fact, sometimes I think they're more important because snacks keep you on track between meals. They keep you from going into each meal starving and can help avoid overeating and binging.
But, not just any snack will do. A high sugar snack like a candy bar might make you feel full for about 10 minutes but soon after, that candy bar will get your blood sugar raised and then it will crash. This will leave you feeling tired, sluggish, and hungry.
Eating high protein snacks will give you the most bang for your buck!
These snacks will keep your blood sugar stable which means you'll have more energy and feel full for a longer period of time. That's the result you are wanting when choosing snacks. You want snacks that'll move you throughout the day not bring it to a screeching halt.
Helpful Tips
The best way to ensure you'll have high protein snacks available is to:
Plan for it. Make sure that when you're putting together a weekly meal plan, that snacks are included.
Purchase the snacks. I know this sounds basic but I can't tell you the number of times I'd forget snacks because I was so worried about dinners. Put snacks on your grocery list!
Prep ahead. A lot of the snack options I'm going to give you are easy to prepare ahead of time but some require setting time aside to make.
Supplies
To be one step ahead of the game, here are some supplies I always have on hand that make it easier to meal prep my protein snacks:
Refrigerator Snack Bin
I've been using one of these for years. Every week I put all of our snack options in a plastic bin and keep it in the refrigerator. This is super handy for everyone in the family! We know what's available for snacks and can easily grab what we need when we're leaving.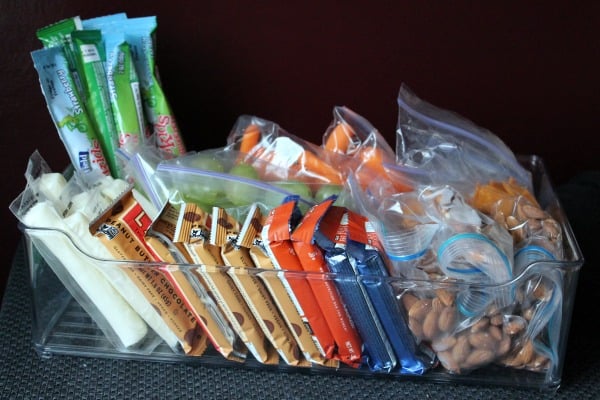 Small Mason Jars
You can purchase 2-ounces, 4-ounces, and 6-ounce mason jars which are the perfect size for portioning out snacks. I use these for parfaits, nuts, hummus, and fruit.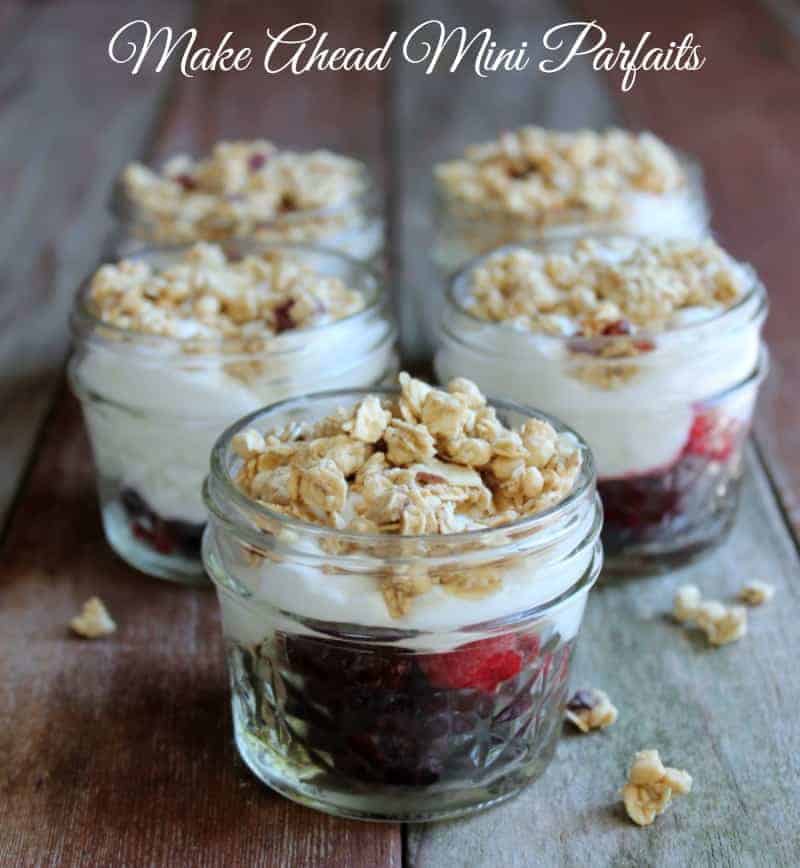 Plastic And Glass Meal Prep Containers
These are great for when you want to make a high-protein/low-carb snack kit or need a large container for transport.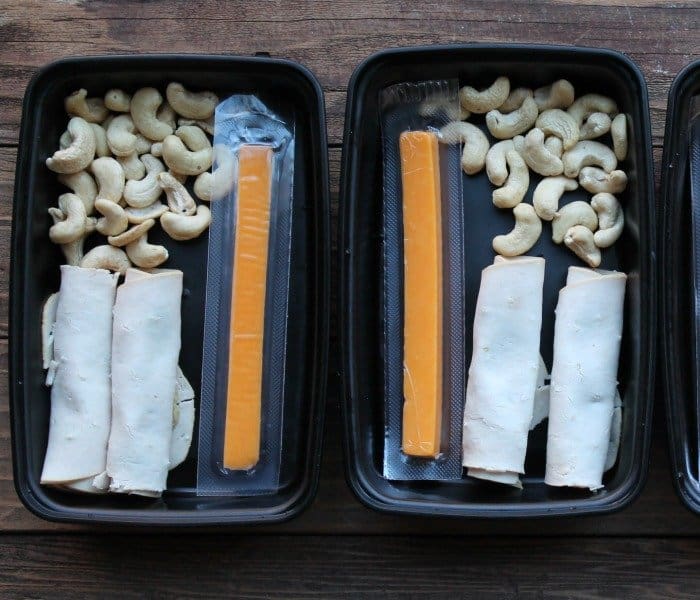 [convertkit form=3221494]
High Protein Snack Ideas
Now that you know all my tips and tricks, it's time to start putting together all of your snacks. Here are some of my favorite homemade high protein snack recipes!
With some creamy almond butter and some sliced sweet banana, put together this low-carb wrap to create a delicious "on the go" healthy snack.
If you want to add a little bit more sweetness, drizzle some honey or pure maple syrup on top of the bananas before you roll it into a wrap. Be aware of the extra calories!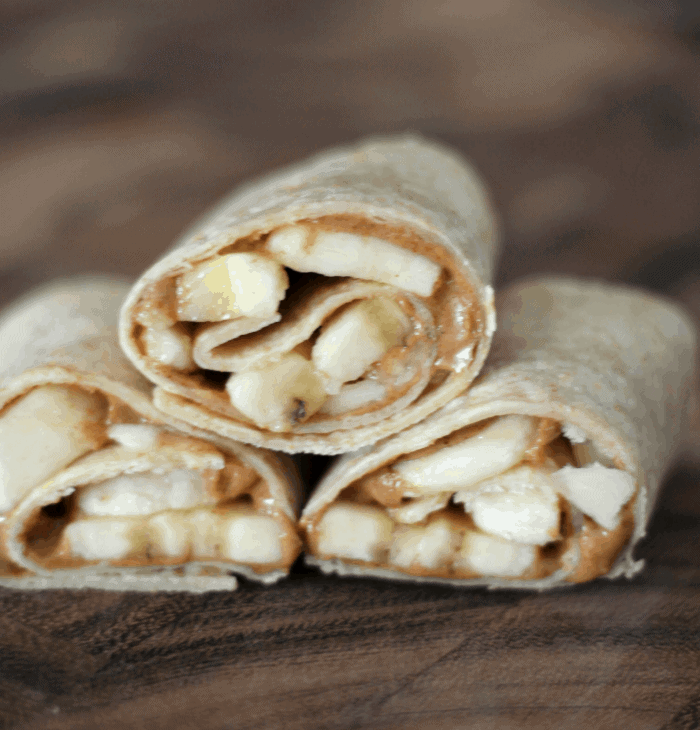 Think about this. Dark chocolate. Raw almonds.
Add some creamy almond butter, and a touch of sea salt and you end up making these delicious and healthy energy balls. These were inspired by Kashi Salted Dark Chocolate Chunk Nut Butter Bars that I picked up at the grocery store. As much as I loved the flavor, I did not love the price.
So, I decided to make my own energy ball recipe…and I'm so glad I did – it's fantastic!
Since I already made some chocolate sea salt energy balls, I decided to change up my recipe a bit and make a version with peanut butter and chocolate. Yum!
If you are craving a Reese Peanut Butter Cup, then this snack recipe is exactly what you need. You will need some peanut butter, cocoa powder, and Medjool dates (for sweetness) to make these Chocolate Peanut Butter Energy Balls.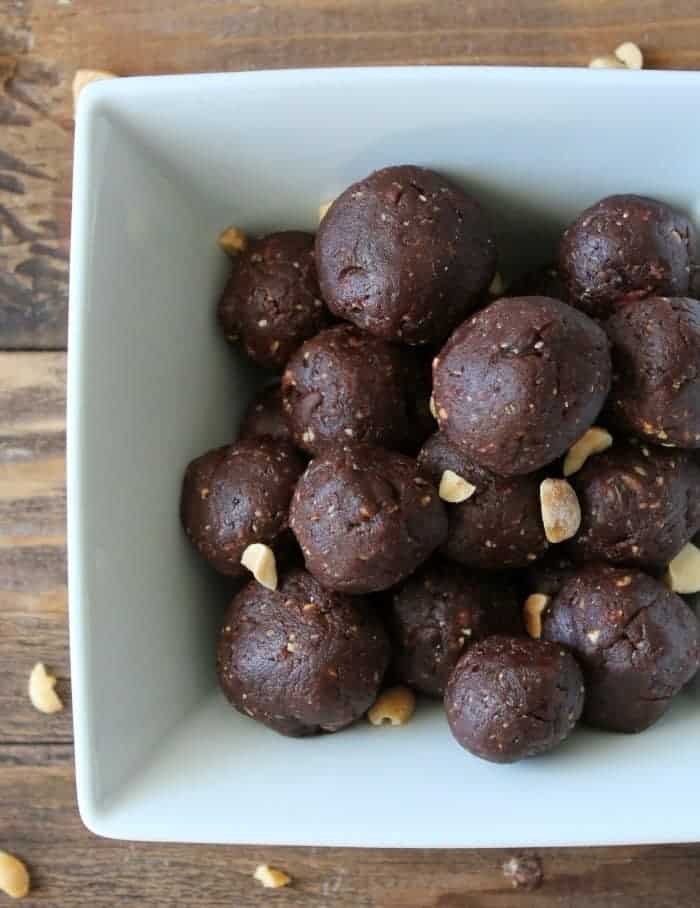 I know, a lot of peanut butter, but this nut butter is a great source of protein! And, this recipe for Peanut Butter Overnight Oats is no different. Add an extra 5 minutes to your meal prep day to make a week's worth of overnight oats to have on hand for an afternoon snack.
Honestly, who doesn't want a snack that tastes like a peanut butter cookie when those sugar munchies hit around 3 PM?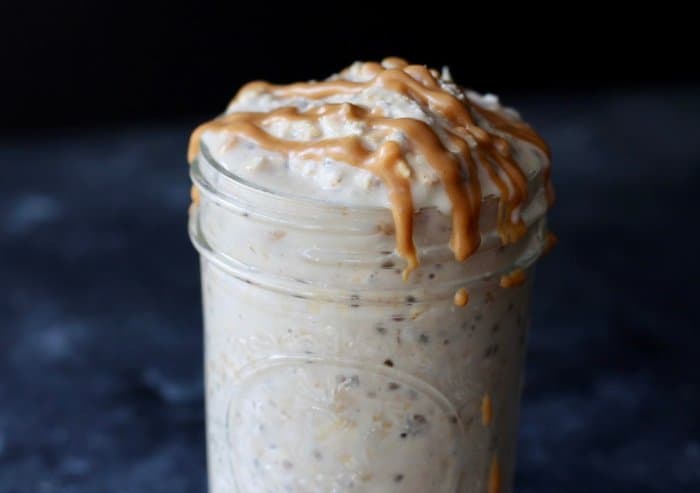 I love to eat a cup of yogurt for a quick breakfast snack but sometimes, I like to amp it up if I know I'm going to be having a late lunch.
A lot of the times I like to use my favorite yogurt and make a parfait in small mason jars.
For this Strawberry Lemon Yogurt Parfait, I layered some vanilla Greek yogurt, fresh strawberries, shredded coconut, and a bit of lemon zest layered into a mason jar.
You can pair up a couple of different fruits and flavored yogurts to change it up throughout the week.
Favorite Store-Bought High Protein Snacks
As much as I try to make snacks at home, I gotta be honest… I just don't always have the time.
Because of that, I have spent some time doing research to find protein snacks that are healthy and not full of chemical junk. These are the high protein snacks that I regularly purchase from the store!
Cheese Sticks
Prepackaged cheese sticks are a great way to get a high protein portion-controlled snack. I like to purchase large bags of cheese sticks from my local wholesale store like BJ's Wholesale or Costco.
Protein Bars
If there's one snack you'll always find in my pantry, it's KIND bars. We love them here! My kids get one every day for lunch and I'll reach for one if I need a quick on the go snack.
This is one of my favorite items to purchase at Thrive Market. With Thrive Market coupons, I get the best deal on big boxes of KIND Bars. Here's a post (and video) I put together on my favorite items to purchase at Thrive Market.
These are other store-bought high protein bars I purchase to have on hand:
Luna Bars
RX Bars
Cliff Bars
Siggi Yogurt
Siggi yogurt is hands down my favorite yogurt. It's a little on the tart side and it's low in sugar but I still think it's delicious! One container of this yogurt is 17 grams of protein.
You can even have a variety of different flavors in stock in your fridge.
Hummus
Hummus and vegetables are an all-time classic snack. When I don't have time to make my Spicy Chipotle and Lime Hummus, I'll buy a couple of different tubs of hummus at the store. My two go-to flavors are Roasted Garlic and Spicy Red Pepper Hummus!
I typically use 2-ounce mason jars for the hummus and a 6-ounce mason jar to portion out the carrots and other veggies.
Sliced Apples And Peanut Butter
If you're like me and you are constantly craving something sweet and salty, then add a couple of apple slices with peanut butter to the meal plan. If you need a chocolate fix too, you can sprinkle a few chocolate chips over the top as well!
Again, I made sure to have all the snacks organized in the refrigerator and/or pantry so I know exactly what's available when I'm looking for a snack.
Cottage Cheese With Fruit Or Toast
Cottage cheese is a low carb alternative that many people have on their low-calorie meal plans. A serving of cottage cheese has about 25 grams of protein per cup.
There's a couple of different ways I like to it:
A cup of cottage cheese with sliced cantaloupe and melon.
A slice of whole-grain wheat toast smeared with cottage cheese.
A cup of cottage cheese by itself.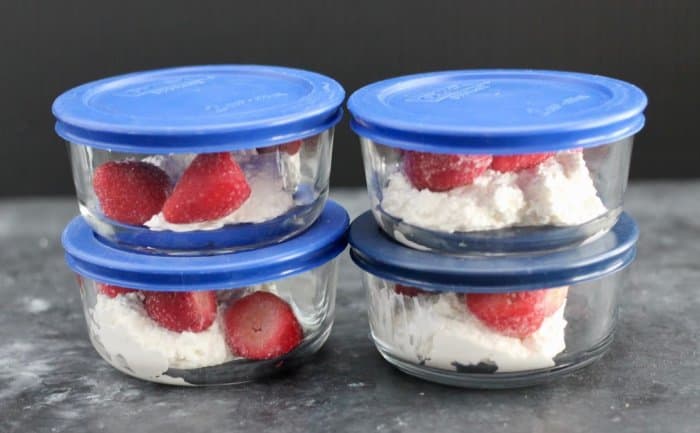 Share a picture and tag me on Instagram or Facebook if you decide to try any of these high protein snack recipes!