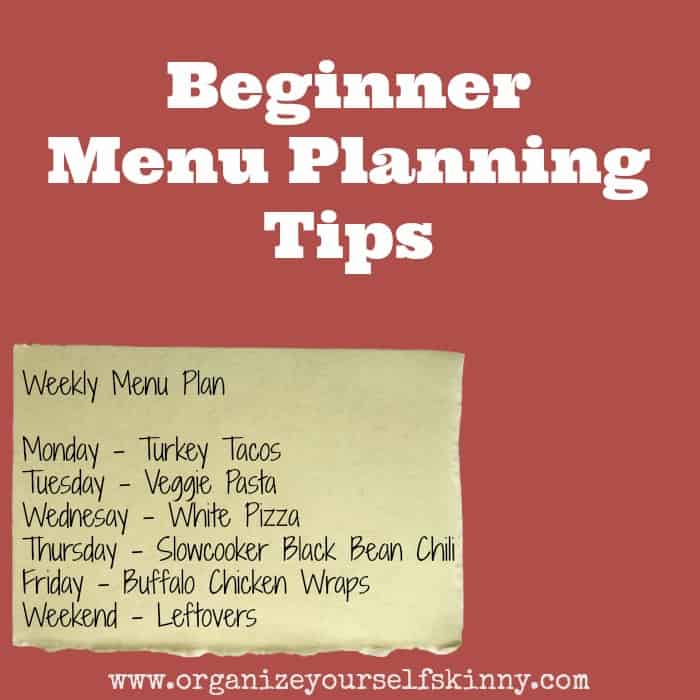 What is 7 days long and helps you save money, stay organized, and eat more nutritious food? I hope you said a menu plan and not some weird detox diet. If not, then we might have some work to do – just kidding….but seriously!
Incorporating a weekly menu plan, along with other systems, has made all the difference in keeping me mindful with the food I prepare and serve my family. Without it my days would be spent stressed and probably eating more cereal than one should consume for dinner.
If making healthy changes to your diet is one of your top goals this year then I strongly recommend giving menu planning a shot.
When you are just starting out with menu planning it can seem a bit daunting – believe me I understand. I remember the first few times I create a menu plan I felt completely overwhelmed. Then I realized that a menu plan can be as easy or complicated as you make it. You can simply write out dinner for the week on a sheet of paper or use a color coded picture calendar system. You can make 5 star gourmet meals every night (if you do please invite me over for dinner) or you can make it as simple as sandwiches. My point is to create a menu planning system that works for you.
Even though these are various ways you can put your menu plan together there really in no right or wrong way to plan. If you start out with one menu planning system (ex. themed days) and after a few weeks find that is not going to work then try something else. Or if you find that your menu planning is stressing you out more than it is helpful take a step back and figure out why. Remember what works for one person might not work for another. It is all about create a menu planning system that makes your life easier.
If you are brand new to menu planning or maybe just need a little motivation I put together some beginner tips to help out. These tips are to get you started. Once you get the hang of things then you can add and change up your menu planning routine. Remember, do what works for you!
#1 Look at your schedule
In order for your menu plan to be functional it needs to reflect your schedule. The whole point of  a menu plan is to make your life easier. Therefore, if you know certain days of the week will be busier than others then on those days you would schedule simple recipes or maybe a slow cooker meal (check out this freezer cooking slow cooker ebook for great recipes). If on other days you can spend a little more time on recipes then your menu plan can reflect that. Looking at your schedule ahead of time provides the framework for the types of meals you will to make.
#2 Use familiar recipes
When you first start menu planning you will get the urge to research and print out a bunch of brand new recipes (thank you Pinterest). My advice as a beginner menu planner is stick to familiar favorites (even if it is mac n cheese) at first. Once you get familiar and comfortable with the process then slowly add on new recipes. Learning to menu plan takes some focus in the beginning and you don't want to become overwhelmed with a bunch of new recipes. Baby steps.
#3 Don't over complicate
Just like with the desire to find new recipes is the desire to completely overcomplicate the menu planning process with color coded charts, DIY menu boards, binders, and a million other menu planning organization "must haves". These are all fun accessories to put in place eventually but they are by no means necessary. Honestly I have really seen this need to make the perfect pretty visual menu board hinder people from following through with creating their menu plan. Down the road, as you become comfortable, sure make a cute DIY menu planning chalk board but when starting out just grab a pen and paper. Keep it simple!
#4 Write it out and make visible
After you put together your menu plan, write or type it out, and stick it to the refrigerator. It is important for your menu plan to stay visible. In my experience, when the week starts to get busy I very easily forget about what we are having for dinner. I usually can just pull up my menu plan on my blog but it is easier when I have it stuck on my fridge. This way my husband and kids can see it as well – surprising they usually don't read Organize Yourself Skinny 🙂
#5 Purchase ingredients
Now I know this seems like common sense and I almost did not even add this to the list – but I thought it is worth mentioning. I remember when I started menu planning and I would write out all these great recipes to make and then forget to put some of the ingredients on my grocery list. Then I would be ready to make the recipe and have to come to a halt because I was missing ingredients. Not fun and I will admit sometimes I still do this. Although now I use the menu planner and grocery list generator on Plan to Eat which has greatly reduced these mistakes. My advice is to write down all ingredients and double check your list before going grocery shopping.
#6 Plan for prep
A menu plan is useless if you forget to take the meat or pizza dough out of the freezer, need cooked rice, or have to chop a ton of vegetables for a recipe. Now I am not saying your menu plan will always goes as plan (believe me it won't) you just don't want it always getting hijack because you are forgetting to take the chicken out. After a long day at work I need to get dinner on the table within 30 -45 minutes. For me to do this all of my prep, for the recipe, needs to be done ahead of time – I try to make and prep as much of a recipe as I can over the weekend. Also, because I am very forgetful, I try to schedule reminders in my phone the day before if I need to take food out of the freezer for dinner the next day. The more you prep beforehand the easier it will be to carry your menu plan out during the week.
What are your menu planning questions? Or if you are a seasoned menu planner what are some beginner tips you can offer?