Have you been wondering lately: Is ButcherBox worth it? Well, I'm here to help! Here is the full rundown on how ButcherBox Meat Delivery has completely changed my life and meal planning. Plus, I'll share some of my tips on how to make ButcherBox more affordable. Hopefully, it helps you too!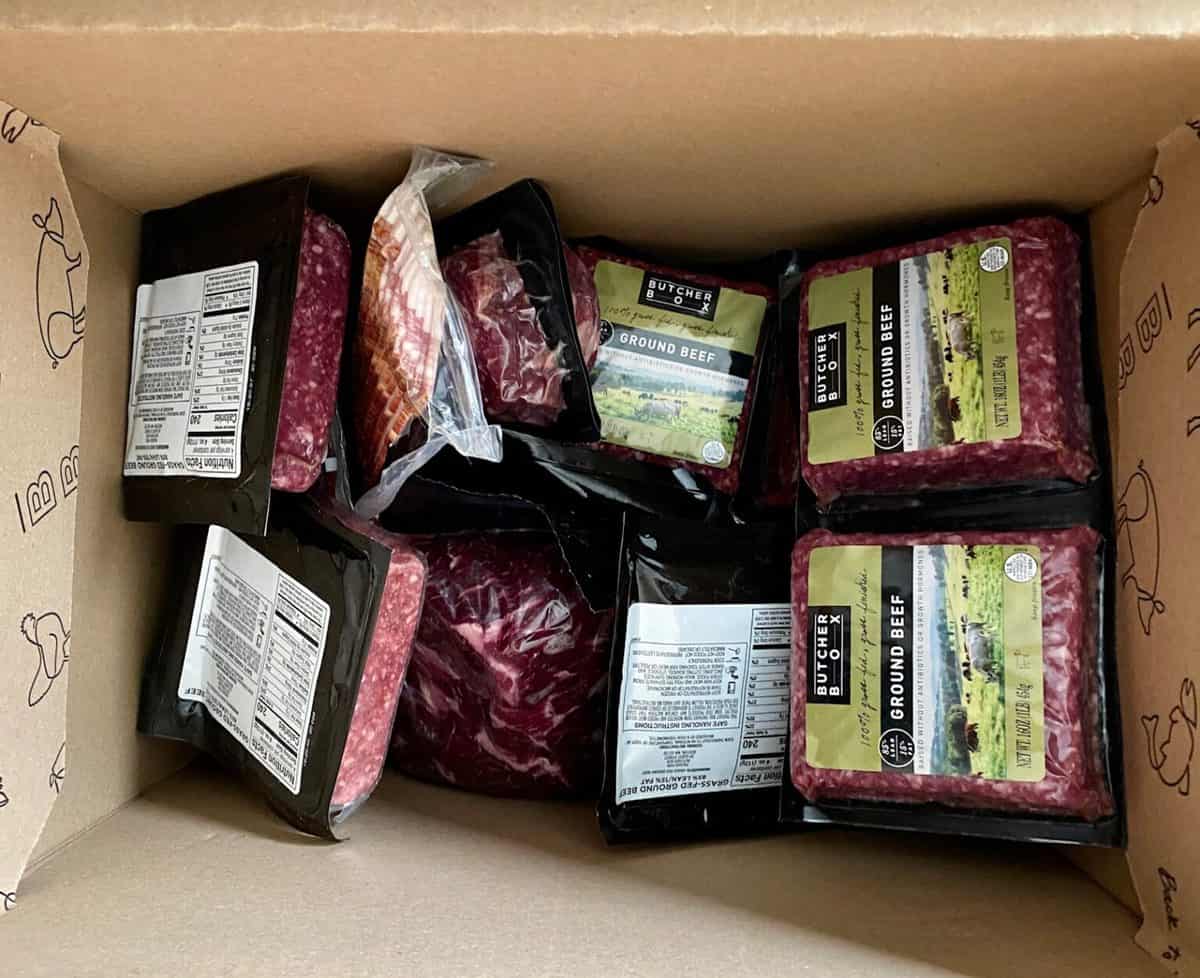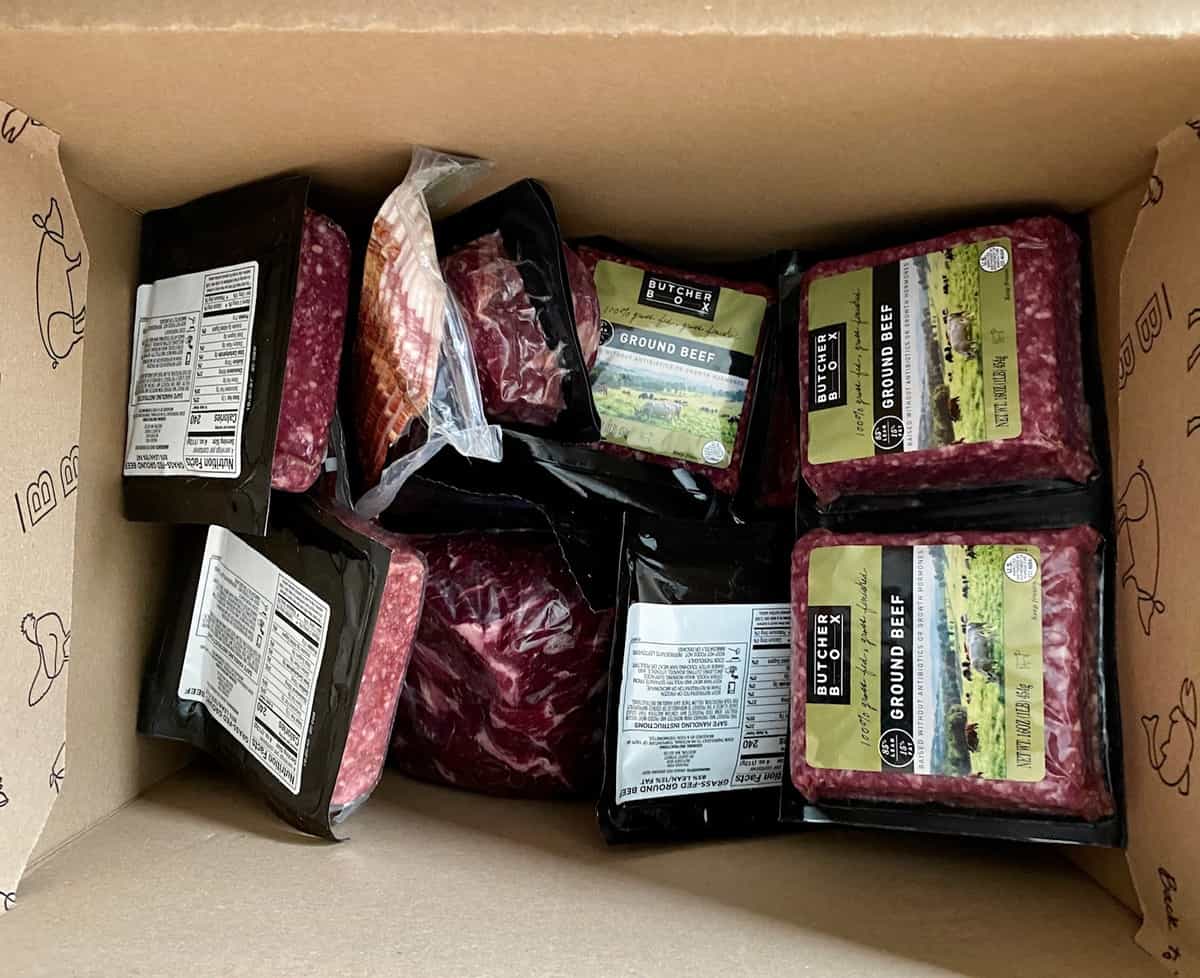 If you've been around for a while, you might have seen me mention ButcherBox Meat Delivery service a few times. This is where I purchase all of my grass-fed and organic meats from!
Last month, I updated my ButcherBox review to give you all the information needed to help you decide whether or not this meat delivery service is a good fit for your family. If you want to read more about the ButcherBox plans offered or other specifics about the company, then I encourage you to check out that review.
Today, I want to expand more on the question "Is ButcherBox worth it?".
Because this seems to be the #1 question and concern I get from readers. I do cover it in the review but I want to offer more tips and suggestions on making Butcher box affordable. I also want to share the process I use to fit this organic meat delivery company into my budget every 1-2 months.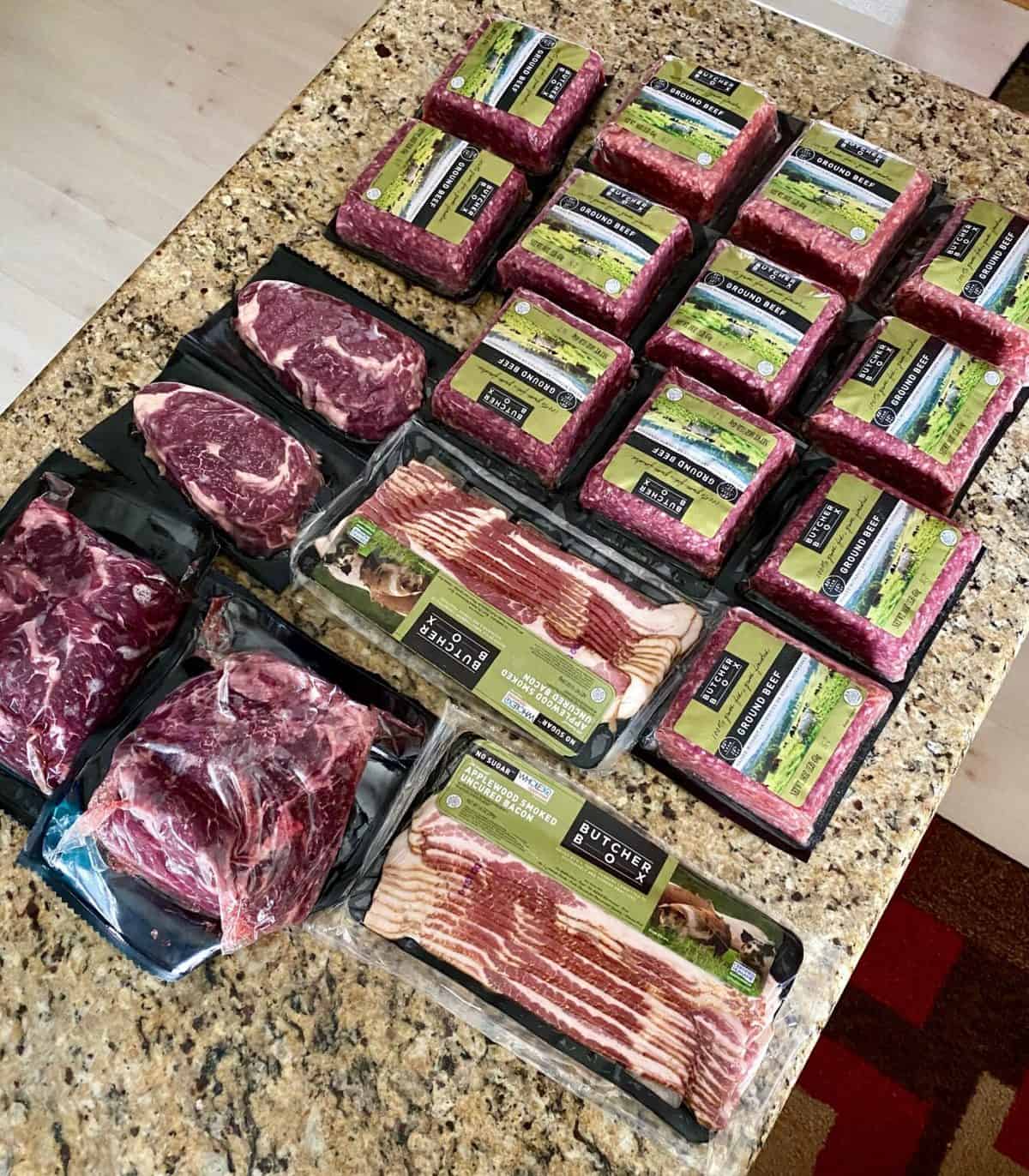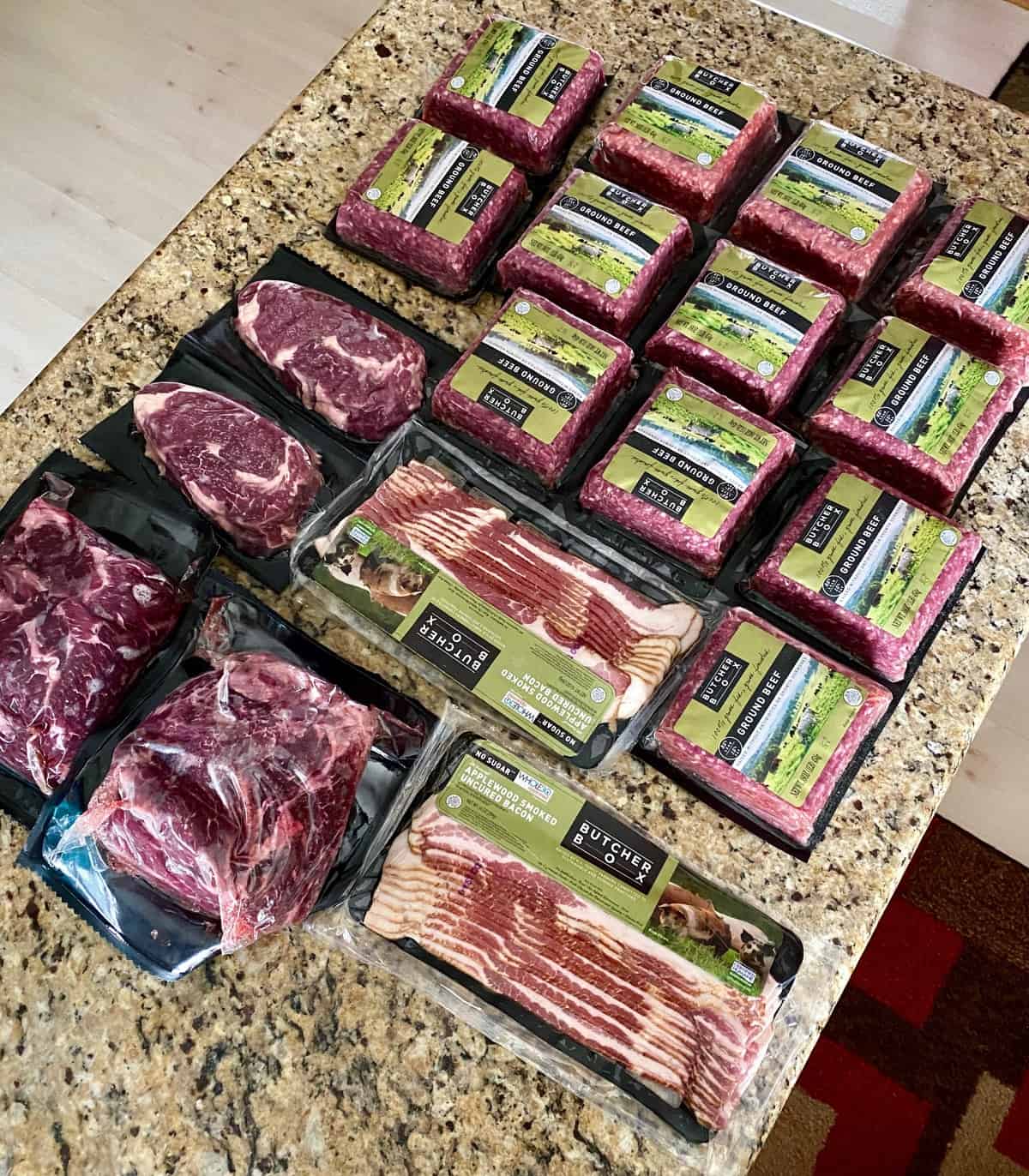 So, Is ButcherBox Worth it?
Let's get my opinion out of the way first.
In short, yes.
I do believe that ButcherBox is worth the cost and here's why.
1. Accessibility
I have access to many grocery stores and local butchers in my area, so getting my hands on high-quality meat was never an issue for me. However, this year has proven to be a challenge many times over with getting high-quality chicken, beef, and pork at our local grocery stores.
There were numerous times that I'd go to the grocery store and leave without any of the meat I needed to feed my family. This was very discouraging, and to be honest, a little scary.
As a ButcherBox subscriber, the fear of not having access to high-quality meat was eliminated. I just needed to plan ahead of time to make sure I got my box in a timely fashion for the meals I wanted to make.
I can't even put into words the relief I felt when I didn't have to depend on my local grocery stores to have the meat I needed. All I needed to do was put an order it and within a week, all the meat I needed showed up at my door. This alone makes ButcherBox 100% worth it to me.
Another point with accessibility is that not everyone has access to high-quality meat. For example, you might live in a town with limited grocery stores. In this case, ButcherBox is a great option if you want to eat clean meats but don't want to drive miles and/or hours to find it.
2. Convenience
I'm all about convenience! I'm super busy, just like everyone else, and taking the time to search for stores or even go to the store to shop for high-quality meats is often time I don't have.
Having a box of frozen organic high-quality meat show up at my door every month or so saves me an incredible amount of time.
And in my world, time equals money.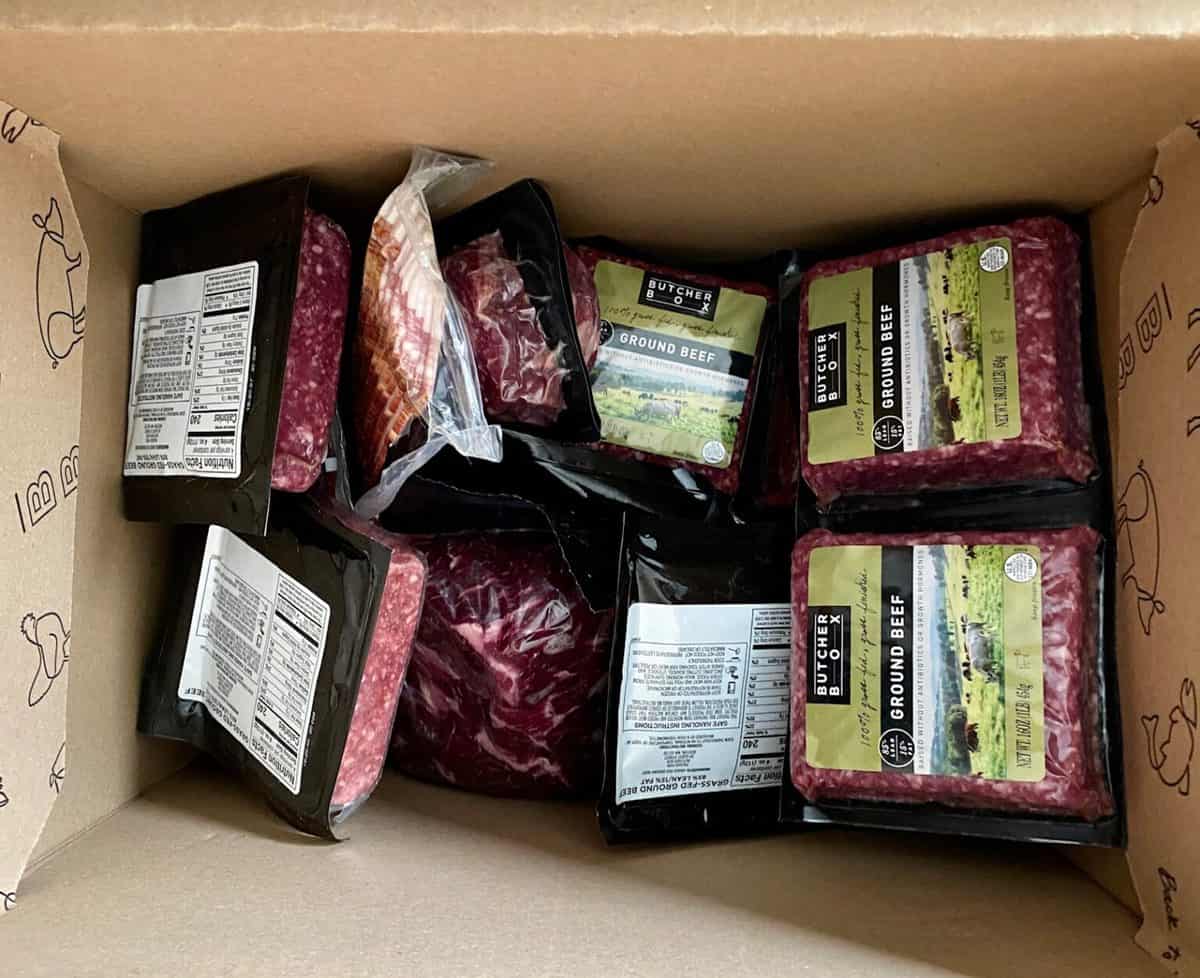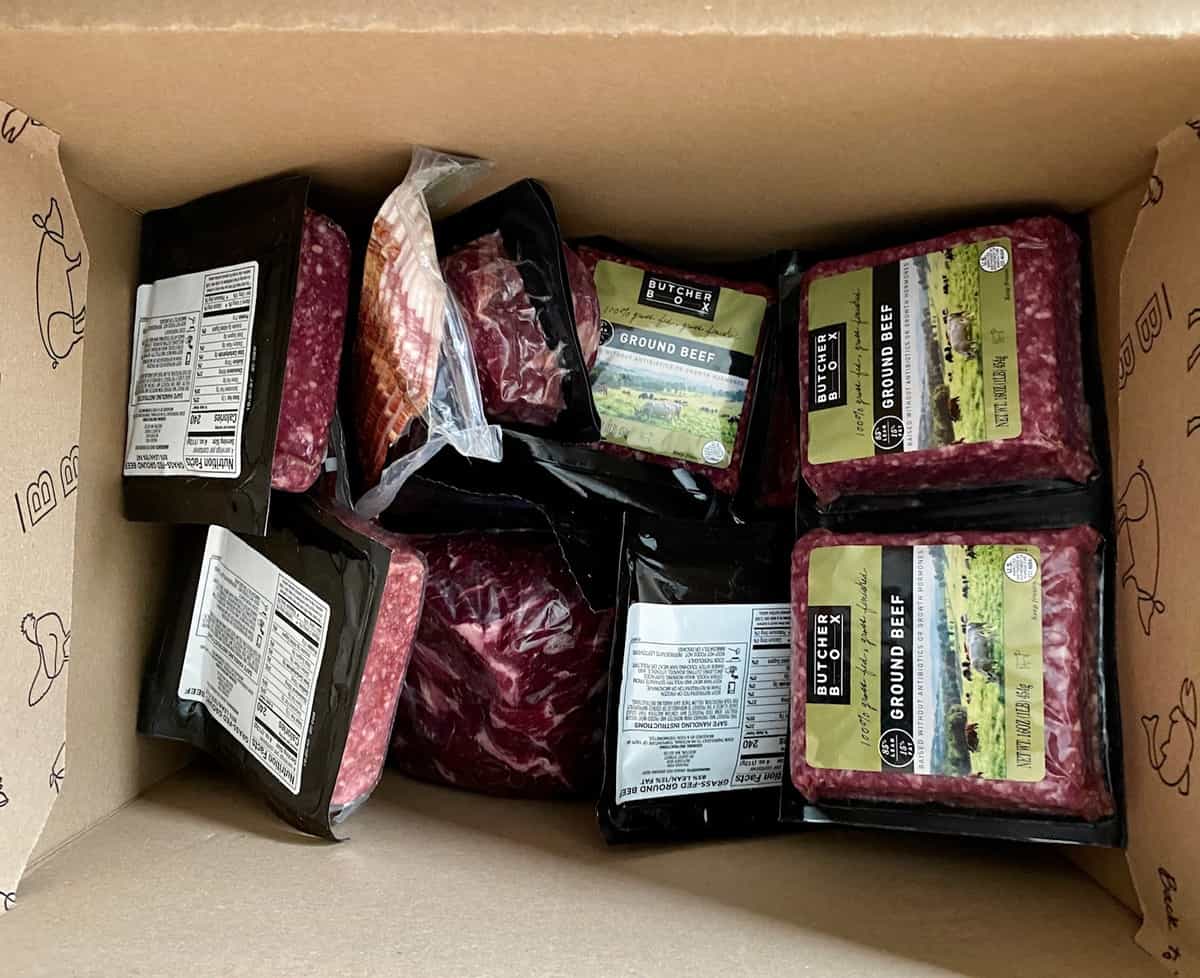 3. Great Taste
ButcherBox, hands down, has the best tasting meat, chicken, and seafood I've ever tasted. Every recipe I make using ButcherBox meats is so delicious and everyone takes notice.
I lost count of the number of times people have said "Wow, these are the best meatballs!" or "OMG, this chicken is delicious" and I tell them it's because I use meat from ButcherBox. It makes all the difference with my recipes.
I've had many people try to argue that there's no difference between conventional and organic meats and how it's a waste of money.
I don't agree at all.
I think using high-quality meat makes all the difference between a mediocre recipe and an award-winning recipe.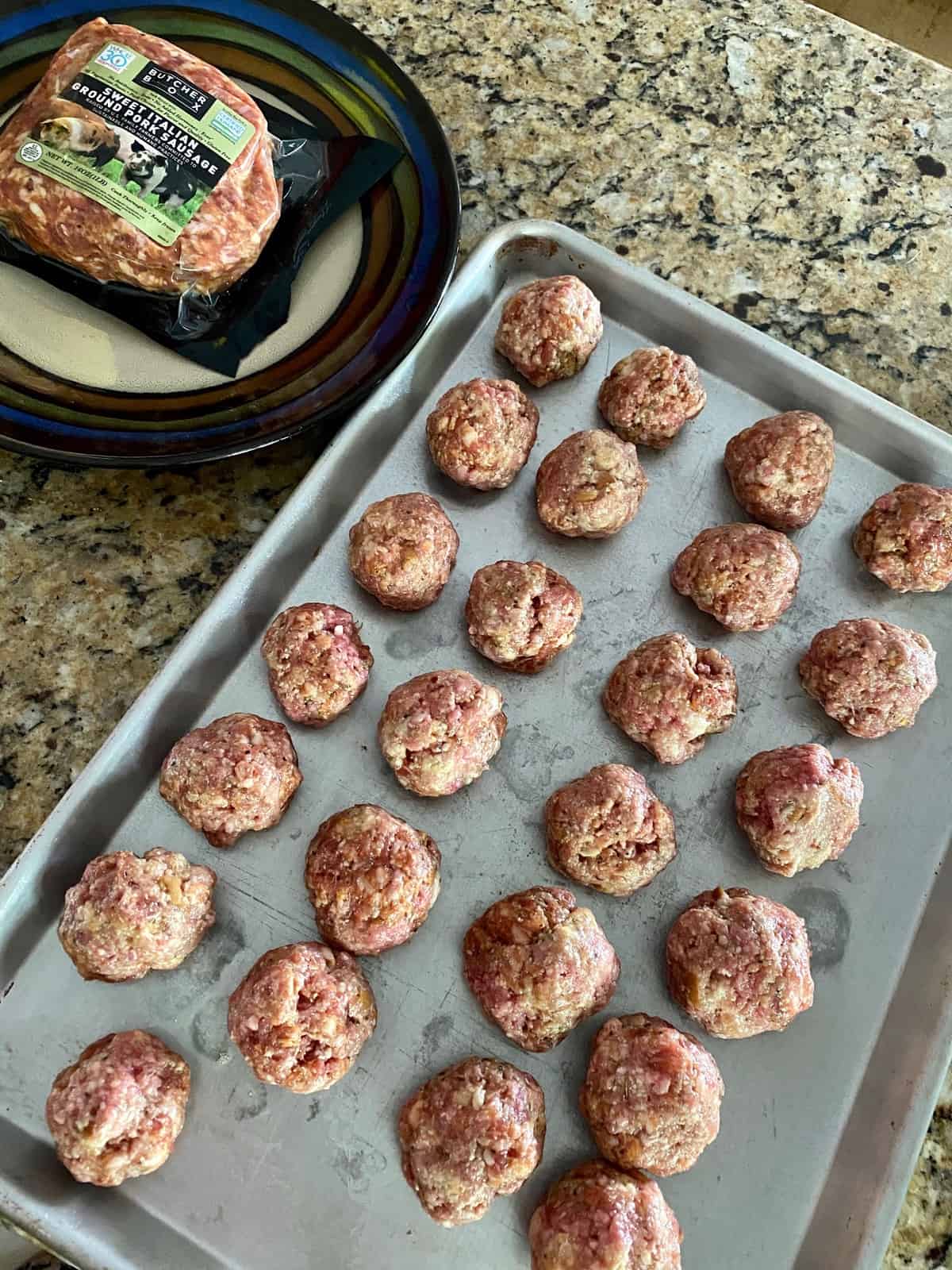 4. Super High-Quality Products
Everything purchased from ButcherBox is of superior quality! That alone answers the question if ButcherBox is worth it.
Beef
All of the beef is organic, grass-fed, and finished. All of the beef is flavorful, tender, and has great color.
I've purchased their ground beef, chuck roast, ribeye steaks, and top round steaks and have been impressed with every cut. While I've enjoyed all of their cuts, the chuck roast is truly some of the best I've ever had. It gets so fall-apart tender and the flavor is outstanding.
I purchase 1-2 chuck roasts every time I put an order in (just so I can make my Slow Cooker Pot Roast With My Homemade Onion Mix).
Chicken
Their chicken is organic and free-range. Mostly, I just order the chicken breasts because that's what we eat most. It's super tender and always cooks up moist and delicious.
I love using it in shredded chicken recipes like Buffalo Chicken or Baked Salsa Chicken because it has great flavor and shreds so nicely for recipes.
Pork
Pork is heritage-breed – I'm obsessed with the Italian sausage, breakfast sausage, and BACON. Oh, the bacon!
It's the most delicious bacon you'll ever eat. I always like to have some on hand to make my Turkey Bacon Ranch Wraps for lunch throughout the week.
The ground Italian sausage mixed with their ground beef makes the best meatballs you'll ever eat.
Turkey
Their ground turkey is organic and free-range. I will say ButcherBox doesn't offer ground turkey as a regular item just yet. It has been an extra addon so far, but whenever I can get my hands on a few packages, I snatch them up because it's the most flavorful ground turkey I've purchased.
I like to make recipes such as Low Carb Turkey Burgers or my Healthy Stovetop Turkey Bolognese. These work great as freezer friendly recipes!
Wild-Caught Seafood
All of their seafood are from fisherman who uphold the highest standards. From their selection, I've personally only purchased their salmon and scallops.
I have to say both were amazing but the scallops were outstanding! In the past, I ordered those about 3 more times since I first got them. I save these for specials dinner for my husband and me.
If you think ButcherBox is worth it, and are ready to get your first box of organic meat delivered to your door, then click here to sign up and see what the latest deal is!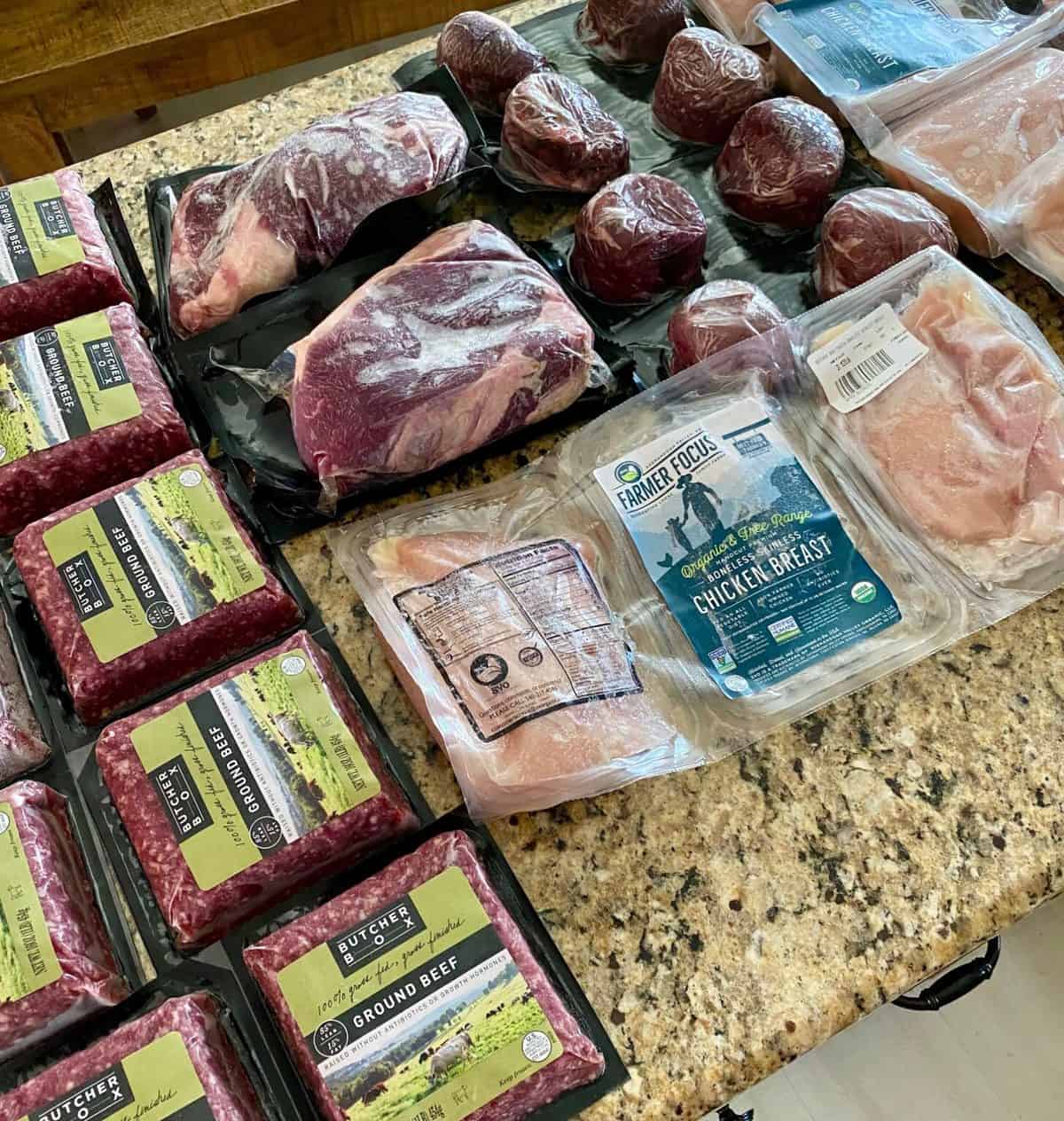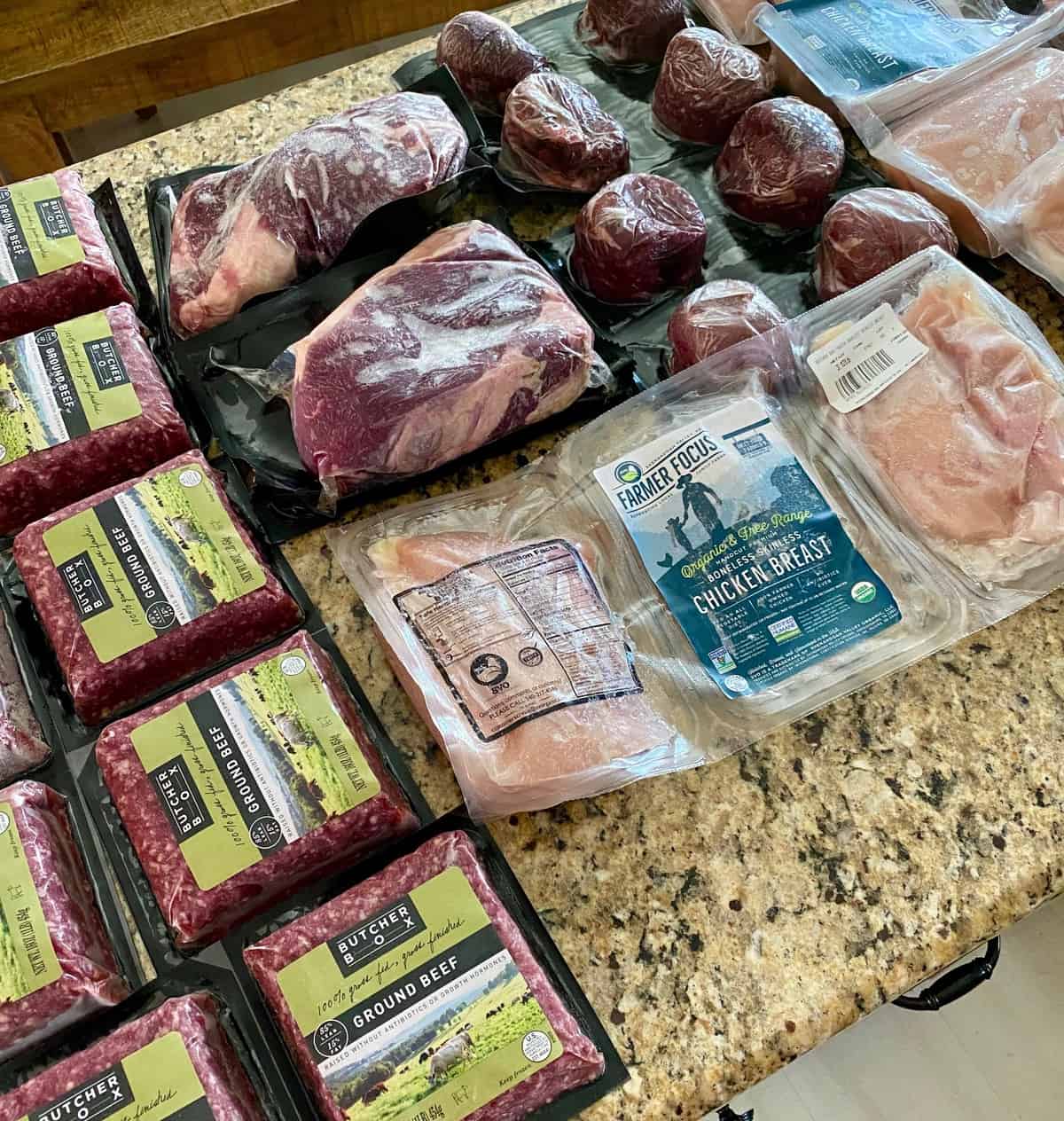 ButcherBox Prices: Everything You Need To Know
So I know I touch base on everything ButcherBox has to offer in my full review, but let's talk about ButcherBox prices for a minute.
Box Choices
Butcher box offers 5 box choices.
The Custom Box: 9-14lbs of meat that you choose. You get to choose from 21 cuts of meat for this box. This box is $149 and brings the cost of the meat from $10.64 – $16 a pound. This comes to about $4.97 per meal.
The Mixed Box: 8.5 – 11lbs of beef, pork, and chicken that is curated for you. The cost of this box is $129 which brings the cost of meat to $11 – $15 a pound. This comes to about $5.38 per meal.
The Beef and Pork Box: 8 – 11lbs of beef and pork that's curated for you. The cost of this box is $129 which brings the cost of meat to $11 – $16 a pound. This comes to about $5.38 per meal.
The Beef and Chicken Box: 8.5 – 11lbs of beef and chicken curated for you. The cost of this box is $129 which brings the cost of meat to $11 – $15 a pound. This comes to about $5.38 per meal.
The All-Beef Box: 8-10lbs of all beef curated for you. The cost of this box is $129 a pound which brings the cost of the meat to $13 – $16 a pound. This comes to about $5.38 per meal.
Add-Ons
Butcher box also has add-ons and member specials that are very cost-effective. I'll add one or more of these to the box every time I order one.
Keep in mind, that the selection changes each month or so for the addons. So if you see a great stock up deal on chicken breasts, ground beef, or other meats, I suggest grabbing it when you can.
Here are some of the addons I've seen:
2lbs of organic ground turkey for $14
3lb packages of boneless chicken breast for $24
2lbs of ground beef for $15
4 (8 ounces) boneless pork chops for $14
10-ounce package of bacon for $7
Note: Those are the general prices you'll find with ButcherBox.
With all of these options to choose from, I can safely say yes when people ask me if ButcherBox is worth it!
If you think ButcherBox is worth it, and are ready to get your first box of organic meat delivered to your door, then click here to sign up and see what the latest deal is!
How Does ButcherBox Compare To Grocery Stores?
Organic high-quality meats are always going to cost more than conventional meats no matter where you purchase it. So, when comparing prices, it's important to compare prices for the same meat quality.
For example, you can't compare the price for organic chicken breast to the conventional chicken breast because the price could be like 40 -50% higher.
In my area, the grocery stores I can purchase organic meats are from:
Wegmans
Whole Foods
BJ's Wholesale
I can also get organic ground beef from Aldi's but, because their options for organic meats are so limited, I don't shop there for meat.
Compared Prices
Here are the prices I've encountered at these 3 stores compare to ButcherBox prices.
Wegmans
Wegmans offers a nice selection of organic beef and chicken. So, I can get items such as organic chuck roast, ground beef, chicken breasts, and ground pork, and other items like that.
Ground beef and chicken breasts are sold in bulk packages so I can get those items for a good price. Ground beef in 3 (1b packages) sells for about $6.30 a pound. The bulk (3lb packages) of boneless chicken breasts is about $6 a pound. Organic chuck roast is about $9.30 a pound.
Overall, prices are $1-$2 pounds less per pound at Wegmans. However, the items I need aren't always available and I do think Butcher Box is of better quality. Not to mention, the convenience of getting what I need to be delivered to my door is worth the extra couple bucks.
Whole Foods
Whole Foods has a nice selection of high-quality meats but they don't always have organic meats or a very limited amount. When I shop there, it's been hit or miss with meats like organic ground turkey, ground beef, or chicken breast. I also haven't been able to find heritage-breed bacon.
Their prices are comparable to Butcher Box. Organic ground beef and ground turkey is over $7 a pound. The organic chicken breasts are $7.99 a pound. I haven't been able to find organic chuck roast.
Overall, I feel like Whole Foods organic meat prices are most comparable to ButcherBox. In my opinion, ButcherBox still wins out because they offer more availability of the meats I need.
BJ's Wholesale
BJ's Wholesale does offer packages of ground beef for under $6 a pound and organic chicken breasts for $7 a pound but the quality is not that of Butcher Box.
I find the ground beef to be on the grainy side and the chicken is tougher. Also, BJ's is often sold out of chicken and beef. So, again, it makes more sense for me to order the meat we need from ButcherBox because then I know what I'm getting and don't have to waste time driving around to stores that may or may not have the meats I'm looking for.
If you think ButcherBox is worth it, and are ready to get your first box of organic meat delivered to your door, then click here to sign up and see what the latest deal is!
How To Make ButcherBox Affordable For Your Family
Okay, so now I want to share with you the ways I make ButcherBox affordable for my family.
As you know, eating high-quality clean meats is very important to me. It's one area that I rarely compromise on. However, I'm perfectly aware that purchasing organic meats, and more specifically, using an online meat delivery company is not the cheapest option.
But, like I said it's an area that I believe to be worth the extra expense. Especially, when high-quality meat isn't always available at our local stores.
With that said, I'm also budget-conscious. I don't like to just throw money out the window and I work to save money when I can.
Here are the ways that fit Butcher Box into our monthly budget.
Order A Custom Box
I know the custom box is more expensive than the curated boxes but I found the custom boxes to be cost-efficient because I'm getting cuts of meat that I'm going to use instead of a box of mystery cuts that I haven't used before and might end up sitting in my freezer for months.
For example, when I first ordered Butcher Box I got their mixed curated box. In that box, I got some pork ribs. I never made ribs before and it's not really a cut of meat that fits the needs of my family.
A few months later, I finally ended up using them in my Sunday sauce recipe because I needed to use them up. It worked out well but it taught me that having someone curate a box for me wasn't going to work.
So ordering a custom box allows me to plan ahead so I only get cuts of meat that I'm going to use in recipes, which brings me to my next point.
Meal Plan Ahead
I truly believe that planning ahead is the secret sauce to a successful life and this also rings true with fitting ButcherBox into the budget.
When you put together a meal plan ahead of time before ordering a box, then you know exactly what to order in your box. This reduces wastes because you only get what you need. Also, planning ahead, allows you to purchase other ingredients ahead of time in bulk or on sale.
Planning ahead also saves you so much time because essentially you're planning a month in advance.
So, you only need to do 1 big shopping trip and then grab fresh groceries throughout the month.
Order Butcher Box Deals
I mentioned their deals earlier but I will again because this is where I find some of their best prices on meats and seafood. And, a lot of the time, they are offering stock up deals on meats that I use all the time like ground beef, ground turkey, and chicken breasts.
Cut Back In Other Areas
As I mentioned before, high-quality meat is a huge priority to me so I don't compromise in this area. I find other ways to cut back.
For example, I'll make more homemade snacks instead of purchasing store-bought ones. Or, instead of ordering pizza and stopping for coffee, I'll make it at home.
I think there are ways to get creative with saving money so you fit high-quality meat into the budget.
Plan Smart When It Comes To Meat Recipes
When I ask myself if ButcherBox is worth it, my meal prep alone justifies the expensive IMHO.
This is one of the top ways I save money with quality meat. I always plan out recipes that will stretch the meat that I purchase.
For example, if I purchase steak, I'll use those for steak fajitas instead of everyone getting their own steak or make multiple steak salads in a jar for lunch.
Sometimes, instead of getting steak, I'll order cuts like chuck roast that I can make shredded beef with to use in a variety of recipes. For example, enchiladas, burrito bowls, or recipes like that.
Same with chicken! Instead of just cooking up chicken breasts, I'll use some of it to make shredded chicken to add to casseroles, soups, or quesadillas.
With ground beef, I'll use it in a hamburger macaroni and cheese instead of just making hamburgers. Or I'll add rice, beans, or quinoa to tacos to stretch out the meat further.
My Favorite ButcherBox Recipes
Here are some of my favorite ButcherBox recipes to stretch meat: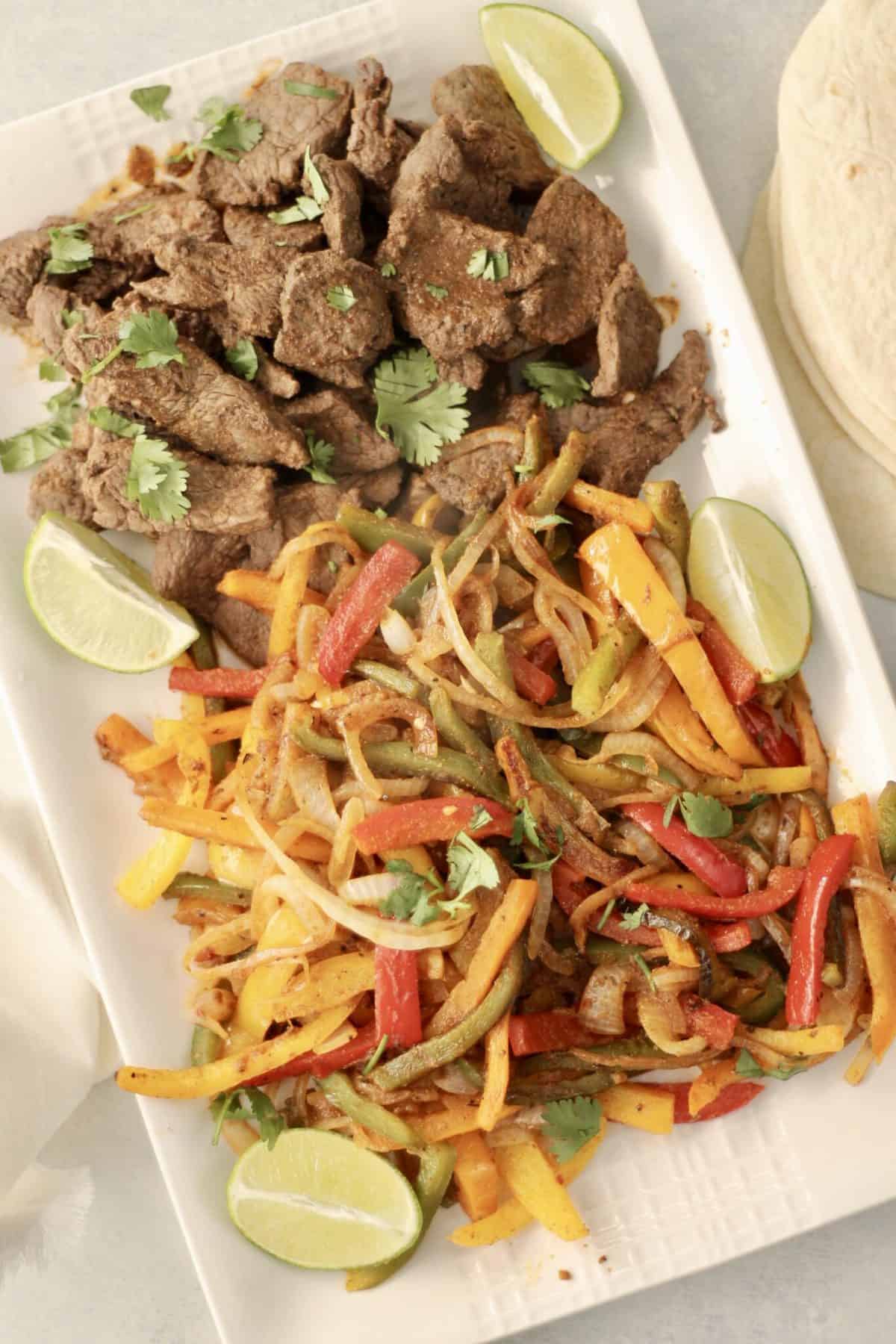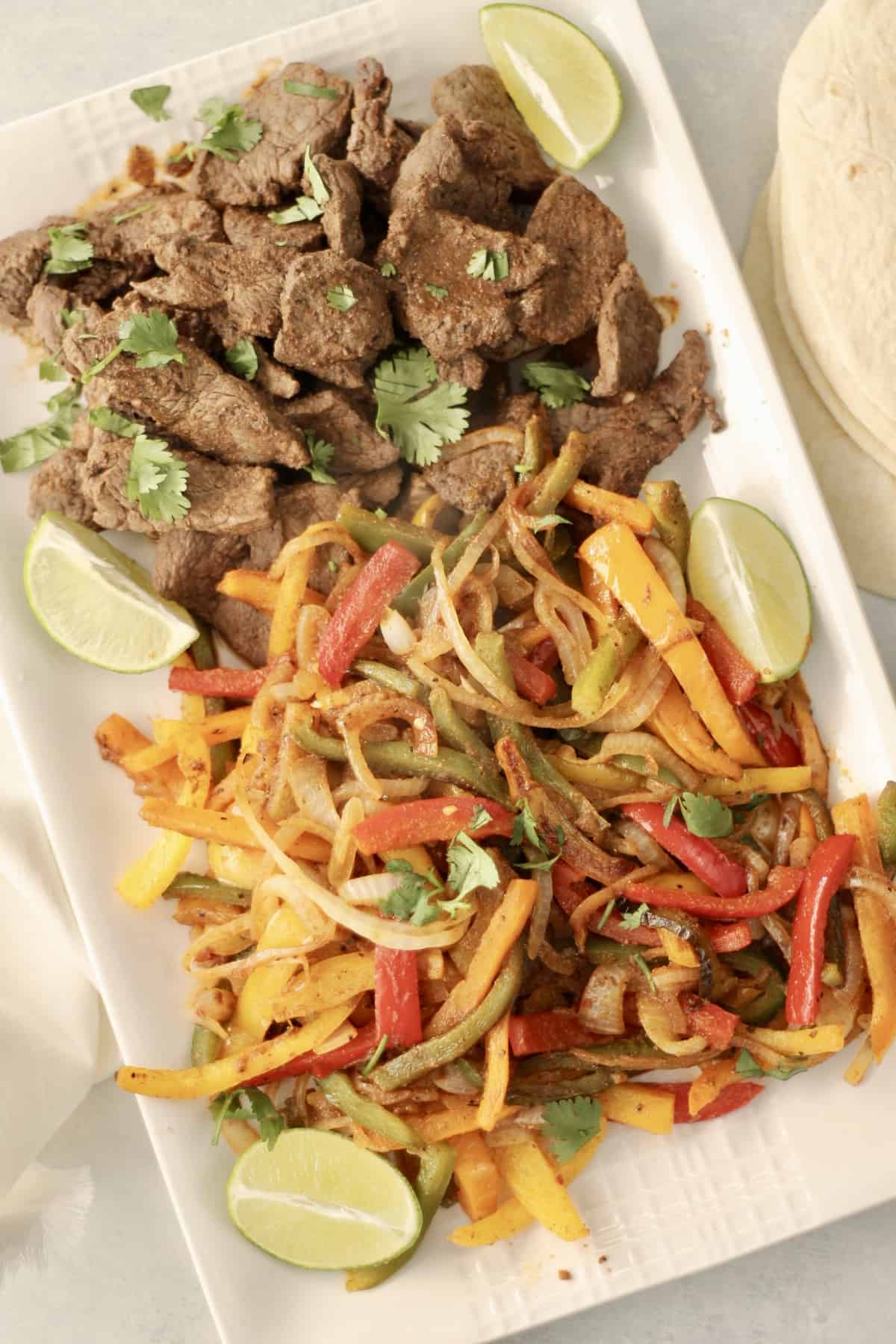 Secret Hack: Sign Up During A Great ButcherBox Deal
Butcher box offers amazing deals to new subscribers. One of my favorites is the free ground beef for life deal which is the one I got in on. You can see their latest deal here.
So what I typically do when I put my box together is weigh the pros and cons of adding meats like ground beef or chicken breasts to the custom box. Then, I'll contemplate if it's more cost-effective to add more expensive cuts of meat to my box and then order those items with my add-ons.
But, their stock up sales are great prices and I will always order some when they are offered.
So, is Butcher Box is worth it? Yes, for my family, absolutely! Of course, you need to figure out whether or not this is a good option for you. I hope you found my tips helpful. If you have any other questions, leave them in the comments- I'd be more than happy to answer them.
If you like ordering groceries online then also check out my Thrive Market Review.