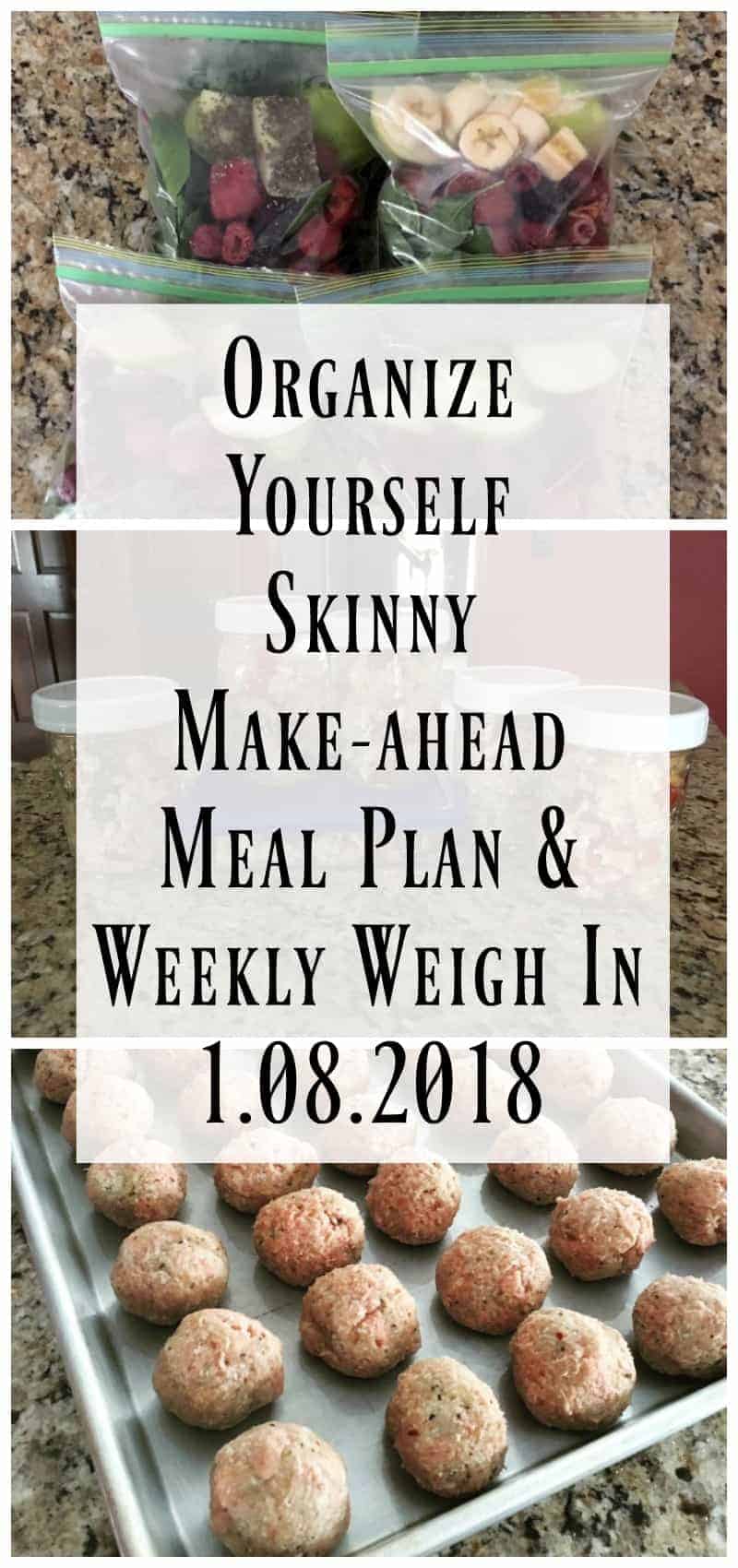 *Some links in this post are affiliate links. All experiences and opinions are my own. You don't need to use my links to make a purchase but if you do then thank you for supporting my site.
Hey there! I hope everyone is having a strong start to the year. Did you set goals? Are you prepping meals ahead of time? What about meal planning? How's everything going? I know it was tough with New Year's being on Sunday this year – at least it was for me. I like to do all my meal prep and planning on Sunday but we had a New Year's Eve party and all of my energy and attention went to that. There were lots of great memories made that night so I have no regrets about not making mason jar salads. Instead, I decided to take New Years Day to get my house in order and plan for the week.
I have to say it was a huge non-scale victory for me to organize my house on New Years day because this girl was exhausted. However, I looked around my house and knew if I didn't take the time to put Christmas decorations away, clean out the fridge, and do some meal planning I would regret it.
It's been a tradition of sorts for me to take all the Christmas decorations down on New Years day. I don't know what it is but I love starting January with my house back to normal – it's refreshing and motivating. Anyway, even though I was incredibly exhausted I dug deep to find the energy to clean and organize my house. I'm so glad I did because when I woke up on January 2nd I felt ready to take on the week. I wasn't constantly thinking about finding the time to deal with all the leftovers from Christmas. I was ready for 2018.
Like I said I didn't have time to meal prep on Sunday but I did take time during the week to cook healthy meals and get some food in the freezer. For example, on Friday I made 40 turkey meatballs – half of them went into the crockpot for meatball subs later that night and the rest went into the freezer for a future dinner.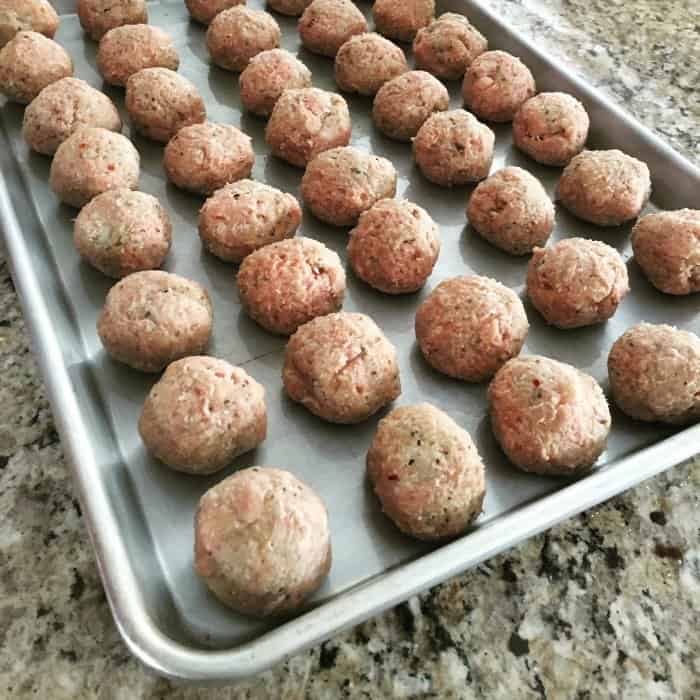 I also made cheeseburger meatloaf, we ate half of it the night I made it and rest will be for a dinner this week.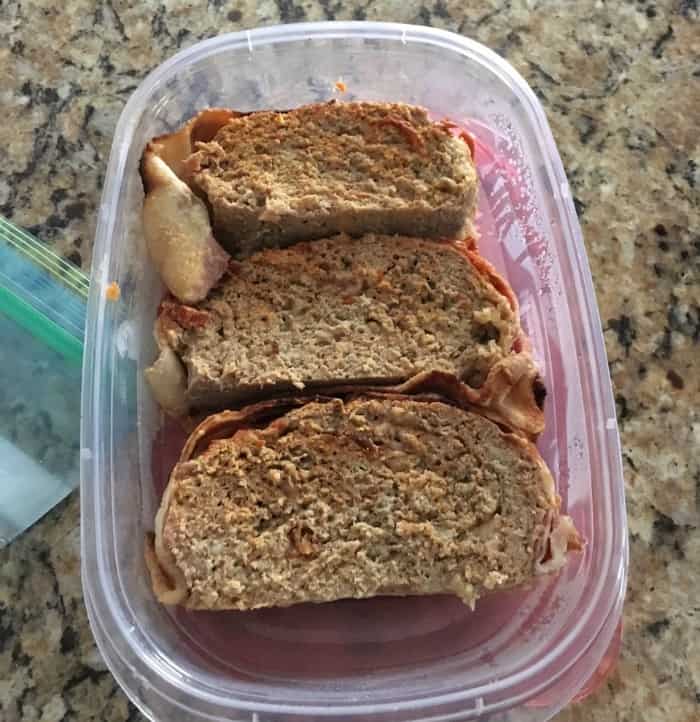 Oh and I also took advantage of store-bought rotisserie chicken. I made a delicious chicken caeser salad for dinner last week and put the rest into a greek quinoa salad to enjoy for lunches this week.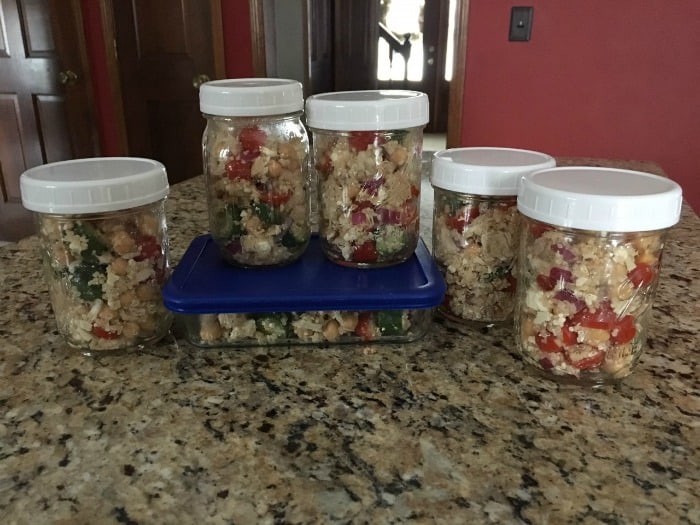 For breakfast I made green detox smoothies for me and english muffins with peanut butter for my kids. Lunches were kept simple with parfaits and turkey sandwiches. The point is, even though I had zero time on the weekend I still made it a priority to get healthy meals in our bellies. I took advantage of convenience items and also grocery delivery.
This week I did more meal planning and also took time on the weekend to food prep. However before I get to the meals we're eating this week let's first talk about my weigh-in. Wow I almost skipped right over it. Probably because I didn't meet my goal of getting under 150 for the New Year. But I gotta face the music. One of the most important things you need to do before starting any type of behavior change is take responsibility for where you're at.
Anyway, here's my first weigh in for 2018.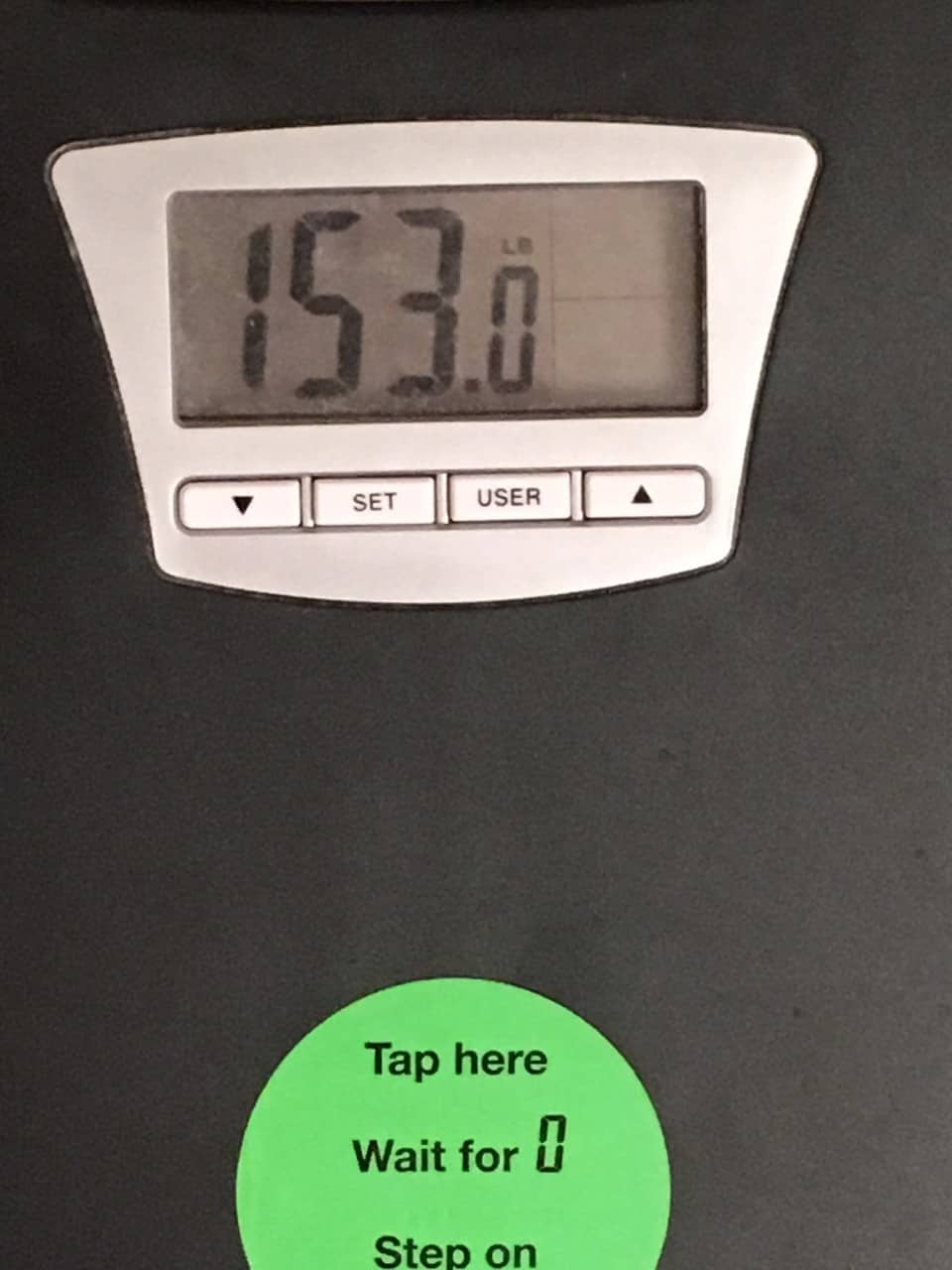 Here are my stats:
Starting weight (October 2010): 177
Final goal weight: 135
First goal weight: 145
Last weigh in (December 4th) – 152
Current weight: 153
It's been a huge struggle for me to get below 150. Honestly, I think I lost and gained the same 5-8 pounds for the last 1 1/2 years. Ugh! I don't like to get down on myself because I've still come so far, I'm not the same person I was 7+ years ago. Not by a long shot. However, I know I can do better. I've maintained most of my healthy habits but I'm human and I slip. It happens, that's life. But I don't want to just accept that, I want to make changes so I can reach my goals and maintain them.
I truly believe the last 10-15lbs will easily come off with just a few tweaks to my diet and exercise. For example, the last couple months I've stuck to my toning routines and I can finally see a difference in my arms, stomach, and butt. I've been a cardio queen over the last 7 years and even though I love to run and sweat my body needs toning exercises if I want to see changes. Toning will most certainly be a priority in 2018.
Also, one thing I've paid a lot of attention to in the last year is how I feel after eating something. I learned that I feel amazing when I stick to a low carb and mostly gluten-free diet. So, moving forward my plan is to be consistent with those eating habits. My body has changed a lot in the last 3 years and it reacts much differently to certain foods than it did in the past. Eating pasta was never a huge issue for me as long as I kept it in moderation but now I look at pasta and my stomach bloats out – it's so unfair! Oh well, it is what it is. If I want to feel good and look good I need to listen to my body. Just for clarification when I say low-carb I'm mostly referring too the white stuff like pasta and rice not fruits and vegetables.
Those are the two changes I plan to focus on this year, toning exercises 4-5 times a week and a low-carb lifestyle. Of course this is in addition to all the other habits I already focus on like meal planning, meal prep, tracking, and running. I look forward to sharing this next part of my weight loss journey with you.
Okay, now let's talk about food. This week I order 3 dinners from Sun Basket (2 Paleo and 1 Gluten-free). Sun Basket is quickly becoming one of my favorite meal delivery services.
Yes, I still like Hello Fresh but it's difficult to get recipes without pasta or rice. My kids prefer Hello Fresh because the recipes are family-friendly but I'm turning more to Sun Basket because I can easily get Paleo, low-carb, and gluten-free options. My kids won't eat the Sun Basket meals but that's okay they're fine with Buffalo Macaroni and Cheese 🙂
You can view all my meal delivery service reviews here:
** I'm trying Green Chef in a couple weeks so I'll be able to speak more to that service shortly.
Breakfast
Egg on Ezekiel Bread
Make-ahead tips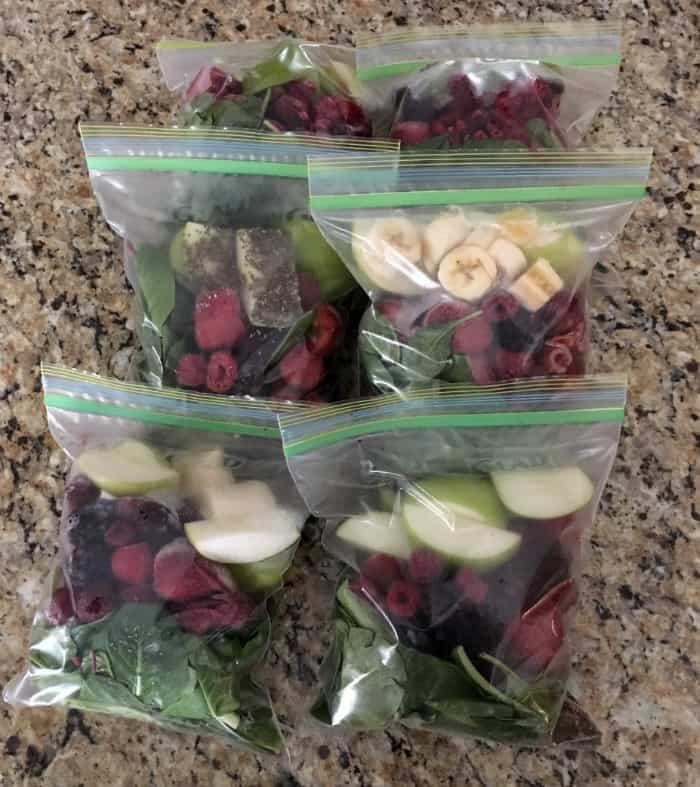 Morning Snack
Hard-boiled eggs
Apple and almond butter
Make-ahead tips
I made a batch of these on Sunday.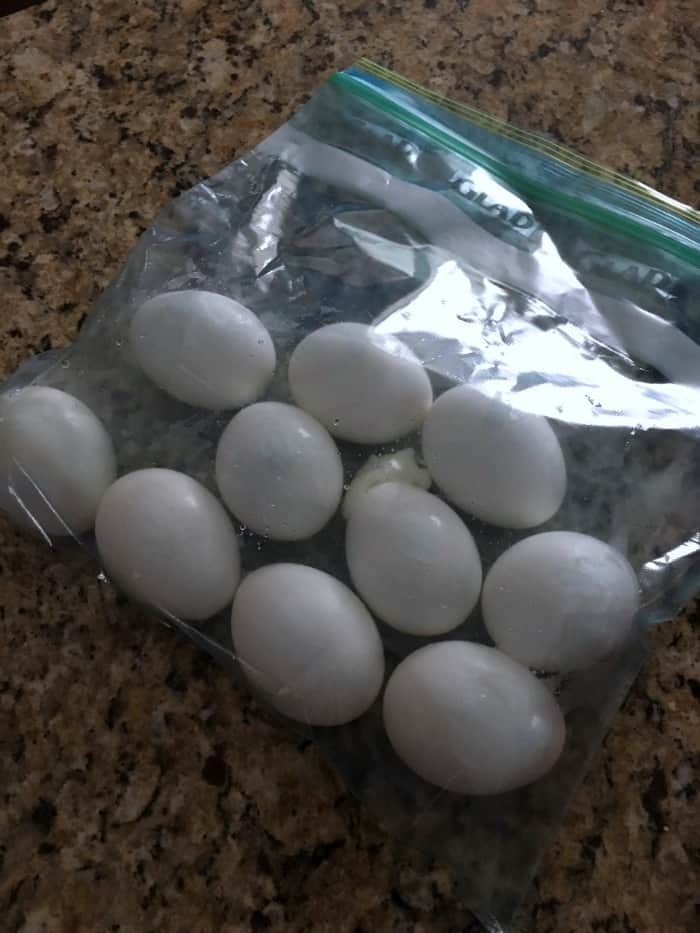 Lunch
Greek Quinoa salad with added chicken.
Make-ahead tips
Salad was made and portioned out on Sunday.
Afternoon snack
Cheese stick
Turkey and hummus roll up.
Dinner
Salmon with chile-lime sauce and citrus-cabbage slaw – Sun Basket
Chinese chicken salad with rice noodles and sesame-citrus dressing – Sun Basket
Chicken cutlets with piccata sauce and apple-brassica salad – Sun basket
Cheeseburger Meatloaf with side salad
Slow Cooker Buffalo Chicken (I'll make a salad for me and subs for the kids)
I'll also make Buffalo Mac n Cheese and Chicken Sausage and Tortellini for the kids to enjoy.
Make-ahead tips
Meatloaf was made last week.
Buffalo chicken and tortellini dinner will be made tomorrow for the rest of the week.
Sun Basket meals will be during the day or on the night I eat them. Each one says they can be made in under 30 minutes so we will see.
That's what my week looks like. My goal is to stay below 1500 calories a day and exercise 5-6 times this week. So far I've worked out Sunday through today so I already feel ahead of the game!
Here are some other meal planning services that you might find helpful on your weight loss journey. ** Please note these are affiliate links but I currently use each one of these services and I recommend them.
If you don't have access to organic/natural foods, or don't have the time to get to the grocery store, then I highly recommend checking out Thrive Market.
Have a great week!