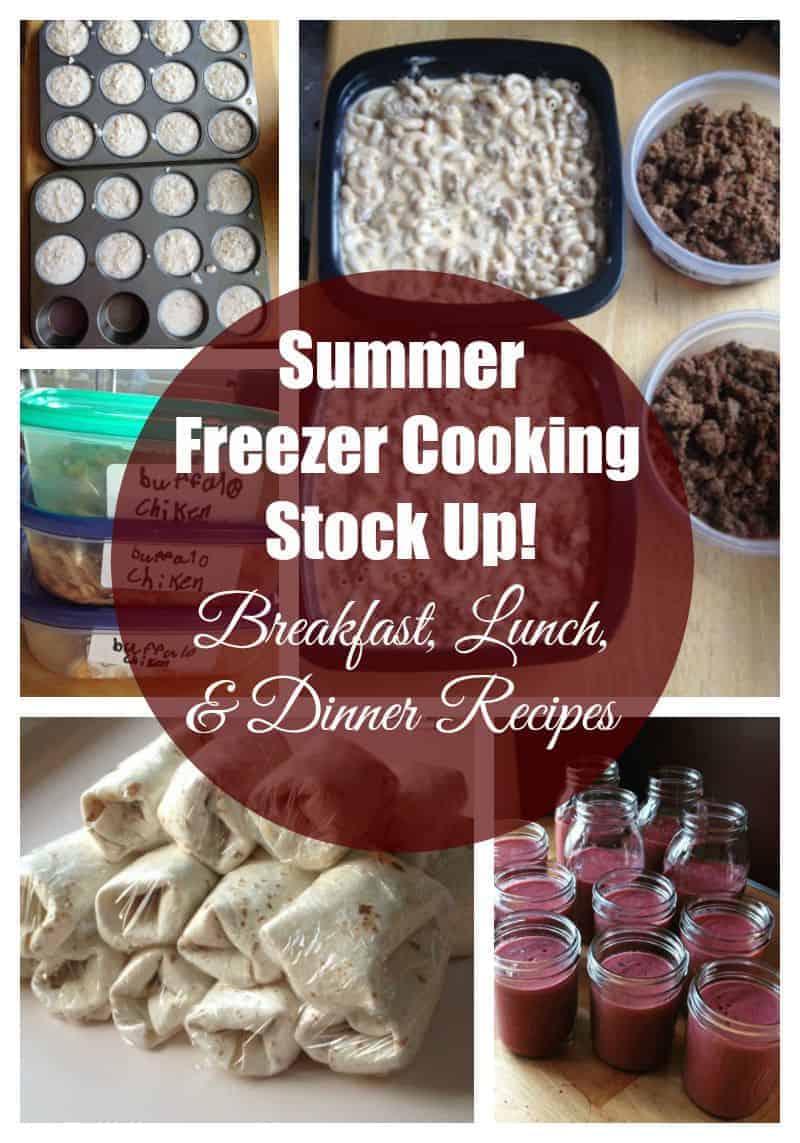 Summer is here and the kids are home. What does this mean for me? Well it means that I get to spend lots of fun quality time with my girls without needing to worry about the hustle of school year stressors. However, summer time does not come without stressors. Over the years I have learned that lazy unplanned days of summer might sound good in theory but in reality they can turn into "MOOOMMMMM I am bored or MOOOMMMMM what do we have to eat"quickly. Then the whining starts and we begin the battle of trying to make it to bedtime without everyone losing their minds. If you are a parent of school age children I am sure you understand. So instead of trusting my summer to the whimsical summer goddesses I do my best to plan the days so we feel productive but not exhausted. I try my hardest to find that balance between action packed and lazy around by the pool…you get me, right?
Another thing I do to keep the summer days sane is to have food ready to eat. A couple years ago I went into summer thinking I would have all this time to cook from scratch. Ummm…yeah…no that did not happen. Our food situation was a chaotic mess. And it was even more bothersome because I already started this blog and was totally committed to preparing healthier foods. I remember being so stressed out. Anyway, the lesson I learned from this is what I try to practice year round…HAVE FOODS READY AHEAD OF TIME. It was foolish of me to think otherwise. Since then I make time for a huge summer freezer cooking stock up. This has been a life saver in more ways than one.
This summer I am getting started a couple weeks late and trust me I felt the pain. To prevent any further chaos I dedicated this past weekend to stocking my freezer. As I cooked and prepared the meals for the freezer I posted pictures on Instagram and some on Facebook. Many of you asked me to share the recipes and my process. Some also asked how I keep track of everything. Well keep reading because I share all of that in this post.
Let's start with the recipes.
For my summer freezer-cooking stock ups I like to keep recipes basic and ones I KNOW my family will eat. No point in stocking my freezer with a bunch of new recipes my kiddos won't touch. It's about making life easier. I like easy.
I also wanted to include breakfast, lunch, and dinner recipes – a little bit of everything.
These are the recipes I made. By the way, you can view this entire menu and print out a grocery list if you use Plan to Eat. I have it saved over there too.
Breakfast
23 Egg, sausage, and cheese breakfast burritos
Lunch
15 Turkey Chipotle Burritos
Dinner
4 Buffalo chicken dinners (feeds family of 4 each)
2 Chicken quesadilla freezer kits (I used salsa chicken for these) (feeds family of 4 each)
2 Crockpot Taco Meat dinners (feeds family of 4 each and sometimes there are leftovers for a taco pizza)
2 cheeseburger macaroni bakedinners (feeds family of 4 each)
When it's all added up you get about 112 meals. These meals should last most of the summer. Of course, we will still eat other meals and snacks too. Also, I might do another stock up part 2. I will keep you posted.
Now let's go through the process so you can see how I did this.
First of all, I went grocery shopping Saturday morning. I spent roughly around $350. Now keep in mind I purchased other things with that money (toiletries, cleaning supplies, etc.). That's about $3.12 per meal but its probably much less because like I said I purchased more than just the ingredients I needed. So I would say it's probably more like $2.50 – $2.75 a meal. Another thing to keep in mind is I used all organic, whole grain, and high quality ingredients. No yucky processed junk here.
Let's start with breakfast. I made the breakfast burritos the night before my big cooking day. This wasn't really planned out or calculated. Nope. I had the energy and figured it would be helpful to get a head start. This was a good choice.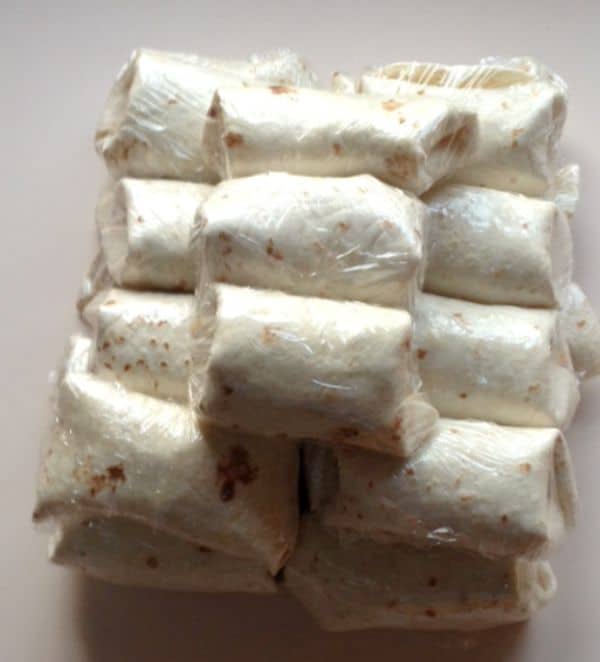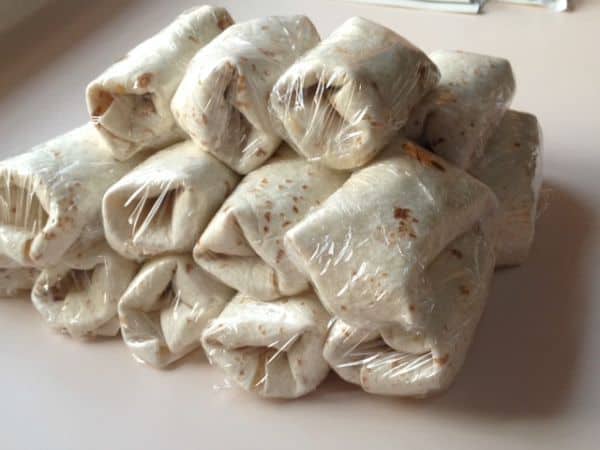 The next day, I got started in the early afternoon. The first thing I did was get the buffalo chicken and salsa chicken going in my slow cookers. Kind of off topic but I find it very helpful to own more than one slow cooker. I have a 6qt hamilton beach slow cooker and a 6qt crockpot. Both are programmable. Just a quick tip.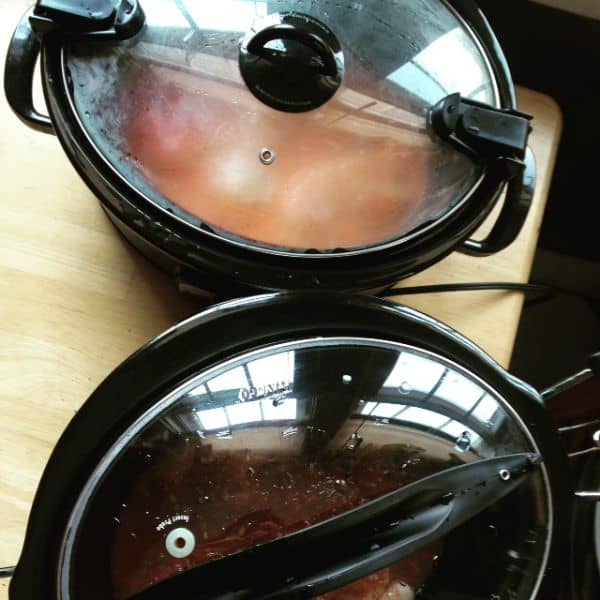 After the slow cookers began their magic I started the taco meat, hamburger meat, steel cut oats, and macaroni on the stove top. Please don't mind my severely outdated kitchen. Someday I will have a new kitchen. Until then it's all about function 🙂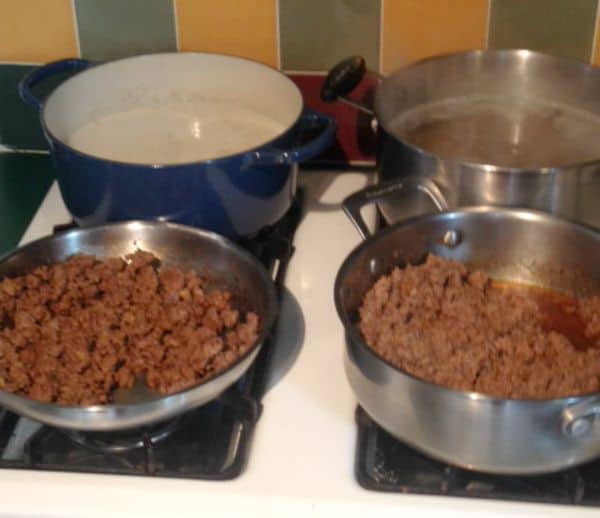 This was not the time to go sit down and watch my favorite show. Nope. I needed to keep an eye on the macaroni and oats. The last thing I wanted is overcooked macaroni.
After all that was done and slightly cooled I put together 2 hamburger macaroni and cheese containers and 2 taco meat containers. Each meal feeds about 4 people.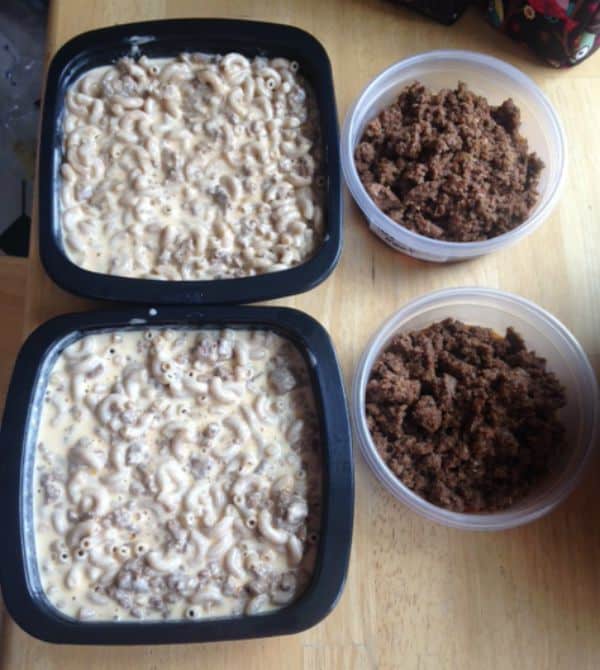 I did not bake the mac n cheese before freezing it. Instead I let it cool and then froze. I use the Glad Ovenware for my freezer mac n cheese. You can bake the mac n cheese right in the dish or if you prefer just remove and cook it in another dish of your choice. I think it is a handy option especially when we are packing up food for our cabin. I purchased mine from Amazon. The size used here is 8 x 8 but it looks like Amazon is only carrying 9 x 12 now. If you use that size you would put the whole recipe in the dish instead of splitting it into 2 meals. Chinet has a 8 x 8 bake and serve dish. I personally never used them but they seem to serve the same purpose.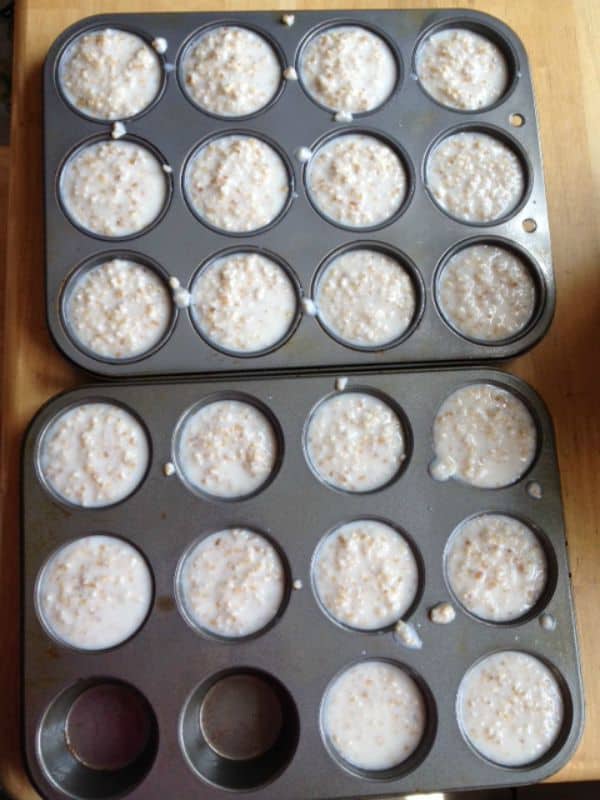 After I put the mac n cheese and tacos in the freezer I poured the steel cut oats into muffin tins. This is a great way to create perfectly portion controlled servings. I have full instructions on doing this here.
Once the oats set and freeze I took them out and put into a freezer bag. I did not get a current picture of this but here is an older picture of what steel cut oats look like when frozen and removed from tins.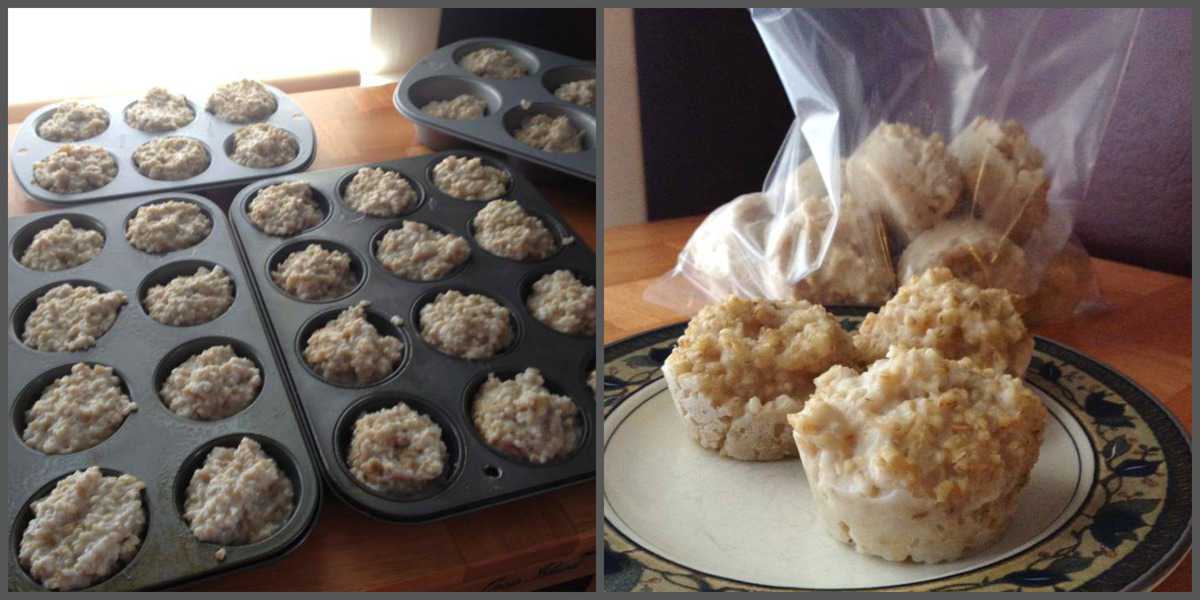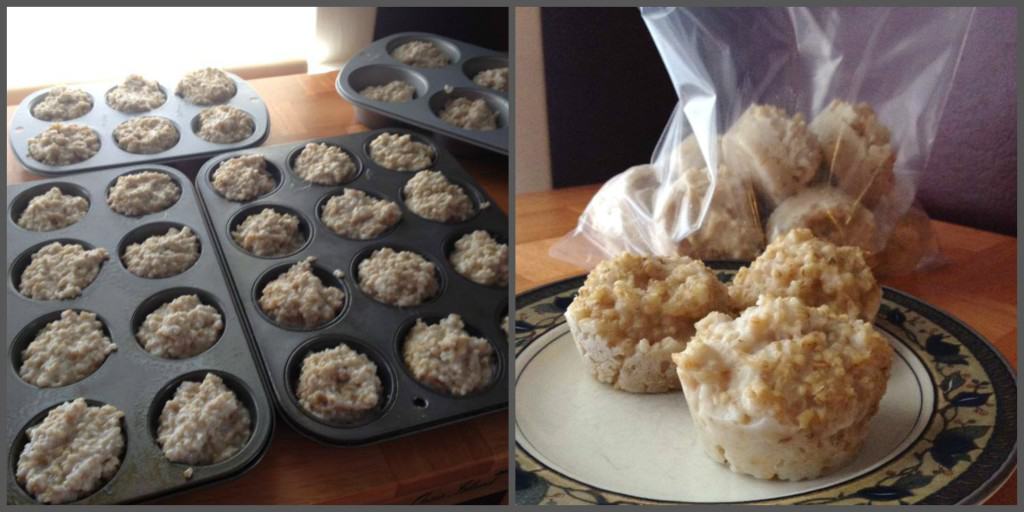 At this point the slow cookers where still going so I decided to put together some freezer smoothies. I LOVE smoothies and was very sad last week when I stayed at our cabin and forgot my Vitamix. To solve this problem I decided to make a bunch of smoothies, freeze them, and grab a few when I head out to our cabin this summer. Now I don't need to worry about lugging my blender with me and I will still have my fresh green smoothies. Here is my tutorial of sorts on putting together freezer green smoothies. I get excited just looking at this picture.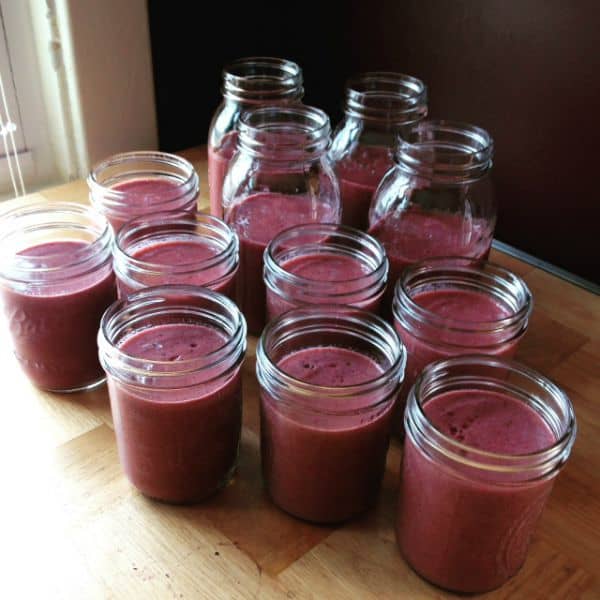 Next I cleaned up while waiting for the slow cookers to finish. Sorry I didn't take pictures of that. Trust me you don't want to see the freezer cooking bomb that goes off in my kitchen.
After the slow cooker buffalo chicken and salsa chicken were done I prepped them for the freezer.
The salsa chicken I turned into quesadilla freezer kits. All I did was take half the chicken, 1 1/2 cups of mexican cheese, 6 tortillas, and put them together into a gallon size freezer bag. The chicken and cheese are placed into smaller quart size freezer bags before going into the larger bag. Out of all of my freezer meals I think this might be a fav. I am just so grateful every time I have these in the freezer. Here are some further instruction is you need it.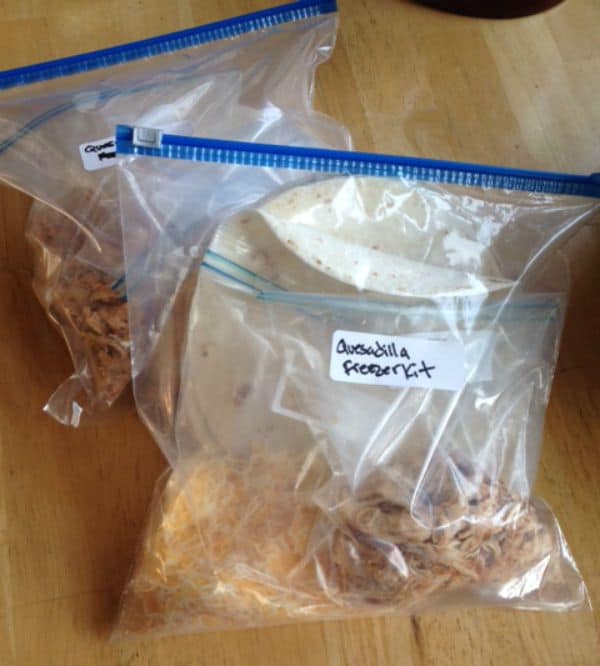 The buffalo chicken I split into 4 meals and froze in containers. **the other container was in the fridge. I will use this for subs and wraps. As you can see my youngest was helping with the labeling.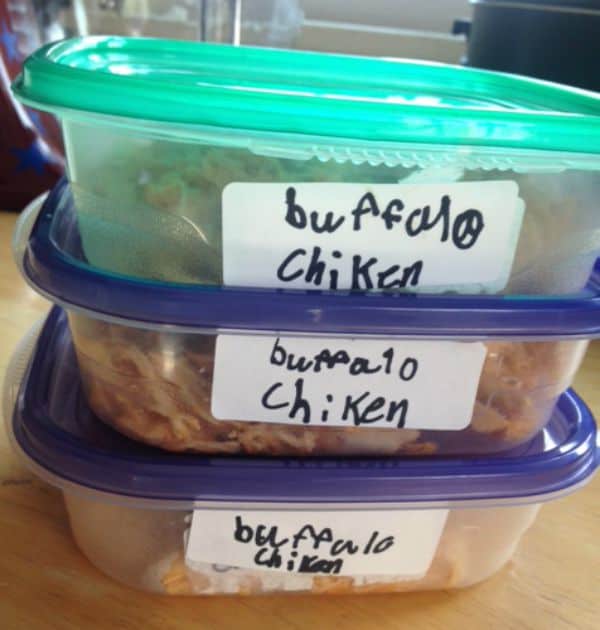 By this time I was tired and done for the day. I did still want to make Turkey Chipotle burritos so I decided to prep the ingredients and cook the turkey chipotle burrito filling overnight in the slow cooker.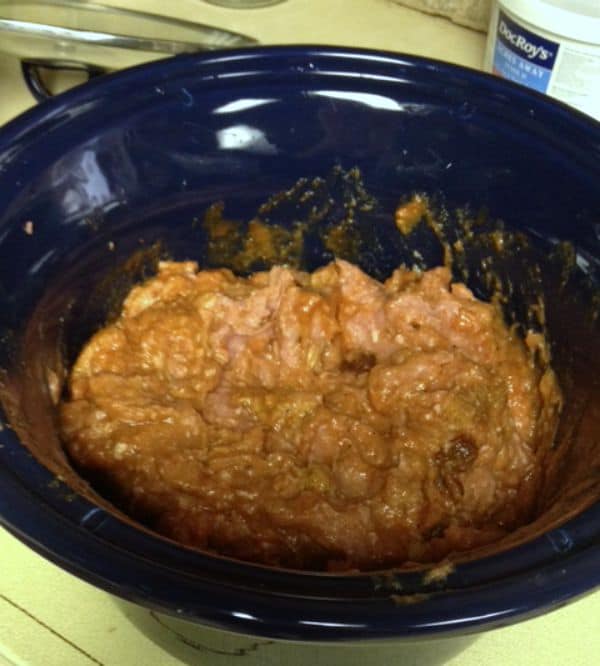 Wow was I glad I did that. It saved me like half the day. When I woke up the turkey was done and all I needed to do roll burritos. These are delicious and make for an easy lunch. Of course, you can also enjoy for dinner too.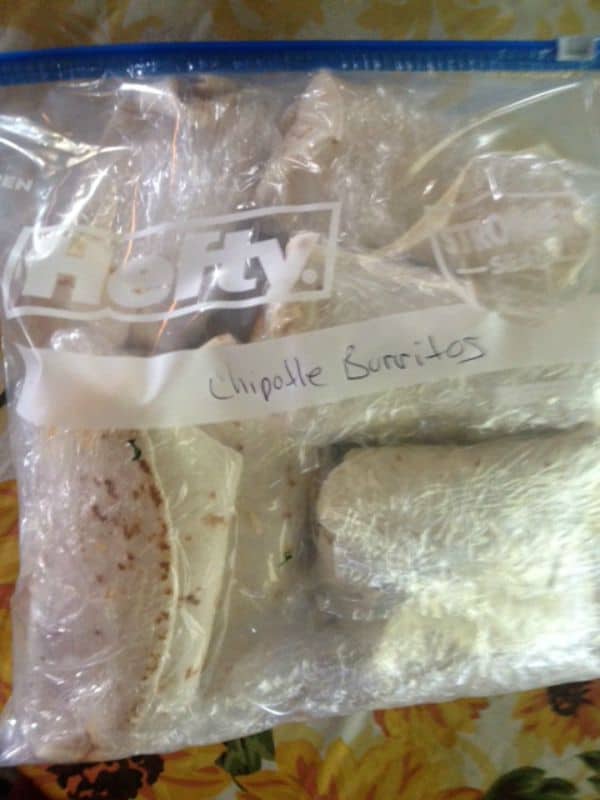 That's it. My freezer is now stocked with 112 meals. Sure it takes a little time and effort but trust me its worth it.
Now let's talk about keeping track of everything.
First and foremost you MUST LABEL EVERYTHING. This is so important. If you don't I guarantee that within a week any unlabeled freezer meal will fall deep into the freezer abyss never to be seen or recognized again. I simply use a sharpie and address labels. Easy and it works.
You can organize the freezer meals with a written out list on paper or on your phone. You can keep an excel spread sheet. Do whatever works for you. For me I recently started keeping track of my freezer meals on Plan to Eat. Seriously, I already think PTE is amazing but then they go and add a freezer meal function and it's like true love. Perfect! If you subscribe to Plan to Eat then I highly recommend using this function. If you are not a subscriber then try their 30-day free trial and give the freezer meal organizer a shot.
Let me give you a quick snapshot and tutorial to give you an idea of this freezer function.
Step 1.
Go to the planner section of Plan to Eat. Then go to "My Recipes" over to the left. Search the recipe you plan to make-ahead and freeze. Here I chose my buffalo chicken. Drag it to your freezer cooking day then click on the recipe for the preview to come up. When the preview pops up click "add to freezer".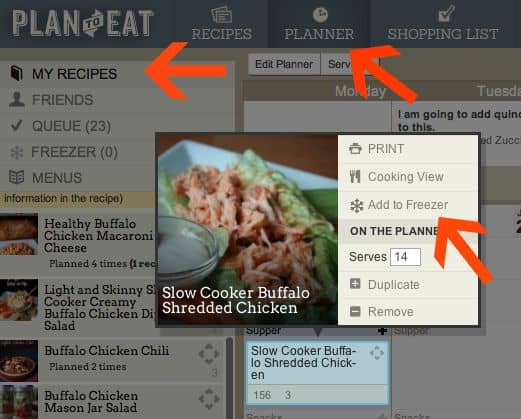 Step 2.
After you click "add to freezer" this box will come up. Here you put the number of meals and how many servings per frozen meal. So this means I will have 4 buffalo chicken dinners in the freezer. For my breakfast burritos I would put 23 meals and 1 serving each.

Step 3.
After you add all of your meals to the freezer section it will look like this. As you plan your meals using freezer meals it will automatically deduct that number from the freezer meals as you drag to your planner. So if you keep up with it you can see what you have available in your freezer when you are ready to plan. I think this is a fantastic way keep your freezer meals organized. Again if you want to give this a try then join Plan to Eat. I think it is worth every penny!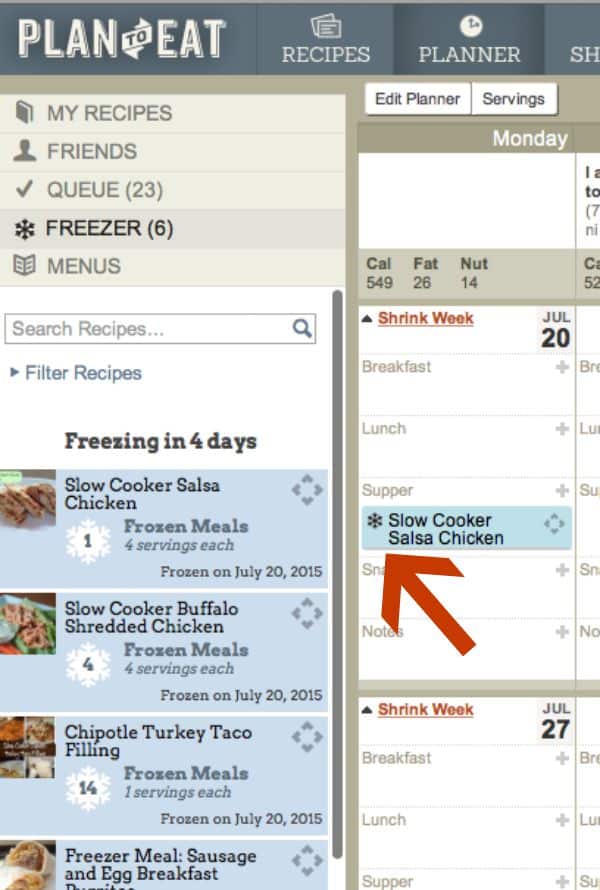 Some last thoughts on my summer freezer cooking stock up…
Plan your freezer cooking menu ahead of time. Like 2 -3 days ahead of time. It's just easier that way. If you plan it on Plan to Eat you can instantly print out a grocery list.
Make sure you have all your freezer supplies. I did not have ANY freezer bags! I realized this half way into it. Learn from me.
You will need a solid day if you plan to do this all at once. However, if you break it up into sessions plan for a couple hours at a time or more.
Don't forget your comfy shoes. Trust me you will be sending me hate mail if you don't wear sneakers while standing in the kitchen all day.
Only do what you can. Even a few meals in the freezer will make life grande.
I have an entire chapter dedicated to freezer cooking in my ebook Organize Yourself Skinny: 5 Strategies to Help Busy People Lose Weight and Keep it Off. I talk about the different ways freezer cooking helps me to eat healthier. I lost 40lbs because of freezer cooking and make-ahead meals and I know it can help you too.
Disclaimer: I am an affiliate of Plan to Eat. I am obsessed with their meal planning services, use it ALL THE TIME, and highly recommend them without any reservations.