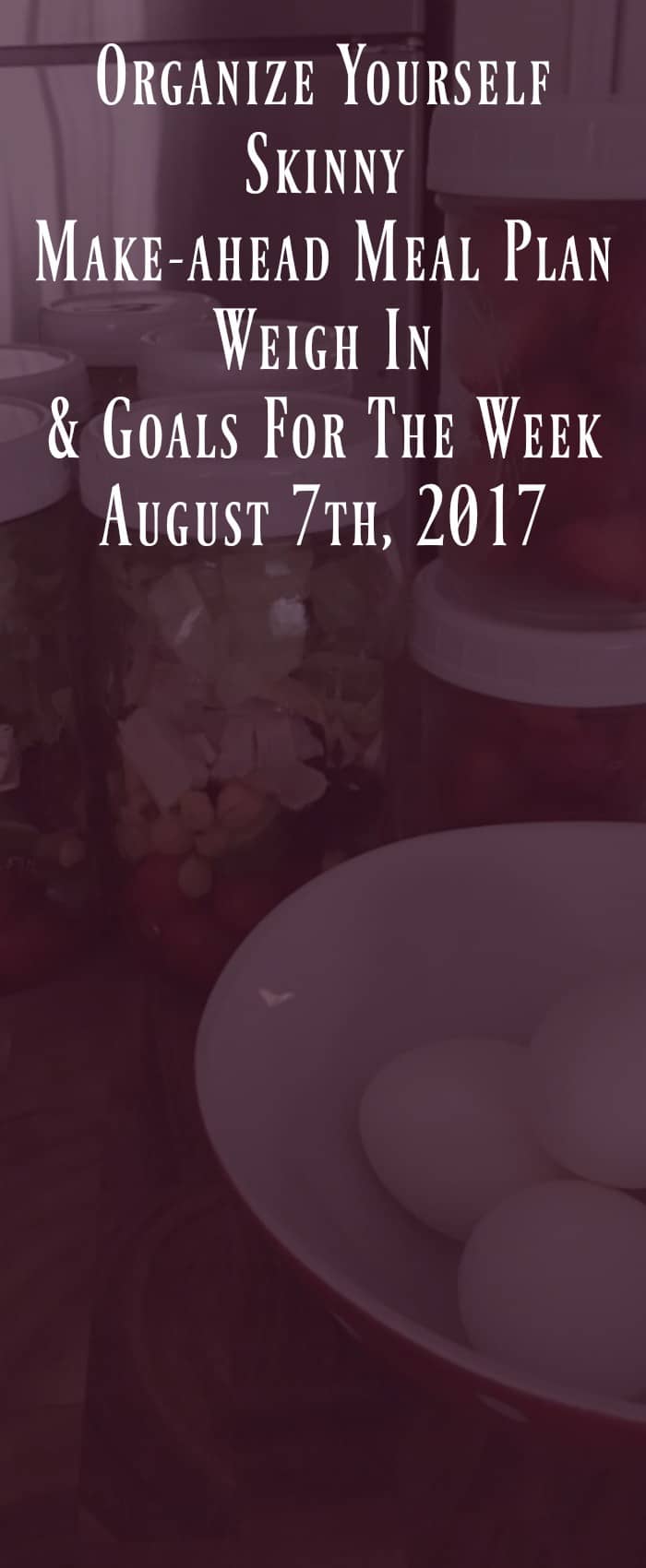 Hey there! Can you believe we're into the second week of August? Where did the summer go? In just one month school starts back up for us. I have mixed emotions. On one hand, I'm looking forward to getting back into routine – it's very difficult to work from home with kids running around. On the other hand, I like having them home – it's been fun swimming, going on day trips, and simply hanging out with friends. Regardless, I can't stop time so I'm going to make the most out of the next few weeks by making more memories and also preparing for the start of the school year.
One way I'll get ready for the year is to stock my freezer with meals. I plan to make:
taco, pizza, and quesadilla kits
Slow cooker freezer kits (meatball, chipotle turkey taco,)
Along with some other meals. I'll post a freezer post in a week or so.
Alrighty, let's get to my weigh-in. The last time I shared a weigh in was on June 12th! Ugh, I'm sorry I let that much time go by. My goal moving forward is to make weekly weigh ins a priority. I know you like to see them and quite honestly it keeps me honest with my weight loss goals. It's so easy to let the "busy" of summer get in the way. However, if I wait for life to slow down I'll be waiting forever. If it's important we make it a priority…if it's not we make excuses. My weigh-in is important and I need to prove that by making it a priority EVERY SINGLE WEEK!
Can I get real?
The issue is my weight has been stuck in the 150s for almost 2 years now. UGH….it's so discouraging. Often, I hate getting on the scale and sometimes will avoid it. But I don't want to go down that road again because while the scale is not the end all be all it has kept me intentional and accountable on my weight loss journey. It's easy for me to go into denial, and make excuses, without the scale. This is why I keep the scale around even if I want to throw it against the wall at times.
On a positive note, even though the scale doesn't budge I do find that my clothes fit good and overall I feel good. Here are a few pictures in clothes I received from Stitch Fix. By the way, I'm going to write more about this in the future. I felt great in these clothes and loved the way the pieces fit and look.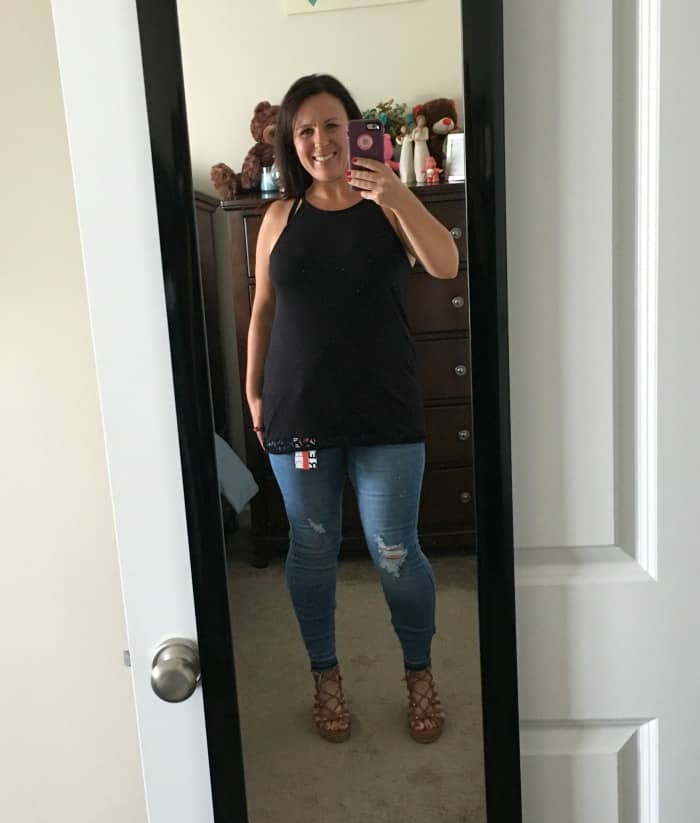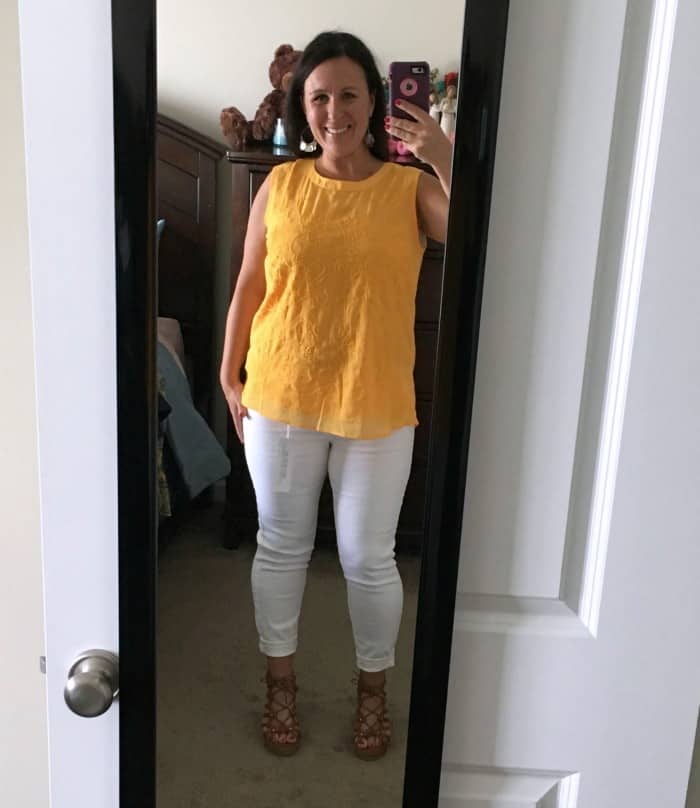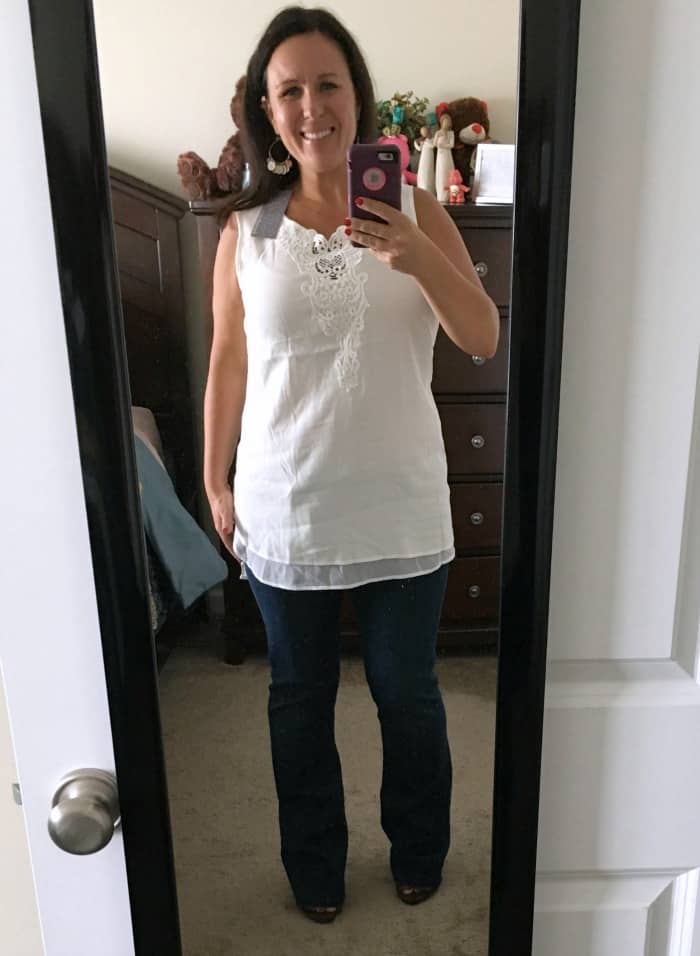 But here's the thing – I can do better. Yes I eat healthy most of the time but there are times I don't or I eat too much. Some days I'm spot on with tracking and others I let too many bites go unaccounted for. I exercise 3-4 times a week but I know I can challenge myself more. So I know I can do better. Plus, I think my body is changing. In the last year or so my hormones have started to flare up. I can feel it in different ways. One way is how my body responds to food and exercise…or doesn't respond. I'm not going to blame my hormones on everything because I know I haven't been perfect with my habits. But it's definitely important to note that I need to do things differently during this stage in my life.
With that said here's my weigh in.
Starting weight (10/2010) – 177lbs
First goal weight: 145lbs
Final goal weight: 135lbs
Last weigh in (6/12/17): 153lbs
Current weigh in: 156.8…so basically 157 🙁
pounds loss: +4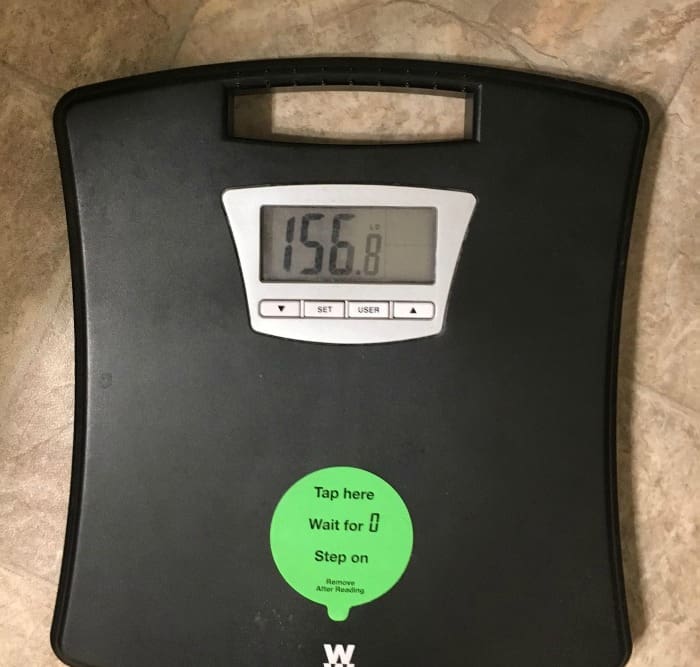 Like I said I can do better…and I will do better!
Before I get to my meal plan I want to go over my exercise goals for the week.
I plan to run/power walk 5 miles on Monday, Tuesday, Wednesday, Friday, and Saturday.
Everyday this week I plan to do 15 minutes of toning exercises:
1 minute planks
100 Russian twists
50 squats
50 plie squats
25 lounges on each leg
25 bicep curls with 8lb weights or resistant bands
25 tricep extensions with 8lb weight
50 modified pushups
Here's my food for the week. As usual, my plan is to keep white carbs and refind sugar to a minimum.
Breakfast
Make-ahead tips
I made detox smoothie kits last week and still have a bunch in the freezer.
If I choose to eat a breakfast sandwich I'll make that the morning I eat it.
Lunch
Turkey, Sun-dried Tomatoes, and Chickpea Mason Jar Salad
Make-ahead tips
I made these salads yesterday.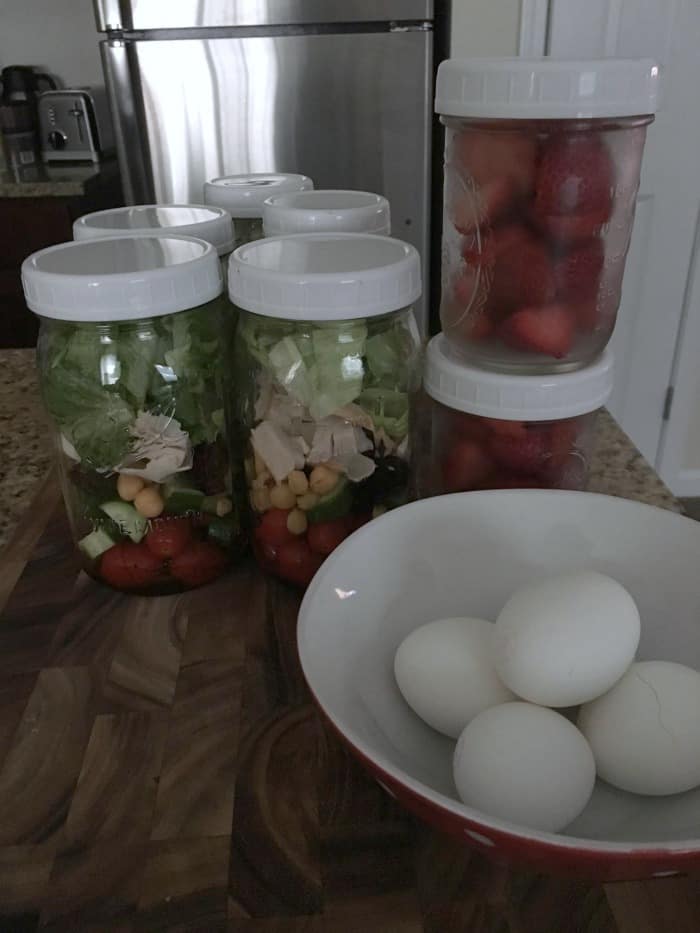 Snacks
Strawberries and yogurt
Hard-boiled egg
Cheese stick
Apples
Make-ahead tips
strawberries were cut up and stored in mason jar containers.
hard-boiled eggs were made yesterday.
I organized snacks yesterday into a bin and place into the refrigerator.
Dinner
I'm making new recipes this week, or creating recipes videos, so I wasn't able to prep dinner recipes yesterday. Look for the new recipes to be shared this week on the blog.
Low-carb Pizza Turkey Meatloaf – new
Low-carb Thai Shrimp Bowls – new
Other goals for this week include:
Purge and organize closets.
Organize and clean out pantry.
Stock freezer with meals.
Finish up school supply shopping.
Have a great start to the week!