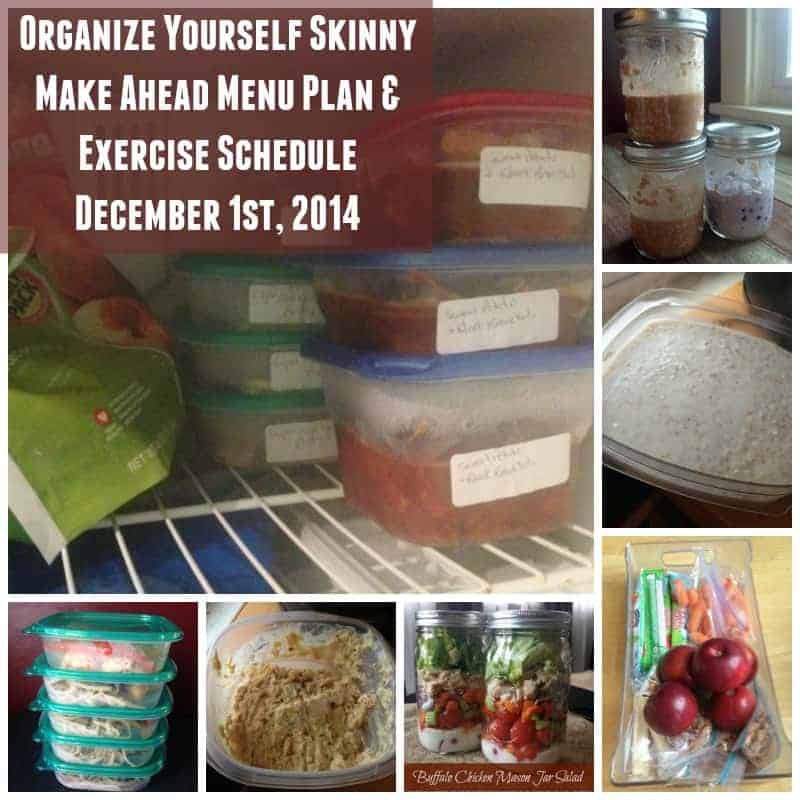 Hi there! It is incredible to think we are into December already. Where does the year go? Even though time went way too fast I do love this time of year. Both of my sisters, nephew, and brother-in-law come into town for a couple weeks and it is a whirlwind of activity. Each day is spent shopping, laying on couch taking up space, and/or breaking records for who can eat the most cheese and pepperoni in one night. I wish I was kidding but seriously my mom's refrigerator is always stocked with enough cheese and pepperoni to feed an army. It's amazing I don't gain 20lbs every December. But I am proud to say that in the 4 years I have been on this little weight loss journey of mine I have not completely backtracked on my weight loss goals during this time. Of course, I always see a few pounds creep on but because my eating and exercise routines are habits now I always bounce back. This gives me confidence to take on the holiday eating season!
With that said lets talk about this weeks weigh in.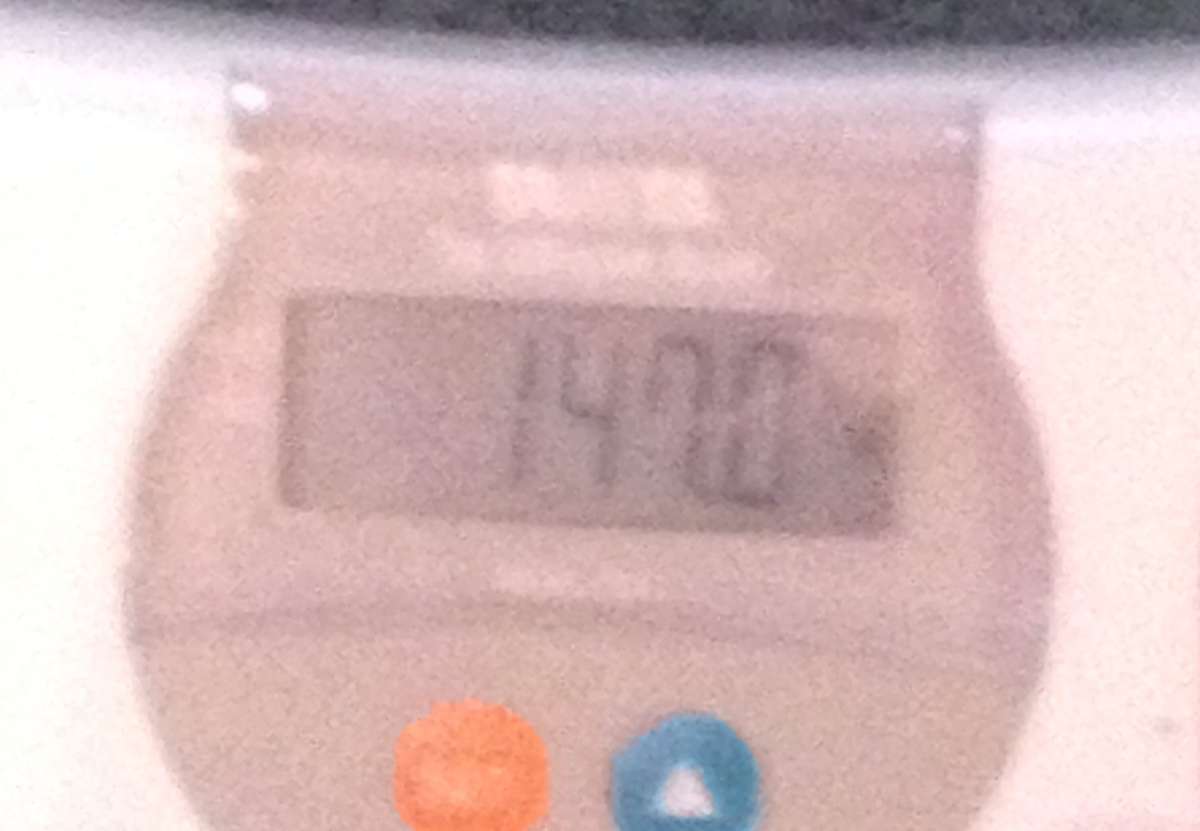 SW: 177
GW: 135
LWW: 144
CW:147
PL: +3
I GAINED 3LBS THIS WEEK! A couple of things. This is the most I have ever gained in a week since I started losing weight. Second, 147 lbs is my absolute max weight. I cannot go over 147lbs. Earlier this year I wrote a post called How to lose 30lbs and keep it off. I asked my readers, who lost this much weight, what habits they thought helped the most with sustaining their weight loss.
Anyway, one of the habits that really stuck with me was to have a max weight you will allow yourself to get back up too. I found that to be eye opening and helpful as I continue to work towards my goal weight. Now I don't want to beat myself up too much. It was Thanksgiving and I went out to a really nice dinner with friends last night. Honestly, the chocolate pie I had at Thanksgiving and the amazing pasta dish I had last night was so worth it. Plus I weighed myself later in the day after I ate and with my clothes on so that might add on some extra weight too. Regardless, 147 is the max I will let myself get up too so I need to stay very focused this week and moving forward.
I did okay with exercise last week. I got on my treadmill and did some strength training but I did not challenge myself the way I need too. However, this morning I had an amazing workout. I ran hard and did all of my strength training. I felt AMAZING. That right there tells me I need to prioritize exercise. I always feel so much better after a workout. I never feel that when if I choose the couch instead.
Here is my exercise routine. I am going to work out everyday but Sunday this week. Even if I just get ½ hour in. My goal is more about reestablishing my exercise habit.
Monday, Tuesday, Wednesday, Thursday, Friday, Saturday
Cardio
Run 2-3 miles on treadmill.
Core
100 crunches
2 (30 second) planks
2 (30 second) Russian twists
Arms
16-24 bicep curls with resistant bands
16-24 tricep extensions with 5lb weights
25 modified pushups
Butt/legs
50 squats
50 lounges
Now let's talk about my weekly meal plan. Besides Thanksgiving and going out to eat I have been doing pretty good with food. There are some mindless bites that sneak in here and there but I am working hard to stay intentional with my food.
Something that has helped me stay intentional with my food is using the menu planner on Plan to Eat. I have been a subscriber of the Plan to Eat menu planning website since 2012. Basically, this website is a place where you can collect recipes from all over the web, create menu plans using those recipes, and then generate a grocery list off those recipes. It is pretty amazing. Right now they are running a huge black Friday sale offering 50% off their yearly subscriptions. After the discount – which is automatic – it comes to only $19.50 for the entire year. Honestly, this is a huge steal.
I think my favorite function of the menu planner is it shows the nutritional information for each recipe and then calculates the total at the bottom of the day. They have a "generic" score where you can put the weight watchers points of recipes so it makes it a cinch to calculate ahead of time your daily points. It is pretty incredible. Here is a screen shot of what my menu plan for this week looks like. Obviously, I still have room left for some other calories but you get the idea. Take a look at their site and see if it would work for you. If you do join then "friend me" and you will have access to all my recipes. I almost have them all imported. My username is organizeyourselfskinny.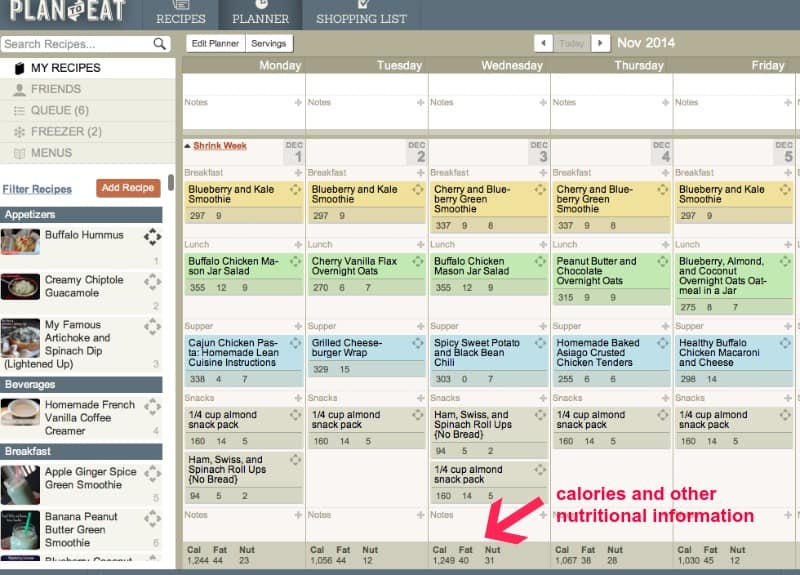 Also, many of you each week ask me to post a grocery list with my menu plan. Well on Plan to Eat you can easily generate your own shopping list with my recipes. You can even organize what you have in your freezer and pantry so you are not purchasing what you don't need. This is what the list looks like on the computer. I usually print it out but you can view right from your phone.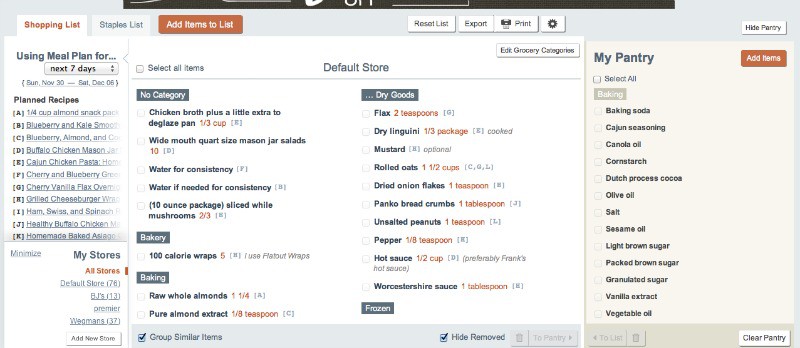 Here is my menu plan for this week.
Breakfast
Or
or
Steel Cut Oats
Make ahead tips
Smoothies will be made the morning of.
Mid morning snacks
¼ cup almonds
or
apple
or
cheese stick
Make ahead tips
I still have a few bags of almonds left that I portioned out a few weeks ago.
Apples and cheese organized in my refriderator snack area so they can be found easily. See this tutorial for putting together your own snack area.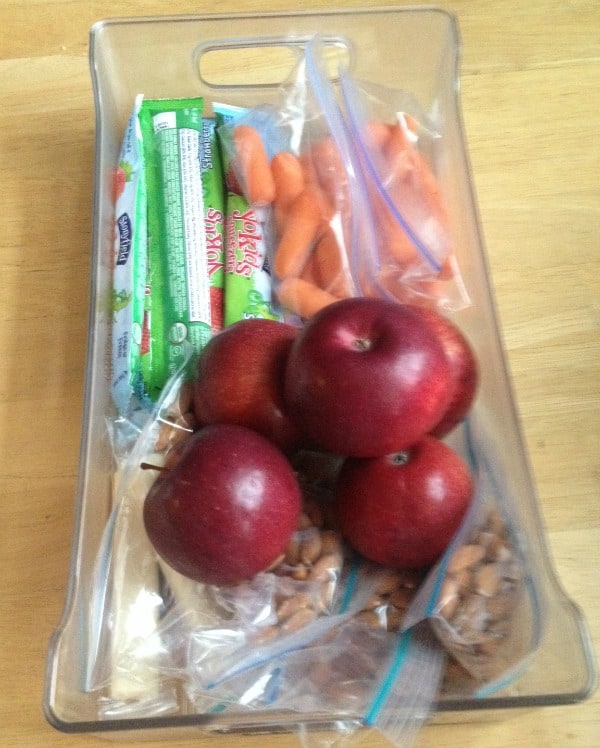 Lunch
Chocolate Peanut Butter Overnight Oats
Or
Blueberry Coconut Overnight Oats
Or
or
Buffalo Chicken Mason Jar Salad
Make ahead tips
Overnight oats and tuna salad were made today
Mason jar salad salads will be made on Wednesday to eat later in the week.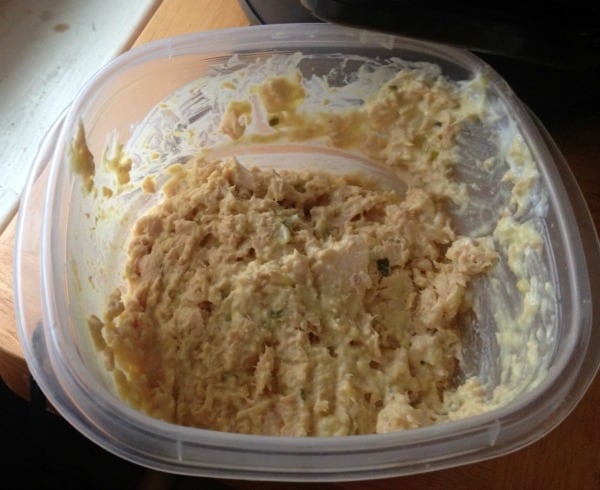 Mid-afternoon Snacks
Ham, spinach, and swiss roll ups
Or
Veggies & hummus
Make ahead tips
Roll ups will be made the day I eat them.
Carrots were portioned out into snack bags.
Dinner
Sweet Potato & Black Bean Chili
Homemade chicken fingers over salad
Make ahead tips
Cajun chicken and chili were frozen into single portions a couple weeks ago.
Filling for cheeseburger wraps and buffalo chicken for mac and cheese will be made tomorrow.
Chicken finger will be made on Wednesday or Thursday.