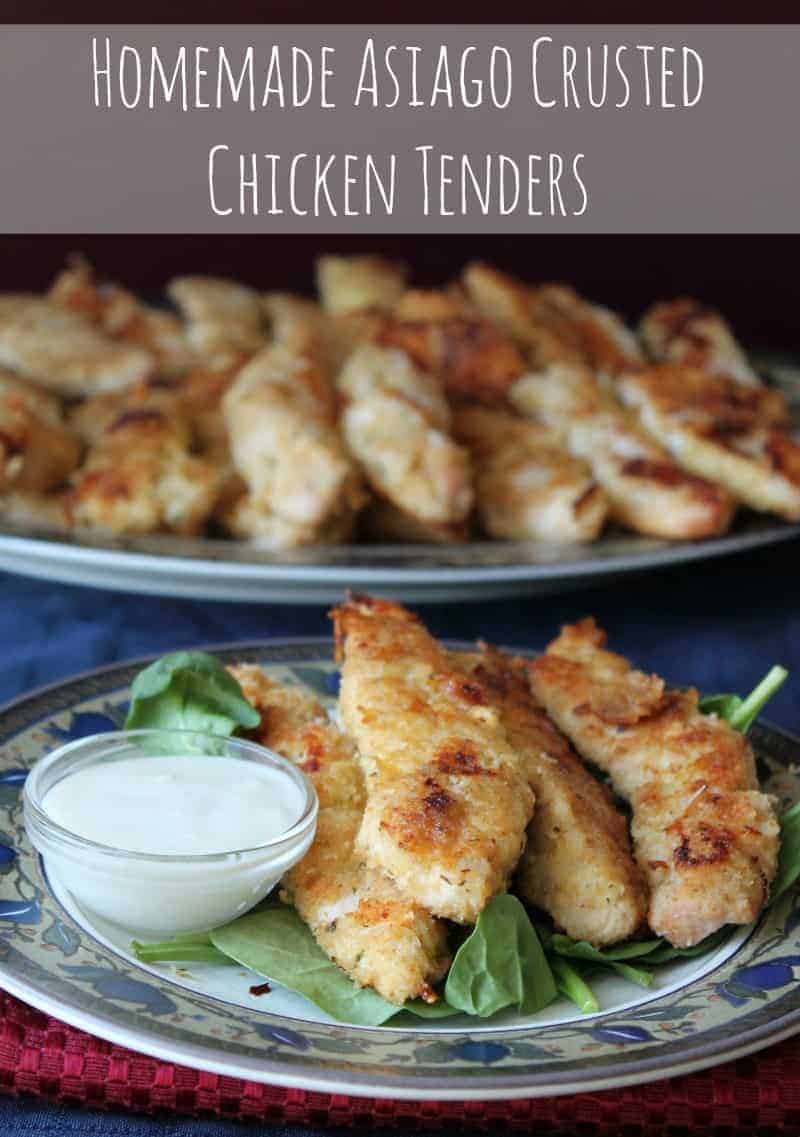 Oh the beloved chicken tender. My kids love them. I am assuming most kids do because chicken tenders (or better know as chicken fingers or nuggets) are on every single kids menu of every single restaurant I have ever dined in. The problem with this so called kid friendly meal is that most of time the chicken is so processed and fried it barely resembles chicken at all. In fact, I like to refer to them as mystery meat because essentially that is what they are.
Now, just because I could go the rest of my life without ever looking at a mystery meat nugget or finger again does not my kids will. Nope wanting to consume chicken nuggets is a battle they are willing to fight till the end. Yes I know I am the mom and I know I am the one that tells them what to eat. But….you never met my youngest. She has superhuman debating stamina. It is unreal. Anyway, a couple years ago I created my own version of a chicken nugget. It is actually really good and kids loved them. Win for mom. The only issue is they take a little extra effort to prepare and sometimes I just don't have the time or energy. So, I decided to put together a very simple homemade version together of a chicken tender.
This chicken tender recipe uses 4 ingredients – chicken breast, egg, asiago cheese, and seasoned breadcrumbs. A far cry from the laundry list of ingredients you find on packages of chicken tenders in the freezer aisle. Of course, you can make these even healthier by using homemade breadcrumbs and organic chicken breast. The beauty of homemade anything is you control the ingredients.
I pounded the chicken breast out slightly then slice into 3-4 strips depending how big the breast is. I was able to get 18 nice strips out of 2 pounds of chicken breast. Don't pound them out to thin because they will fall apart when you try to slice them. Then I took each strip, dipped in an egg wash, then in the breadcrumbs, and last laid on a baking sheet liberally coated with cooking spray. You can also use an olive oil spray or whatever oil you want. You need to use some type of oil or spray or the chicken will stick to the pan.
The best thing about these chicken tenders is you can cook up a huge batch of them, let cool, and freeze for future lunches and dinners. They can go right in the oven frozen (just like the mystery meat ones from the freezer aisle) and be ready to eat within ½ hour or so.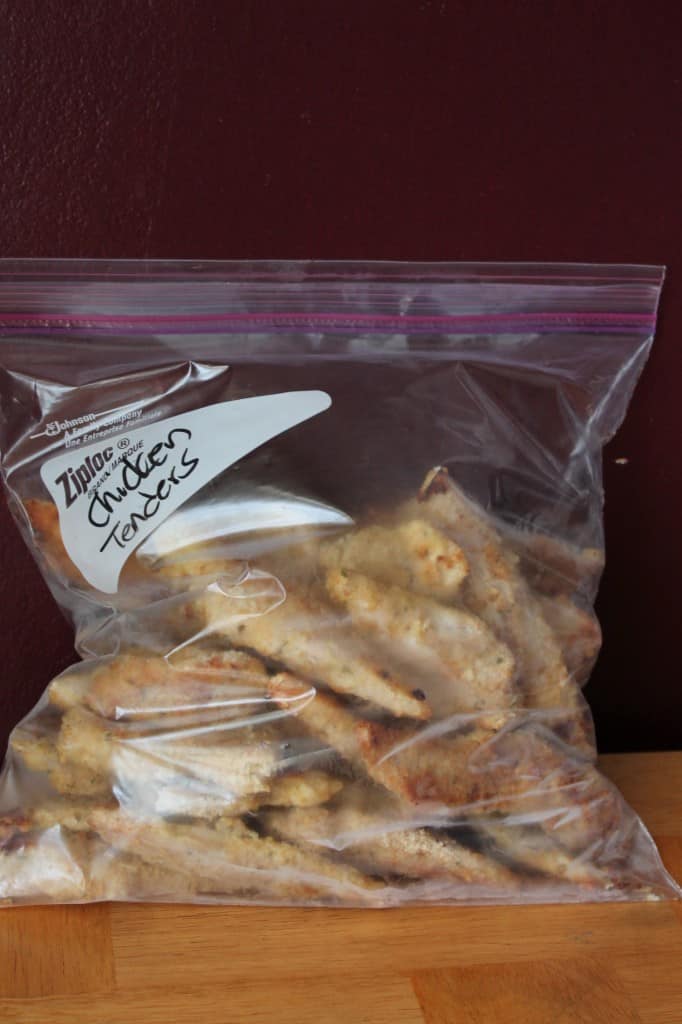 These chicken tenders are very versatile. You can serve alone with some blue cheese or dipping sauce of choice. They are also great in a wrap or salad. Whichever way you would like to eat these healthy homemade chicken tenders is up to you. Oh and my kids loved them! They gobbled them right up thinking the whole time they were winning by eating chicken tenders. Win for me 🙂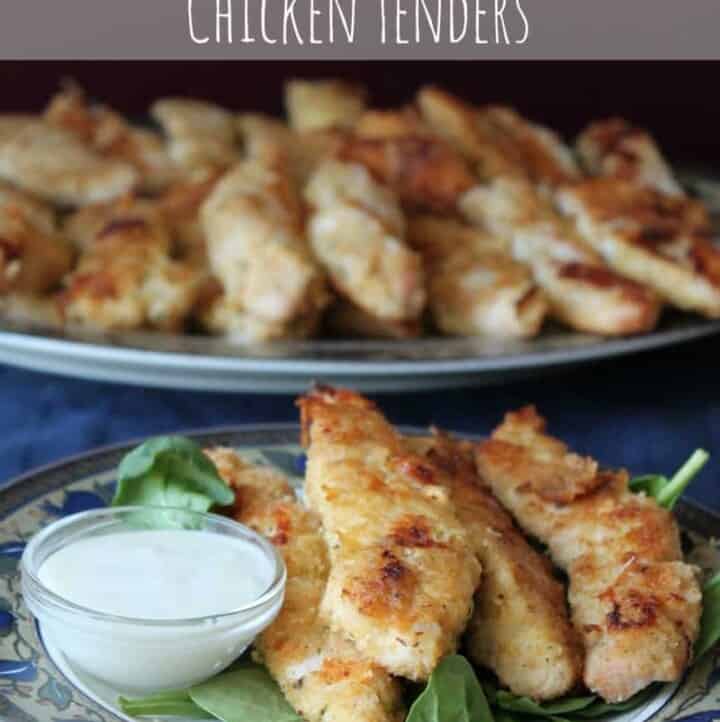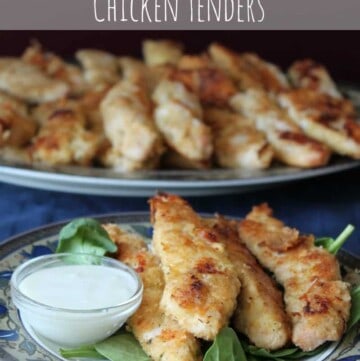 Ingredients
2

pounds

chicken breasts

pounded out slightly and cut into 3 - 4 strips per breast.

1

egg

1

tablespoon

water

1/2

cup

seasoned breadcrumbs

1/2

cup

shredded asiago
Instructions
Preheat oven to 350 degrees.

In a small bowl whisk together egg and water. Set aside.

In a medium bowl mix together breadcrumbs and cheese.

Take each chicken strip and dip in egg wash then into the bread crumbs.

Lay out on a baking sheet liberally coated with cooking spray.

Cook for 40 minutes. Turn over after 20 minutes.
Notes
Make Ahead Instructions
Chicken tenders can be made completely ahead of time and frozen for future dinners. Cook as directed then flash freeze for 2 hours. Then take chicken tenders and put into freezer bag to freeze.
These can be cooked right from the freezer. Heat over to 400 degrees and cook for 20 -30 minutes or until heated through.
Nutrition
Serving:
3
g
|
Calories:
255
kcal
|
Carbohydrates:
8
g
|
Protein:
40
g
|
Fat:
6
g
|
Fiber:
1
g
|
Sugar:
6
g