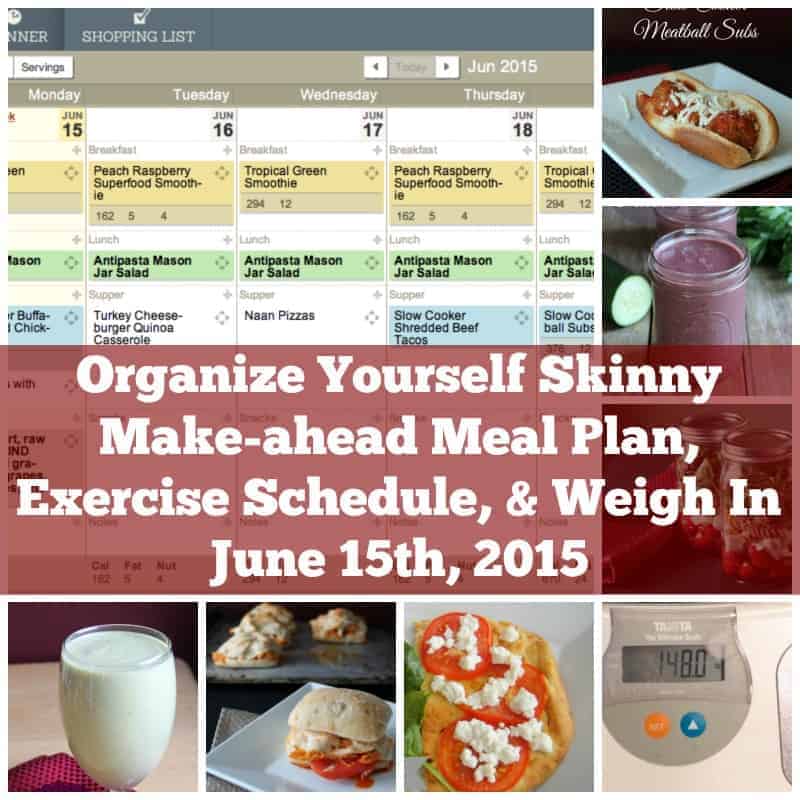 Well I am finally starting to feel normal. Seriously, I had no idea that the flu could last for weeks. I still have a little cough – over 2 weeks later. At least I have the energy to work. It was killing me not being able to cook recipes or write blog posts. Imagine being so tired and sick that you can't even type.
Craziness.
Okay enough talking about my sickness. I am starting to sound old and haggard. Haha!
Let's get to my weigh in.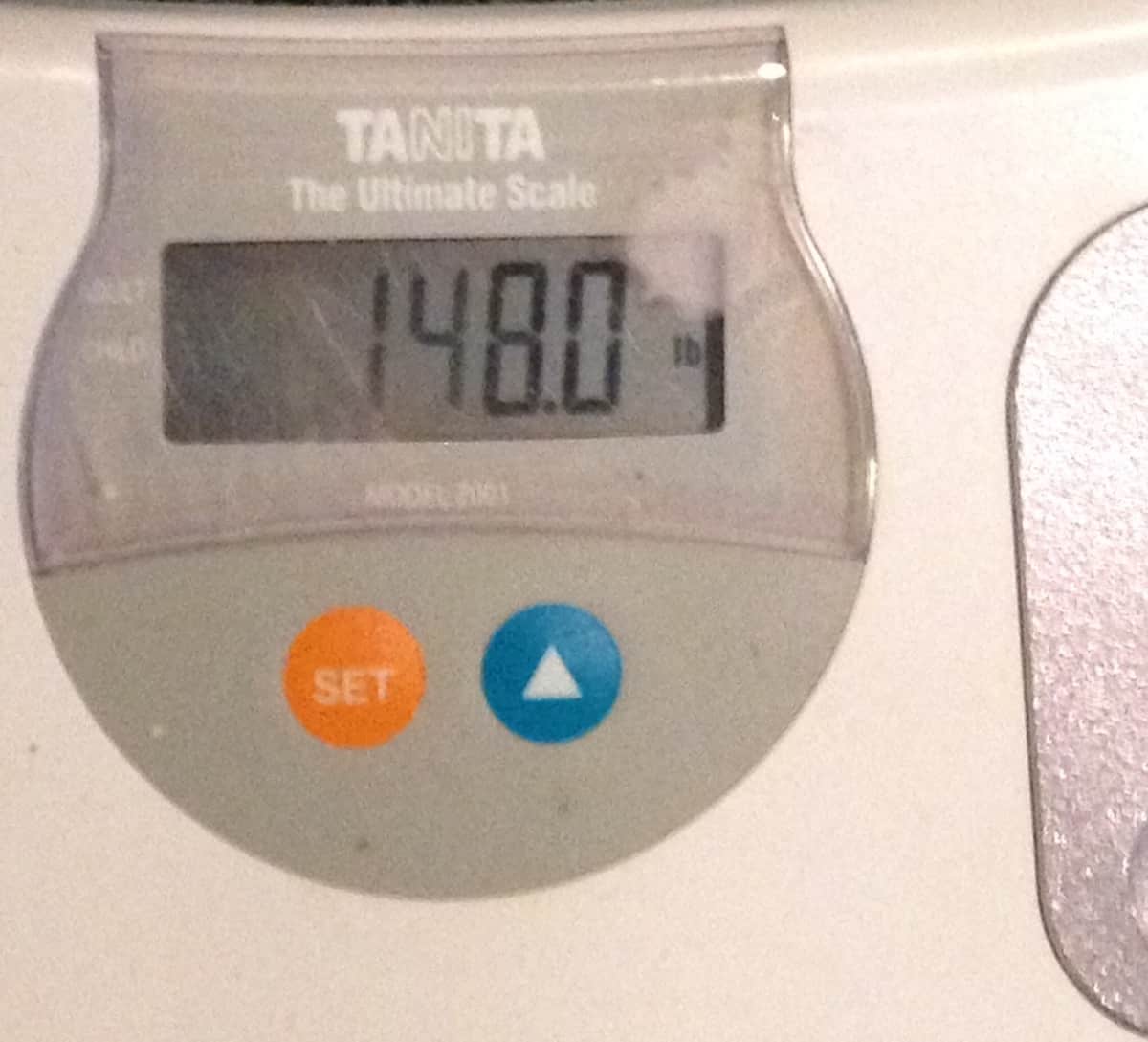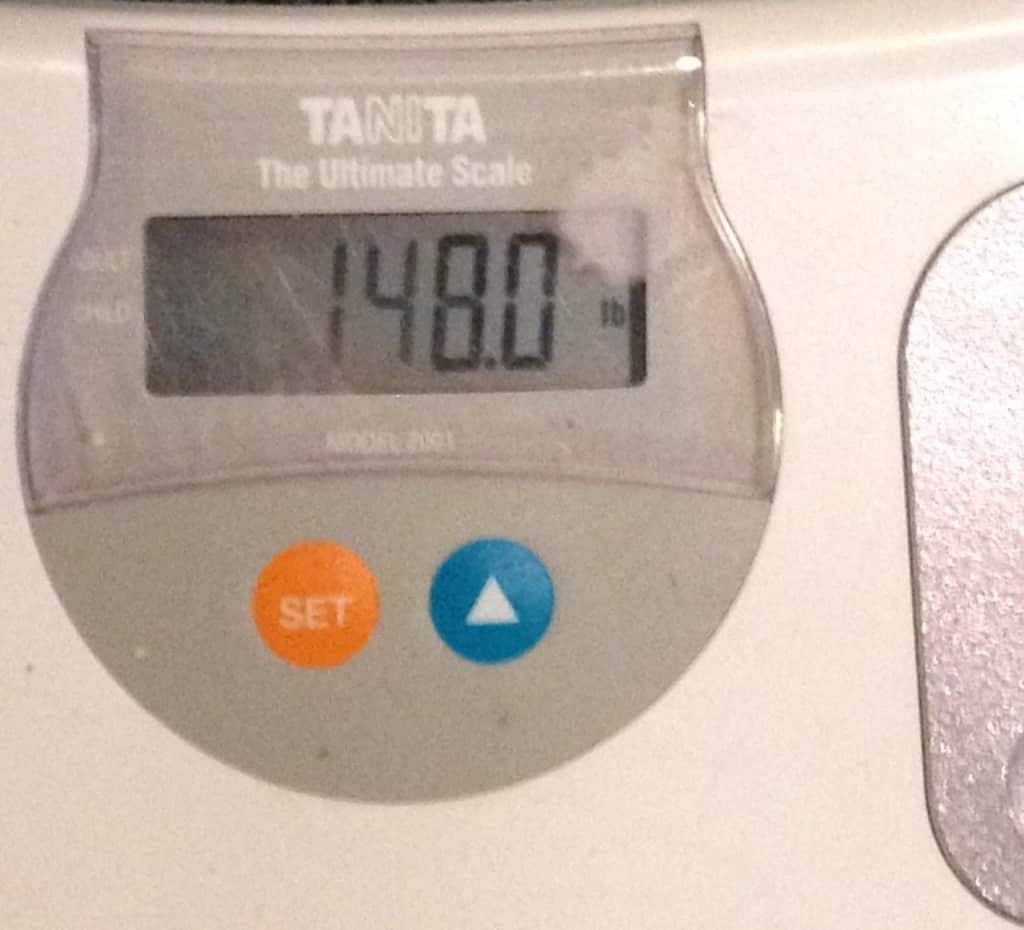 Here are my official stats:
Starting Weight: 177
Goal Weight: 130
Current Weight: 148
Last Week's Weight: 145
Pounds Lost: +3
The first thing I want to point out is the last time I weighed in was on May 25th – so almost a month ago. Not saying that makes a 3-pound weight gain any easier to swallow but I am just saying.
This last month has been killer. I don't like to hide behind excuses, because I know I am better than that, but between the flu, dance competitions, dance recitals, and all the end of the year activities I swear I just wanted to crawl into a cave and hibernate like a bear for 10 months. Typically, I am not a wimp when it comes to a busy life but this last month was hard to handle. I am just being honest. My goal this next month is to focus on habits because I feel like ALL my healthy habits are struggling. I think all of us can relate to falling off track. It happens and I am sure this won't be the last time either. We all have busy seasons in life. Sometimes we can get through those times with ease and other times it is a struggle. The key is keep moving forward. Give yourself a break but don't ever give up.
Now let's talk exercise. I still haven't been able to exert myself without going into a coughing fit so my exercise is going to stay at power walks and some strength training. I went for a 2.5 mile walk today and felt pretty good after. I love walking outside and just taking in the world. It is very relaxing.
This week my goal is to get in a couple runs. I miss working up a sweat so I am going to try my hardest to get back into the routine of running.
Here is my schedule. **I still plan to focus my exercise on daily challenges but haven't had the time to work through what that will look like yet. Hopefully within the next couple weeks.
Monday, Tuesday, Wednesday, Thursday, Friday
Cardio
Powerwalk or run on my treadmill or outside. My goal is to get in 2.5 – 3 miles each time.
Strength training
Core
Crunches and sit-ups using my exercise ball.
Arms
3 sets (8 reps) biceps curls using resistance bands
3 sets (8 reps) tricep extensions using 5lb weights
25 modified pushups
Legs/But
My meal plan
This is my kiddos last week last of school so my plan is to keep all meals easy, especially dinner.
As always, you can find my weekly meal plan on Plan to Eat. I LOVE using Plan to Eat. It has made my life so much easier. If you are not sure about it yet then try their free trial. You don't even need to give them a credit card. Just sign up and try it for 30-days. If like it then sign up if you don't then no worries just move on to something else. If you decide to sign up make sure to friend me over there (username organizeyourselfskinny). Then you will have access to all my meal plans and recipes. You can adapt the meal plans to your needs and print out grocery list. I am telling ya meal planning will never be the same. Check them out here.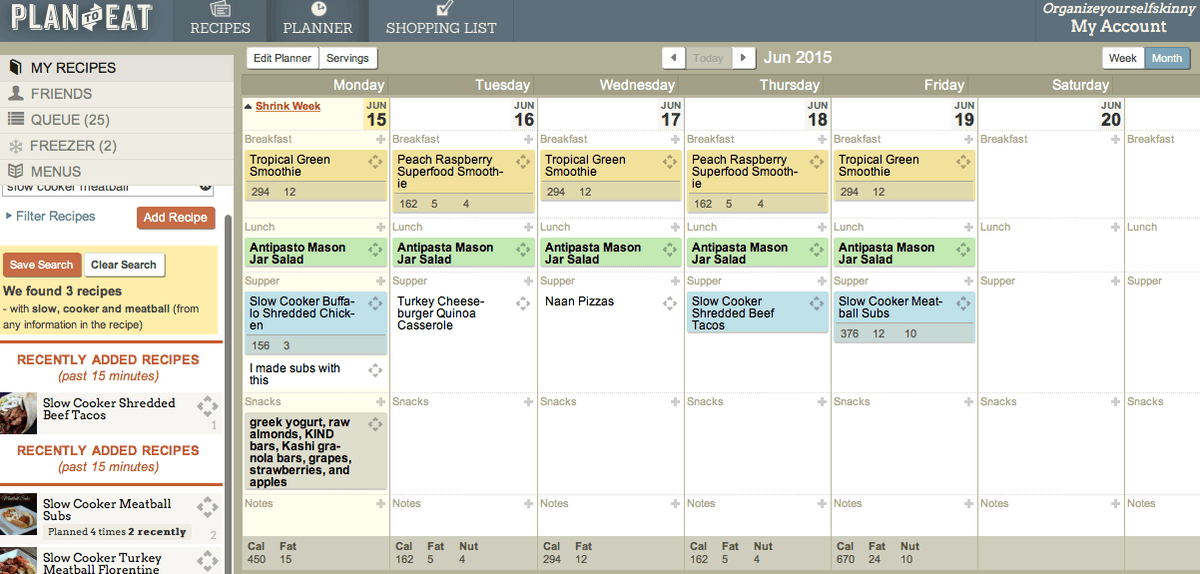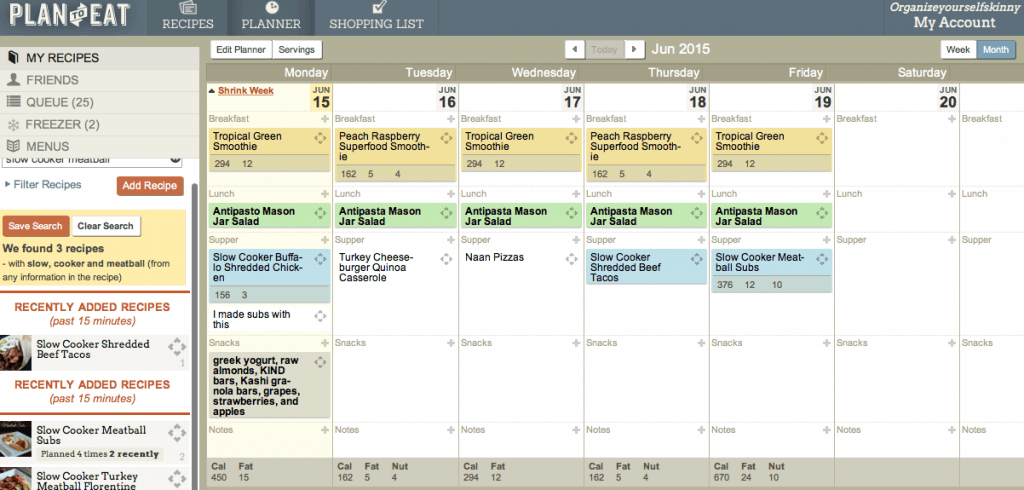 Breakfast
Kids will eat some baked oatmeal cups or cereal
Make-ahead tips
I am going to make some smoothie freezer kits tomorrow. This way I know exactly the number of smoothies I can make.
I have baked oatmeal in the freezer but I am also working on a couple of new recipes.
Lunch
Antipasto Mason Jar Salad – new recipe
Rollups and sandwiches
Make-ahead tips
Mason jar salads will be made tomorrow. Here is my mason jar salad tutorial if you have any questions.
Rollups and sandwiches will be made the day I eat.
Snacks
KIND Bars
Kashi Granola Bars
Apples
Strawberries
Grapes
Raw Almonds
Greek Yogurt
Make-ahead tips
I put together a refrigerator snack bin today with all of these snacks. Of course, I don't eat all these snacks at once. I choose one for midmorning snack and one for afternoon snack. My kids have snacks after school. Here are some tips for putting together a refrigerator snack kit.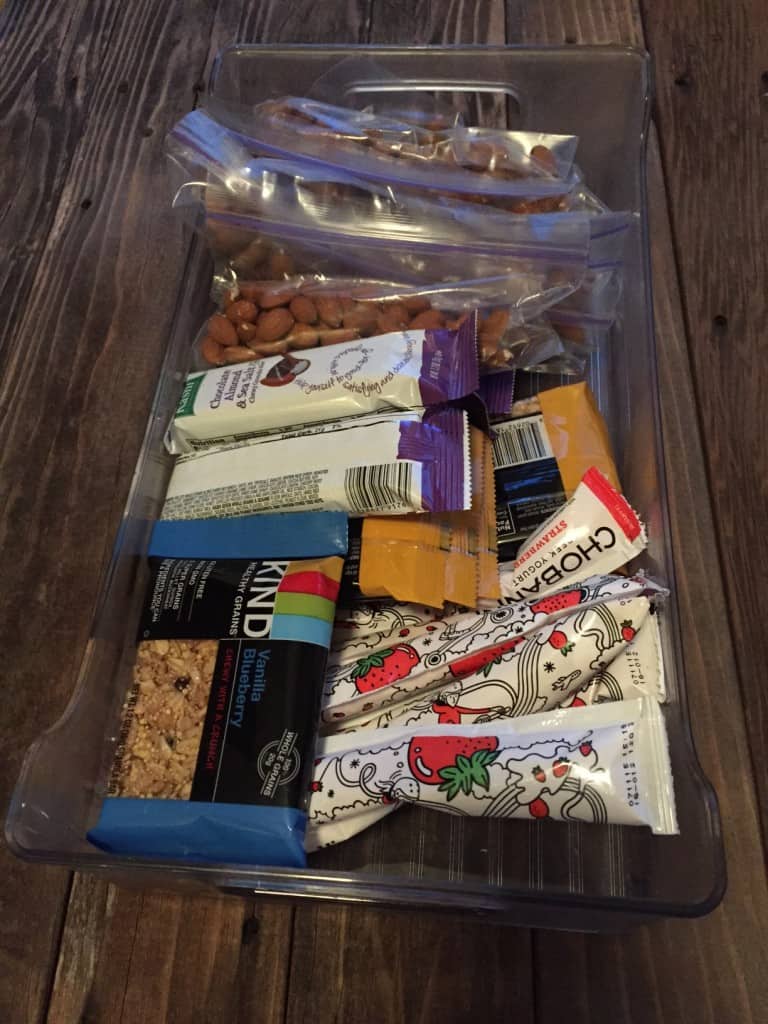 Dinner
Buffalo Chicken Subs using this crockpot buffalo chicken
Turkey Cheeseburger Quinoa Casserole – new recipe
Slow Cooker Shredded Beef Tacos –new recipe
Make-ahead tips
I made the slow cooker buffalo chicken today. I will freeze any leftovers for future dinners.
Quinoa casserole will be made tomorrow.
Shredded beef will be made tomorrow and stored in the refrigerator.
Meatball subs will be prepped the day before I make them.
Naan pizzas will be made the day we eat them.