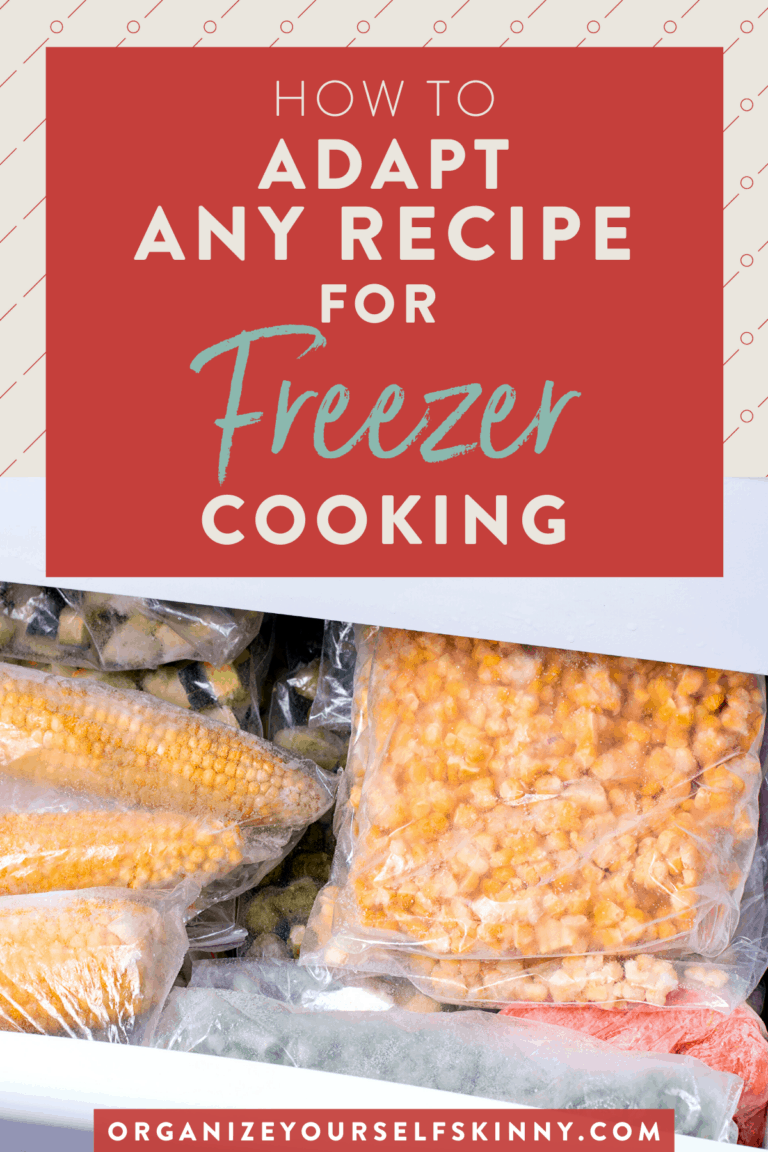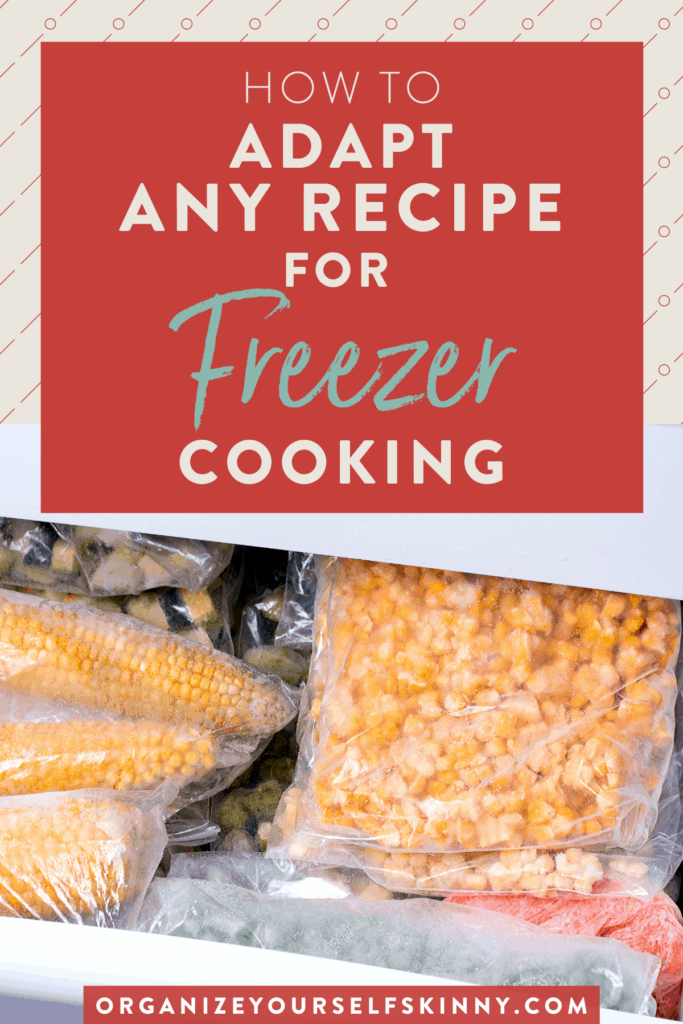 How many of you have numerous cookbooks just sitting on a shelf? If you are anything like me I am sure you have spent hours thumbing through and bookmarking lots of recipes thinking someday; when you have time, will make them all. Well days, weeks, and years go by and you are still making the same 3-4 recipes every week because that time you thought someday would come around unfortunately never does.
My solution to this dilemma is adapting those recipes for freezer cooking. This way you can prepare the recipes ahead of time when you have extra time so you can eat them when you don't.
Doesn't freezer cooking require special recipes?
Most recipes can be successfully frozen in some way, shape, or form. This makes adapting them to freezer cooking relatively simple. Therefore, the family recipes you cook now along with the new recipes you want to try can most likely be created into a freezer meal. Of course, there will be some trial and error as with anything that is new. However, with a little practice you will soon be able to transform any recipe into a freezer cooking recipe.
How to Adapt Recipes for Freezer Cooking?
These tips below are general tips that you can use to start adjusting recipes for freezer cooking. Keep in mind that I do give specific freezing and reheating instructions with each recipe I post. Some recipes will involve comparable freezing methods while others might be slightly or very different. Refer to them for guidance when putting together similar recipes.
1. Decide on the type of freezer meal you want to put together.
Many people automatically think large casseroles or chili when it comes to freezer cooking. However, there are many other options to choose from. Did you know I never even put a casserole together? Yep, true story.
Before you start looking at recipes to adapt to freezer cooking you need to first figure out the types of meals that best suit your needs. The worst thing you can do is start cooking up large batches of recipes without having a plan for it. This scenario is typically how people get numerous mystery meals in their freezers.
To assist you I have put together a list of freezer meal options gathered from my own experiences.
Grab and go freezer meals. These meals are completely put together and just need to thaw overnight or get heated up in the microwave when ready to eat. Think frozen breakfast, lunch or dinners like the ones made by Jimmy Dean, Lean Cuisine, and others. Same concept only better (and cheaper) because you control the ingredients. For some examples check out my shrimp fra diavlo, breakfast sandwich, and bean and cheese burrito freezer meals.
Grab and go freezer snacks. These snacks are fully cooked and ready to eat once thawed. For example, granola bars, power bars, muffins, quick breads, and cookies are all example of foods that I keep in the freezer for quick healthy snacks. For more examples, check out my breakfast cookies, zucchini bread, and Blueberry Greek Yogurt Muffins.
Freezer meal mixes. This is probably my favorite way to prepare foods for the freezer. Mixes can include cooked ground beef, meatballs, Crockpot Taco Meat, shredded chicken, shredded pork, cooked beans, and rice. It can also include uncooked baked goods such as cookie, pizza, and bread dough. I would also put plain sauces in this category as well. Having freezer meal mixes provides me with flexibility when putting together my menu plan. I have more recipe options with a bag of shredded chicken then I do if I prepare and freeze that chicken in a recipe. For example, a couple weeks ago I wanted to try a new baked chicken and rice dish. This was easy to do because I had the chicken and rice already prepared in the freezer along with the necessary pantry items. If I had all the chicken already committed to a freezer meal (like chicken curry) then I would have had to go purchase more chicken.
Freezer meal mixes are perfect for someone just starting out with freezer cooking. They are easy to make and don't require you to put an entire freezer meal together. Most likely you are eating meals right now that could easily benefit from having a mix available in the freezer.
Freezer meal kits. A freezer meal kit is when the meal is frozen in components and then put together when ready to make. Kind of the same concept as mixes but different as you store all the components together in the freezer. For example, when I put a pizza kit together I will package up the dough, pizza sauce, cheese, and pepperoni separately then put together as one for the freezer. I either put all components into a larger plastic bag or I will just put everything next to each other. The important this is to label.
Fully prepared dinner freezer meals. These are meals that are put together completely ahead of time and then frozen. Sometimes you still need to cook pasta or rice, if the meal calls for it, but for the most part the meal is ready to be eat once warmed up. This is where most people think casserole but like I said earlier I don't make casseroles. Examples of recipes I cook completely before freezing are chicken curry, red clam sauce, and black bean chili.
Once you determine the type of freezer meal(s) you would like to have available you can start sorting through recipes.
2. Reviewing Recipes to Adapt for Freezer Cooking



Ingredient list
When reading a recipe the question you want to ask yourself is "In what way can this recipe be prepared and frozen ahead of time?"
This is a basic question but a necessary one in determining whether or not a recipe is worth pursuing. Remember it is not always required to cook the entire meal ahead of time. A lot of times it can be just as helpful to prepare a couple of the meals components in advance to freeze.
Make note of the ingredients that can and cannot be frozen. You can see a partial list of these foods here. As I have said before, most foods can be frozen it is just a matter of what is the best way to ensure quality of the dish.
To illustrate this lets use my chicken parmesan recipe as an example. This recipe has 4 components (breaded chicken, sauce, mozzarella cheese, and pasta). Looking at those different components I would freeze all of them except the pasta. In my experience pasta is tricky to freeze and because it does not take long to make I say just cook it fresh when you are ready to eat. This would ensure quality of the pasta when you are ready to serve this dish. Although if you are looking to put together a grab and go freezer meal then you could freeze it as long as it is undercooked slightly and not in the sauce. You can see a further example with my shrimp fra diavlo recipe.
Directions
Next look at the cooking directions of a recipe and decide whether the meal should be prepared completely, only up to a certain point, and/or when certain ingredients should be added. Like I said earlier creating a freezer mix (see above) is always a good option to get a head start on a recipe.
The point in the cooking directions you decide to freeze will depend on the ingredients, preparation, and the type of freezer meal you want. For example, continuing with the chicken parmesan recipe, the breaded chicken can be frozen raw then cooked with the sauce and cheese when ready to eat. The chicken can also be frozen completely cooked with the sauce and just warmed up in the oven then adding the cheese at the end. Another example would be to prepare the meal completely (pasta and all) to be used as a grab and go freezer meal. As you can see it all depends on what your needs are for that dish.
Clearly there are many options when adapting a recipe for freezer cooking. A lot depends on the recipe itself and what your needs are. My advice is to start with easy freezer recipes (taco meat, shredded chicken, sauce, etc) until you become secure in the technique. Once you develop a confidence you will find it easier to experiment with other recipes.
As I wrote this post I quickly realized that there is a lot more information to share on this topic. I kept it quite general to give you a basic start in adapting recipes for freezer cooking. In future posts I will break these concepts down further as they relate to specific ingredients, meals, etc.
What are your tips/or questions as it relates to adapting recipes for freezer cooking? I would be more than happy to answer them in future posts.