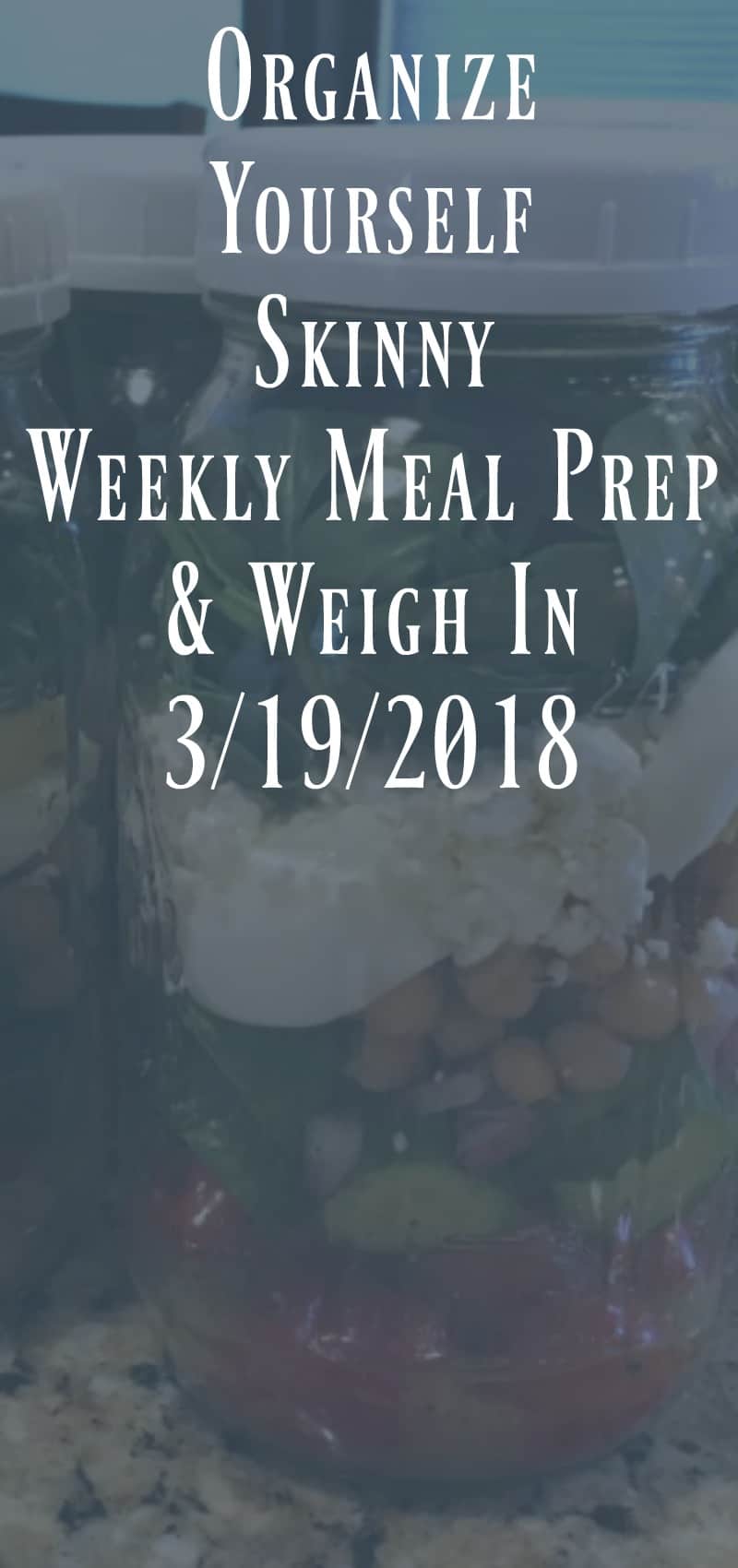 WHAT….A….WEEK! Let me just say this. Sunday was great! Even after going out for St. Paddy's day on Saturday I still had the energy and motivation to stick with all my routines. I prepped food for the week, did laundry, straightened up, looked over my calendar, and some of my other Sunday habits. Needless to say I felt ready to take on the week.
Well Monday hit me like a ton of bricks. I don't know if I'm just totally burnt out and need a vacation ASAP but I was sooooo tired. Like, so tired I actually took a nap Monday, Tuesday, and Wednesday. Anyone who knows me knows that I NEVER take naps, so that's a huge deal. On top of that my oldest daughter was sick for 3 days. So basically, all my big plans to get tons of work done went out the window.
I managed to do my weekly live coaching chat with my Organize Yourself Skinny students but other than that I got nada done. I didn't even have the time or energy to get this meal prep post done – hence the reason you're getting it now.
Not that you really care about my exhaustion or sick child, but I guess I'm just reminding you (and me) that I'm human. Sometimes even our best laid out plans get sabotaged by life – it's just the way it is. In my 7+ years on this weight loss journey I've learned the best thing to do when goals get off track is to simply get up and keep going. I don't dwell on mishaps, or failures, I learn from it and move on. So just something to think about if you're in the same boat. Pick yourself up and keep going.
Okay let's get down to business.
First up, my weigh in.
Starting weight (October 2010): 177
First goal weight: 145
Final goal weight: 135
Last week's weight: 153
Current weight: 152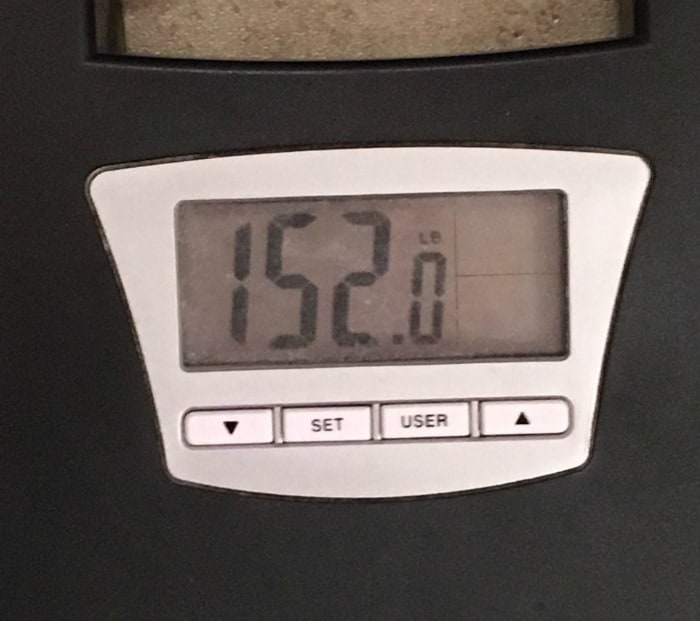 Well despite feeling under the weather, totally burnt out, and super busy with life in general I still managed to lose a pound. That's because I've stayed intentional with food. I did exercise 3 times last week but as we all know it's more about food than exercise.
Here's what I did:
While I wasn't a tracking ninja I did plug in most of my food and drink into My Fitness Pal which kept me accountable to any extra creamer I wanted – but didn't have.
Even though I didn't feel like it, I meal prepped. I didn't make a ton of stuff but I did get mason jar salads made and that's helpful. Also, I took advantage of Instacart online grocery delivery service. If I had to spend 2 hours grocery shopping I don't think I would've meal prepped last week. If you're curious about Instacart then read my review.
I stopped eating between 6:30pm and 7:00pm. If you haven't tried setting a cut-off time for eating then I highly reccomend it. Here's a post I did with some tips to help you stop eating past 7:oopm.
Last, I volunteered to be the designated driver for all the St. Paddy's day festivities. I'm not a big drinker anyway, so it's not a big deal for me to drink water instead of something else. I also brought healthier snacks for us to munch on. I figure both of these save tons of weekend calories.
Here's a picture of my boyfriend and I on St. Paddy's Day. By the way, the shirt he's wearing is an XL, he usually wears a XXL. He said that's the first time he ever wore a smaller size shirt – it fit him great! He attributes his smaller size to all the delicious salads, and fruit parfaits, he's been enjoying for lunch. Not to mention he's also cut back on creamer AND doesn't eat after 7-7:30pm. It's all about the little tweaks that make the biggest difference.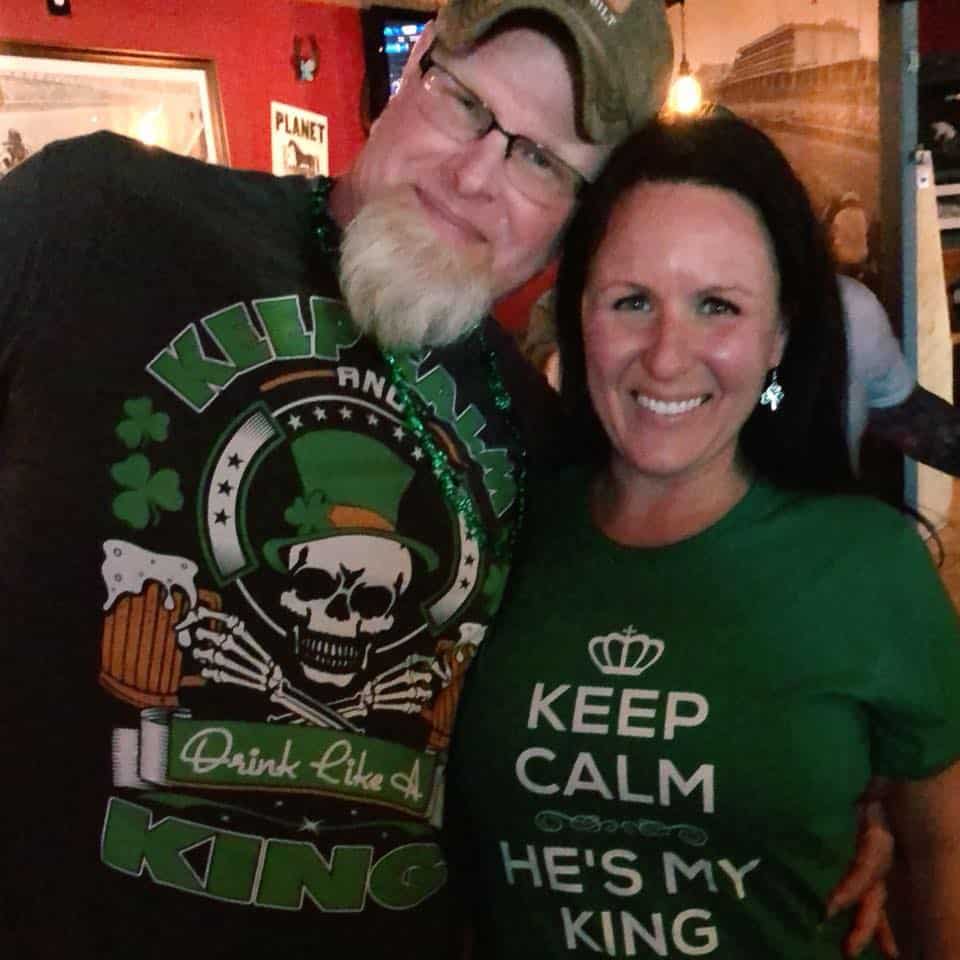 Let's talk about exercise this week – or lack of, I should say. The past few months I've been doing great with getting in 3-5 days of solid exercise. This week, not so much. My plan is spend extra time working out this weekend to get back on track.
Time for my meal plan.
Breakfast
2 eggs and Ezekiel toast
Meal prep tips
My plan was to get back into smoothies, I have about 5 more smoothie kits in the freezer. However, I wasn't in the mood for smoothies. It's so cold in Buffalo and I just wasn't feeling it. So I opted for my second favorite breakfast – eggs and toast.
Lunch
Mason Jar Salad. My salad this week includes hard-boiled eggs, feta, chickpeas and veggies. I wanted to use what I had and keep the meat out.
Meal prep tips
I made the salads on Sunday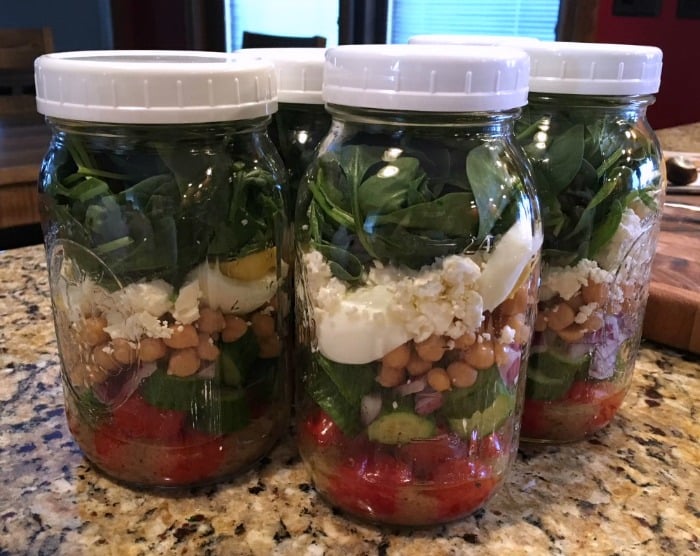 Snacks
1/4 cup mixed nuts
Apples
Dinner
Hello Fresh Meals (Tuscan Spice Shrimp and Orzo, Tortellini and Pancetta, and Swedish Meatloaf)
Meal prep tips
Clam sauce I made the night we ate it.
Pizza dough I had frozen in the freezer.
2 of the Hello Fresh meals I made ahead of time in the beginning of the week. The meatloaf I'll make tonight. I must say I'm grateful I had Hello Fresh meals to turn to this week. While they were on the higher carb side it was still nice to have a homemade meal without having to think about it or go to the grocery store – all I needed to do was cook and that wasn't even so bad.
If you're interested in meal kit services here are my reviews of the ones I've tried. Each review has a coupon if you decide to give it a try.
That's my week. Again, sorry this is a few days late.
Have a great weekend!