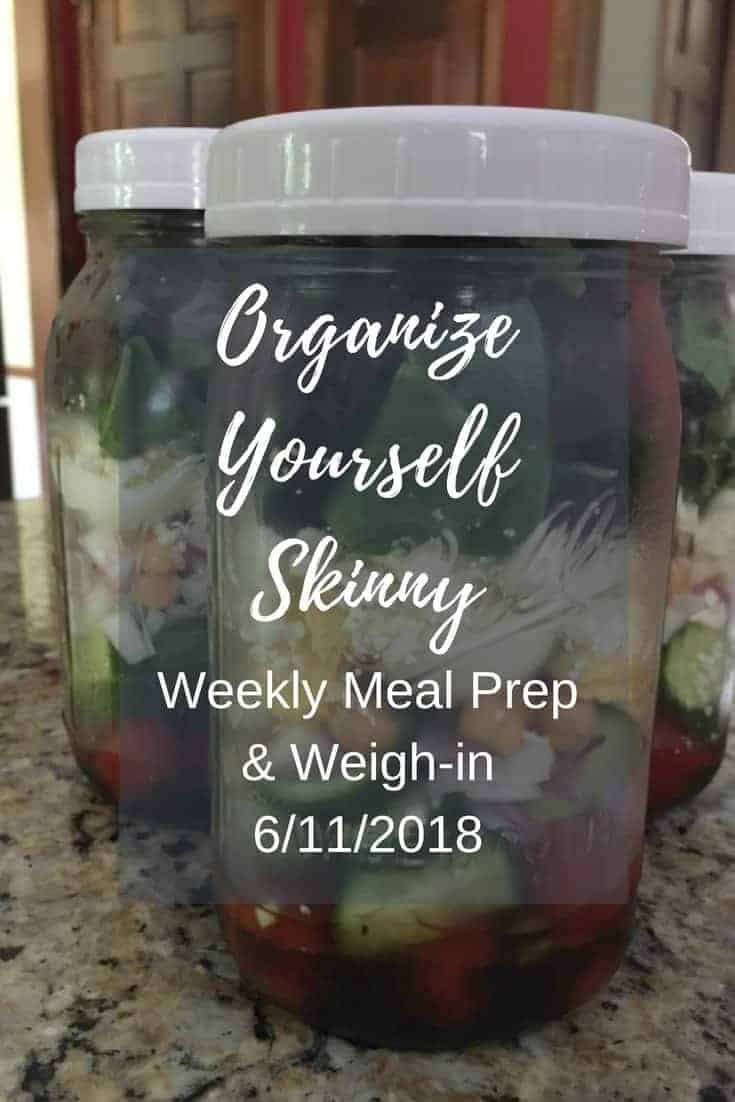 Hey there! Can I just say I'm so excited summer's here? The weather is hot (most days), the pool is open, and the last couple weekends we've had friends over barbecuing and hanging out on the deck. I truly love just sitting outside, watching all the kids swim, and enjoying a fire at night. Honestly, it's what dreams are made of.
The only issue is I need to figure out a way to fit my meal prep routine in-between all the festivities. The last couple weeks I didn't get to preparing my meals until Monday and that makes me start the week a day behind. I like waking up Monday morning ready to work.
Moving forward, I'm going to meal plan on Thursday, have groceries delivered or go shopping on Friday, and then be ready to meal prep Saturday or Sunday. Routines are life with me, especially in the summer so I need to create a weekly meal prep routine that's going to work with our weekend activities.
By the way, I use Instacart to have my groceries delivered. Honestly, this has been such a game changer for me. I do still shop for deals at Aldi's and Bj's Wholesale but when I just need mason jar salad or other lunch ingredients I typically order them. It works great for me. Here's my full Instacart review if you need more information.
Okay let's get to my weigh-in. BTW, sorry for the bad picture. I didn't realize the reflection until now.
Starting weight (October 2010) : 177 lbs
First goal weight: 145
Final goal weight: 135 lbs
Last week's weight: 154.8
Current weight: 156.2
Pounds lost: +2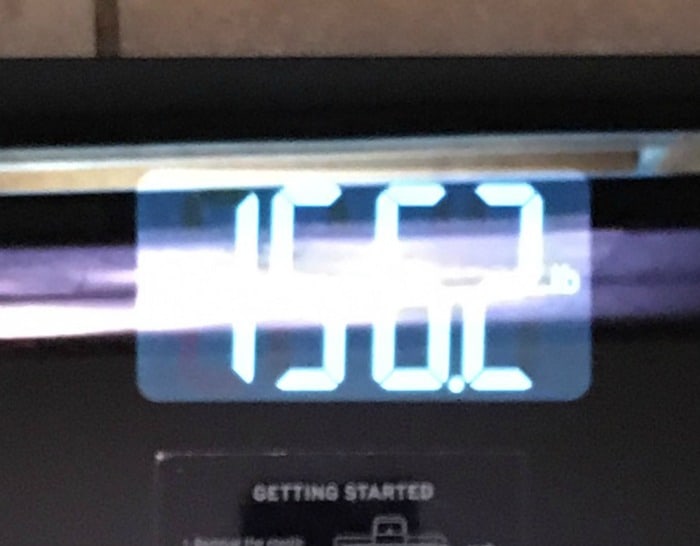 The 150s have been so hard to get out of. I've been literally gaining the same 5 pounds for 2 years. I'm actually embarrassed to write that because I should be at my goal weight by now. But I'm human and I think it's important for you to see that I struggle too. Sure, I have my triumphs, and I've accomplished a lot, but when it comes to the scale I have many of the same demons you do.
Of course, I can't sit here and act like I have no idea why I can't get below 150. Yes I exercise regularly and eat healthy week after week buuutttt there are more days than not (obviously) where the extra bites are winning.
Like I've mentioned before, in the beginning of my weightloss journey I was a tracking ninja. I wasn't OCD or obsessed with every calorie but I definitely paid a lot more attention to every bite, lick, and sip. Today, most of my bad habits are under control but there are clearly extra calories not being accounted for.
So, I'm going back to the basics. I'm making it a priority to track everything. My goal is to lose my last 20lbs this year and I plan to do it. I've said this in a previous meal plan but I'll mention it again. I have a couple vacations this year with one of them being a cruise later in the year. I want to take lots of pictures and look back on those pictures with all smiles.
Now I don't want to be too hard on myself because I have developed a consistent exercise routine since moving into our new house. Besides a couple weeks, I've worked out 3-5 times a week for the past 7 months. So, it feels good to have that routine in place. Now I just need to tweak my diet so I can start to see the pounds come off. Like I said, I know I don't eat horrible – you see my meal plan every week – but I need to keep the portions and extra bites under control.
Speaking of exercise, while I do have a routine in place I really need to push myself to 4 – 5 days a week. That's my biggest struggle. My goal is to exercise more than I don't.
My point in sharing all of this is I want you to see that we all struggle – even the best of us. There are days, weeks, and even years we got this weight loss thing under control. Then there will be times we get off track. That's life. The key to meeting our goals is to never give up and keep going.
Now let's go over some questions from OYS readers. I started this little segment a month or so ago and I've received some good feedback so far – glad you like it. If you have a question you'd like me to answer just post it in the OYS Facebook group with hashtag #OYSquestions or email it to me [email protected].
What recipes would you recommend when just starting?
In the beginning of my weight loss journey, I didn't really have new recipes. Mostly, I just focused on eating smaller portions of the foods I already made. However, over time I've discovered recipes that made me feel better and helped me work better towards my goals.
Mason jar salads

Green smoothies

Meal prep bowls

Meal prep snack packs
I wrote about all of these ideas, and included my favorite recipes, in this post.
How do you stop eating at night?
A habit that I've stuck to since the beginning, and one that's served me well over the years, is not eating past 7pm. Some nights I even try to stop eating at 6:00pm. This has trained my brain to not even expect food after dinner. Here's a post I wrote a while back with my best tips to not eat after 7:00pm.
Let's get to my meal plan.
This week all I prepped were mason jar salads. However, the slow cooker meal and meatloaf I'm going to prep tonight. Everything else can be cooked the night we eat it.
Breakfast
Meal prep tips.
I'm going to make these the morning I drink it. However do plan to make smoothie kits very soon.
Morning snack
raw almonds
Meal prep tips
I just take a 1/4 scoop out of the 3lb bag I purchased from Bj's
Lunch
Egg, feta, and chickpea mason jar salad
Meal prep tips
I put these salads together yesterday. By the way, I don't have an exact recipe for this salad. I just use my favorite salad ingredients and what I had available. You can see my mason jar salad tutorial here for making your own versions.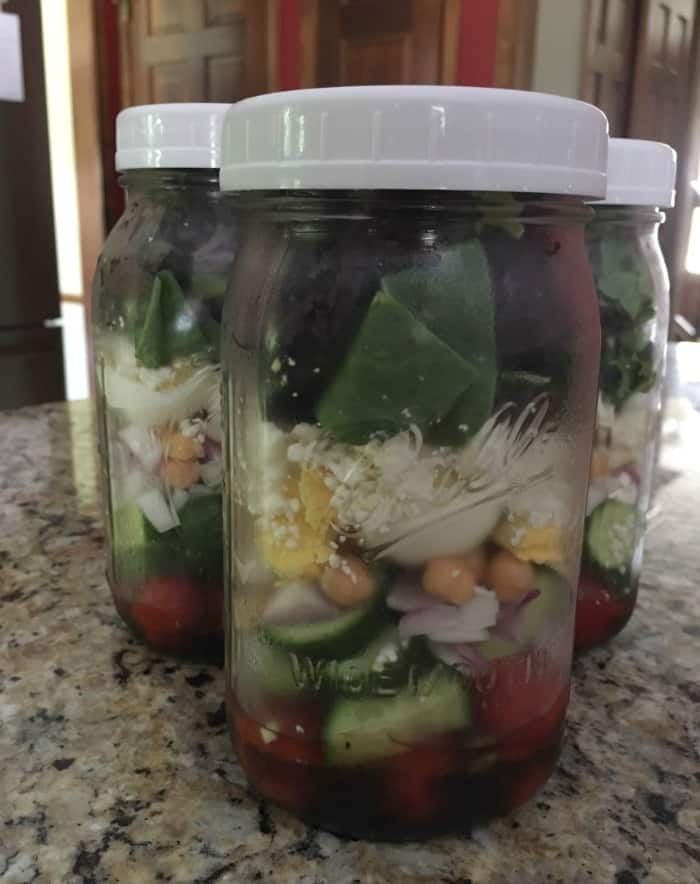 Afternoon snack
Apple and 2 tablespoon peanut butter
Dinner
Baked garlic shrimp – I'll eat this with a salad.
Slow Cooker Sausage and Peppers
Homemade Pizza with leftover sausage and peppers. I might use Trader Joes cauliflower pizza crust for this one. Or naan bread.
Meal prep tips
Meatloaf and slow cooker meal will be prepped tonight. The rest will be made the night we eat it.
Have a great week!