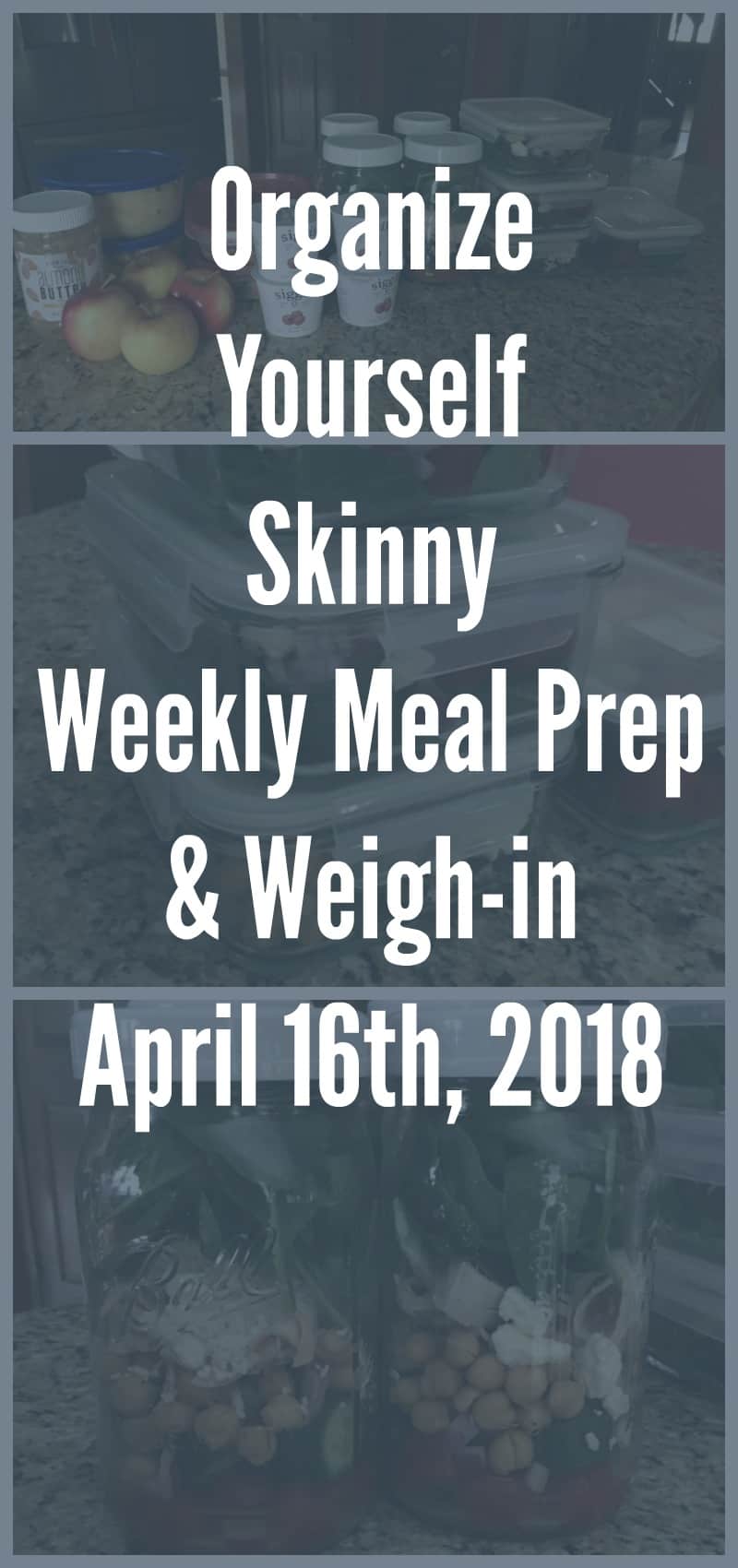 It's weekly meal prep and weigh in time! I CAN NOT believe that it's April 16th. Do you know what else I can't believe? That I'm looking out my window right now seeing SNOW and sleet. The weather in Buffalo, NY has been horrible. It truly feels like spring or summer will never get here. I'm usually not one to complain about the weather, cause it's not like I can control it, but seriously Mother Nature is not a happy lady right now.
Looking on the bright side, at least I have more time to get in shape for bathing suit season. Although, I'll be honest, this weather makes me want to lay on the couch and watch Bravo marathons. Well, we're only about 6-8 weeks away from warmer weather (hopefully) so this isn't the time to get comfortable and lazy. I need to stay disciplined and focused so I can enjoy the first hot day of sunbathing.
Alrighty, let's move on to my weigh-in.
Here are my stats:
Starting weight: 177lbs (October 2010)
First goal weight: 145lbs
Final goal weight: 135lbs
Last week's weight: 154lbs
Current weight: 154lbs
Pounds lost: 0 lbs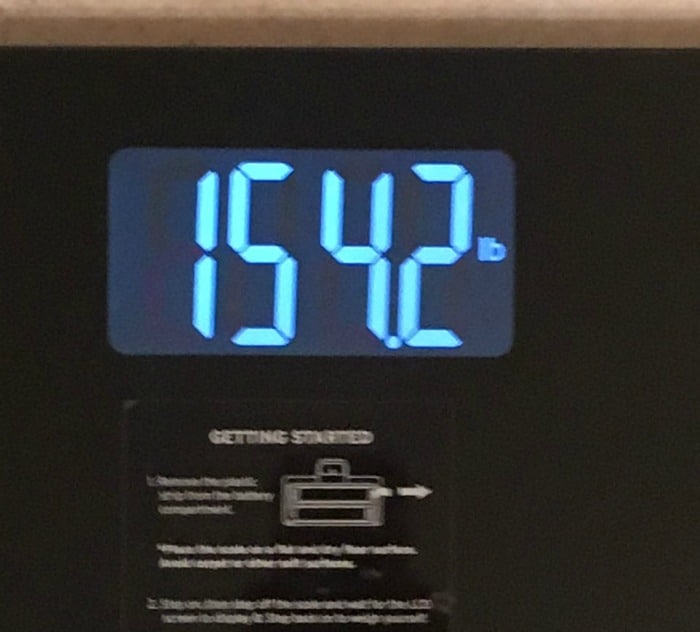 The last couple weeks I've stayed the same. As much as I long to get below 150 (and stay there) I'm happy I didn't gain any weight.
I'm not going to lie, it's really frustrating to be stuck in the 150s. I've been at this plateau for a year or so and it's starting to get to me. I need to dig deep and find the self discipline to get into the 140s by summer – that's my goal.
My struggle over the last few months has been staying consistent with tracking my calories. I have a regular exercise routine that I feel really good about. I can feel myself getting stronger and leaner. However, I know I can do better with food. I don't think I have a bad diet but I do feel the little extra calories here and there are sabotaging my weight loss efforts. You know…a few extra crackers or a piece of cheese, an extra piece of bread, an extra handful of nuts, or whatever it is. These little extras can easily add up if I'm not paying attention.
In the beginning of my weight loss journey I was a calorie tracking ninja. Seriously, I tracked every bite and was successful with getting my calories and portions under control. Over time I got lazy and started to eyeball things instead of measuring out and tracking. This caused a little weight to creep back on along with struggling to get back on track. I'm not saying we need to be tracking ninjas forever but I do think it's easy to overlook, or not pay attention too, extra bites if you're not tracking them.
My goal, is to get back to basics and start tracking every bite, lick, sip, and taste. As I've said, many times over, food is 80% and exercise is 20%. If my food isn't on point then no amount of exercise is going to help. To meet my weight loss goals I need to remove mindless eating and get back to tracking the extras.
Before I get to my meal plan let's go over my weekly exercise plan.
Tuesday through Saturday
Treadmill 45 minutes
24 bicep curls with resistant bands
24 tricep extensions with 5lb weight
24 lateral raises with 5lb weight
50 squats
25 plie squats
24 lounges on each leg
75 crunches
50 -side crunches on each side
2-minute bicycle kcks
1-minute planks
Okay, let's get to my weekly meal plan.
Can I just say how much easier my weekly meal prep has become thanks to Instacart the online grocery delivery service? I'm not kidding. I order groceries from my local grocery stores Wegmans and/or Tops through Instacart. Within a couple hours the groceries are at my door. If you don't want them delivered then most stores offer curbside pickup – this saves money on delivery.
Honestly, if it's a struggle to get to the grocery store on the weekend (or anytime), and this gets in the way of your meal prep habit, then I highly recommend trying out Instacart. Online grocery delivery services just came to our area last year so you might not have it yet but you can check the Instacart website and see. If it's in your area then give it a try, at least once. You can read my full Instacart review for more information.
Here's what I'm eating this week.
Breakfast
Meal prep tips
I'm all out of smoothie freezer kits so I need to make more very soon. For this week I'll just make 2 every couple days.
Mid morning snack
Hard-boiled egg
or Apple and Almond Butter
Meal prep tips
Hard-boiled eggs were made yesterday.
Lunch
Greek Mason Jar Salad – I used smoked deli turkey instead of chicken.
Meal prep tips
I made the salads yesterday. I also made 5 additional salads in rectangle containers for Mike.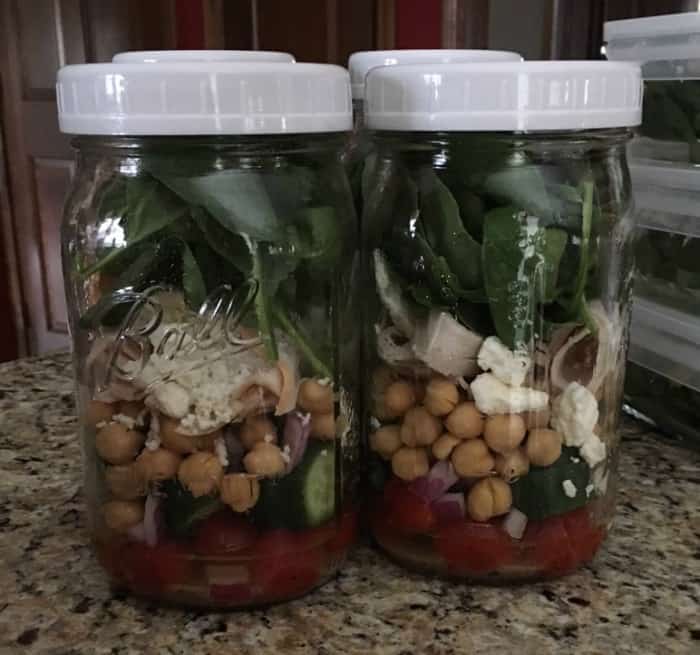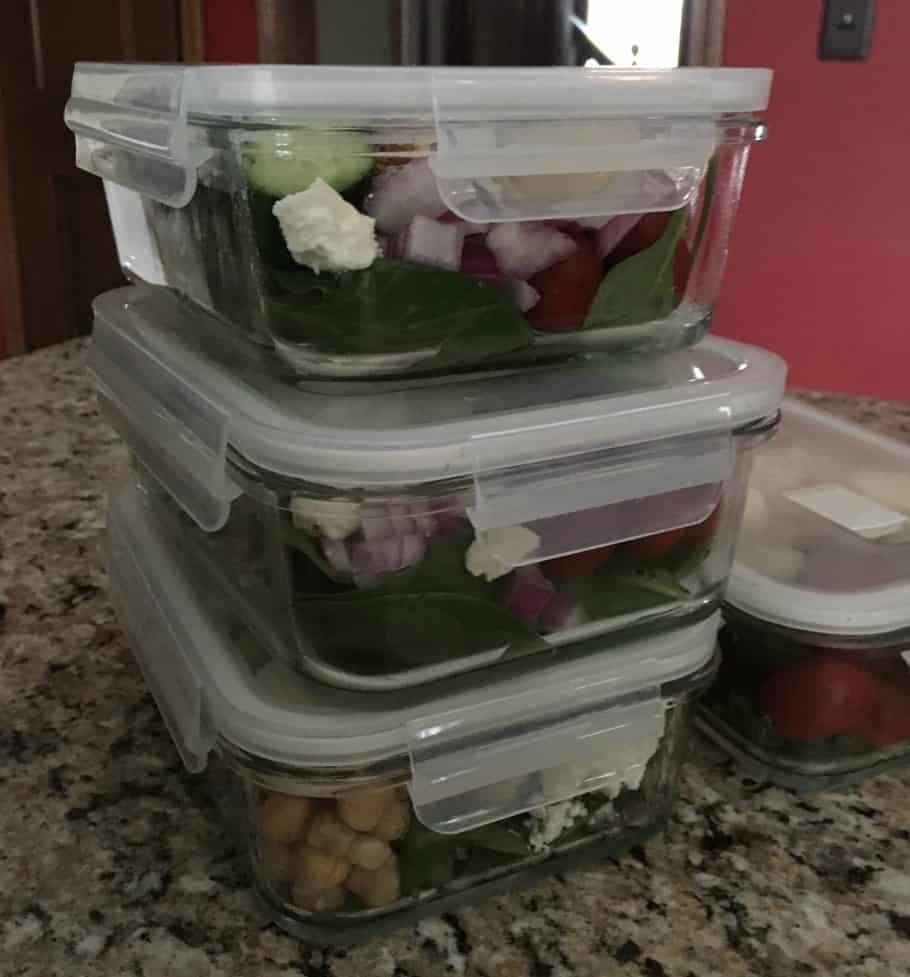 Afternoon Snack
Siggi yogurt
Dinner
Chicken Piccatta
Crockpot Pot Roast
Chicken Sausage Flat Bread Pizzas – Hello Fresh Recipe
Pasta with Shrimp – Hello Fresh Recipe
Cajun Pulled Pork and Rice Skillet – Hello Fresh Recipe
Meal prep tips
I made the chicken piccatta for dinner last night and prepped the roast. Roast I have cooking in the crockpot today and I anticipate lots of leftovers.
I made the Hello Fresh Pasta and pork recipe yesterday and stored in the refrigerator. To lighten those recipes up I used half the pasta and rice.
Pizzas are easy and will be made the night we eat them.
** If you're interested in learning more about meal delivery services then check out my reviews.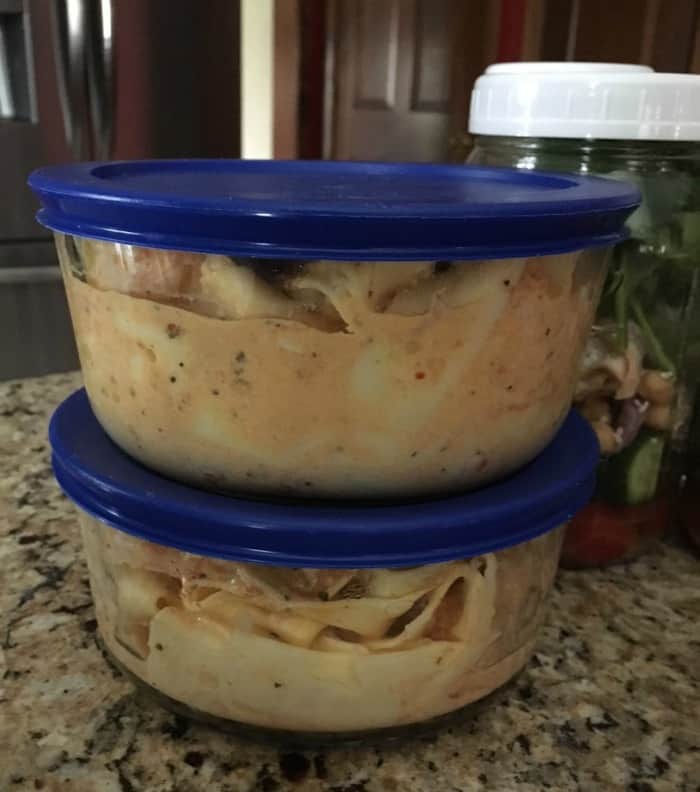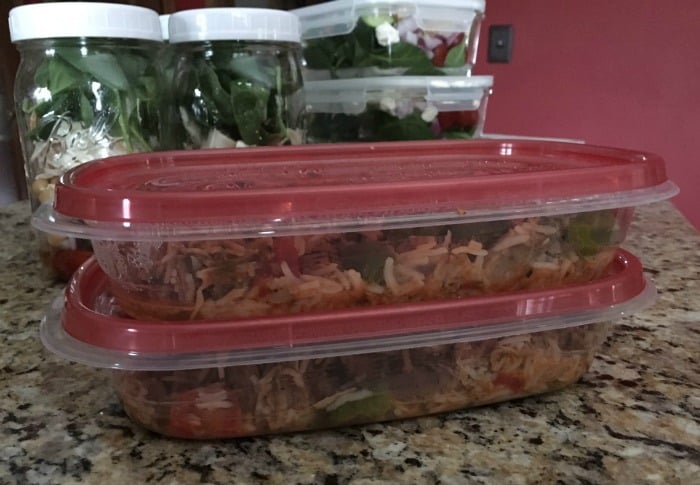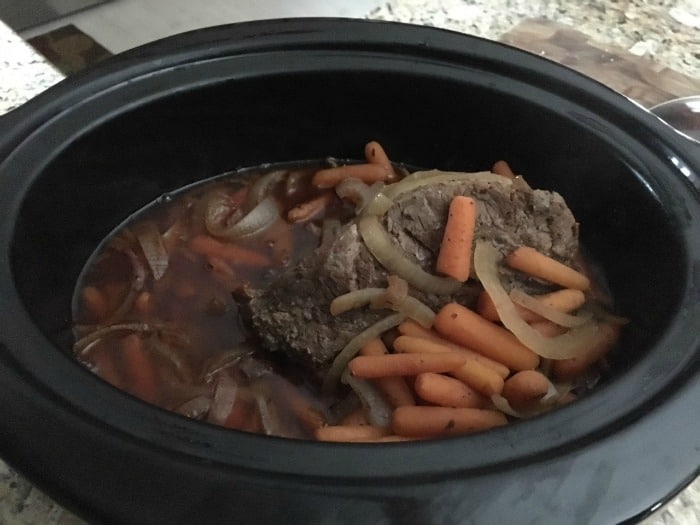 That's my week!