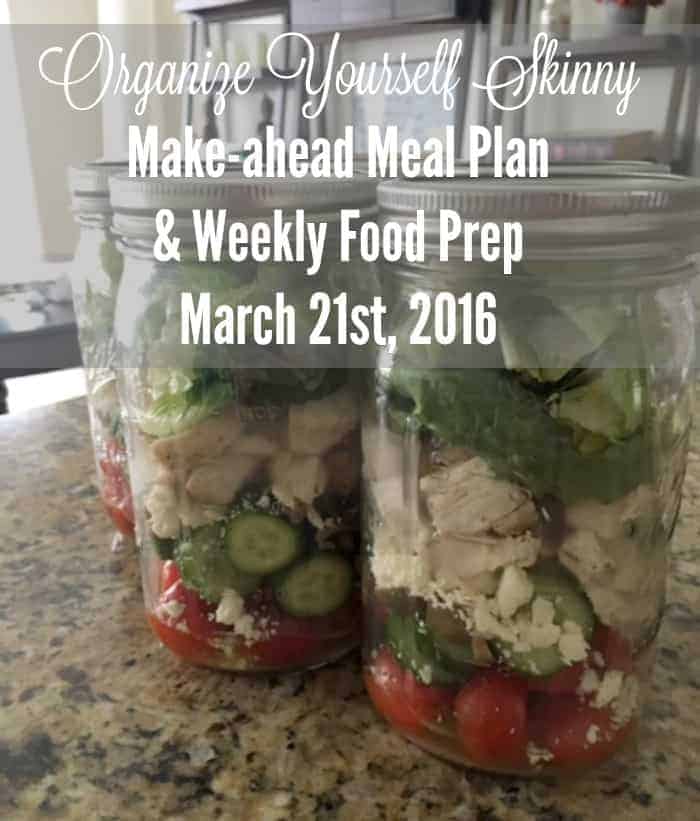 Hey everyone! Happy Spring time! It's kinda funny that it's been somewhat nice here in Buffalo, NY but then the first week of Spring hits and we see snowflakes. Never fails. I can't wait for warmer weather. Maybe it's my ripe old age of 40 but I can't stand the cold anymore. I want to be outside and enjoy the fresh warm air.
Anyway, now that I'm running outdoors I've been enjoying the outside more even when it's cold. I've always been a treadmill runner. FOR YEARS. But now I would much rather run outside than on my treadmill. It's therapeutic and I get in a better workout.
Speaking of running. Over the last month or so I've talked about the ½ marathon I've been training for. I wouldn't say I'm "hardcore" training but I'm definitely running 4-5 times a week and yesterday, when I was running on my treadmill, it felt easier. I was at 3 miles and I still had lots of steam left in me. One of my favorite sayings is "it never gets easier, you only get better" and I immediately thought of that when I ran over 3 miles with no problem. I'm getting better. I don't know if I'll be able to run 13 miles but I sure will give it my best shot.
Onto my food. I decided to continue with my Hello Fresh meal service this week. Doing so takes care of 3 dinners for me. Right now I subscribe to the 3 meals for 2 people Classic Box. To be honest, I didn't think I would benefit from, or even like, a meal delivery service but after only a week I'm hooked. It's so convenient and the recipes are delicious. Last week, we had a salmon dish, ground beef pasta bake, and a chicken pesto recipe. Each one was super easy to make and delicious.
Here are some not so professional pictures of the salmon and the pasta dish. Btw I bought the meal prep containers seen below off amazon. The 3 compartment ones are nice to slip a little treat in.
I prepared the salmon in the morning and brought it with me later at night while I waited for my girls at dance. It was the perfect way to make sure I ate a healthy meal and didn't eat past 7.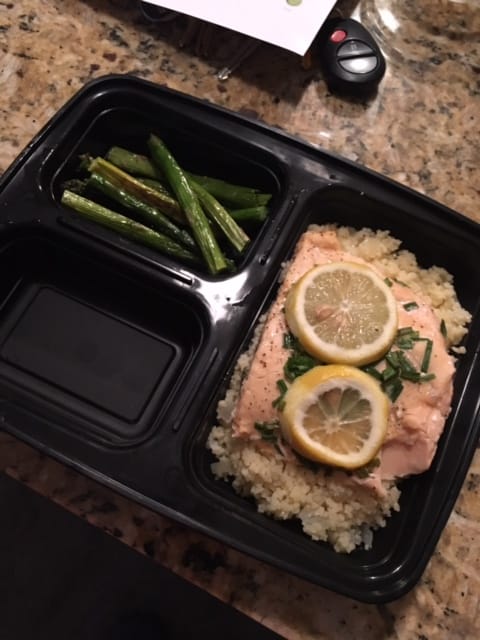 I made the pasta bake for one of my friends and I later in the week. This was scrumptious.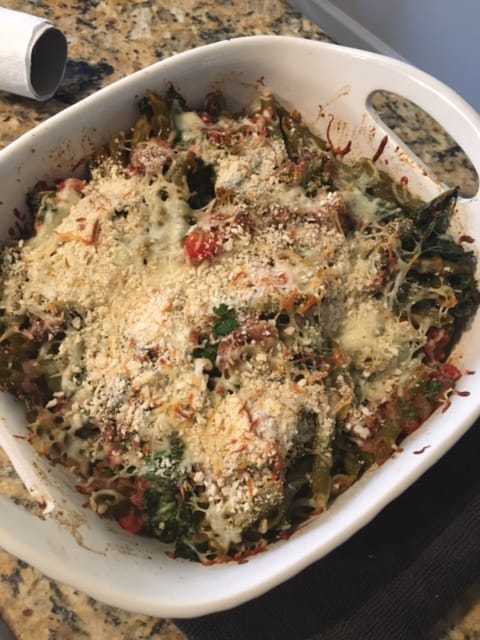 This week Hello Fresh sent me Citrus Shrimp, Pan Roasted Chicken, and Seared Steak. I can't wait to make it.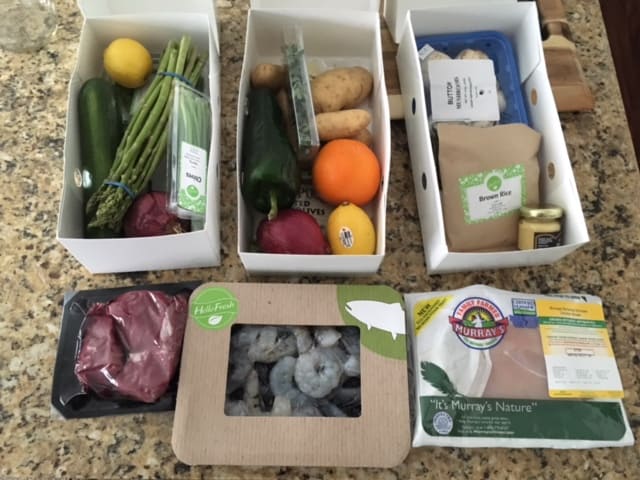 I don't think I would use Hello Fresh for every single dinner but I think it's definitely helpful to use it to supplement a few dinners a week. At least it is for me. A few people asked me about the cost. I'm sure if you look at the cost of all the ingredients compared to getting them at the store Hello Fresh is going to cost more. However, I don't think by a lot. Plus they send the food cleaned, portioned out, and ready to cook. And did I mention it shows up at your doorstep. I mean this alone is huge for me. Some people love to grocery shop…me not so much. I love getting fresh ingredients sent to my door. It's like Christmas every Saturday morning when my Hello Fresh gets delivered.
Okay I will stop blabbing about Hello Fresh. But if you want to give it a try then click here and get a coupon sent to you for $40 off your first box. I recommend at least giving it a try. Gone are the days where online shopping is only for shoes and books.
Let's get to my meal plan.
As always, you can find it on Plan to Eat. Hello Fresh + Plan to Eat = Happy Tammy. No joke. I feel like I finally cracked the meal planning code by using these two services. Both are totally different but equally bring peace and happiness into my life. Remember if you subscribe to Plan to Eat make sure to friend me (username organizeyourselfskinny). Once we are friends you can access all my meal plans, adapt as needed, and print out a grocery list. Bam! Click here to check out their 30-day free trial.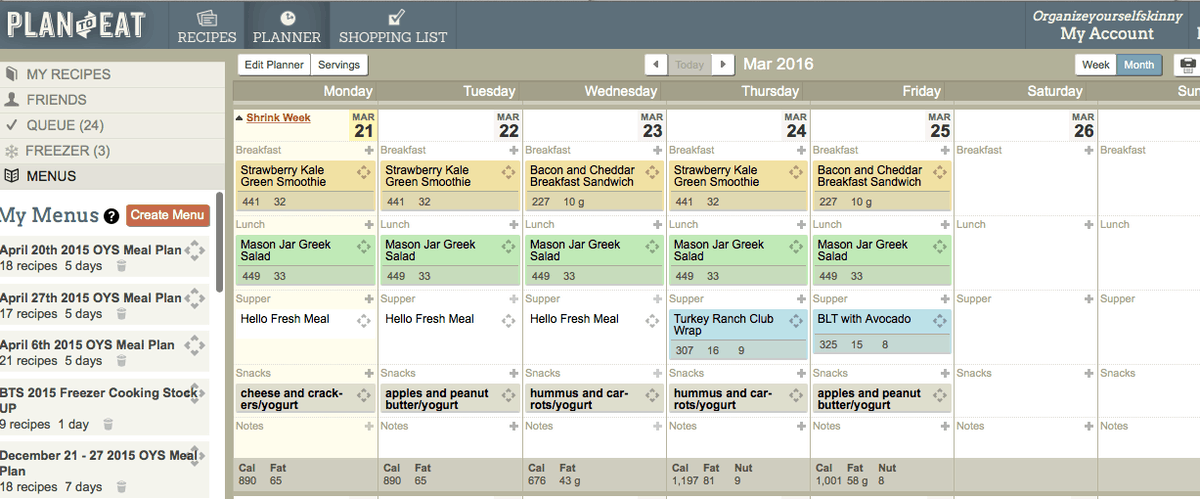 Breakfast
Strawberry Kale Green Smoothie
Egg and Cheese Breakfast Sandwich
Make-ahead tips
I will make the smoothies the morning I drink it.
I made the bacon ahead of time for breakfast sandwiches. I will make the eggs the morning off.
Food Prep Supplies
Morning Snack
Yogurt
Lunch
Make-ahead tips
Salads were made today for the week.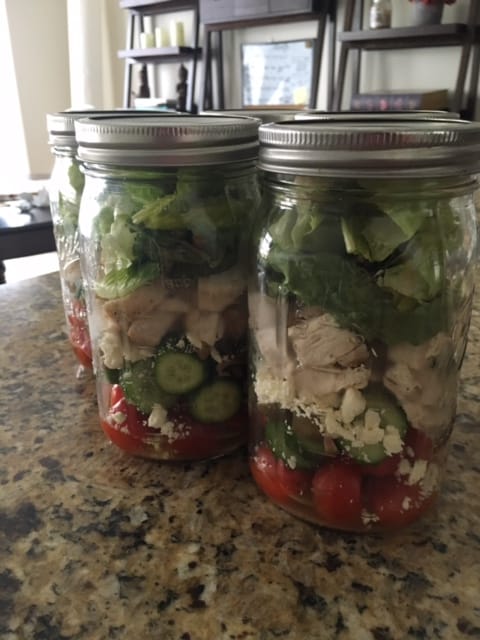 Food prep supplies
Wide mouth quart size mason jars
Afternoon Snack
carrots and hummus
cheese and crackers
hard-boiled eggs
Make-ahead tips
Cheese was cut up yesterday
eggs were made today and stored in the refrigerator.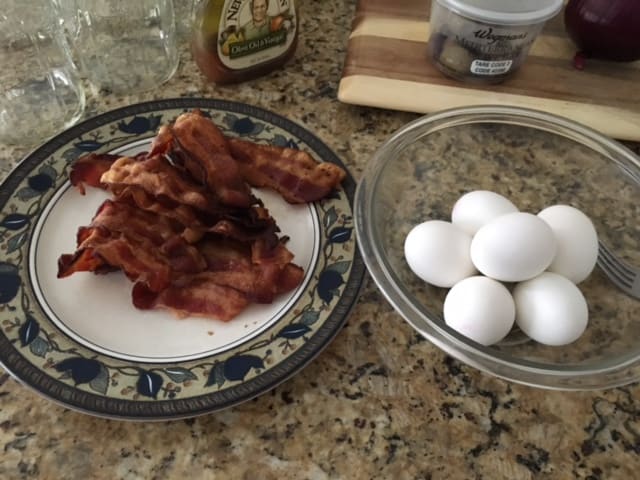 Food prep supplies
Dinner
Make-ahead tips
I plan to make the Hello Fresh meals the afternoon of or the night we eat them.
Bacon was made today for the club and BLT.
Food prep supplies
I stored bacon in a quart size ziploc bag. I crisp it up in the microwave the night we eat it.
Get Instant Access to My Best Weight Loss Tips & Strategies!
Sign up now for a free step-by-step 7-day email course that I created exclusively for my email subscribers! That's you. I will teach the best habits, strategies, and insider tips so you can enjoy a lifestyle that encourages and supports weight loss! Stop relying on willpower and take control back over your life! You can do this. Let me help!