We are in the home stretch of summer! Truthfully, I don't even know where the days have gone. It seems like the school year ends, then it is full blast summertime activities, and then it ends. Let's see…we had summer camps, time at the cabin, vacation to Colorado, friends in from out of town, house projects, and much more I am probably forgetting. Oh and in between all of that I still needed to work on my blog – no vacation days for mommy. I am not complaining though because I can work anywhere with a kitchen and a computer. This is a good thing and a bad thing I suppose. Bad because I feel like I am never "turned off". But I feel fortunate to have a job that gives me the flexibility to be here for my family.
Next summer my goal is to schedule the entire summer ahead of time (or at least July) and then get a cottage on a lake in the middle of nowhere and just RELAX. When I was a kid my summer days were spent swimming and hanging out with neighborhood kids. There were no camps, no activities, and certainly no internet. It was just my siblings, the neighborhood kids, my parent's pool and I. Summertime was a simple time with many lazy days. That's my goal for the rest of this summer and each summer moving forward.
Okay lets talk weigh-in.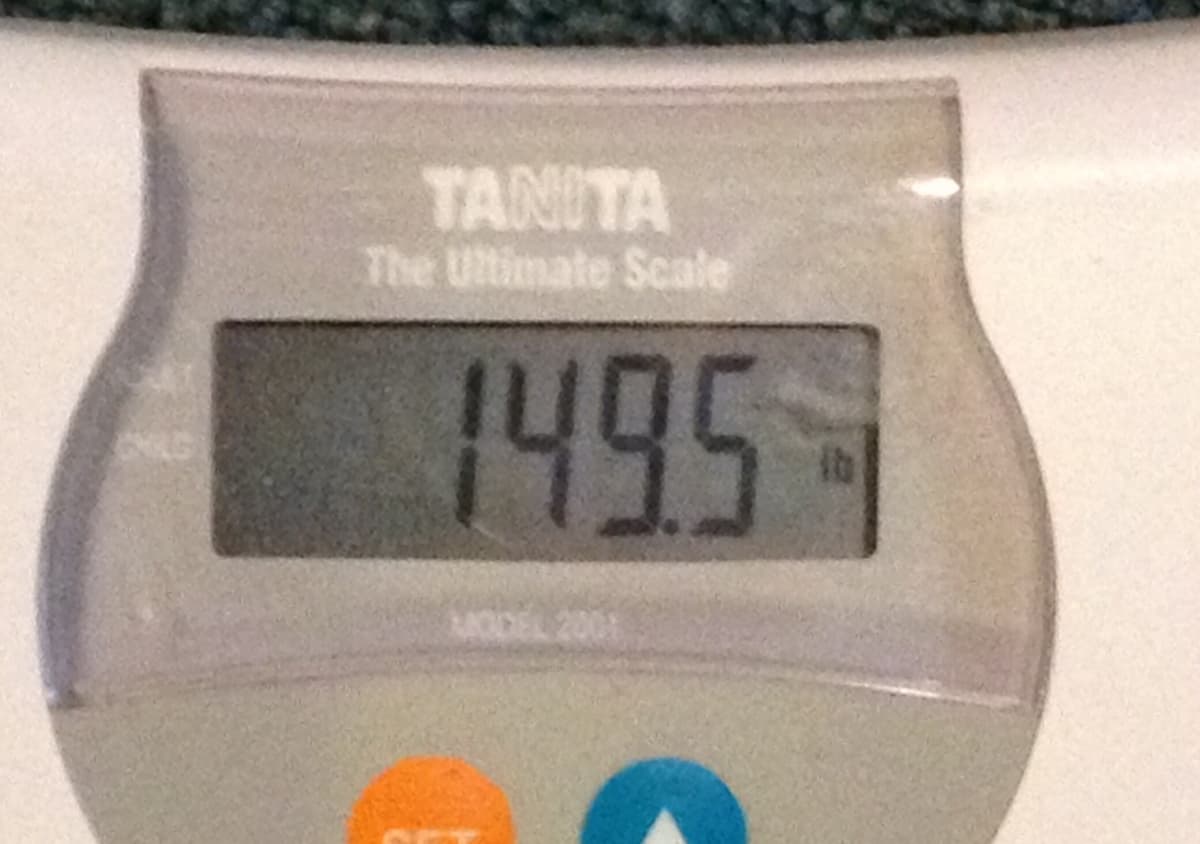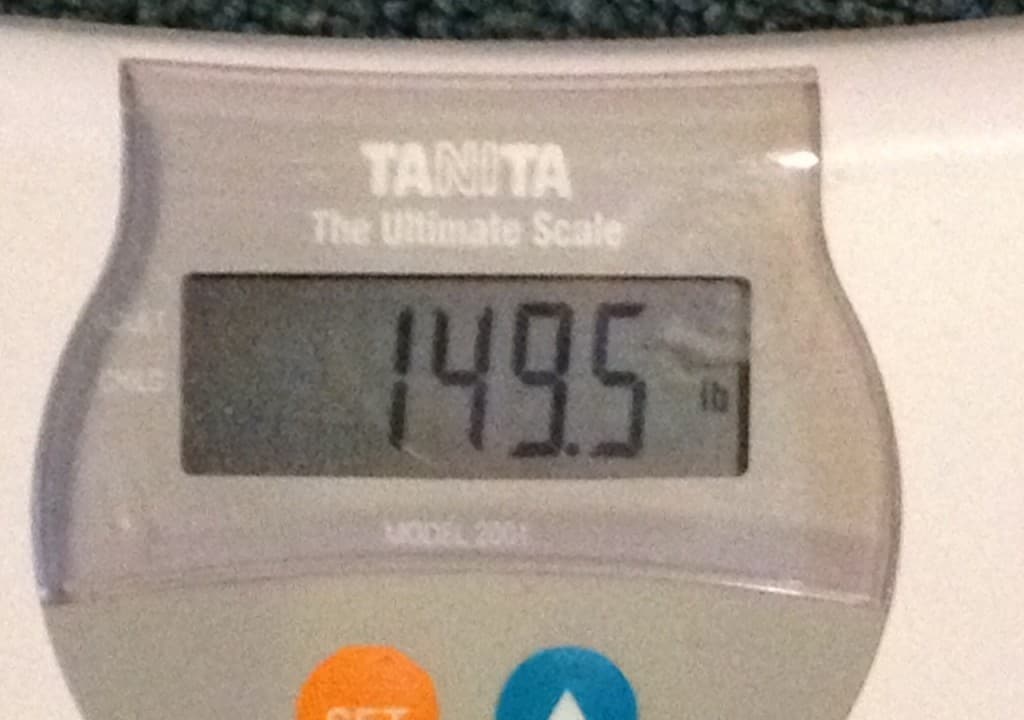 Here are my stats.
SW: 177
GW: 130
LWW: 148
CW: 149.5
PL: +1.5
Well I am still on the weight loss up and down roller coaster. My weeks are looking like this. For about 3 – 4 days I am locked on. I eat great, exercise, and do everything I am supposed to do. Then… something comes up. I go to our cabin, out to dinner with friends, or some other fun summer thing and bam everything goes out the window. I eat too much and then can't seem to find the energy or time to get in a solid workout. These days (and the morning after) end with me feeling frustrated because I KNOW BETTER. Grrrrr. Drives me nuts. But everyday is a new day and I just keep going. I never want to go back to 4 years ago so that keeps me focused.
My biggest issue at this point is food. As you know I prep my food every week so it's not that I don't have healthy food available. The problem is I am eating away from the house too much and snacking more than I should. Little bites add up quick. So moving forward I need to get some major structure with my eating. Stayed tuned for that.
Onto to exercise.
Last week was a good exercise week. I was coming off a super lazy vacation with my BFF so I was committed to getting back into a running routine. I ran 3 days last week and was happy with that.
Here is my schedule this week.
Tuesday, Wednesday, Thursday, Friday, and Saturday
Cardio
45 minutes on my Treadmill (10 minute warm up, 20 minute run, 10 powerwalk on incline, 5 minute cool down)
Core
50 crunches using my exercise ball
2 (30-second) planks
Arms
2 sets (8-reps each) bicep curls and tricep extensions
25 modified push-ups
Legs/butt
25 squats
16 lunges on each leg
My Weekly Meal Plan
This week we are finishing up all of the meals I have in the freezer. Remember the freezer cooking session I did a month or so ago? Well I still have some dinners and lunches leftover. I also have some beef left in my freezer so I plan to have a couple beef recipes this week too.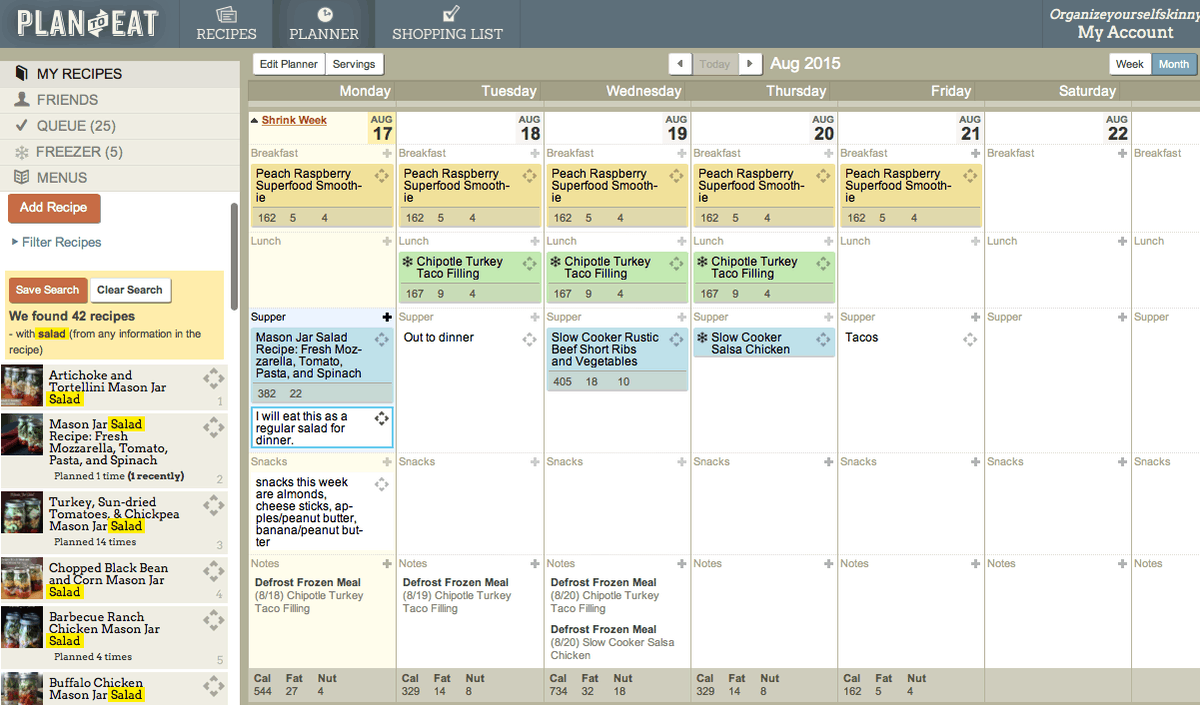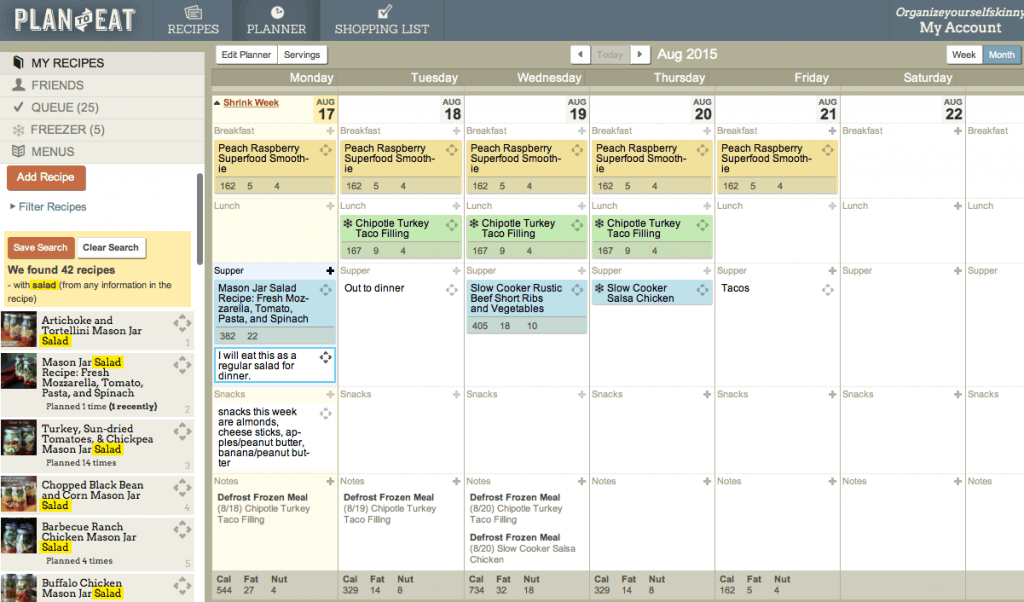 As always you can find my menus saved over on Plan to Eat. If you are a subscriber and friend me (username organizeyourselfskinny) you can access all my recipes, menus, and print out groceries lists. They have a 30-day free trial if you wanted to give them a try. **Please note I am still working through a lot of Plan to Eat friend requests. If I still didn't approve yours it might have got lost in the shuffle please send me an email tammy@organizeyourselfskinny.com and I will get to it asap.
This is the meals on my meal plan for the week.
Breakfast
Peach raspberry superfood smoothie
Make-ahead tips
Smoothies will be made the morning I drink them.
Mid-morning snack
Hardboiled egg or cheese stick
Lunch
Make-ahead tips
I made a large batch of these burritos and froze them a month ago.
Afternoon snack
baby carrots and hummus
Dinner
Slow cooker rustic beef and vegetables
Fresh Mozzarella and Spinach Salad (no pasta)
Out to dinner
Leftovers
Make-ahead tips
quesadilla kit and beef are in the freezer. Slow cooker recipe will be put together the morning I make them.