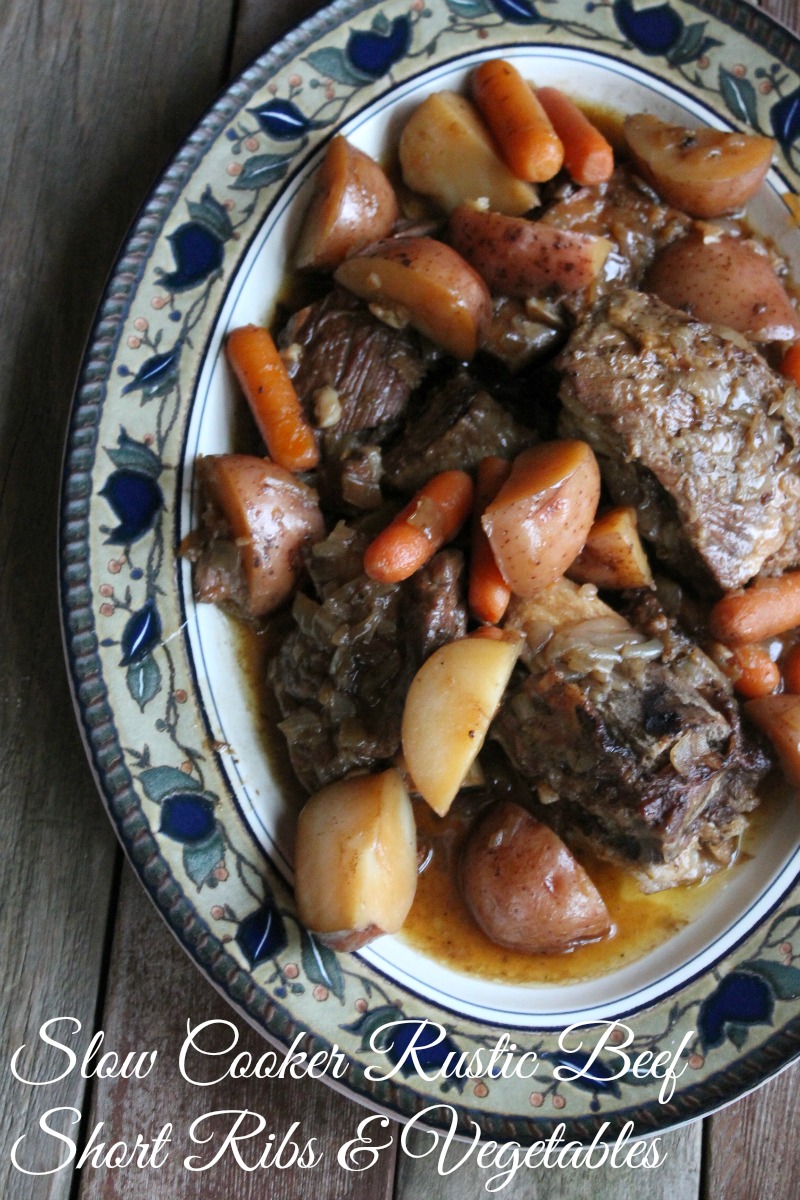 This might be the best beef slow cooker recipe I have ever made. I am serious. It was delicious. The beef turned out tender and fell right off the bone. The potatoes were out of this world! Soooo good!
I found the original recipe in the Weight Watchers One Pot Cookbook. This cookbook is turning out to be a real winner. The only thing I did differently was prep the onions and garlic ahead of time before throwing into the slow cooker. In my experience, slow cooker recipes that call for onions and garlic taste so much when better when you prep them before putting into the slow cooker. Cooking raw onions and garlic in the slow cooker does not bring a lot of flavor to a dish. Sometimes I will cook onions and garlic in the microwave but for this recipe I sautéed them in the same pan I browned the meat in. In my opinion, this step brought a ton of flavor to the recipe.
The original recipe also called for boneless ribs and cutting them up into 2-inch chunks. I only had bone in ribs because that is what came with my 1/2 cow purchase so I left them in the big chunks they came in. This was fine because the meat melted off the bone anyway.
I started this recipe later in the morning so I cooked it for 5 hours on high instead of the usually 8-11 hours on low that I normally would. It turned out fantastic at that cooking time. However, it is good to know if I need an all day slow cooking recipe I can make this one.
If are craving a hearty rustic beef recipe then definitely put this one on your weekly meal plan.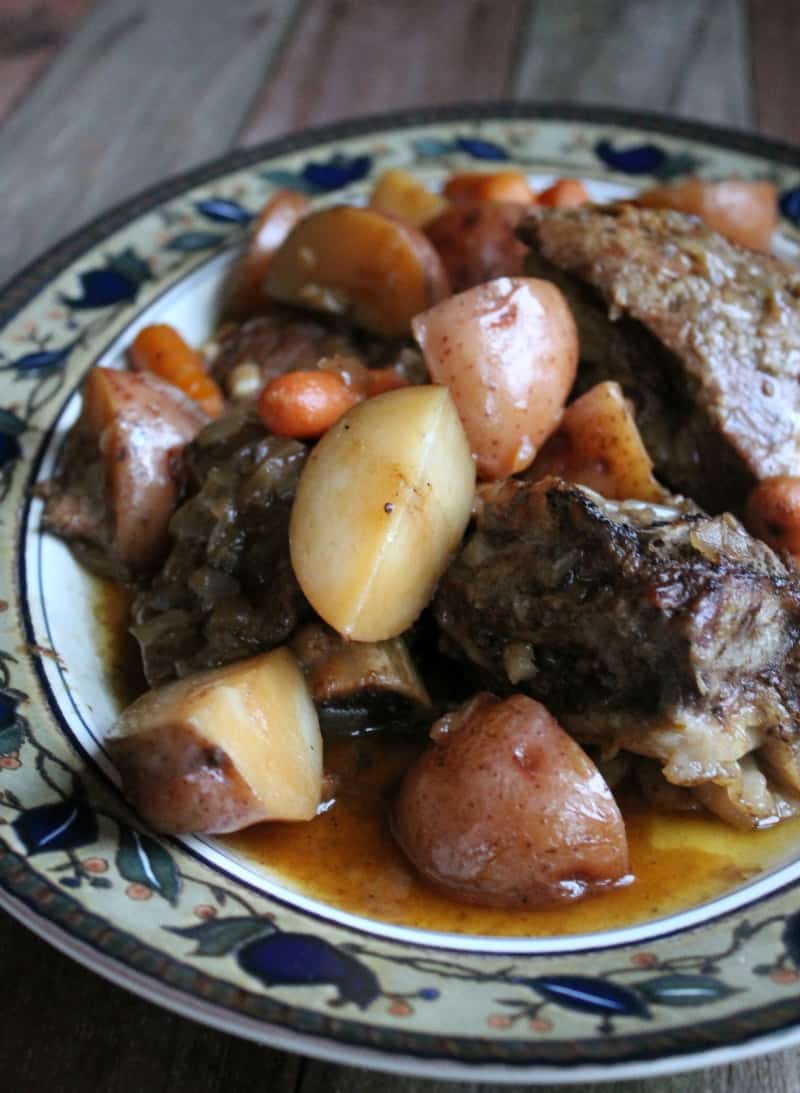 Slow Cooker Rustic Beef Short Ribs and Vegetables
Author:
Organize Yourself Skinny
Ingredients
3 tablespoons flour
½ teaspoon salt
½ teaspoon pepper
2 pounds bone in beef short ribs, fat trimmed off
1 tablespoon olive oil
1 pound red potatoes, scrubbed and cut into chunks
1 ½ cups baby carrots
1 large onion, chopped
3 garlic cloves, minced
1 cup beef broth
2 tablespoons Worcestershire sauce
Instructions
On a plate mix together flour, salt, and pepper. Dredge the beef in the flour mixture and shake off any access.
In a large pan, heat olive oil on high, and brown beef on all sides. Place in the slow cooker.
Place the potatoes and carrots in with the beef.
Pour a little beef broth into the pan and loosen up any brown bits.
In the same pan, sauté onion and garlic until the onion is translucent. Pour in the rest of the beef broth and Worcestershire sauce, scrape up any remaining bits from the pan and pour the onion mixture into the slow cooker.
Cook on high for 5 hours or for 8-11 hours on low. Mine cooked perfectly at 5 hours on the high setting.
Notes
Make ahead tips


The ingredients can be prepped the night before and store in refrigerator in the crock. Place crock into the slow cooker in the morning and continue with the desired cooking time.
Nutrition Information
Serving size:
¼ of recipe
Calories:
405
Fat:
18
Carbohydrates:
26
WW Points +:
10
Fiber:
3
Protein:
34
Get Instant Access to My Best Weight Loss Tips & Strategies!
Sign up now for a free step-by-step 7-day email course that I created exclusively for my email subscribers! That's you. I will teach the best habits, strategies, and insider tips so you can enjoy a lifestyle that encourages and supports weight loss! Stop relying on willpower and take control back over your life! You can do this. Let me help!