Hey everyone! I am so sorry I have been absent this last week or so. My entire family was hit with the flu and it was beyond awful. I am actually still recovering. Honestly, I don't think I have ever been that sick in my entire life. This flu virus could probably take down empires. Not kidding.
On top of being sick I also had to assist and attend my daughters' dance rehearsals and recital. 3 days of dance! At one point I really did not think I was going to make it. It was awful. Anyway, I am on the mend now and trying to get caught up with life.
One big lesson I learned this past week is the beginning of June is beyond busy and I need to be prepared. Like really prepared. All of my blog tasks need to be completed and scheduled a couple weeks in advance and my freezer needs to be stocked. I felt so helpless last week with nothing prepared. So, I need to make a mental note for next year. Actually, I might go through my calendar for the year and highlight all the extra busy times and make sure I plan ahead of time. I don't ever want to be caught off guard like that again.
I don't have a weigh in this week but plan to be back into the swing of things by next weekend. My diet has been off track and I haven't exercised in about 2 weeks. So, I think it is safe to say that I am completely off track with my weight loss goals. I feel like every habit I worked so hard to create is struggling to stay afloat. So I am going to take the next few weeks and focus on habits. The main habits I want to focus on are drinking my daily smoothie, tracking my food, and making exercise a priority. The basics! It always comes back to the basics!
In the next week or so I am going to change my exercise schedule to daily exercise challenges. I am not entirely sure what this will look like yet but my plan is to have a check off sheet to hold myself accountable to the challenges. I don't anticipate the challenges being iron man challenges but just something like this…
Day 1
2 miles on treadmill or outside
25 squats
50 crunches
It is kind of like what I have been doing but it will be organized better. I will keep you posted.
Until then my exercise schedule is going to be on the lighter side. I am going to try to take some walks and do some strength training with my exercise ball but I don't want to push myself until I feel fully recovered.
Okay let's get to my meal plan. Like everything else my meal plan really suffered these last couple weeks. But I am working hard to get back in to the swing of things with meal planning and food prep. Oh food prep I miss you. Life is so much easier when veggie packs, steel cut oats, and other ingredients are prepped for the week. I plan to food prep along with stocking my freezer this week.
As always you can find my meal plan on Plan to Eat. This website is such a time saver especially when you have zero time and sick with the flu. It's so easy to throw a weekly meal plan together or use a saved meal plan from a past week. If you are a subscriber you can friend me (organizeyourselfskinny) and access all my past meal plans. You can also adapt them to your needs and print out grocery lists. If you haven't tried Plan to Eat out yet give their free trial a shot.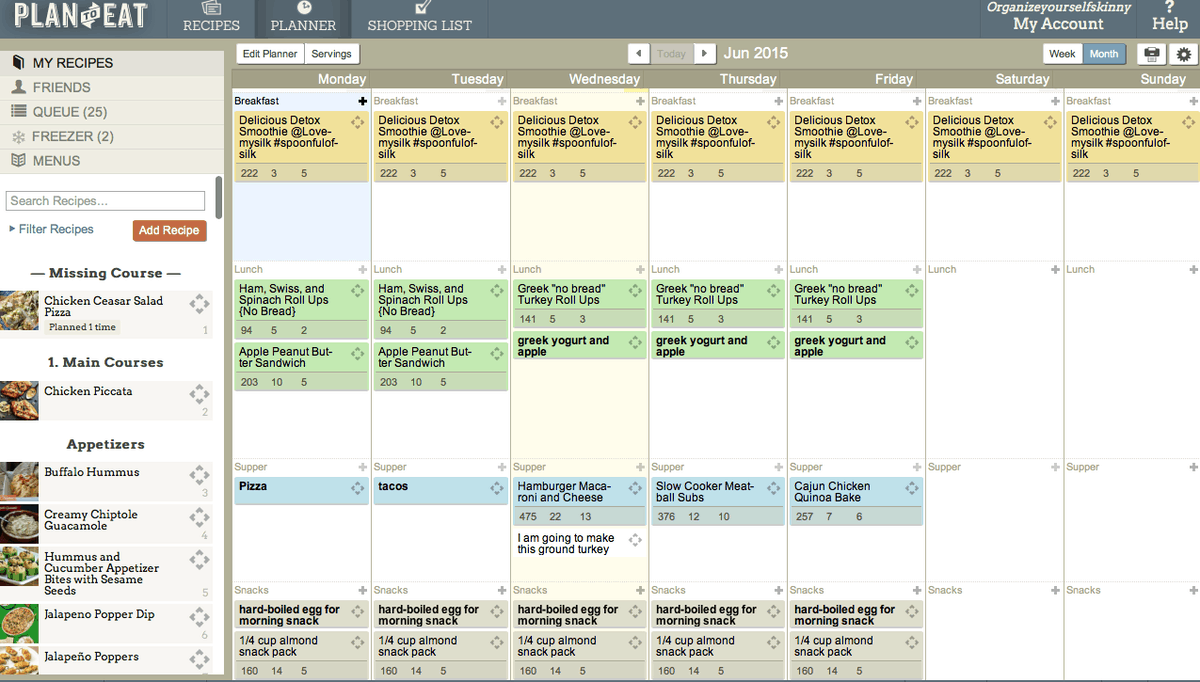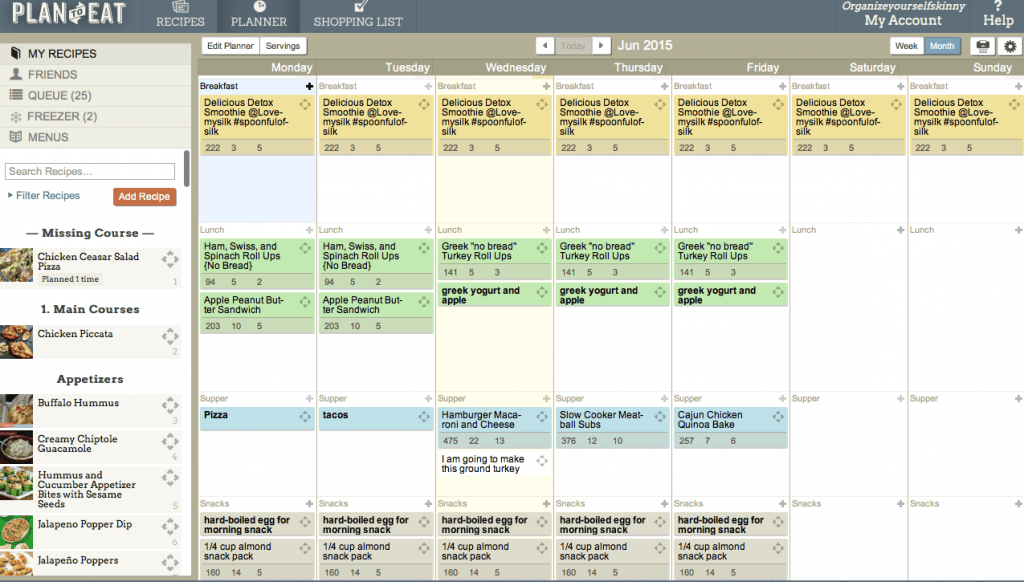 Here is what I am eating this week.
Breakfast
Make-ahead tips
smoothies will be made the morning I drink them.
Mid-morning snack
Hard-boiled egg
or
almonds
Make-ahead tips
hard-boiled eggs were made this morning.
Almonds were portioned out a few weeks ago and stored in the freezer.
Lunch
Ham and Swiss "No Bread" Roll Ups
or
Greek Turkey "No Bread" Roll Ups
with
Apple and peanut butter sandwich
or
Yogurt and an apple
Make-ahead tips
roll-ups will be made the day I eat them.
Dinner
Tacos
Pizza
Homemade Hamburger Helper (I am making this with ground turkey)
Make-ahea tips
Tacos were made last night.
Cajun chicken is in the freezer.
MB subs will be prepped the night before or in the morning.
Chicken parm will be made the night of.