If you are want to know how to lose weight fast without exercise, I'm here to help! Here are some of my best weight loss tips to help you see the scale go down without spending all of your time in the gym.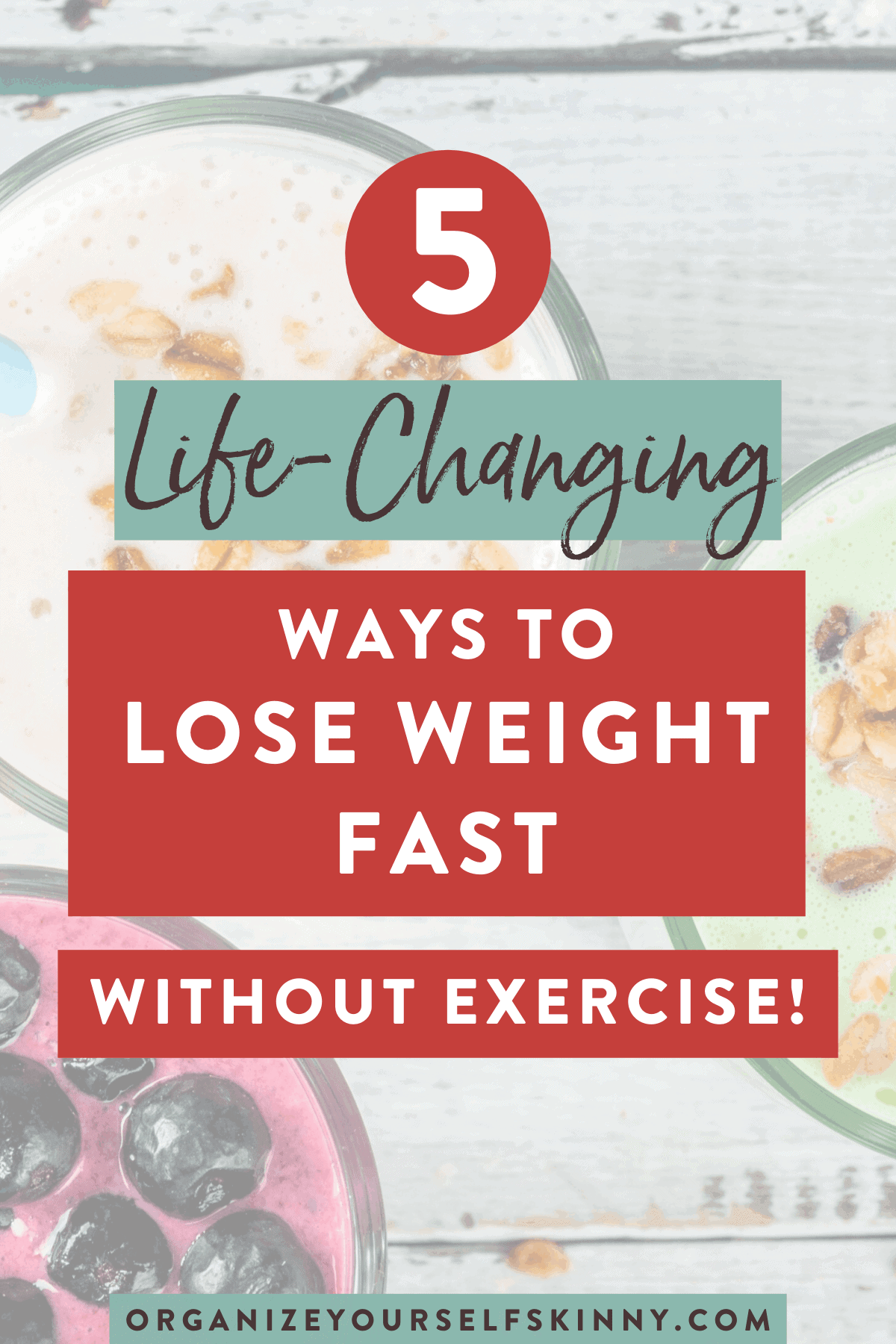 Before I jump into this post, I want to make a few things clear.
First, I'm not saying exercise isn't important. Nope. If you're serious about losing weight, and more importantly maintaining, then exercise, at some point, needs to become a part of your lifestyle. Sorry, but it's true.
Second, exercise changes the way your body looks. This is something I've learned over the years, and a motto I live by…
Changing your eating habits will help you look good in clothes but exercise will help you look good naked.
Just sayin'.
If you want to tone your muscles or sculpt your body, then you'll need to do more than eat better.
Third, exercise does so much more than help you look good in skinny jeans. In fact, I believe exercise is the most underutilized antidepressant out there. Working up a good sweat gets the endorphins going, clears your head, and reduces stress. I know when I run 4-5 times a week I feel like I can take on the world!
So, I do believe exercise has its place in a healthy lifestyle.
How I Lost My First 30 Pounds
However, with all that said, I did lose my first 30lbs without exercise. In fact, the first week I dropped 6lbs. It was AMAZING.
What did I do?
I changed my eating habits! Actually, I shouldn't even say I "changed" my eating habits because all I did was control the amount of food I was eating. So, instead of eating 10 servings of pretzels at night, I ate 1…maybe 2. I'll talk more about what I did in a minute.
The point is, my initial weight loss had nothing to do with exercise. It had everything to do with food and other habits.
How To Lose Weight Fast Without Exercise
So, I do believe you can lose weight fast without any exercise. Here are my best tips and habits to make that happen!
1. Track Your Food
If there's one piece of advice I can give you, to quickly jumpstart your weight loss, it's to track the food you eat. This is key! If you only do one thing from this list, do this one. This is where you'll see results fast.
I think one of the biggest mistakes people make is thinking they eat less than they do. Trust me, I get it.
When I first started, on my weight loss journey, I truly thought I ate healthy and didn't understand why I was overweight. I mean it's not like I ate McDonald's or chow down on doughnuts every day. However, once I started to track calories, I quickly realized that I was eating way too much.
In fact, the first day I started to track, I was up to 3000 calories by dinner time!!! I was totally shocked. It didn't take long for me to understand why I was overweight – I was eating more than I thought.
Remember this… you don't know what you don't know. So, if you're not sure how many calories you ate yesterday then you probably ate too much. The only way to really know is to keep track of what you're eating. This will help you see the changes you need to make and more importantly keep you accountable.
What I Use To Help Me Keep Track Of My Food
I used (and continue to use) My Fitness Pal (MFP) to hold myself accountable. My Fitness Pal is a free online food diary. I plugged all my information in and MFP figured out the number of calories needed each day to lose weight. From there, I ate within my calories.
It wasn't easy but I did it. This alone helped me lose 6lbs the first week. After that, I lost 1-3lbs a week.
It was absolutely amazing to see that not only did food play a huge role in weight loss but I WAS THE ONE IN CONTROL.
Of course, you can use another program to track portions or calories but My Fitness Pal is free and it works great.
Now, I know tracking calories can be tedious, and sometimes it is, but it works. This can be a total game-changer for you – it was for me!
2. Meal Plan
If you really want to lose weight fast without exercise, this is one of my secret weapons. Once you know the number of calories you need to eat to lose weight, then it's time to create a meal plan around that.
A meal plan is your food road map, it should tell you what, how much, and when to eat.
For example, if you need 1350 calories a day to lose weight, then a meal plan for one day can look something like this:
Something To Keep In Mind:
If you're used to eating 3000+ calories a day, then 1350 calories isn't going to seem like a lot of food. This is why it's so important to think ahead of time and plan for these calories. This way, you can spread the calories out throughout the day and choose foods that'll keep you satisfied.
Still Struggling With Meal Planning?
Meal planning can take a lot of time upfront but it's worth it. It keeps you on track and organized during the week!
If you struggle with meal planning, then try these tips:
Use recipes and foods you're used to. Over time, you can change up recipes but when starting out, prepare what you know so it's not overwhelming.
Put together 4-6 meal plans that you can rotate week after week. This saves time in the long run. You can read more about rotating meal plans here.
Upload recipes and foods into My Fitness Pal ahead of time so it's easier to track. Lifesaver!
Make sure to create a meal plan around your schedule. This is super important in order for this to work.
You can read more about meal planning in my free Ultimate Healthy Meal Planning Guide.
3. Meal Prep
Next to tracking, meal prep is one of the best things you can do to jump-start a fast weight loss. Why? Because it's so much easier to eat healthy food when healthy food is ready to eat!
Think about it…
If you put together a meal plan, purchased all your groceries, and then went into the week without any food prepared ahead of time then it's likely all that food will go to waste and you'll end up ordering pizza. Trust me, I've been there.
You want to go into the week with food ready to eat or, at least, ready to quickly prepare. This will help you stick to your meal plan.
Why I Think Meal Prep Is A Big Deal
As a busy working mom, meal prep was a HUGE game changer for me. There's no way I would've been able to eat healthy homemade foods every single day if I had to cook from scratch. Nope! I make as much as I can on Sunday then everything is ready during the week.
Even today, as a work at home mom, I take time on the weekend to meal prep and that keeps me on track.
I've put together a bunch of meal prep posts, you can read them over on this meal prep page. Or, grab my free meal prep email series. This email series walks you through the basics of meal prep to get you started right away.
Meal Prep Tip:
If you want to jump-start right now, a quick meal prep tip when you are trying to lose weight without exercise is to add more protein to your diet. Protein will fill you up faster and keep you full longer. Some high protein snacks are:
Almonds
Hard-boiled eggs
Hummus and veggies
Cheese-sticks.
Also, reduce carbs like white pasta and rice! White carbs turn into sugar which means you'll feel hungry a lot sooner. Not to mention, you'll feel that crash and burn causing you to feel tired instead of energized. Carbs also cause belly bloating. So, if you're looking to lose the belly, then cut back on the white carbs and eat more lean proteins and vegetables.
4. Drink Water
You've heard this over and over again I'm sure. Well, you're gonna hear it again because it's true.
Drinking water is so important for weight loss.
It helps you stay hydrated without consuming a bunch of calories. When you're dehydrated, you lack focus, motivation, and energy. This alone can cause a lot of unhealthy choices to creep in. When you stay hydrated, you're much more likely to stick to a healthy lifestyle.
Also, water helps with digestion and elimination. Basically, it keeps the pipes moving. This alone will reduce bloat and help you shed pounds.
Last, water keeps you full between meals. Often when you're hungry, it could mean that you're actually thirsty so instead of eating try drinking water.
Honestly, I never knew how important water was until I focused on drinking 64 ounces a day. I felt like a new woman. The brain fog was gone, I had so much more energy, and my skin started to glow. Drinking water truly made a difference.
How I Track My Water Consumption
One of the things I do to track the amount of water I drink is fill up 2 (32-ounce) mason jars in the morning. When those are gone, I know I drank 64 ounces of water that day. Also, drinking green smoothies helps with staying hydrated and eating all your fruits and vegetables.
So, if you struggle to drink water, try getting your liquids in that way.
5. Have An Eating Cut-Off Time
I've found that all my calories are used up by dinner so anything I eat past then will bring me over for the day. Therefore, having a cut-off time helps me keep my calories under control. It's kind of my take on intermittent fasting. I stop eating by 6:00 pm or 7:00 pm every night.
I set a reminder on my phone so every day at 6:00 pm and 7:00 pm, I'm reminded to stop eating. This keeps me intentional with not eating late at night.
If you struggle with late-night cravings, then this tip could be very helpful!
6. Get Sleep
I don't know about you but, when I'm exhausted, I'm more likely to make unhealthy choices. I don't feel like planning meals, preparing food for the week, cleaning the house, or doing anything that would help with losing weight.
Also, when I'm tired, all I crave is junk. It's like my body has a totally different response to food when I lack sleep. All I want is pizza, cheez-its, and chocolate – doesn't have to be in that order.
So, if I want to lose weight, especially fast, I need to be well-rested.
If you're struggling to stick to a healthy routine, then take a look at your sleep schedule because that could be your solution. I know, with busy schedules, it's hard to get a good night's sleep but I encourage you to make it a priority because losing weight will be difficult without sleep.
7. Get Your Hot Zones Under Control
I want to leave you with this last tip – get your hot zones under control.
Honestly, this is some of the best weight loss advice I can give and I wish someone told me decades ago…

It's impossible to change your lifestyle and lose weight when you're constantly trying to survive one hot zone after another.
You might be thinking "what is a hot zone?".
Basically, a hot zone is a chaotic moment where you're making decisions based on survival instead of what will be best for the long term. For example, I think we can all relate to, coming home from a long day and you have nothing planned for dinner. Now, everyone is starving and screaming for food. There's nothing to quickly make so you order a pizza. That pizza wasn't in the meal plan or budget so now you're over calories and budget.
The goal is to get out of those hot zones. Doing so will reduce your stress significantly, get you organized, and ultimately help you stick to healthy eating habits. ←-This will result in fast weight loss you can maintain! Read more about hot zones here.
How To Lose Weight Fast Without Exercise: My Best Tips
Okay, those are some of my best tips for how to lose weight fast without exercise. Now, I'm not saying you're going to drop 20lbs in a week. BUT, if you get control over your food with tracking, meal planning, and meal prep along with drinking more water, sleeping, and the other tips I mentioned, I believe you can see a 10 – 20lb weight loss in a month.
That was my experience and I feel confident you can have those results too!
Share a picture and tag me on Instagram or Facebook if any of these tips help you lose right fast without exercise. If not, I would love to hear what has helped you!