I don't know about you but pizza is one of my all-time favorite meals! The problem is that it's not necessarily always healthy or low carb friendly. Fortunately, over the years, I've learned how to fit pizza into my healthy lifestyle. This post is full of high protein pizza ideas including keto pizza crusts, high-protein pizza toppings, and my special homemade pizza sauce recipe!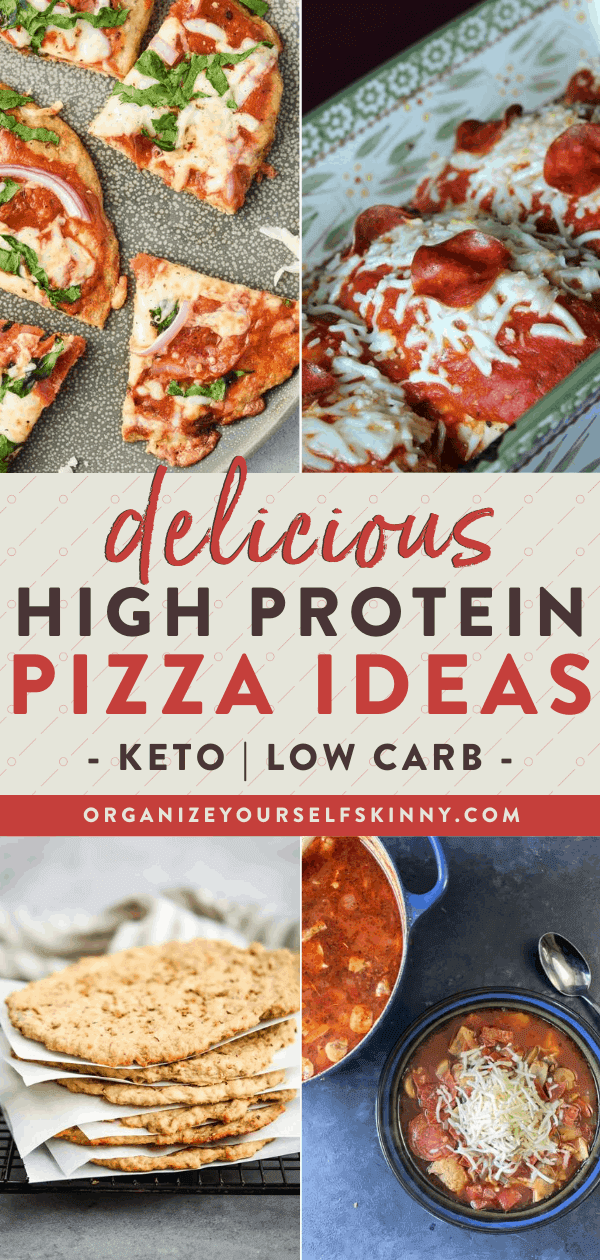 If someone asked me what's the one food I can eat every single day for the rest of my life and beyond, it would be pizza. It's hands down my favorite food!
When I first started on my weight loss journey, I knew I had to get my pizza obsession under control.
Seriously, why can't chewy delicious dough and yummy cheese baked together to create an ooey-gooey slice of heaven be considered healthy? Ugh, life's not fair.
Anyway, after I dried my eyes, I started working on alternatives so I could enjoy pizza on a regular basis and not just as a 'once in a while' celebration food.
In the beginning, I was able to eat more carbs without it having a big effect on my weight loss. As long as I kept portions under control, I was good. Even with a greasy slice from our local pizza joint.
However, once again, things have changed. Now, that I'm in my mid-40's, carbs are not kind to me at all.
They basically sit in my midsection and make it very difficult for me to get rid of any weight.

Carbs cause me to feel very bloated, sluggish, and just are not kind to my tummy.
So, I've had to change up my eating style once again.
High Protein Pizza Ideas (Keto and Low Carb)
Within the last year, I started to eat more low-carb, keto-friendly, meals. I'm definitely not 100% strict with keto but I do turn to keto recipes when I'm looking for low-carb recipes that are higher in fats and protein. I find that these types of recipes are very tasty and also keep me full and satisfied.
So, during this part of my weight loss journey, I don't just keep portions under control but I also keep carbs to a minimum as well.
This brings me back to pizza. Over the years, I've created many different high protein pizza ideas that are low-carb and often keto-friendly. Each of these recipes and ideas can curb just about any pizza craving!
Keto Pizza Crust Ideas
After trying out a couple of different pizza recipes, these are my favorite pizza crusts!
Portobello Mushrooms
Since eating more low-carb and keto recipes, I've developed a newfound love for portobello mushrooms. These are literally the perfect vessel for pizza toppings. And to be quite honest, every time I eat portobello mushroom pizzas, I feel like I'm eating a regular pizza.
Cooking Tip: You need to remove the gills and stem prior to making the pizzas. If you plan to eat portobello mushroom pizzas during the week, you can easily do this task on Sunday during meal prep day.
Cauliflower Crust
I have to admit, I've never made my own cauliflower pizza crust. Yes, I know…how can I even call myself a healthy food blogger?!?
I just don't have the patience for it. I much prefer to keep my favorite store-bought cauliflower crusts stocked in my freezer.
My two favorites are Trader Joes Cauliflower Crust and Caulipower Cauliflower Pizza Crust. Of course, it's not the same as a traditional pizza crust but it's still good and definitely curbs a pizza craving.
Chicken Pizza Crust
My very good blogger friend Steph from Meal Plan Addict put together this amazing low carb frozen chicken pizza crust idea. You can make them in bulk and freeze for a quick low carb high protein pizza idea.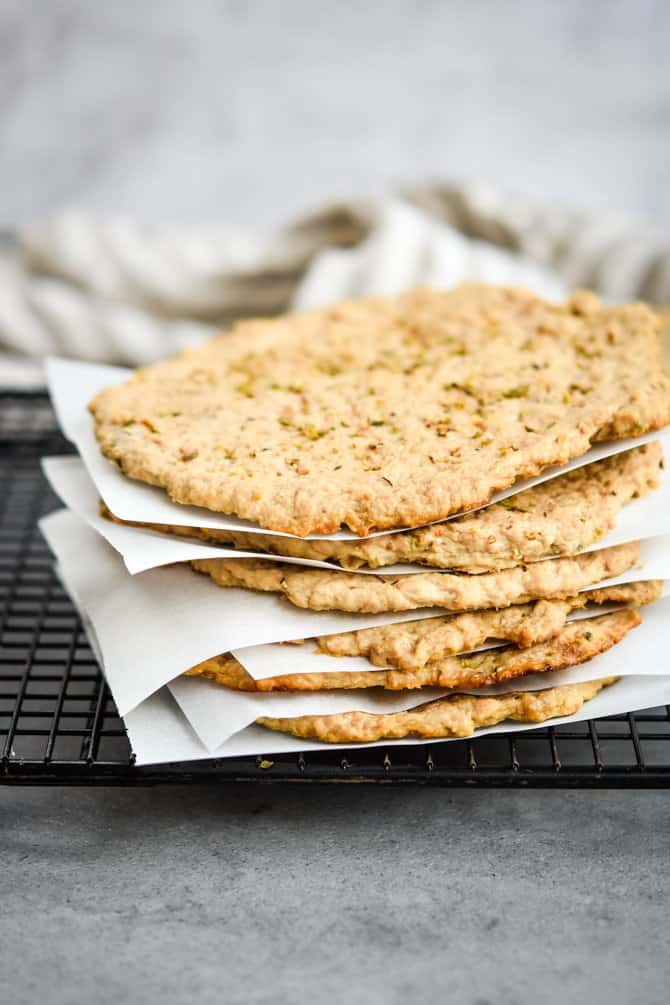 Keto Pizza Dough
Truthfully, I haven't tried a keto pizza dough recipe yet. However, this Keto Sheet Pan Pizza by A Family Feast looks amazing! I plan to make this very soon and will update once I do.
The key to making this low carb pizza crust high in protein is the toppings. You want to choose high protein toppings along with a high-quality sauce.
Low Carb Pizza Sauces
Now that we have our base, let's move onto the sauce.
Tomato Sauce
My family loves a classic homemade tomato pizza sauce! Here's my simple recipe. This sauce recipe will make about 2-3 pizzas, depending on the size of your pizza crust and the amount of sauce you like. Or check out my popular keto pizza sauce.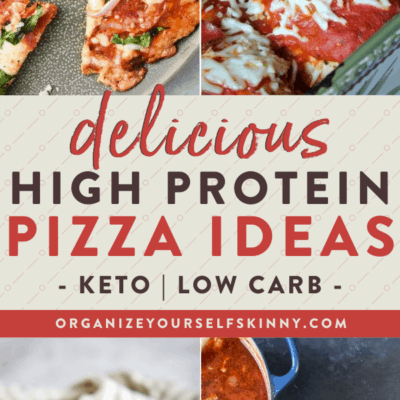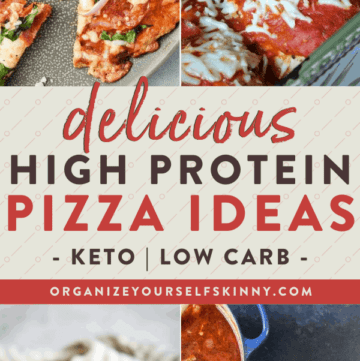 Low Carb Pizza Sauce
Low-carb pizza sauce to use on your high protein pizza ideas to create a delicious keto pizza recipe.
Print
Pin
Rate
Ingredients
2

tablespoons

olive oil

2

cloves

of garlic

minced

1

15-ounce can tomato sauce

2 -3

tablespoons

tomato paste

2-3

tablespoon

oregano

1

teaspoon

onion powder
Instructions
Heat the olive oil in a medium saute pan over medium-high heat. Add the garlic and cook for 1-2 minutes or until fragrant.

Add the tomato sauce, tomato paste, oregano, and onion powder.

Bring to a boil and then lower to a simmer. Simmer for 15 – 20 minutes.

Use on your favorite pizza.
Notes
This sauce recipe makes about 2 – 3 (10-inch) pizzas.
Even though this homemade pizza sauce is super easy to make, I often purchase store-bought because…that's easier.
Rao's Pizza Sauce is my absolute favorite sauce. It's high quality and low in sugar. Anytime you purchase store-bought pizza sauce, you need to check the sugars because many brands are filled with them.
Alfredo Sauce
Another sauce I love to use on pizza is alfredo sauce. Basically, alfredo sauce takes a white pizza and elevates it to another level of awesome. This is delicious with chicken and all kinds of vegetables. My favorite jarred alfredo sauce is Rao's. This is on the pricier side but it's super high quality and superior in taste to the other jarred alfredo sauces in my opinion.
Olive Oil And Garlic
It doesn't get much simpler than oil and garlic. I use about ¼ cup of oil and grate 1-2 cloves of garlic into the oil. Then, I brush it on the pizza crust, add toppings, and bake.
Some of my go-to high protein pizza toppings are:
Pepperoni. Of course, I need to list this first because out of all the toppings this classic is my favorite.
Chicken sausage. I like to purchase raw chicken sausage, remove the casings, and cook it into crumbles before adding it to the pizza. You can also purchase cooked chicken sausage and cut it into slices to put on the pizza.
Shredded or diced chicken. This goes amazing on a chicken alfredo pizza. I'll talk more about that in a minute.
Ground beef. Can you say taco or cheeseburger pizza anyone?
Steak. Have you ever tried shaved steak and spinach on a pizza? Oh my!
Italian sausage. I love mixing this with banana peppers.
Deli sliced ham, capicola, or other Italian meats. This combo mixed with some Italian sausage literally creates the most amazing Italian pizza ever.
All different kinds of cheese. Switching up cheese is a great way to get a lot of variety to your pizzas.
Low-Carb Vegetable Pizza Toppings
Believe it or not, pizza is a great way to get in your veggies. Here are my favorite low-carb veggie pizza toppings:
Mushrooms
Spinach
Broccoli
Zucchini
Cauliflower
Asparagus
Bell peppers
Tomatoes
The Best Keto Pizza Combinations
Using a variety of these ingredients listed above, it's time to put together some amazing low carb pizzas!
All you need to do is:
Choose your favorite low carb pizza base.
Add sauce to the base.
Add toppings.
Bake in a 350 degree over for 15 – 25 minutes or until cheese is melted and pizza is hot.
Enjoy!
Here are some of my favorite keto pizza ideas and combinations.
Chicken Broccoli Alfredo
For this pizza, spread alfredo sauce on the pizza crust, sprinkle with mozzarella cheese, and top with chicken and chopped cooked broccoli. I use roasted broccoli or steam in bag frozen broccoli which I cook first.
Buffalo Chicken Pizza
For this pizza, I use garlic and olive oil sauce. Then, I sprinkle shredded provolone and mozzarella cheese on followed by leftover slow cooker shredded buffalo chicken, and then I top it with some crumbled blue cheese. When the pizza is done, I add a little more hot sauce and top with some shredded lettuce.
Trust me, this is delicious!
Taco Pizza
For this pizza, I switch things up and will use a taco sauce or salsa for the sauce. Then, I add taco meat and top with shredded Mexican cheese. When it's done, I'll add a dollop of sour cream, diced tomatoes, and some shredded lettuce.
The Italian Royal
This is my husband's favorite! I've made this with both pizza sauce and olive oil and garlic. After the sauce is added, I add shredded mozzarella and provolone cheese and then top it with thin slices of capicola and cooked crumbled Italian sausage.
I will add some thinly sliced onions to this one for my hubs.
Non-Traditional Low Carb Pizza Ideas
The sky is the limit with the number of high protein pizza ideas you can come up with. Now, I want to share some of my keto pizza ideas that aren't exactly a traditional pizza but a pizza twist of some favorites!
My oldest daughter actually came up with this recipe. This was one of the first pizza-inspired low carb creations I put together.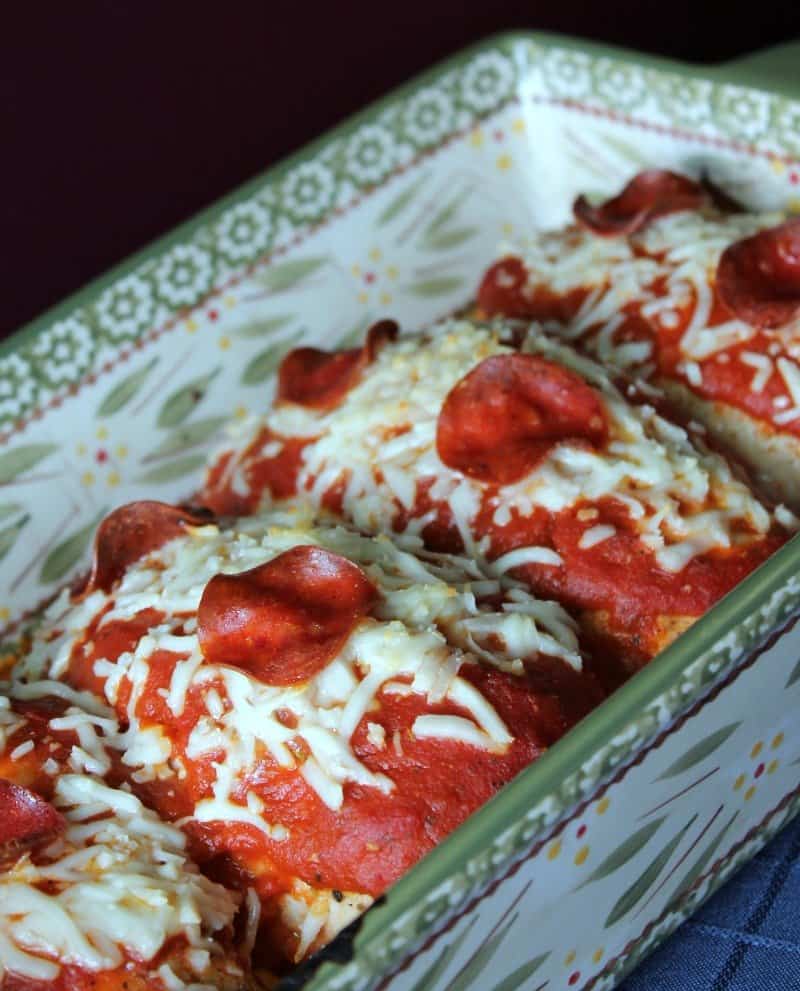 Everything you love about a hearty low-carb turkey meatloaf with a pizza twist!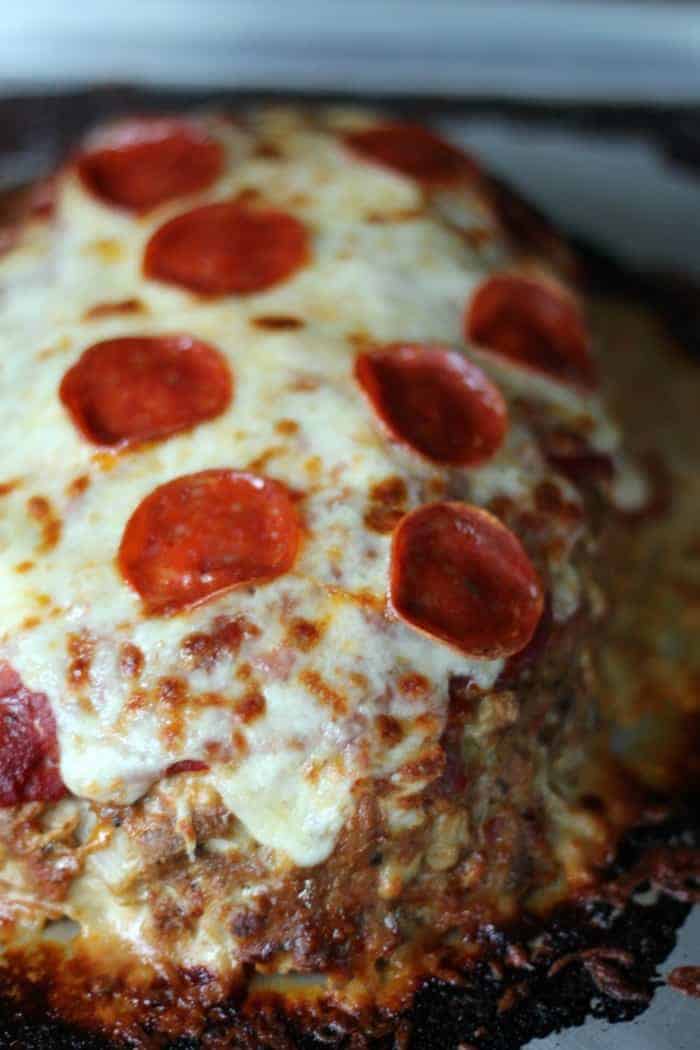 This is one of my favorite keto soup recipes! And let me tell you, even though it's soup, it can satisfy any pizza craving. It's super easy to prepare and can even be prepared ahead of time and frozen for a quick dinner or lunch during the week.
This is more of an appetizer but there's no reason you couldn't enjoy this for lunch or dinner with some chopped veggies or even alongside some chicken.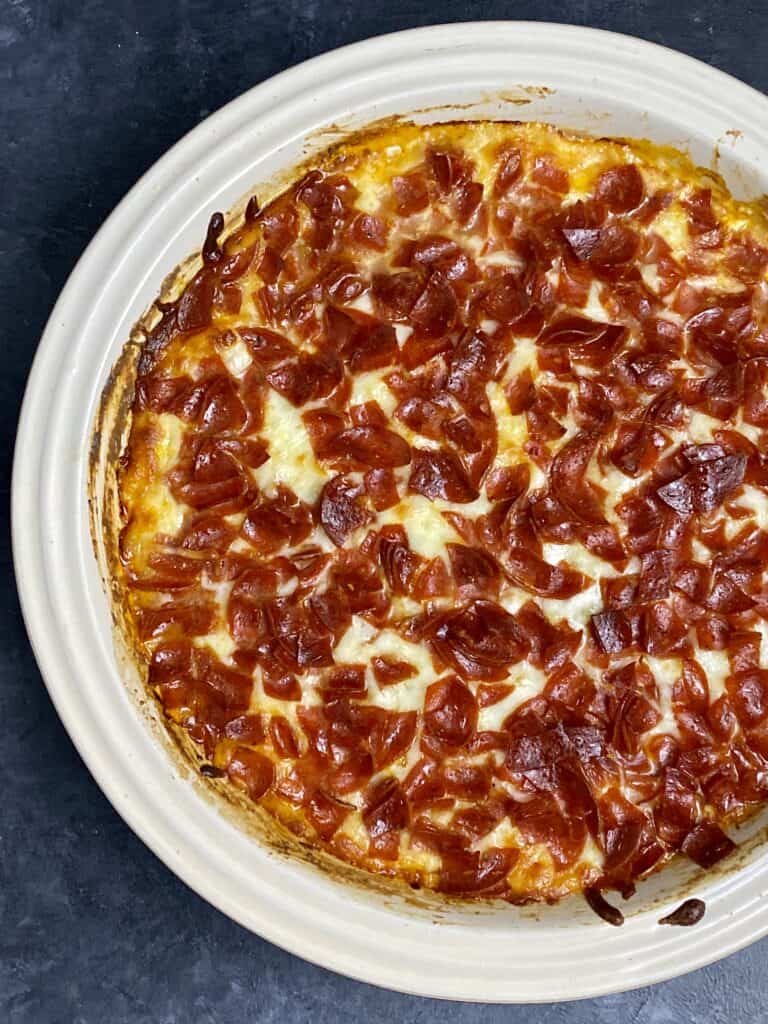 With all of these high protein pizza ideas, which one will you choose? Share a picture and tag me on Instagram or Facebook if you decide to make this!