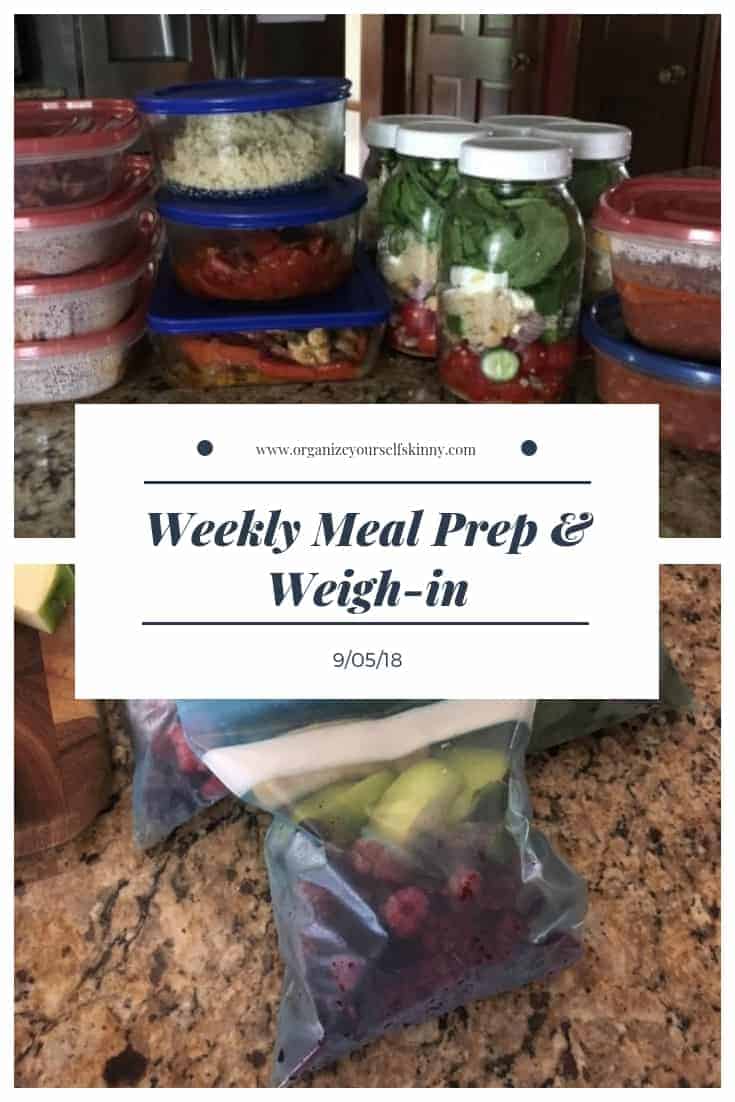 Today was the first day of school! While I'm going to miss having the kids home in the summer I'm also looking forward to getting back into a routine. As a work at home mom it's difficult to keep a structured work schedule with kids running around and wanting to go here and there. Not to mention it's just difficult to stay focused on creating and writing when kiddos are always knocking on my office door. Anyway, I'm not overly complaining because I do feel incredibly grateful to be home with them but I'm definitely looking forward to refocusing on my blog. So now that kids are back in school I plan to put in some solid blogging hours this month and make up for lost time.
One of the projects I did complete this summer was updating the Organize Yourself Skinny ecourse with 6 new lessons, a new 1500 calorie meal plan, and a couple other bonuses. I'm really proud of this ecourse and all of my current students love the updates.
I get so many emails asking when the ecourse will be open for enrollment. Now that the updates are done I feel comfortable opening up enrollment to the Organize Yourself Skinny ecourse. If you're looking to organize your life, learn to meal prep, create other healthy habits and routines, and lose some weight in the process then I think the Organize Yourself Skinny ecourse can work for you. Right now it's 50% off with code FALL2018. You can learn more about, and purchase, the ecourse here.
This one-time fee gets you access to all of the lessons, bonuses, private FB group, and all future updates. I know I might be a little biased but I think that's quite a steal! Purchase the ecourse here.
Alrighty, let's get to my weigh-in.
Starting weight (October 2010) : 177 lbs
First goal weight: 145lbs
Final goal weight: 135 lbs
Last week's weight:154.4 lbs
Current weight: 153,4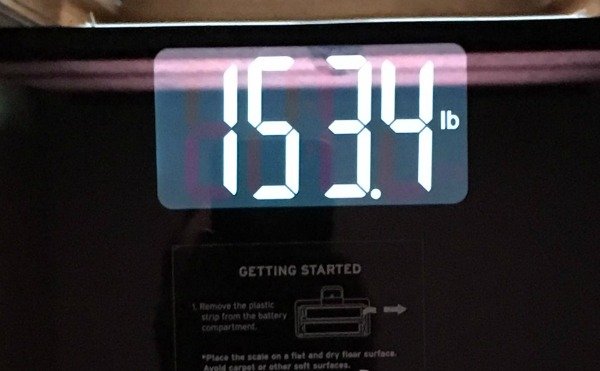 Last week, I didn't post a weigh-in or meal plan. Trust me, I always have every intention of prepping meals, weighing in, and sharing it all right here. However, last weekend was beyond insane and then come Monday I was putting the finishing touches on the ecourse updates, and getting my kids ready for back to school, so some things had to take back seat. It's just the way it was.
Without a doubt, I felt the effects of not having mason jar salads made or dinner ready to eat (or cook). I struggled all week with meals because I was craving a mason jar salad and had limited time when dinner came around. It was horrible! Honestly, it's amazing that I lost 1 pound.
My weight loss this week is due to keeping portions under control, drinking water, and not eating past 7pm. I wouldn't say the food I ate would win "healthy meals of the year" awards but I still paid attention to calories and that made a difference.
This week is going to look much different. My eye is still on the prize to lose my last 20lbs by the end of the year. That's 17 weeks so losing 1 – 2lbs a week is completely doable. So my plan is to keep calories between 1300 – 1500 a day, drink lots of water, don't eat past 7pm, and exercise 4-5 times a week.
My exercise plan will look like this.
Treadmill 30 – 45 minutes (my goal is to burn 300 – 400 calories)
3 (30-second planks)
100 crunches
18 – 24 bicep curls
18-24 tricep extentions
50 squats
50 plie squats
18 lounges on each side
I ordered all my groceries on Saturday to be delivered Sunday morning. I use Instacart for grocery delivery. You can read my Instacart review here. On Sunday I spent about 3 hours preparing food for the week. By 11:00am I felt totally accomplished and ready for the week.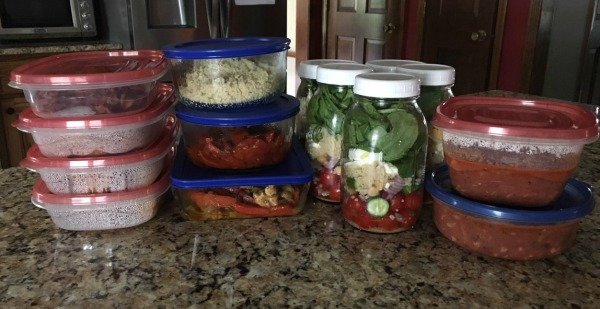 Here's my meal plan for the week.
Breakfast
Meal prep tips
I made freezer smoothie kits on Sunday.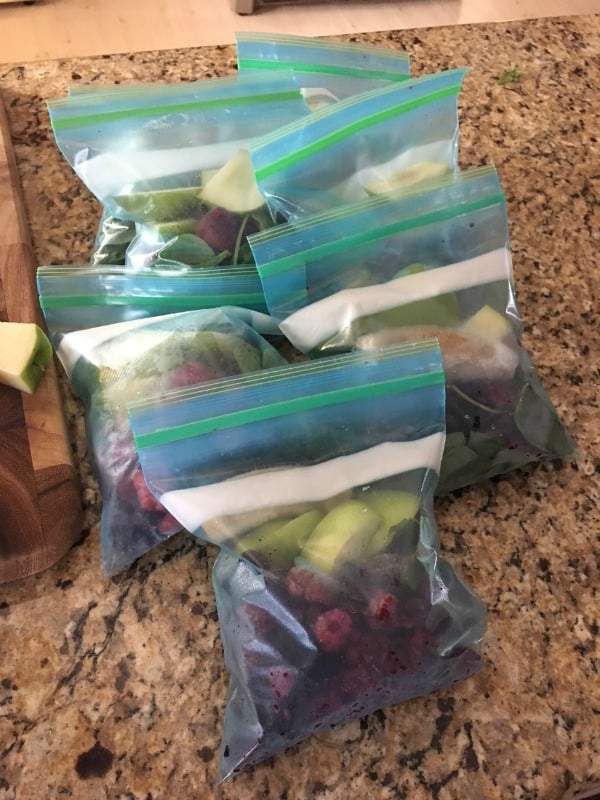 Morning snack
Raw almonds
Lunch
Meal prep tips
I made 5 mason jar salads on Sunday and will make a couple more during the week to get me through the weekend.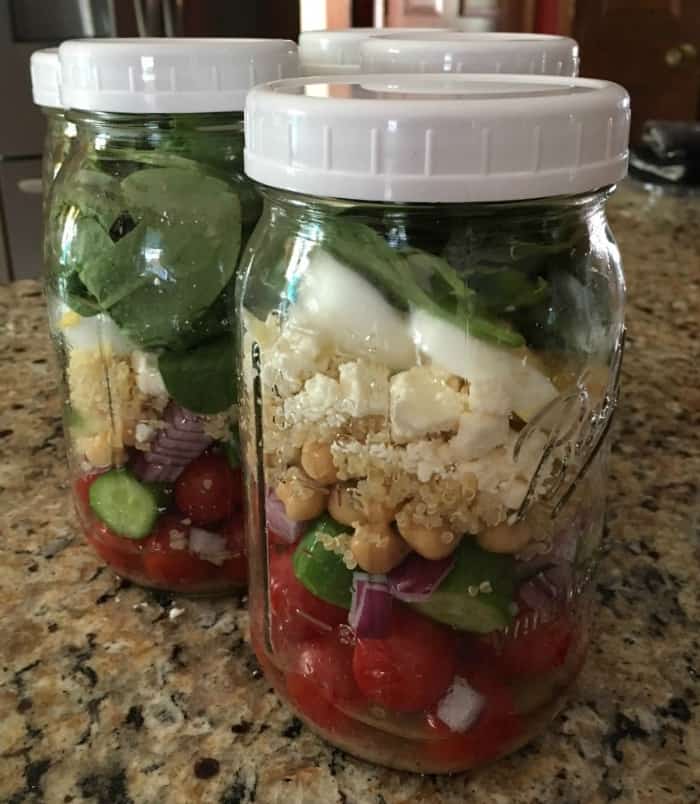 Afternoon snack
Apples and peanut butter or carrots and hummus
Dinner
Chicken quesadilla made with slow cooker Salsa chicken
Sweet and Spicy Garlic Shrimp with quinoa and broccoli
Pita pizzas with roasted tomatoes and fresh mozzarella
Low-carb turkey club lettuce wraps
Red Clam Sauce
Meal prep tips
I made the meatloaf ahead of time, sliced it up, and then stored in plastic containers in the refrigerator.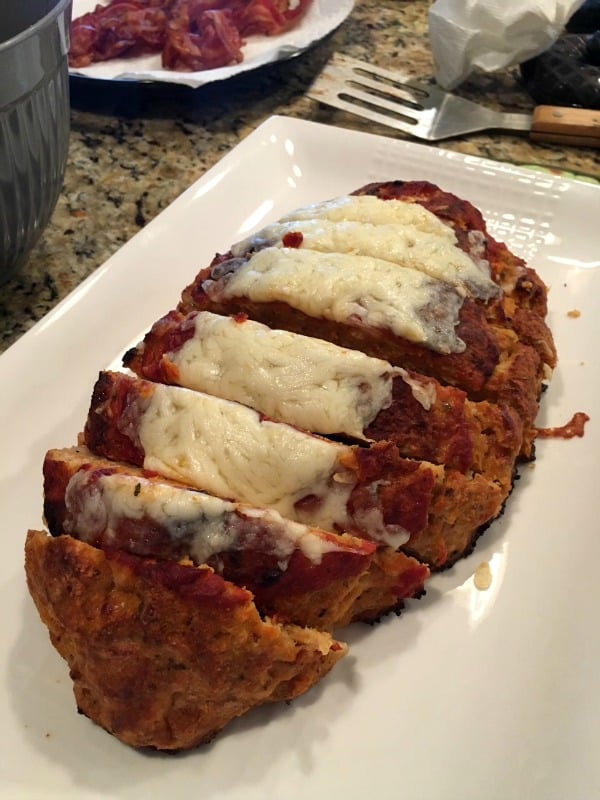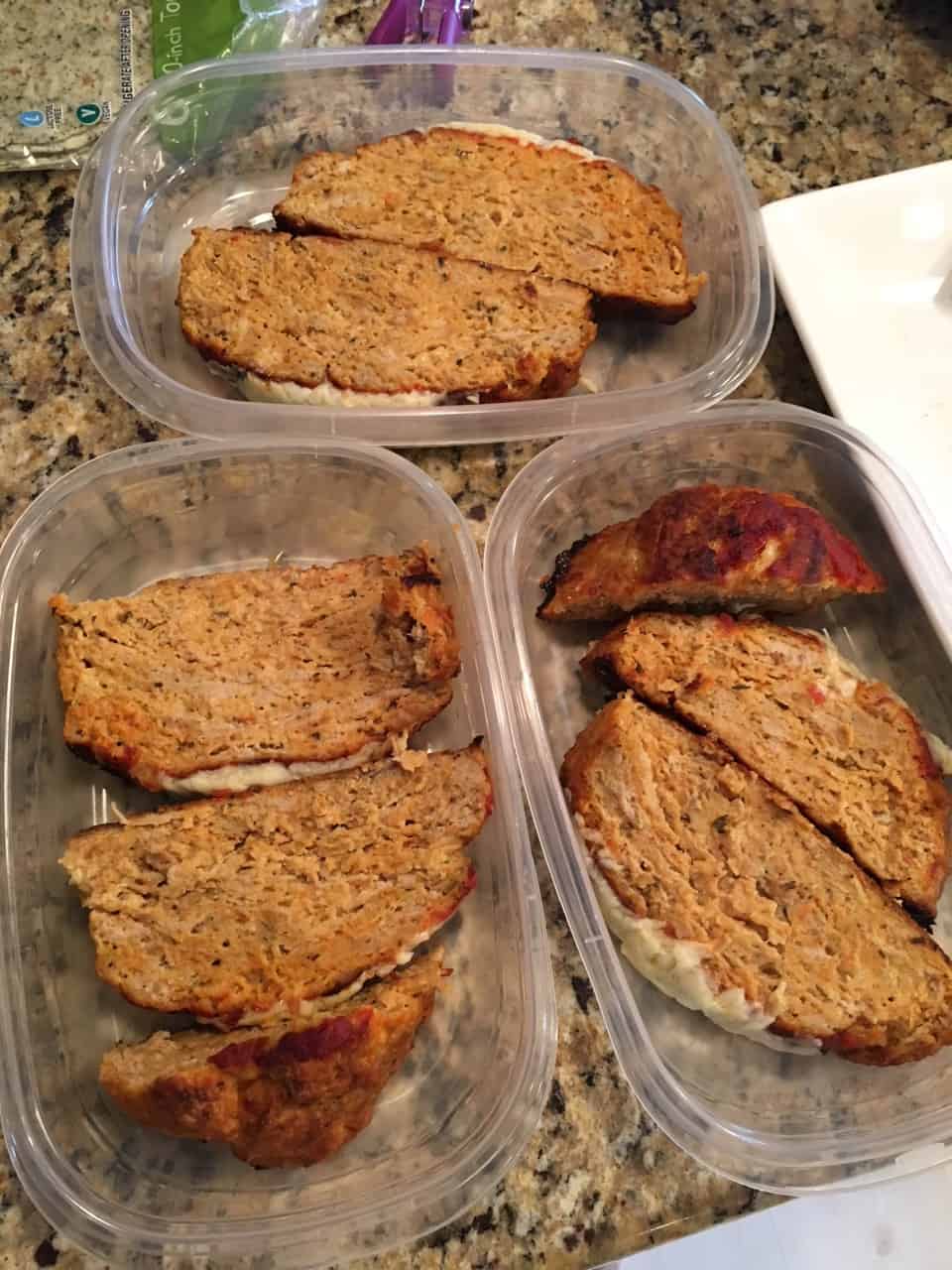 I made the chicken fajitas and stored in a Pyrex glass container.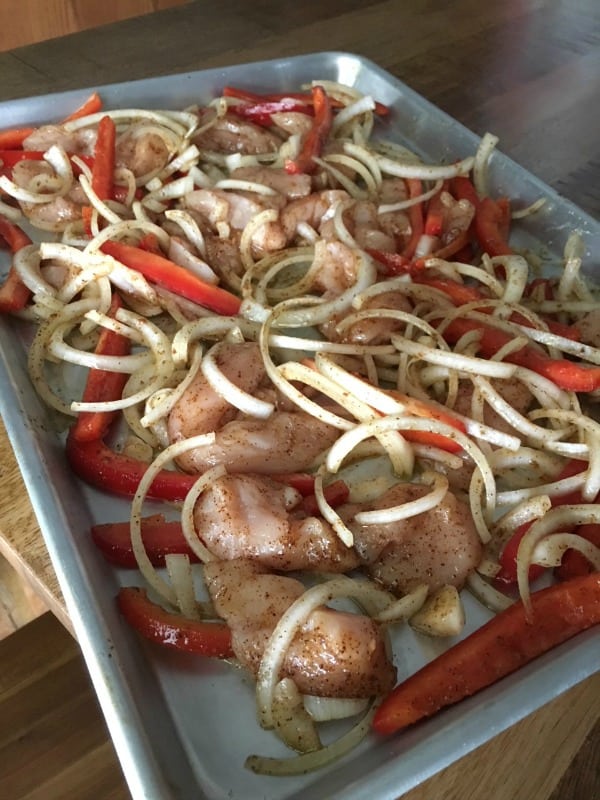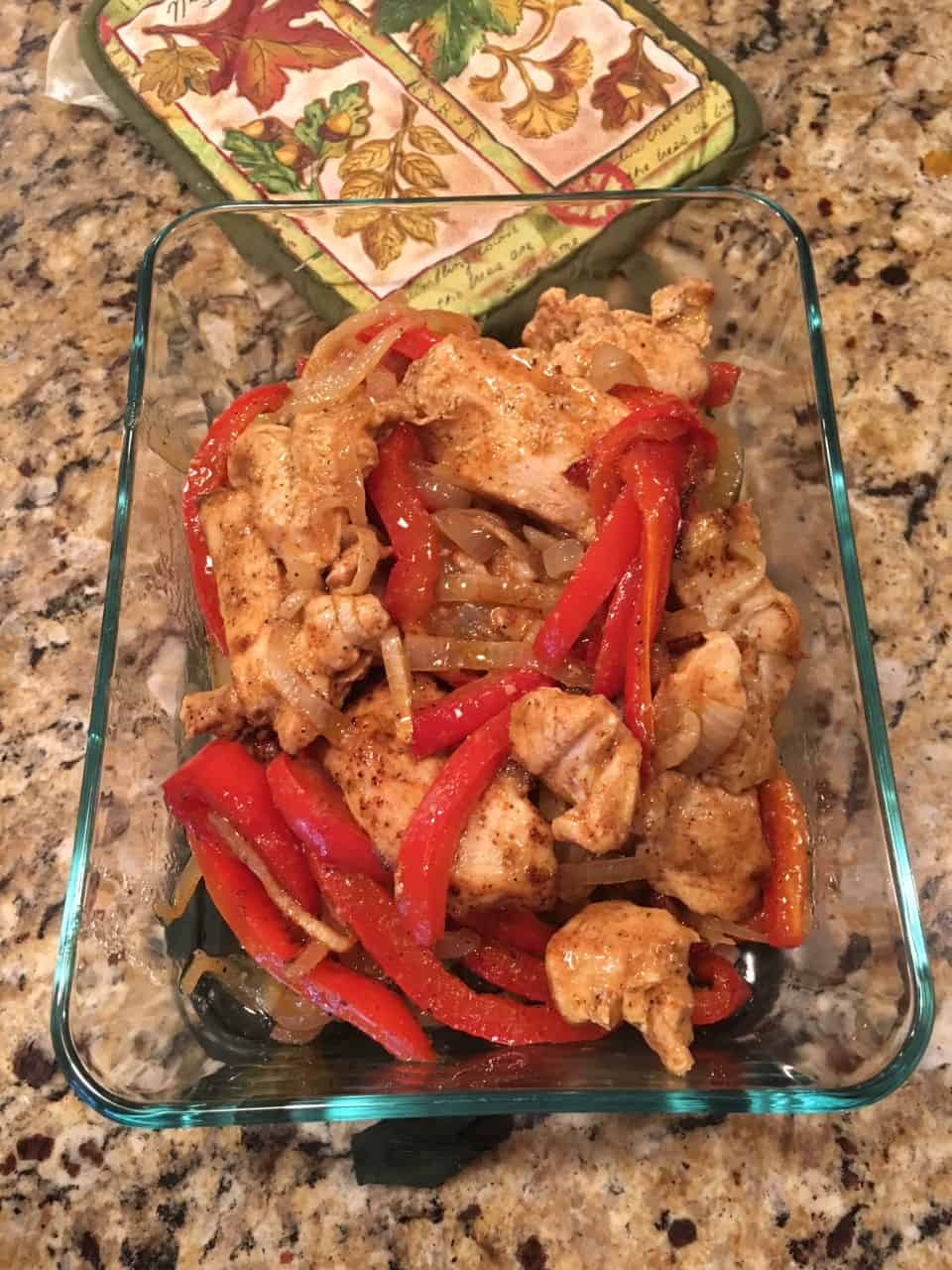 I made the Slow cooker salsa chicken on Sunday and then stored it in the refrigerator.
I roasted the tomatoes on Sunday and then stored in the refrigerator.
I cooked the bacon for the clubs and then stored in the refrigerator.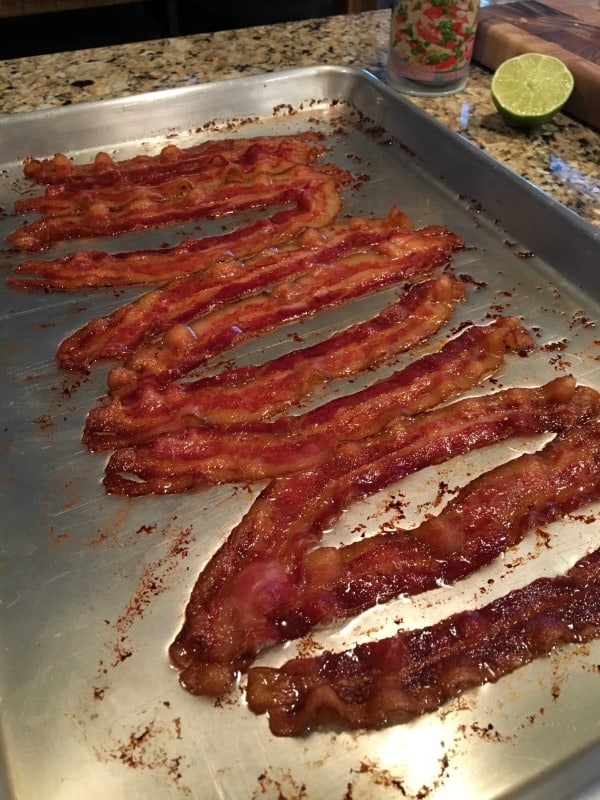 I made the clam sauce on Sunday and will make the shrimp the night we eat it.
I feel really good about food this week! Everything is ready to eat and this not only helps me to eat healthily but it saves so much stress during the week.
Have a great start to September!