All the flavors of a classic Turkey Club sandwich without the bread. Instead all the tasty ingredients are rolled into this delicious healthy low carb lettuce wrap.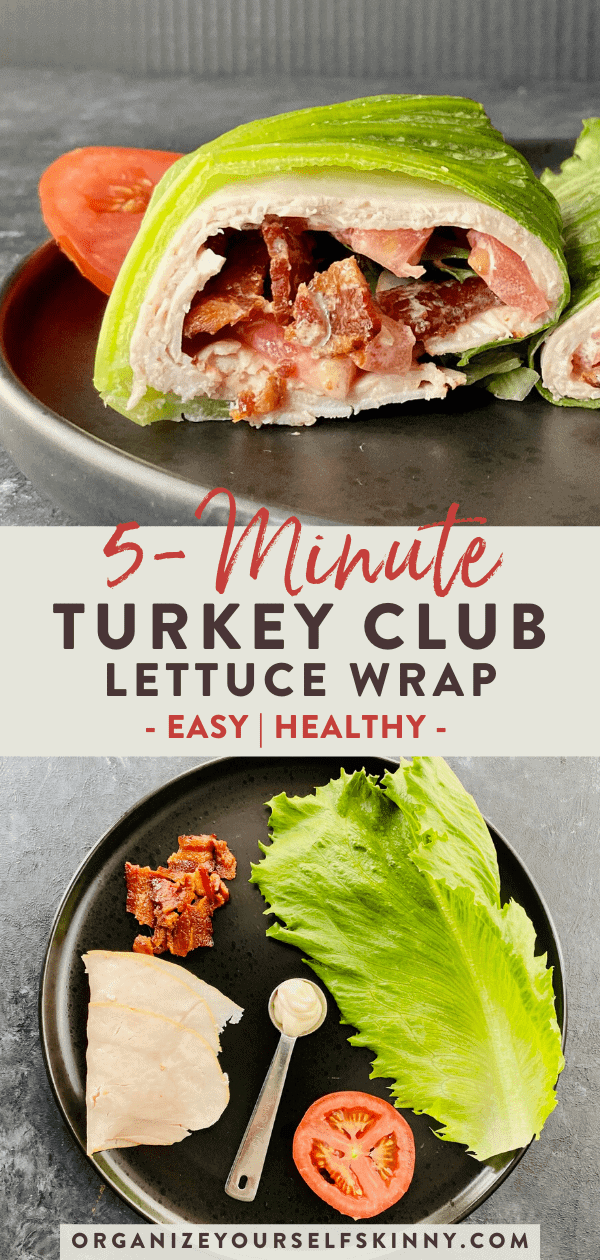 There is nothing more classic than a good old fashion turkey club. Just the smell of bacon floating through the air will send my family into pure excitement. Who knew turkey, bacon, lettuce, tomatoes, and mayonnaise would be one of the best ingredient combinations to ever happened to two slices of bread? Of course PB & J is up there too but seriously bacon combine with anything just makes people happy, especially the people in my household.
In addition to tacos and pizza I turn to turkey clubs often as a "go to" dinner option. It's easy, tasty, and a guarantee I will achieve #1 mom status for the night. My only issue with turkey clubs is the bread. Well I don't have an issue with it but my jeans do so if I want my jeans to like me then I need to control the amount of bread I consume. Just saying. #almost40problems. Plus, to be honest, I think bread can add a lot of unnecessary calories to a meal. Don't get me wrong I do love a crusty ciabatta or hearty rye but if I need to keep my calories and carbs in check then I will hold back on the bread or at least reduce it a bit.
One of the ways I keep my bread under control is to roll up my favorite sandwich fillings into a lettuce wrap. Now I know this might seem a little "diety", and at first I thought the same thing, but after enjoying my fair share of lettuce wraps I must say I think they are great! Basically, using lettuce allows me to enjoy foods like like a turkey club without adding 200+ more calories from the bread. Of course, I still eat a turkey club as sandwich too but using a lettuce wrap is a great option when needed.
You can use any lettuce for the wrap. I like romaine and Boston (or bib) lettuce. I often have a hard time finding bib lettuce so mostly I use romaine. The leaf you see below is romaine.
To make the turkey club lettuce wrap I  start with laying the romaine leaf out flat. Sometimes I need to push it down a little so it stays flat.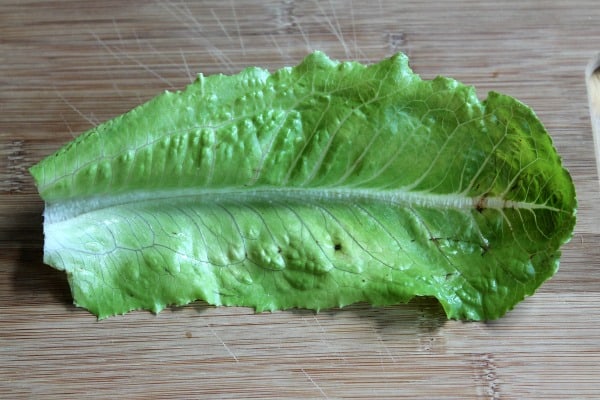 Then I put a slice of turkey and 1 teaspoon mayonnaise on the top. A couple thoughts here. First, you can purchase any deli turkey you like. I use the Wegmans organic brand. Second, I decided that mayonnaise was the only way to go with this turkey club lettuce wrap recipe. I know many of you are used to me using plain greek yogurt in place of mayo but, in this recipe, I feel only mayonnaise can bring out that authentic classic club taste. Plus, you only need 1 teaspoon per wrap and that amount is not going to break the calorie bank. You can even use a little more if you wish.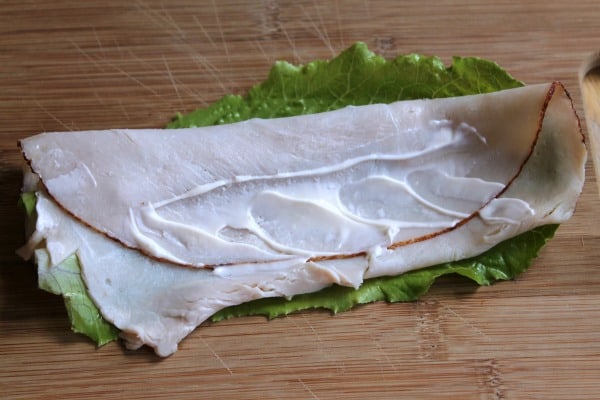 Next, I added the sliced tomatoes. You can also chop these up if you want.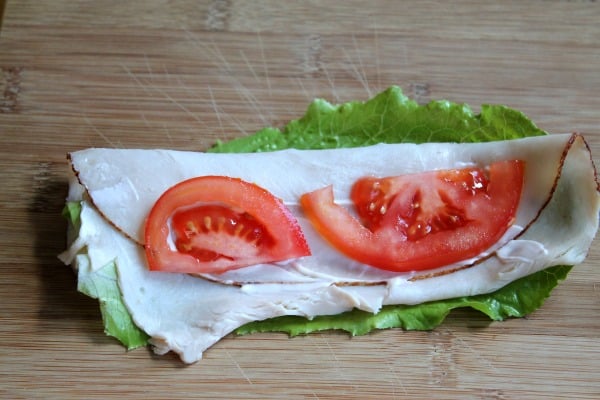 Then we have the ingredient that makes a club sandwich a club – BACON! Me love bacon! I used organic uncured bacon from Wegmans but again you can use any bacon you want. If you want to use turkey bacon then go for it. Veggie bacon? Be my guest. Whatever you want in your turkey club lettuce wrap is totally up to you.
Whatever bacon you decide on I recommend crumbling it up before adding it to the wrap. This makes it easier to eat. I tried it with a whole bacon slice once and the entire slice came out when I took a bite.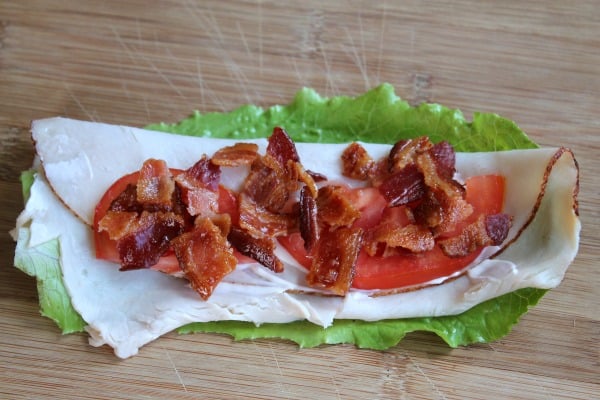 Now you want to roll it up. Don't expect perfection out of your lettuce leaf. Sometimes they are a little tricky. But once you get the hang of it you will be a lettuce wrapping champ. By the way, becoming a champ, does not take very long. After the first one you will be good to go!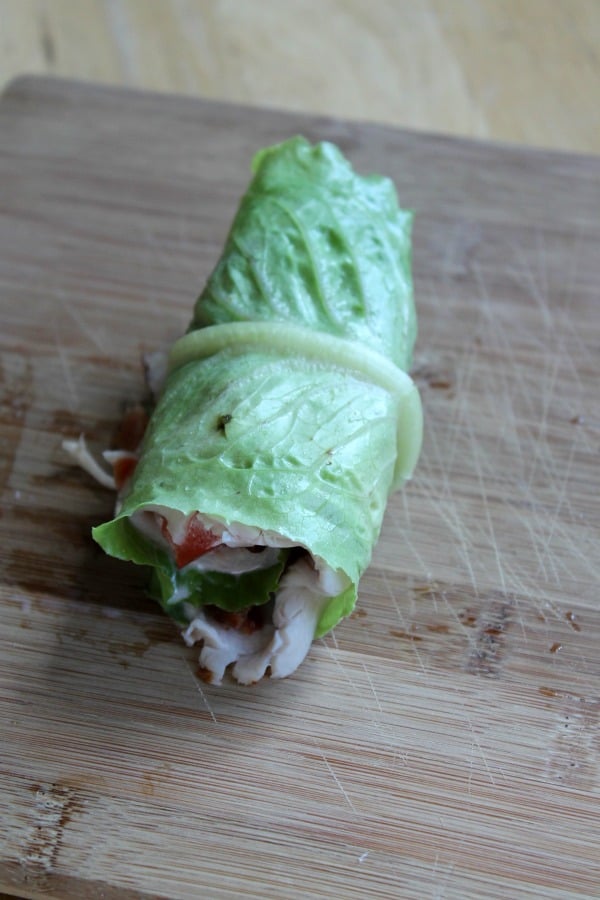 Now, if I didn't have to take puurty photos for all of you I would go ahead and eat it just like this. So, at this point you are done and can chow down. But because I want you to see what these wraps look like on the inside I went ahead and cut them in half for you. Don't these look tasty? Yummy bacon!
These delicious turkey club lettuce wraps are only 143 calories and 4 weight watchers points plus. Also, with only 3 carbs and 16 grams of protein you can enjoy these wraps without any guilt and feel completely full and satisfied till your next meal.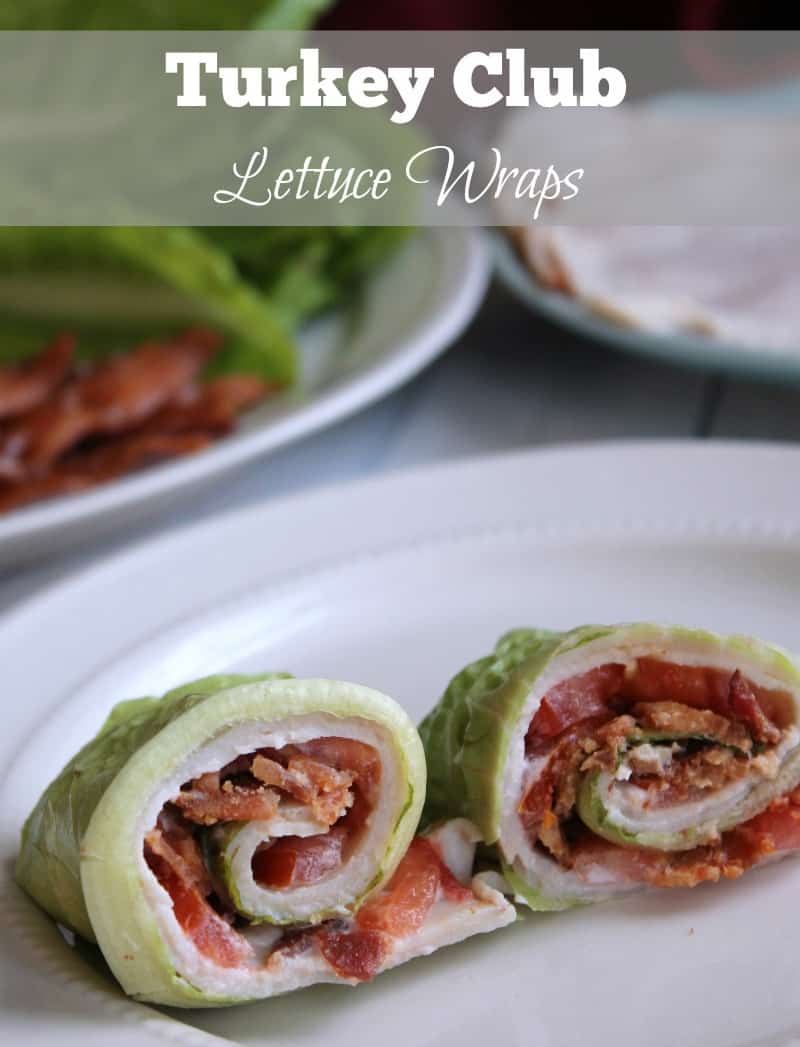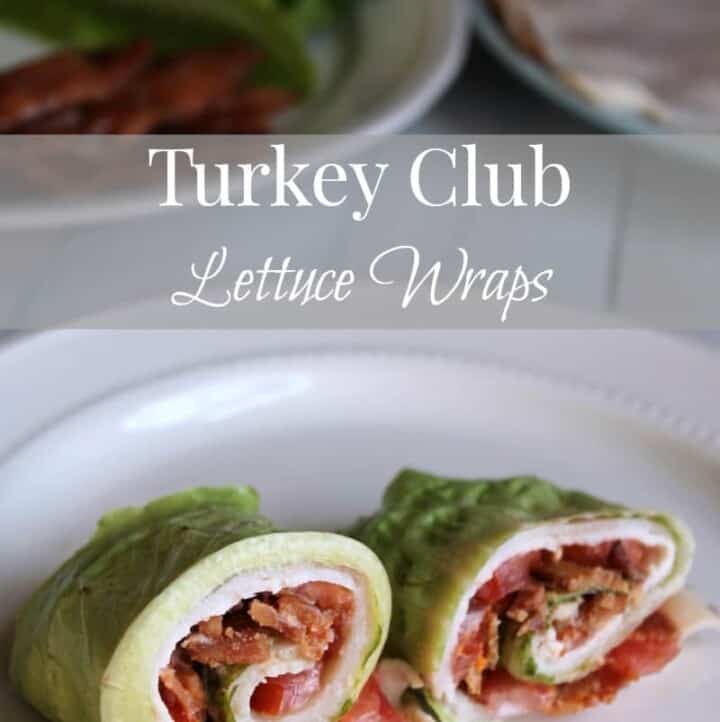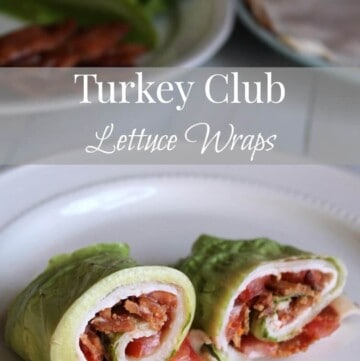 Ingredients
1

romaine heart lettuce leaf

1

slice

organic deli turkey

1

teaspoon

mayonnaise

1 to

mato slice

slice in half

1

slice

cooked bacon

crumbled
Instructions
Lay the romaine leaf flat. Layer turkey, mayonnaise, tomato, and bacon on top. Roll up and enjoy.
Notes
Make ahead tips
This turkey club lettuce wrap comes together quickly when the bacon is cooked ahead of time. So if you are planning on eating these for lunches make a bunch of bacon and store it in the refrigerator. Heat the bacon up in the microwave for about 10 seconds then continue making the lettuce wraps.
Nutrition
Serving:
1
g
|
Calories:
143
kcal
|
Carbohydrates:
3
g
|
Protein:
16
g
|
Fat:
7
g
|
Fiber:
1
g
|
Sugar:
4
g