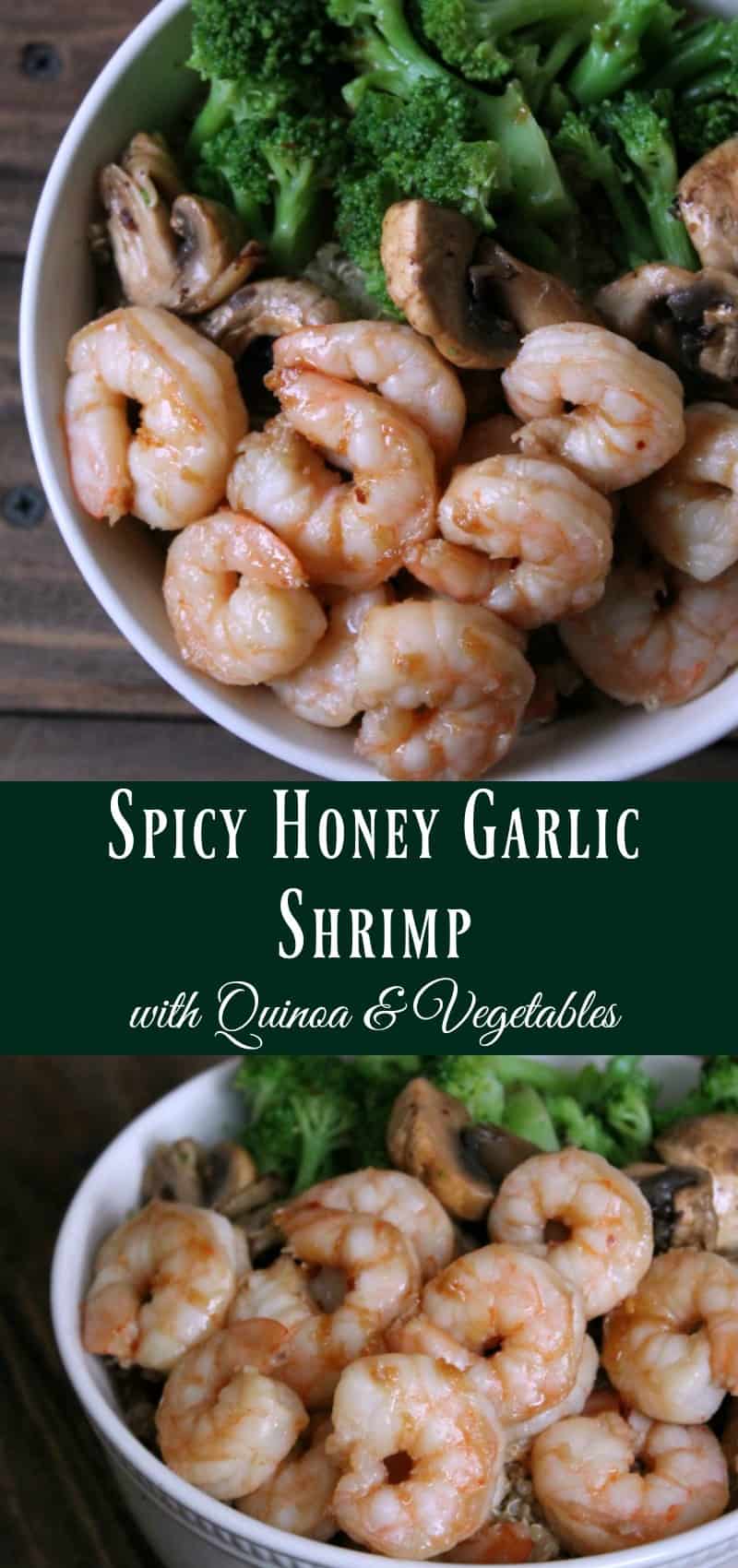 In the 5+ years I've been creating recipes for my blog I'm embarrassed to say I only have a handful of seafood recipes. By handful I mean 2 – Shrimp Fra Diavalo and Shrimp Fried Rice. That's it! It's not that I don't enjoy seafood recipes because I do. I order seafood dishes at restaurants all the time but I don't cook many at home. That's about to change and it's starting with a new delicious shrimp recipe!
I know I need to branch out beyond shrimp but I love shrimp and it's relatively easy to make. Baby steps people. Shrimp is high protein, low carb, and versatile  Not to mention I can get a huge bag of frozen raw shrimp from BJ's for a great price. So right now I'm gonna stick with shrimp.
For my new Spicy Honey Garlic Shrimp recipe I used my asian chicken marinade as a base of sorts but switched it up a little. I added more garlic and honey and then swapped out the sriracha for some red pepper flakes. I love the smell and taste of asian flavors. I don't think you can really mess this up.
I put all the marinade ingredients into a 16-ounce mason jar container. This is so you can use some to marinated the shrimp but then use the rest to drizzle over the vegetables, quinoa, and shrimp when you're ready to dig in.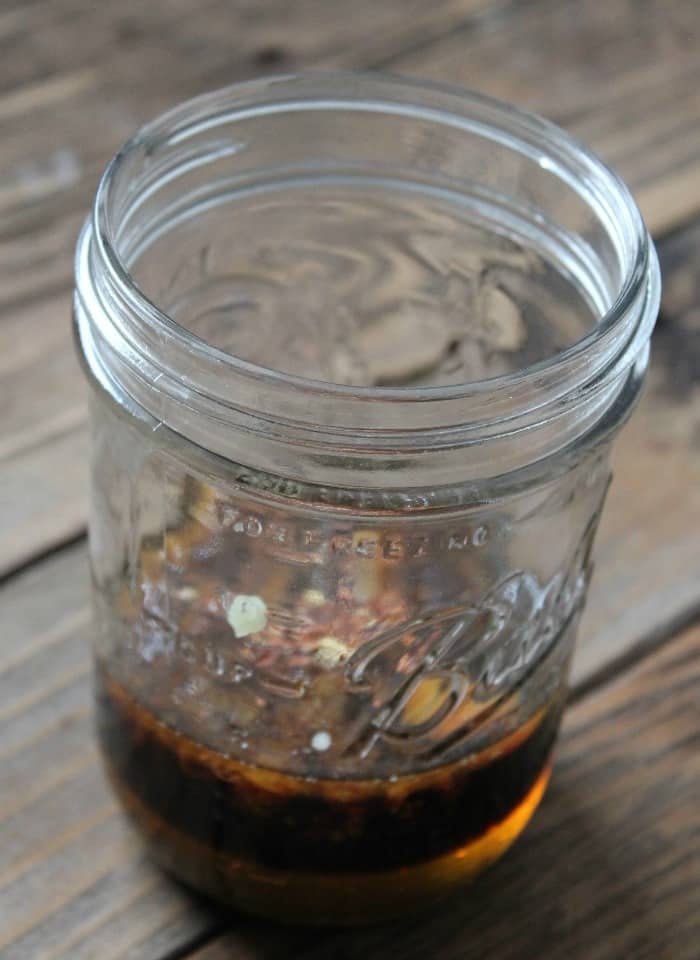 In the past, I would dump all the marinade over the shrimp (or chicken) and found I didn't need that much marinade and ended up throwing it out. It was a waste. Now I use just enough to coat the shrimp and save the rest to flavor up the recipe afterwards.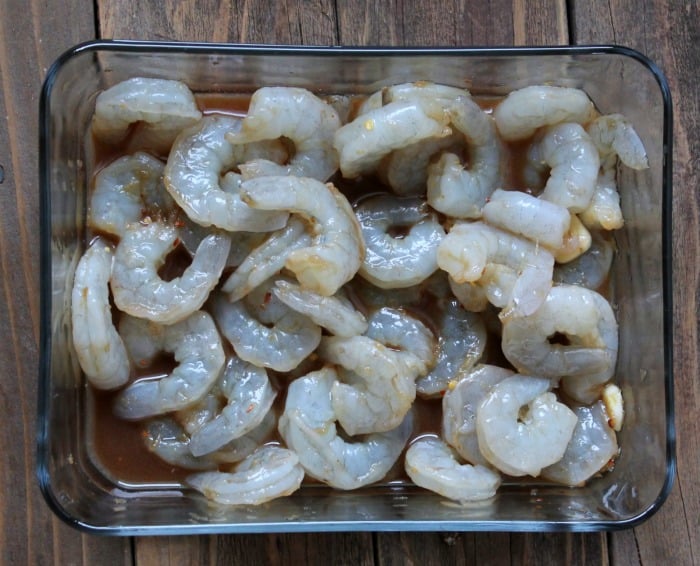 I let the shrimp marinade for about 3-4 hours. If possible, I will toss the shrimp a few different times to make sure it all gets marinated. I recommend marinating overnight if time allows. Or if you don't plan to eat this right away, or don't want to cook up a 1lb of shrimp, a great way to store this is to portion out the shrimp into small freezer bags and pour a little marinade in each bag and then freeze. Place it in the refrigerator the night before, or in the morning, to thaw and then cook it up.
The shrimp cook up fast. Remove the shrimp from the marinade (toss the used marinade) and place in a hot frying pan and cook on both sides until the shrimp is pink and opaque in the middle. This takes about 3-5 minutes. I used a little olive oil to cook the shrimp in but you might not need that.
If you have quinoa and the vegetables ready ahead of time you can have this recipe put together in about 15 minutes making it perfect for a quick weeknight meal. I cooked the quinoa over the weekend, used "steam in bag" broccoli, and sautéed up some mushrooms in olive oil, salt, and pepper. You can use whatever vegetables you like. That's what I had on hand. I think this would taste great with asparagus or snow peas too.
After the shrimp and vegetables were done I place some over quinoa and then drizzled the additional leftover marinade over top and enjoyed.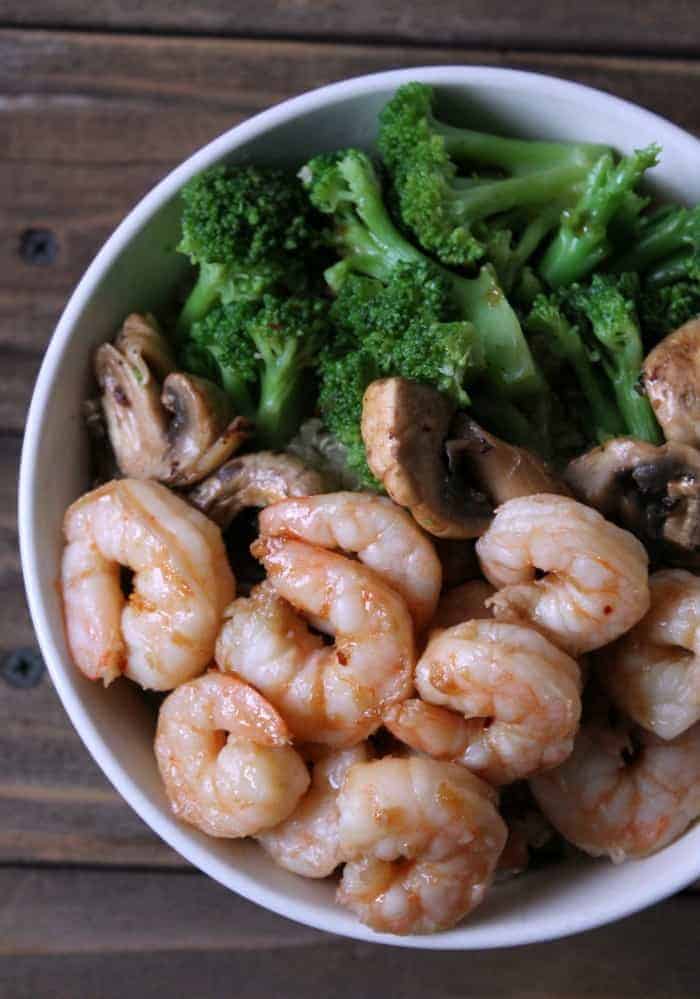 This was deeeeeelicious! Sweet, salty, garlicy, spicy, and beyond flavorful. Every flavor you can possible love is here. It's also filled with protein and fiber so plan to be filled up after enjoying a bowl of this Spicy Honey Garlic Shrimp.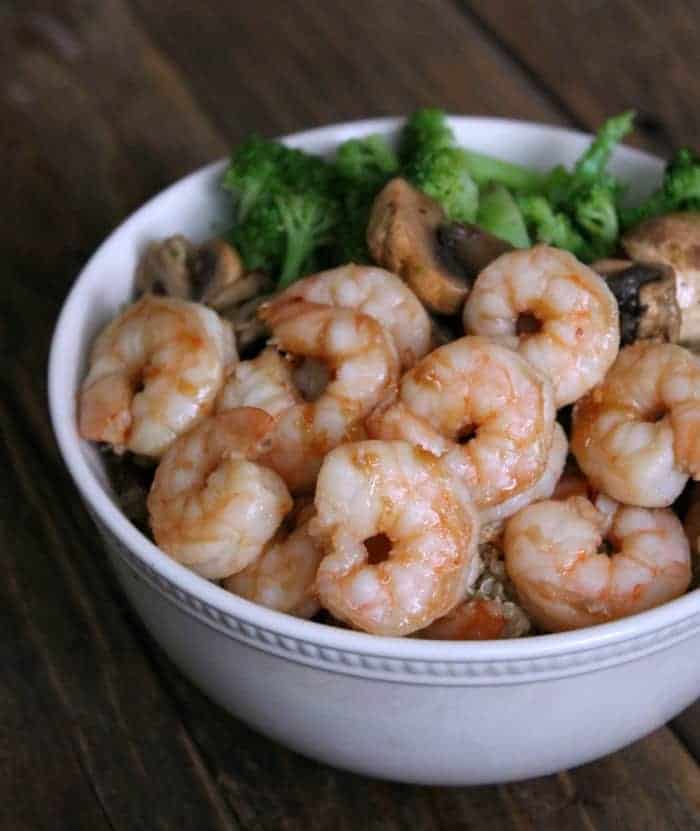 If you want to keep this recipe low-carb then leave out the quinoa and enjoy with vegetables only. You will still feel very satisfied because the veggies and shrimp are filling on their own.
This Spicy Honey Garlic Shrimp is a delicious simple healthy recipe you could have ready in less than 15 minutes during the week with a little food prep done ahead of time.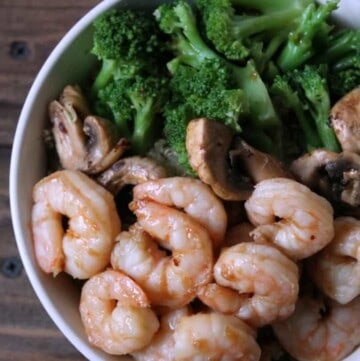 Ingredients
1/4

cup

honey

1/4

cup

soy sauce

1/4

teaspoon

crushed red pepper flakes

3

cloves

garlic

grated

2

tablespoons

rice vinegar

1

tablespoon

sesame oil

1

lb

medium shrimp

about 40 shrimp, shelled and cleaned

steamed broccoli

sauted mushrooms

cooked quinoa
Instructions
Pour the honey, soy sauce, crushed red pepper flakes, garlic, rice vinegar, and sesame oil into a small jar with a lid. Place the lid on and vigorously shake until all the ingredients are blended. You can also use a small whisk or fork to do this too.

Place the shrimp in a bowl and pour half (or less) of the marinade over top. Stir around the shrimp until all the shrimp have been coated with the marinade.

Marinate in the refrigerator for 3-4 hours or preferably overnight.

Remove shrimp from the marinade (discard used marinade) and cook in a hot frying pan. You can use a little olive oil if needed. Cook on both sides until the shrimp is pink and opaque in the middle. This only takes about 3-5 minutes.

Serve with broccoli, mushrooms, and quinoa. Drizzle reserved marinade over top.
Notes
**nutritional information is only for the shrimp and marinade. Please adjust accordingly for the vegetables and quinoa.
Sugar: 12
Make-ahead tips
This shrimp can be marinated a day ahead of time. You can also make the quinoa and vegetables ahead of time too. The shrimp can also be frozen in marinade up to 3 months ahead of time.
Nutrition
Serving:
6
g
|
Calories:
165
kcal
|
Carbohydrates:
15
g
|
Protein:
19
g
|
Fat:
4
g
|
Saturated Fat:
1
g