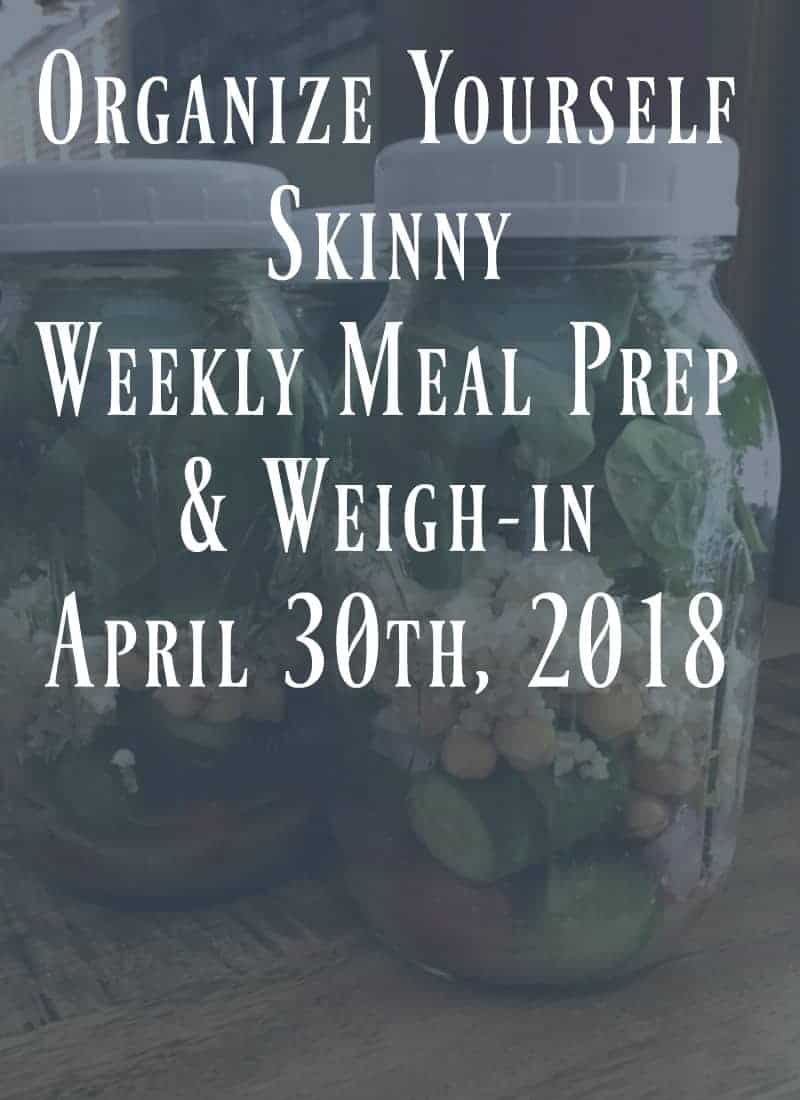 Tomorrow is May 1st and I truly can't believe it! Seriously, how are we already into the 5th month of the year. Pretty soon Christmas will be here! Ha, totally kidding!! But seriously, time flies and we need to remember that. Life doesn't stop and wait for us to get it together so we can accomplish our goals. Nope life keeps moving on whether we like it or not. So, if you don't want to look back a year from now – 10 years from now – and wish you would've got healthier, or more fit, then now's the time to do it. Just saying…we will never get this time back. Hmmm, I guess I'm feeling a little extra motivational today.
Anyway, this is something I thought a lot about ever since last week when I announce my goal of losing my last 20lbs. Right now I'm 42 (going to be 43 in 4 months) and I don't want another year to go by where I'm hovering in the 150s. I know I can do better – because I have done better. So it's my goal to get back to that place.
I'm not going to lie, now that I'm in my 40s, I'm finding it difficult to shed the extra weight. I don't mean to use excuses, and I plan to succeed despite my challenges, but I'm finding there to be real struggles since hitting the big 40. Anyway, there are plenty of women in their 40s who push through and reach all their fitness goals – and I plan to be one of them.
With that said let's get to my weigh-in.
Here are my stats:
Starting weight (October 2010) – 177
First goal weight – 145
Final goal weight – 135lbs
Last week's weight – 153 lbs
Current weight – 152 lbs
Pounds lost – 1 lb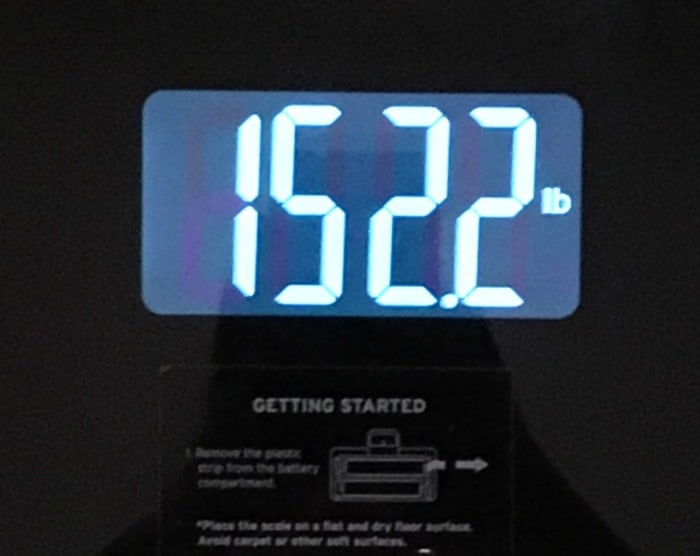 This week I lost 1 lb. I'm happy with that. I'm not looking for huge numbers on the scale – slow and steady wins the race.
Last week, I had a few challenges. First, I only exercised 3 days – I wanted to do 5. My goal is to work out Monday through Friday to get in my 5 days and then any exercise on the weekends would be a bonus. However, Thursday and Friday mornings are super busy for me and I'd need to get on the treadmill by 5:30am to get in a workout. Well, that's been very difficult to do. My goal this week is to dig deep and find the self-discipline to start my exercise routine that early. It has to be done because it's important that I exercise 5 days a week. I'll update you on that next week.
Another challenge are my darn weekends. I wouldn't say I got out of control but I did have some slip ups. Do I think it's the end of the world? No. But I do think I need to stay focused on the weekends if I want to meet my goals. This weekend my plan is eat less during the day so I can enjoy a little extra at night without going over my calories.
Last, I need to make sure I'm drinking enough water every single day. Again, during the week I'm a ninja with staying on track but the weekends come around and I get loosey goosey. I need to stay better focused Friday and Saturday nights.
So there's week 1 on my road to my last 20 lbs.
Let's get to our weekly Q & A. Remember if you have a question you'd like me to answer either send it to me via email tammy@organizeyourselfskinny.com or post it in our OYS Facebook group using hashtag #OYSquestions.
Question #1 Tammy, how do you stay motivated?
One of the things I've learned is motivation fades so it's not necessarily about staying motivated it's about staying self-disciplined. This means you continue with habits even when you don't feel like it. Here's a post I wrote on self-discipline you might find helpful.
With that said, there are some things that I use to spark my motivation when I need it. Looking through old pictures or even taking a current picture will help. Actually, nothing motivates me more than seeing an unflattering picture or video of myself.
Another motivator is wearing jeans. It's easy to slack on tracking and exercise when living in yoga pants. I make it a point to wear jeans at least 2-3 days a week.
The last thing I want to say about motivation is we often make the beast bigger than it is. We'll spend more time convincing ourselves it's too much work, too hard, or go over all the excuses why we can't do it instead of just doing it. I know when I just do it I'm always happy I did. There's not one completed workout that I regretted. I keep this in mind when I'm feeling lazy. Not saying it works every time but it does help.
Question #2 Tammy, do you grocery shop every weekend?
Yes and no. Yes, I get groceries every weekend but I use Instacart to have them delivered. I haven't gone to the grocery store to do weekly grocery shopping since last September. I know grocery delivery isn't for everyone but it's been life-changing for me. You can read my full Instacart review here.
With that said, I do go to my local warehouse store every other week to stock up on essentials, meats, and some convenience items. Or when I plan a big freezer cooking stock up I'll go to my local warehouse store to shop. However, for my weekly mason jar salads, snacks, and other items I just have the ingredients delivered every week. This saves me on average 2-3 hours a weeks and tons of energy.
Again, if you have any questions send them to me via email or the OYS Facebook group.
Now let's get to my meal plan.
I have some leftovers from last week I want to use up, and some easy dinners, so I didn't have to do a ton of meal prep.
Breakfast
Make-ahead tips
I have enough oatmeal left from last week to get me through this week. I think it should keep until the rest of the week but I might freeze into portions tonight.
Lunch
Mason Jar Salad – I made this one with spinach, quinoa, feta, all my other usual fixings. You can see my mason jar salad tutorial if you have question on making them.
Make-ahead tips
I made the mason jar salads yesterday.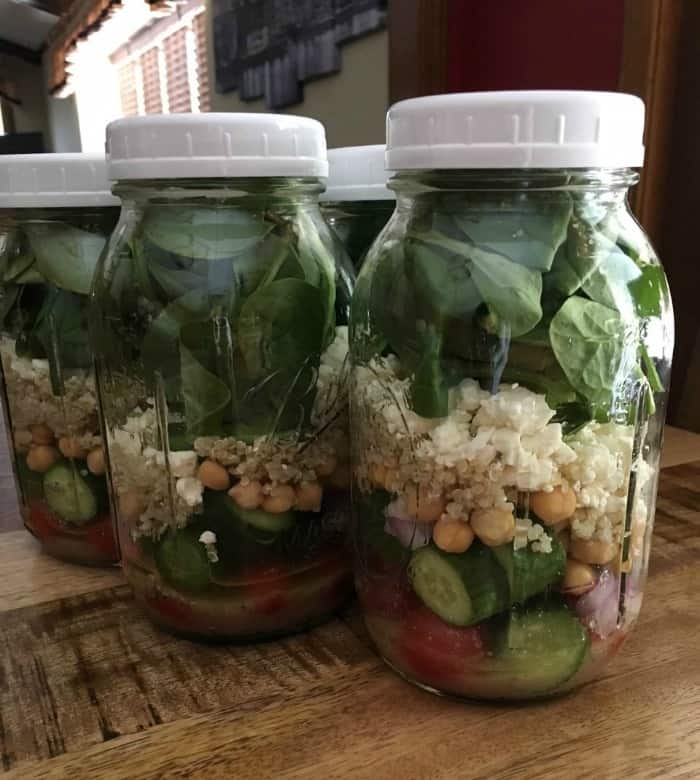 Snacks
Kashi Blueberry and Pecan Bars – I get these from Thrive Market for a great price. You can read my Thrive Market Review to learn more.
Apples and peanut butter
Dinner
Leftover Italian Parmesan Meatloaf and rice. I'll serve this with roasted broccoli.
Chicken Caesar Salad with garlic naan – I'm making this with leftover Rotisserie Chicken.
Tortellini with Sausage and Brocolli
Homemade Pizza
Make-ahead tips
Meatloaf was made last week. All the other dinners will be made the night of.
That's my week! I love to hear about what you have planned for the week and how you're doing with your goals.