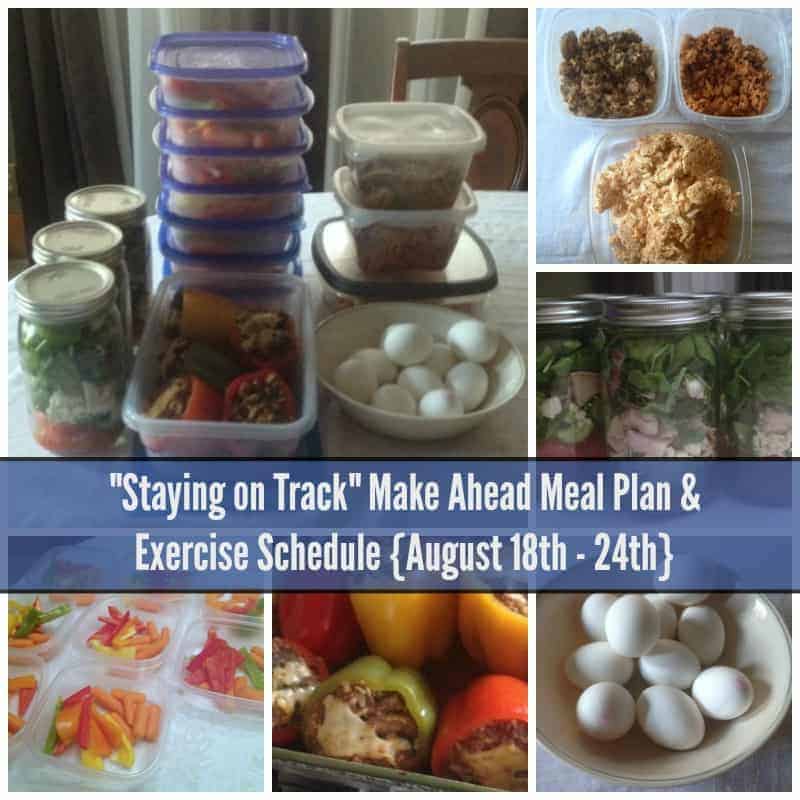 Sorry my weekly meal plan is going up a day late. Yesterday was my 39th birthday. I tried my best to stay ahead of the meal planning game this weekend but my wonderful husband had lots of birthday activities planned that kept me unproductive and distracted. I can't complain it was a fantastic weekend. Life is good.
Here are a couple pictures of Matt and I at our cabin this past Saturday. Being the mountain man he is he decided to take me 4-wheeling around the property. I am not gonna lie I totally thought I was going to die at one point. Of course, me screaming like a psycho is hilarious to him so he went even faster. The first picture is a selfie he took of us and the second picture is after we got back safe and sound. Truly, I really need to go out on the 4-wheeler more often. It was fun.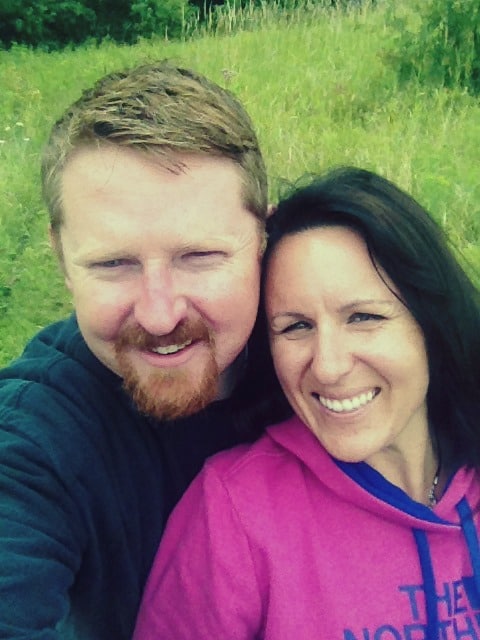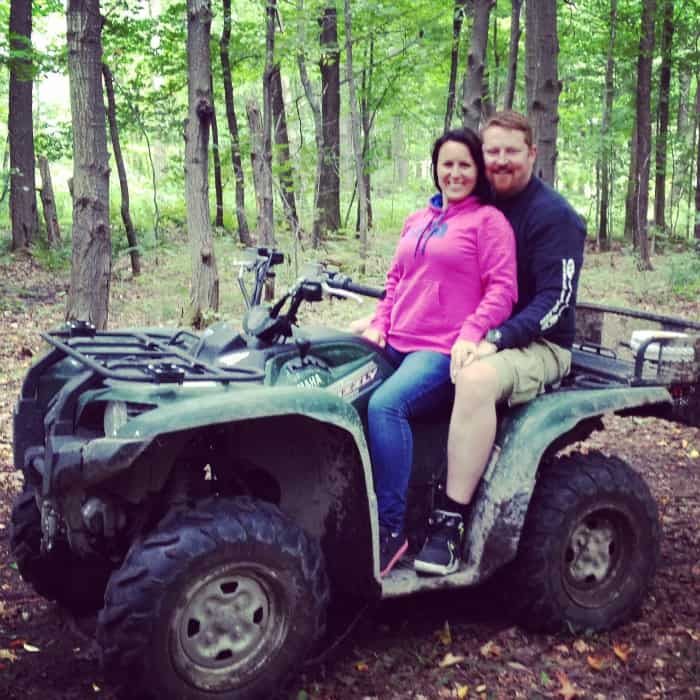 Anyway, as much I as would love to relish in birthday festivities all week, I need to stay focused. Last week my meal plan was all about "getting back on track" and this week is the same. I spent some time on Sunday prepping food but did not finish all I needed to. I ended up prepping the rest of my meals and snacks tonight (Tuesday). Better late than never. Having my food ready last week completely kept me on track so I knew if I wanted to keep my motivation and pace going I needed to make it a priority to prep food. Trust me it makes all the difference.
Okay before I get to my meal plan lets talk exercise. Even though my eating was on track last week my exercise was still lacking. I really need to dig deep and force myself to exercise in the morning. These last few weeks my couch has been winning over my treadmill. That needs to change. This week I am going to commit to 3 days. I always try to do more but since I am struggling I am going to start with 3 and anything more will be a bonus.
Wednesday, Friday, and Saturday
Treadmill for 45 mins (10 warm up, 25 minutes run, 5 powerwalk on incline, and 5 minute cool down}
20 modified push-ups
20 bicep curls and tricep extensions using resistant bands
See more arm exercises here
100 crunches
Russian twists
See more core exercises here
50 squats
See more butt exercises here
Meal Plan
Breakfast
Or
Or
Make ahead tips
Mid morning snack
Hard boiled egg
Or
cheese stick
 Make ahead tips
Hard-boiled eggs were made tonight for the week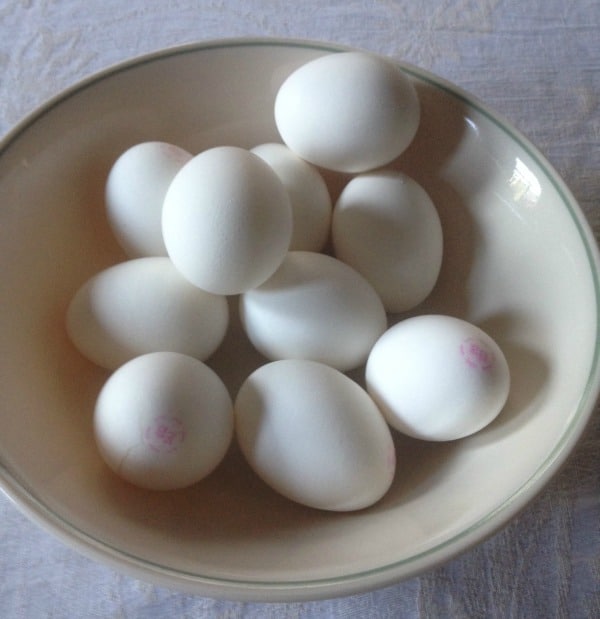 Lunch
or
Buffalo chicken and crackers
Make ahead tips
Mason jar salads and slow cooker buffalo chicken were made on sunday. I was not planning on making the buffalo chicken again this week but my hubby loves it. So I made it for him. If you have questions about how to make mason jar salads check out my tutorial.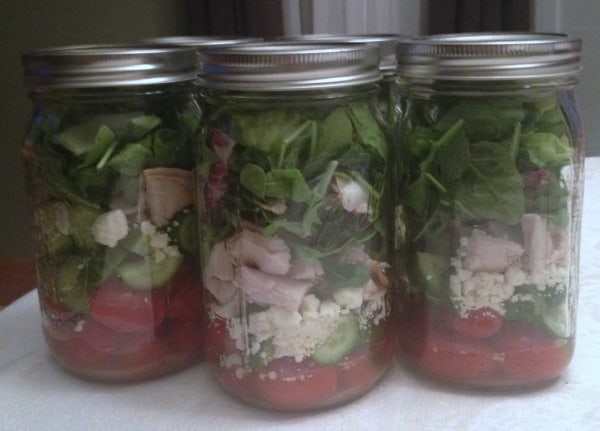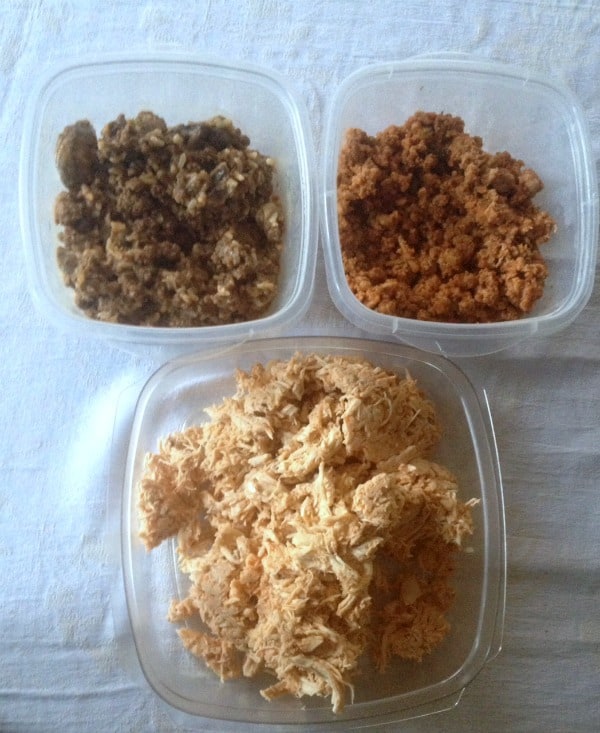 The one at the bottom is the slow cooker buffalo chicken. The other two are my chipotle turkey and stuffed cheeseburger pepper mixture.
Mid afternoon snack
Apples and peanut butter
Vegetables and hummus
Make ahead tips
vegetables were cut and put into veggie packs. These stay crisp all week for me. I add hummus the morning I take them. I purchase wegmans brand but you can make your own hummus if you wish.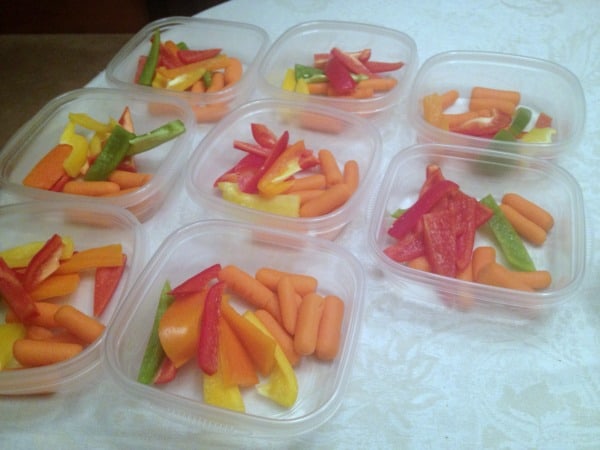 Dinner
Greek stuffed sweet potatoes – new recipe.
Chipotle turkey lettuce wraps
Creamy pesto chicken salad – new recipe
Chopped salad leftover stuffed pepper filling
Make ahead tips
sweet potatoes will be made in slow cooker the day we eat them. See slow cooker instructions here.
I made the chipotle turkey on the stove tonight and then stored in the refrigerator. This can also be cooked ahead of time in slow cooker or made the day of in the slow cooker.
stuffed peppers were made today and stored in the refrigerator. You can also freeze them.
Chicken for pesto chicken salad was made in the slow cooker. I will throw the salad together tomorrow.
I had leftover stuffed pepper filling so I stored it in the refrigerator to be used in salads or wraps.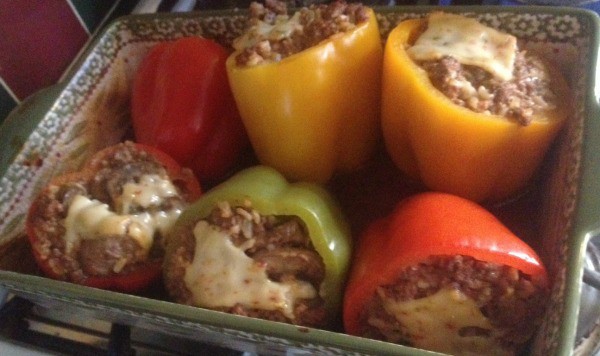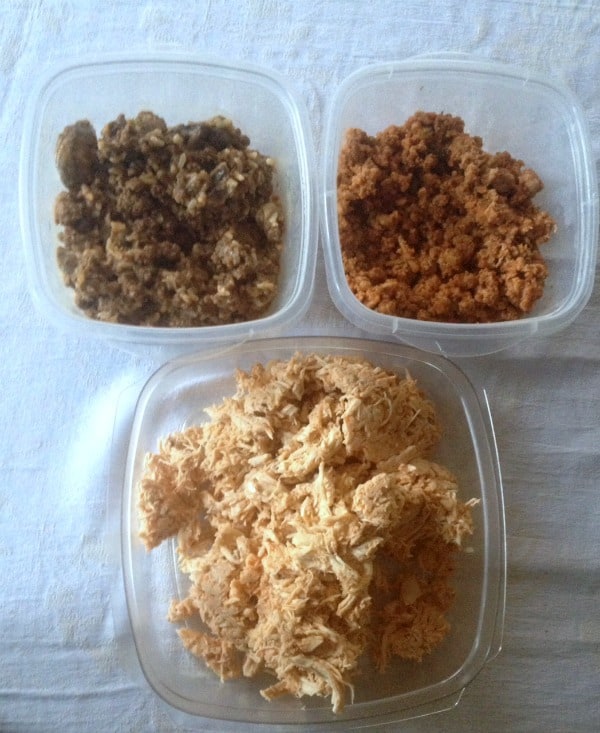 Here is everything I prepared for the week. Minus the pesto chicken. That was still in the slow cooker at the time I put this post together.
What is on your menu? Did you get to do any prep this week?
Get Instant Access to My Best Weight Loss Tips & Strategies!
Sign up now for a free step-by-step 7-day email course that I created exclusively for my email subscribers! That's you. I will teach the best habits, strategies, and insider tips so you can enjoy a lifestyle that encourages and supports weight loss! Stop relying on willpower and take control back over your life! You can do this. Let me help!