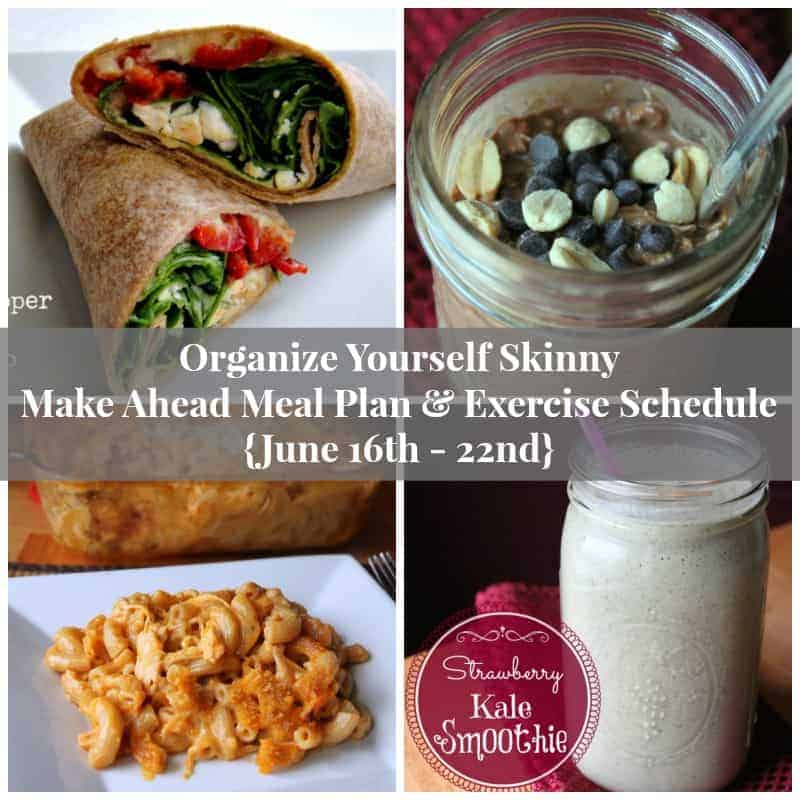 I can't believe we are already into the 3rd week of June. Seriously, I need time to SLOW DOWN before my kiddos are off school. I have so much I need to get done and not enough time or energy in the day. Between cleaning my house, writing blog posts, testing recipes,  taking photos, working on my e-book it is 3:00pm before I know it. Then the kids are home and within 10 minutes destroy my house again. As always, I am still determined to get done what I need to do, but I am finding it is taking a lot more planning and organization on my part. But I keep plugging along.
Here is my exercise schedule for the week.
Tuesday, Wednesday, Thursday, Friday, Saturday
Treadmill 45 minutes (10 minute warm up, 20 minute run, 10 uphill powerwalk, 5 minute cool down)
50 squats
25 leg lifts and points
24 bicep curls and tricep extensions
20 girl pushups
100 crunches
Russian twists for 60 seconds
30 second planks
View other core exercises here and arm exercises here and butt exercises here
Menu Plan
Breakfast
Peanut Butter and Chocolate Overnight Oats
Make ahead tips
smoothie will be made morning of. You can read more how to smoothie tips in my new green smoothie tutorial.
Overnight oats can be made 2-3 days ahead of time
Midmorning snack
Make ahead tips
These can be made on Sunday for the week
Lunch
Avocado Chicken Salad – new recipe I am still working on
Tomato, Cucumber, and Feta Farro Salad – new recipe
Make ahead tips
Both salads can be made up to 2 days before hand.
Afternoon snack
1 ounce cheese and 6 triscuits
Apple with 1 tablespoon peanut butter
Dinner
Hummus and Roasted Red Pepper Wrap
Tacos
Hamburger Buddy – I was suppose to make this last week and ran out of time
Chicken Broccoli Skillet – I was suppose to make this last week and ran out of time
What's on you menu? 
Get Instant Access to My Best Weight Loss Tips & Strategies!
Sign up now for a free step-by-step 7-day email course that I created exclusively for my email subscribers! That's you. I will teach the best habits, strategies, and insider tips so you can enjoy a lifestyle that encourages and supports weight loss! Stop relying on willpower and take control back over your life! You can do this. Let me help!