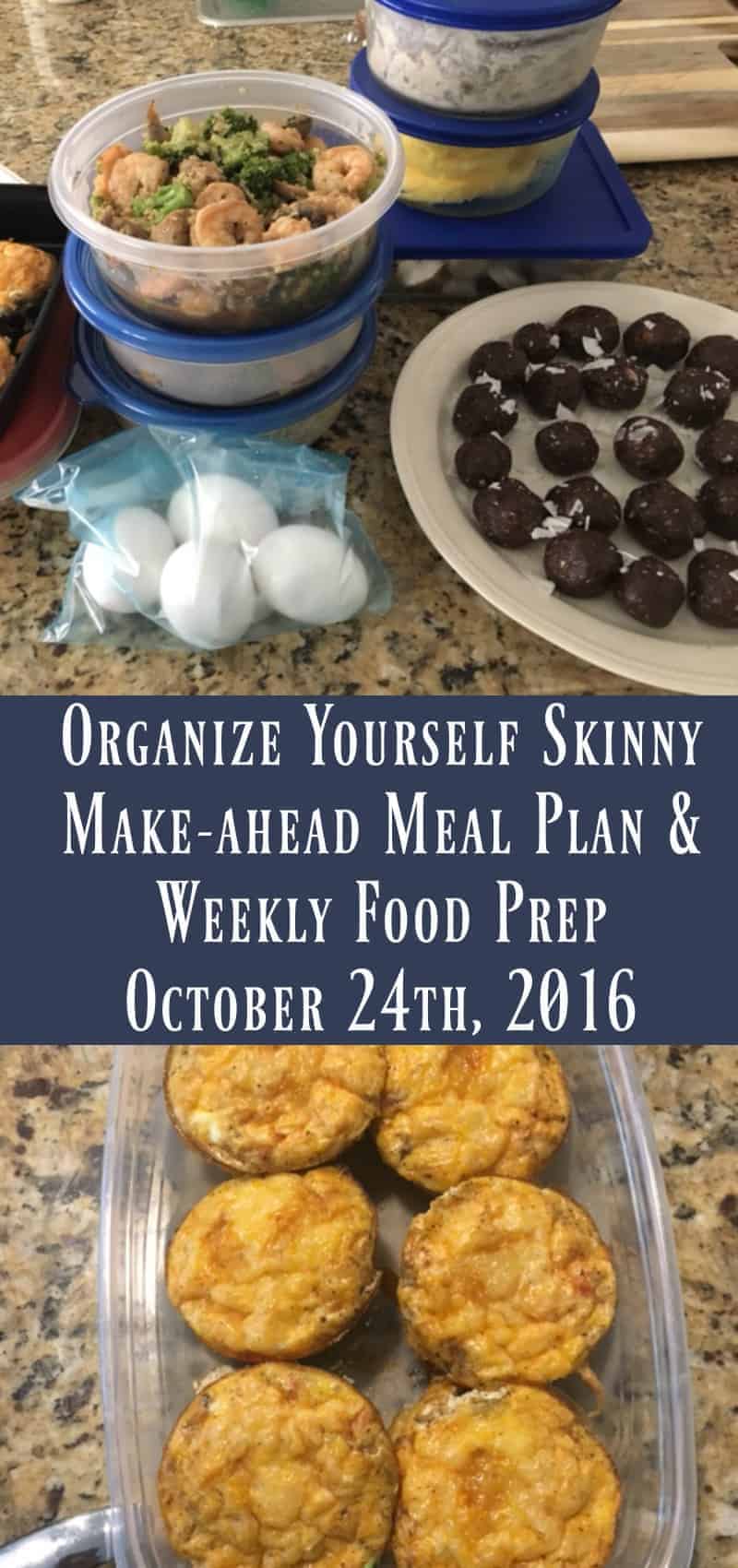 Is it me or doesn't it seem that 4th of July weekend was just yesterday? I can't believe Halloween is right around the corner and then you know what's next. Yep the holidays begin. Time to get ready for parties and a whirlwind of craziness. Holidays are so different now that I'm an "adult". I'm sure you get it. If there's one thing I've learned over the last fews years is one of the best ways to enjoy the holidays is to plan ahead of time. Yes, here I go again talking about planning ahead of time but the holiday season is prime time for "hot zones" and to fall back into old habits. Take time right now to get life in order so you don't erase months (or years) of hard work because of parties, gift buying and giving, all the extras that find their way into your calendar over the next couple months. If you need some motivation and structure to keep healthy habits on the forefront of your mind then check out my ebook Organize Yourself Skinny. I offer lots of tips along with a bonus 4-week make-ahead meal plan to keep you focused and on track. If you already have my ebook, or maybe not ready to get it yet, then check out these posts for tips to keep life organized and out of the "hot zone"
8 Habits You Can Do Before Bed To Organize a Healthier Lifestyle and Lose Weight
9 Habits You Can Do In The Morning To Organize a Healthier Lifestyle and Lose Weight
Okay let's get to my meal plan. I've been recipe testing ALL DAY so this mama is tired and ready to put her feet up for a minute before getting ready for day (and tomorrow).
Here's my meal plan over on Plan to Eat. Many of you ask how to find my menus on PTE. First, you need to friend me. My username is organizeyourselfskinny (one word). Then go to the planner section. Then click on menus (top left) and from them scroll down to where it says friends menus. Find organizeyourselfskinny and click. Drag the menu of mine you want to see over to your planner and it will input all those recipes into your planner. From there you can edit as needed. Hope that helps.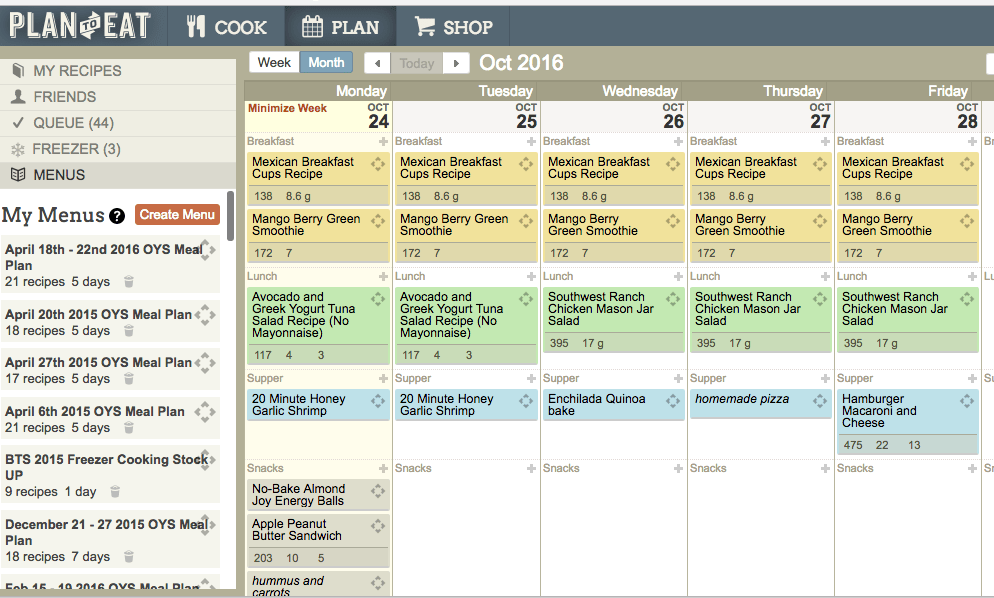 Breakfast
Mexican-inspired baked egg cups – new recipe. I used this one for inspiration.
Make-ahead tips
I made the egg cups today and will store the ones I'll eat in the refrigerator and freeze the rest.
Smoothies will be made in the morning.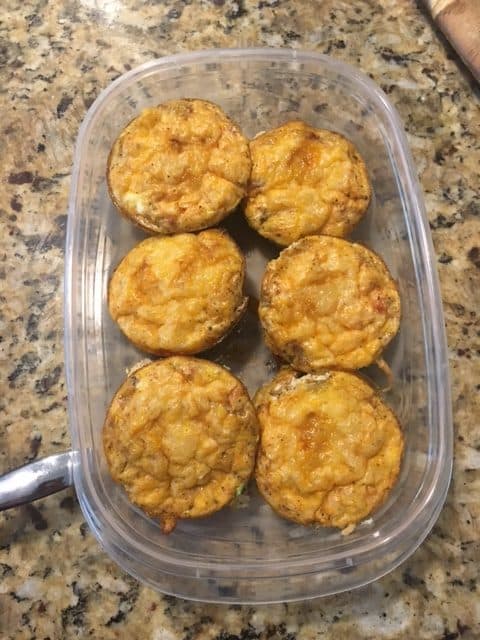 Lunch
Southwest Chicken Salad (I made this into a make-ahead salad bar instead of a mason jar salad)
Make-ahead tips
I made tuna salad yesterday and chicken today for the salad.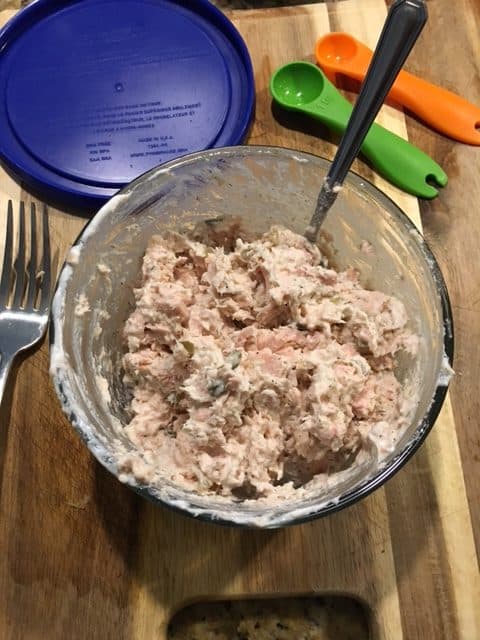 Dinner
Shrimp and broccoli bowl – new recipe
Enchilada quinoa bake – lightened up version inspired by this recipe
Homemade Pita Pizza
Make-ahead tips
I made the shrimp recipe today.
I made the quinoa today for the bake.
Mac n cheese will be made later in the week because for my kiddos sleepover party.
Pizzas will be made the day of.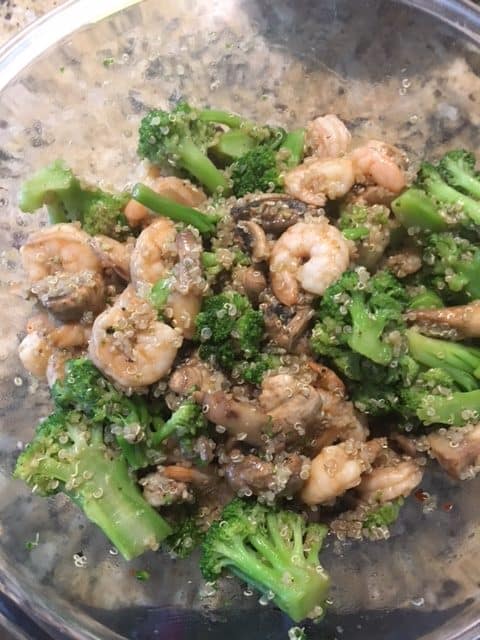 Snacks
Almond joy energy bites – new recipe inspired by this one.
Hummus and carrots
Hard-boiled eggs
Apple and peanut butter
pineapple
Make-ahead tips
Energy balls and hard-boiled eggs were made today.
Pineapple was cut up.
Here's everything made.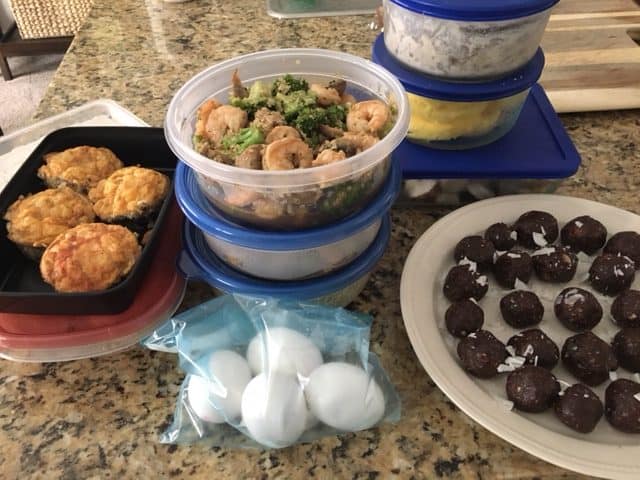 Get Instant Access to My Best Weight Loss Tips & Strategies!
Sign up now for a free step-by-step 7-day email course that I created exclusively for my email subscribers! That's you. I will teach the best habits, strategies, and insider tips so you can enjoy a lifestyle that encourages and supports weight loss! Stop relying on willpower and take control back over your life! You can do this. Let me help!