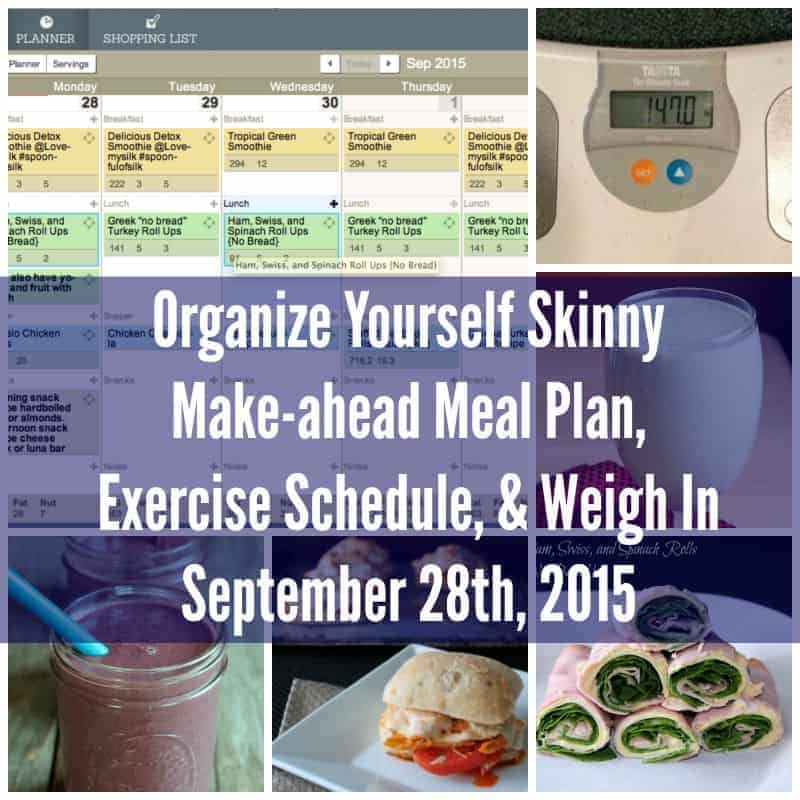 Hey hey! I am here ON TIME with my meal plan – yay for being on the ball 2 weeks in a row! I don't want to jinx myself so I am not going to make a huge deal about it. But I am pumped that I'm finally catching up. If you don't mind this week's meal plan post is going to be short and sweet. The next few days my focus will be on finishing up another OYS meal plan, exercise, and habit challenge package.
Okay, let's get to my weigh in.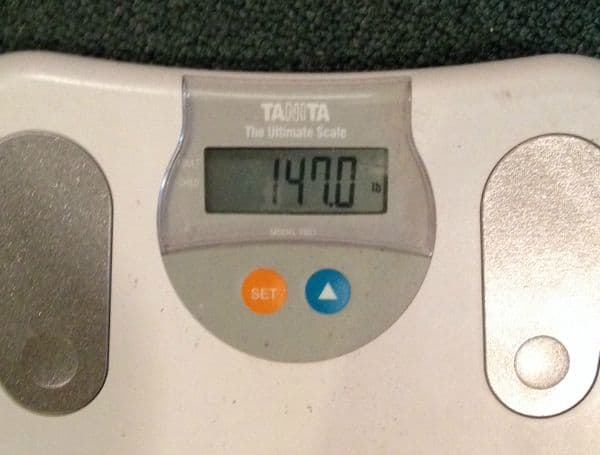 SW: 177
GW:130
LWW: 148.5
CW: 147
PL: -1.5
I lost 1.5 pounds this week! WOOOHOOO!! Ya know why this makes me extra happy? Because this is the second week in a row I lost weight. Also, I am back to my "max weight" of 147. In case you forgot, my "max weight" is the highest weight I am willing to accept. When I hit 147 lbs warning bells need to go off and it's time to refocus. I chose 147 lbs because that is exactly 30lbs from my starting weight. Last year, I learned about setting a "max weight" from a reader. She mentioned it as a habit that helped her sustain her weight loss. I wrote more about it in the post 15 Habits of People Who Lost 20 or More Pounds and Kept it Off. Setting a "max weight" keeps me intentional with food and exercise.
Speaking of exercise. I am still running. If you are following along I mentioned a couple weeks ago that I was doing a 30-day (3-mile a day) running challenge. I did miss a couple days but overall I am sticking with my 3-mile a day challenge. I love it and feel amazing. This week I noticed my clothes feeling a touch loose, especially in the chest area. Seriosuly?! Why is it that the boobs are always the first to go? Haha! But I am not going to complain because my pants felt bigger in the waist area too. My tummy is most definitely a problem area for me so feeling a pair of pants fit better made we want to raise my hands and rejoice. It's amazing to me that after 4+ years on this journey I am still experience the ups and downs of losing weight. But I guess that's why it's called a journey and not a destination. It never ends.
On top of running I also incorporated toning into my routine. Nothing crazy just simple strength training exercises.
This is what I do either right after I run or before bed.
50 – 75 crunches using my exercise ball. If I can do more than I do.
2 (30-second) planks
16 bicep curls using resistance bands
16 tricep extensions using 5lb hand weights
16 lounges
50 squats
If you are putting together an exercise routine do not skip out on the strength training. I once read that cardio makes you look good in clothes while toning makes you look good naked. Just sayin….
Now let's talk about food. Keeping food under control is my biggest weight loss demon. Why does chocolate have to taste so good? Or pretzels?! Seriously, I can't even have these foods around me. The little bites kill me!
It's a new week so once again I am going to do my best to keep the little bites under control. Here is my meal plan. As always, you can find my menu over at Plan to Eat. Just send me a friend request (username organizeyourselfskinny) and then you can see all my menus, make changes, and print out grocery lists. Oh and I have some good news. My friends over at Plan to Eat worked their magic and made it so you will automatically be "my friend" when you send me a request. Yay!!! This way you don't have to wait and nobody gets lost in the black hole of my email.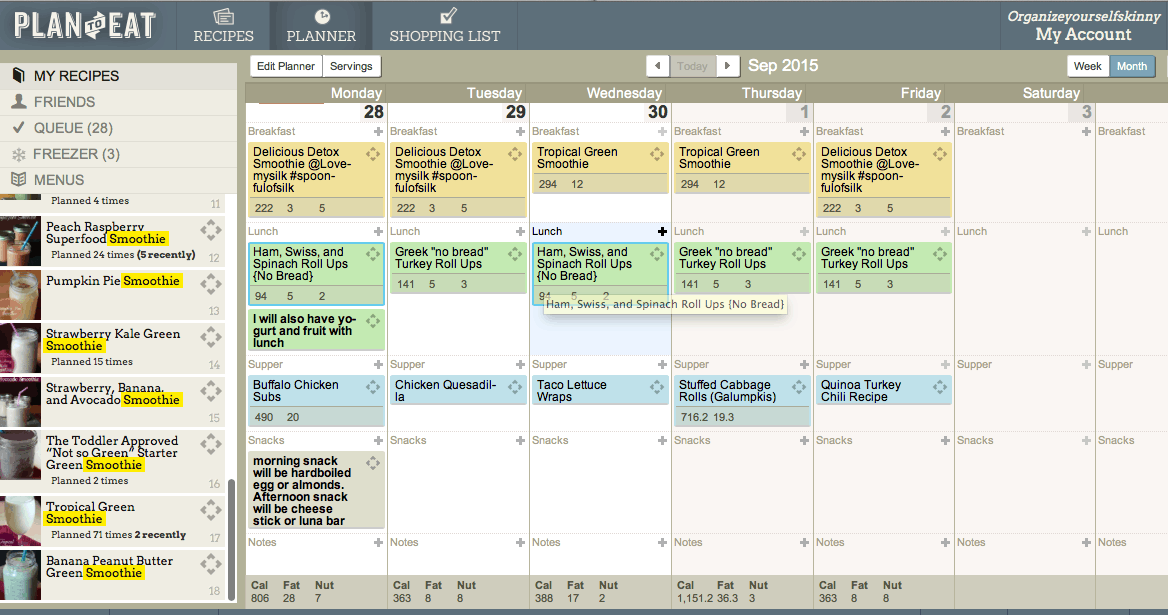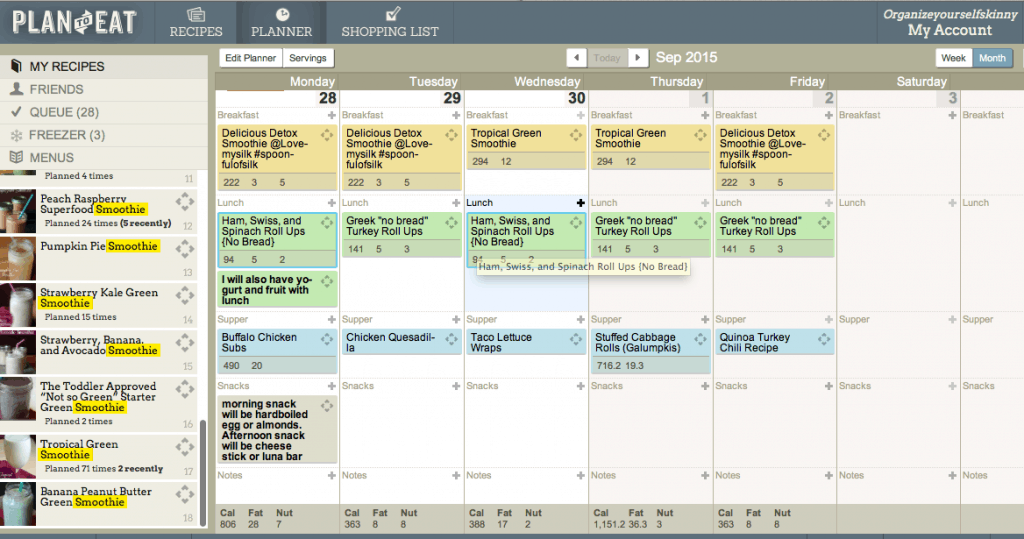 Breakfast
Make-ahead tips
I am going to make a batch of smoothie for the week tonight or tomorrow. I will keep some in the refrigerator and freeze the rest. See my freezer instructions here.
Lunch
Ham and Swiss "no bread" Rollups
Fruit and yogurt
Make-ahead tips
Rollups will be made the day I eat them.
Mid-morning snacks
Raw almonds
Hard-boiled egg
Make-ahead tips
Hard-boiled eggs will be made tonight or tomorrow.
I still have almonds portioned out from a few weeks ago.
Dinner
Power taco lettuce wraps – new recipe
Turkey Quinoa Chili – new recipe
Stuffed Cabbage Rolls – new recipe
Make-ahead tips
Buffalo chicken sub and quesadilla kits are in the freezer.
Tacos, chili, and stuffed cabbage rolls will be made on Wednesday and Thursday.