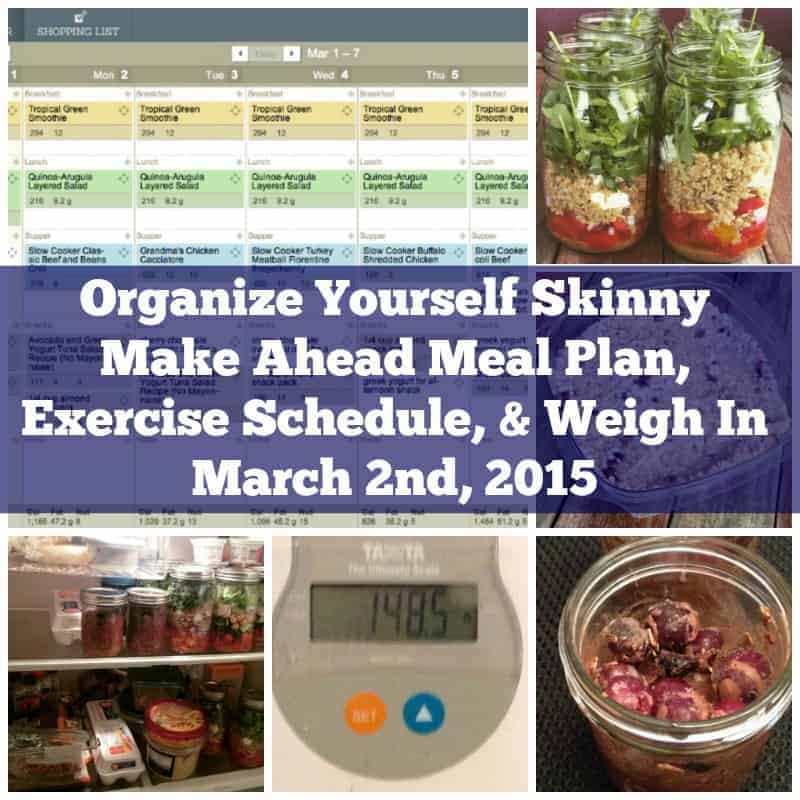 Hi everyone! I hope you had a nice weekend. I know I typically get my meal plan posts up on Sunday night but I ran out of energy around 8pm. I am telling ya this weather is really starting to bring me down. Yesterday it got up to 28 degrees which in Buffalo – this time of year – is considered a heat wave. So my mom and I took a nice brisk walk. However, being out in the cold for an hour or so did nothing but make me want to lay under the covers in front of the fireplace for the rest of the day. I NEED SUMMER TO BE HERE NOW!
Let's get to my weigh in or I will complain about the cold for the rest of this post.
Here are my stats.
SW: 177
GW: 130
LWW: 151
CW: 148.5
PL: 2.5lbs
I was sooooooo happy to see a 2.5 pound loss this week! I did really well with exercising and tracking my food. I did not track every single bite but I definitely was more intentional with the food I put into my mouth. I also did not eat past 7:00pm and that made a HUGE difference. I did feel hungry a couple days at night but I was able to curb my craving with water. Not eating past 7:00pm is a habit I always tried to stick with but got a little loose with these last couple months.
As for exercise I did work out 3 days but I know I need to do more. My goal is 4-5 days of exercise a week and never less than 3. The other day I saw an exercise habit posted on Facebook that said "never skip a monday". That really made me think. When it comes to exercising it is important to be disciplined and to protect your time. There is always something that comes up or gets in the way so protecting that time is essential to keeping up with an exercise habit. This is something I plan to implement in the next week.
Here is my exercise schedule:
Tuesday, Wednesday, Thursday, Friday, and Saturday
Cardio
Treadmill – 45 minutes (5 minute warm up, 25 run, 10 minute uphill power walk, and 5 minute cool down)
Core
2 – 3 (30 second planks) – These are killer!
3 reps of 8 russian twists.
Ab roll in using my exercise ball – this is my first time so I am not sure how many I will be able to do.
Legs
10 – 12 reps of the single leg side squat using my exercise ball
5-8 reps of the lounge and twist using my exercise ball
Arms
8 – 10 reps of the lying chest flue using my exercise ball
8 reps bicep curls
8 reps tricep kickbacks
Here is my weekly meal plan. As always, you can view it over on Plan to Eat. If you are a PTE subscriber you can friend me (username organizeyourselfskinny) and have access to all my recipes, previous meal plans, and grocery lists. You can also use Plan to Eat to create custom weight loss meal plans.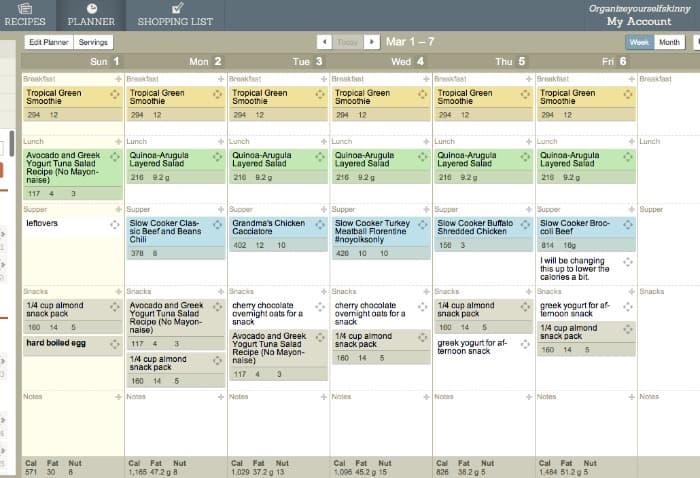 Breakfast
breakfast burritos and steel cut oats for the kids.
Make ahead tips
I made the breakfast burritos last week.
Steel cut oats were made yesterday.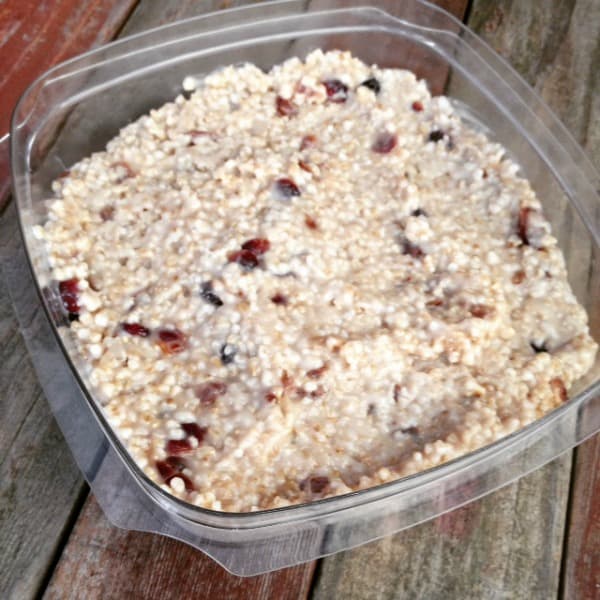 Snacks
No mayo tuna salad and veggies
Almonds
Chocolate cherry overnight oats
Make ahead tips
Tuna salad will be made today.
Overnight oats were made yesterday.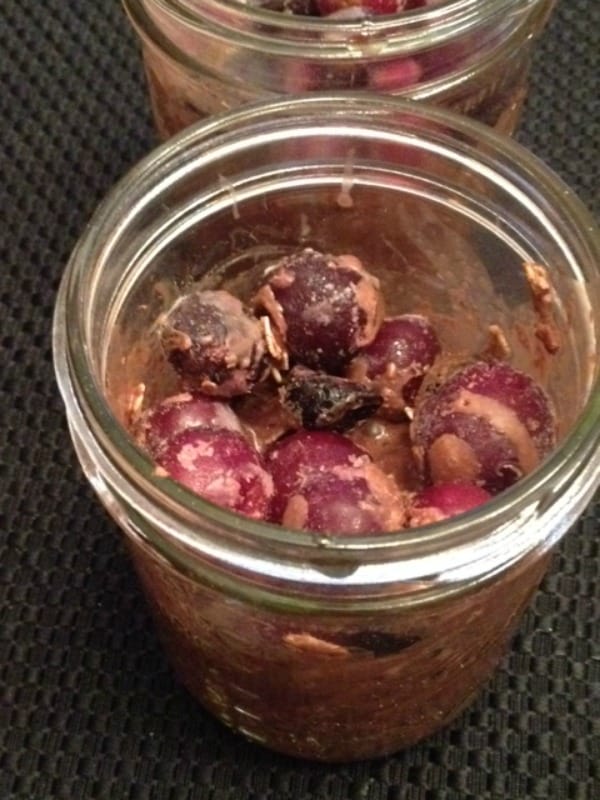 Lunch
Mason Jar Salad with Quinoa, Goat Cheese, and Vegetables – new recipe
Make ahead tips
Salads were made yesterday.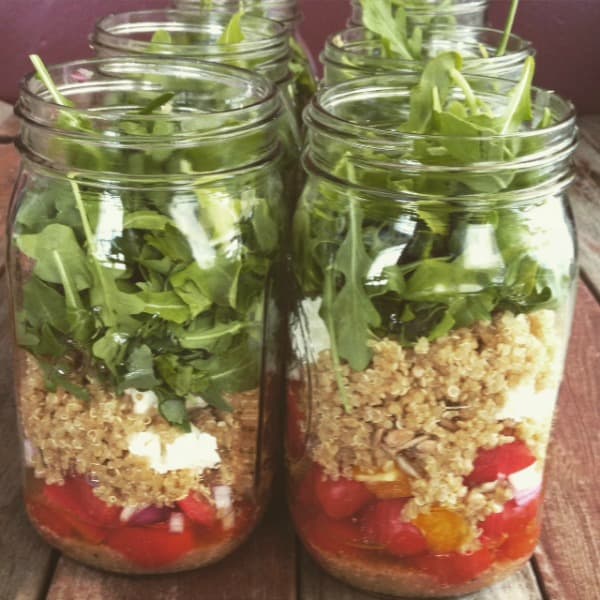 Dinner
Chicken Cacciatore
Slow Cooker Beef and Broccoli
Make ahead tips
The cacciatore, chili, and meatballs were made 1-2 weeks ago and are in the freezer.
Buffalo chicken will be made tomorrow or Wednesday.
Beef and broccoli will be made the day we eat it.