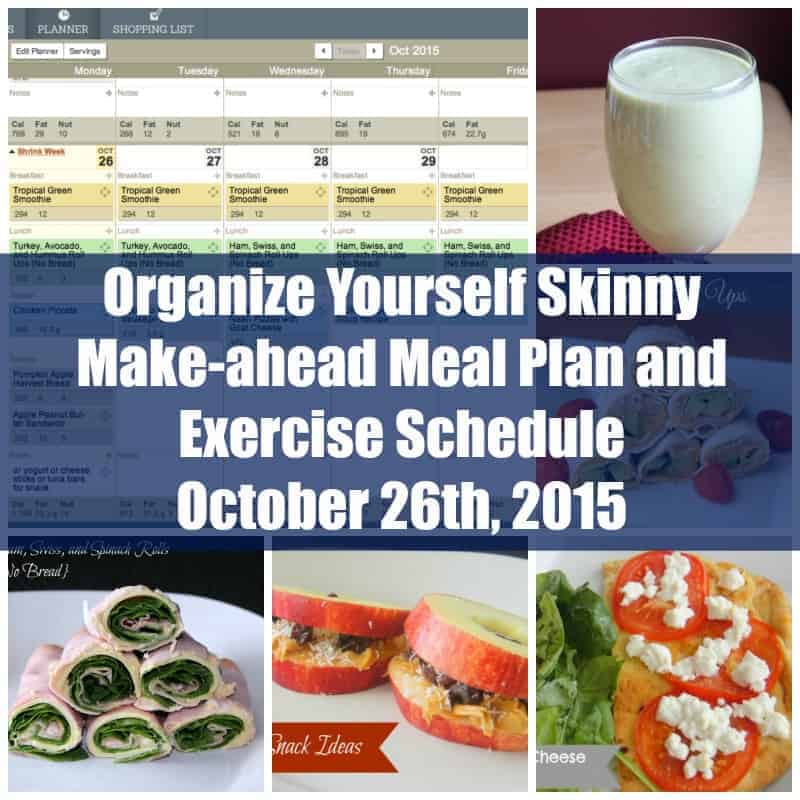 Hey everyone! Meal plan time again.
Don't hate me but there's no weigh in this week. No real reason except that yesterday and today where so busy I forgot to get on the scale. By the time it crossed my mind I already ate breakfast…and lunch. There's no way this mama is stepping on a scale after chowing down two meals. You get it.
If I had to guess my weight this week I would it stayed the same. I don't know…maybe I lost. I feel pretty good and my jeans fit nice. But this is why I get on the scale every week. I don't like playing guessing games with my weight. Stepping on the scale, seeing my weight, and showing it to all of you keeps me accountable. Without that accountability I would probably bathe in chocolate and peanut butter and be totally fine with the consequences. Just saying…it's true. Sticking with a weekly weigh in keeps me focused on my weight loss goals.
This week I am starting another running challenge. Last month's running challenge got me back on track with exercise. However, I slipped a little bit the last couple weeks. I didn't get completely off track. Just a little bump.
I need to keep exercise a top priority. Not only does it help manage my weight but more importantly it keeps my mind clear and helps me deal with stress much better. If there is one thing I know for sure it's this. Stress is going to happen. Sometimes it's a little and other times it's life changing. Some stress you can control and others you can't. The only thing you can control is you. In my experience, the best way to thrive in the face of stressful situations is to take care of yourself. Exercise, eat healthy, and get sleep. Those three things will help you better than any antidepressant. I truly believe that.
With that said here is my exercise schedule for this week.
Tuesday, Wednesday, Thursday, Friday, Saturday, Sunday
3-mile run or powerwalk on the treadmill. I am going to try and run outside a couple times.
50 crunches using my exercise ball.
Wednesday, Friday, and Sunday
2 sets (8-reps each) bicep curls using exercise bands
2 sets (8-reps each) tricep extension using 5 lb hand weights
50 squats
25 lounges on each leg
Now let's talk food. I know I've said this before but food prep saves me. Every. Week. If you are on the fence about food prep, because you think you don't have the time, I highly encourage you to try it out. I guarantee your weeks will go so much smoother when you have meals prepped ahead of time.
Here are a couple posts to get you started.
The Beginner's Guide to Once a Week Food Prep + 20 recipes and ideas
How to Prep Food for The Week in One Afternoon
On to my meal plan. As always, you can find my meal plan over on Plan to Eat. If you subscribe to their website make sure to friend me (username organizeyourselfskinny). Once we are PTE friends you can access all my recipes and menus. From there you can print out grocery list and do all kinds of other fun things. If you are still on the fence about PTE then consider taking advantage of their 30-day free trial. This is a great way to see what Plan to Eat offers.
Also, right now Plan to Eat is hosting a giveaway that includes the book Sugar and Spice, 20 spices from Old Town Spice shop (an awesome artisan spice shop in Fort Collins, CO), 1 year of meal planning with Plan to Eat, and more! Click here to read more about the giveaway and to enter.
Here's what I'm eating this week.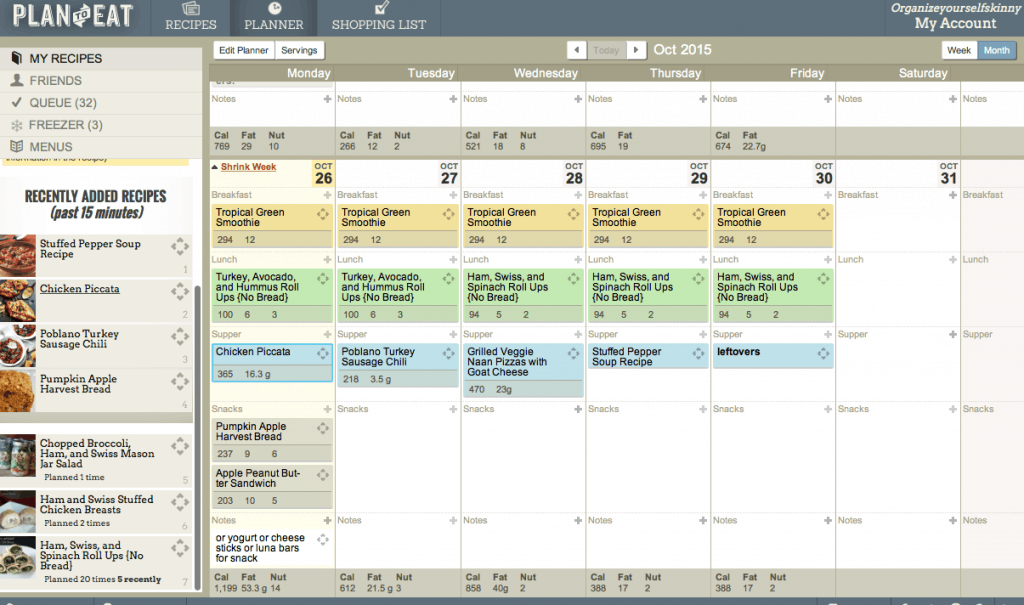 Breakfast
Tropical green smoothie
Or
2 eggs, and a bagel thin with a pat of butter
Make-ahead tips
• Tomorrow I will make a batch of smoothies for the rest of the week. I did this last week and it worked out great.
Mid morning snack
Pumpkin Apple Harvest Bread
Or
Luna bar
Make-ahead tips
• I made the bread last week and froze into portions.
Lunch
Turkey "no bread" roll-ups
Ham "no bread"roll-ups
Yogurt
Make-ahead tips
• Roll-ups will be made the day I eat them
Mid afternoon snack
Cheese stick
Apple and peanut butter
Dinner
Turkey poblano chili – new recipe
Chicken with lemon and capers – new recipe
Stuffed pepper soup – new recipe
Pita Pizzas
Leftovers
Make-ahead tips
Recipes will be made the night we eat them. I planned to make them on Sunday but ran out of time. Also, I anticipate lots of leftovers which is why there are only 4 planned dinners this week.