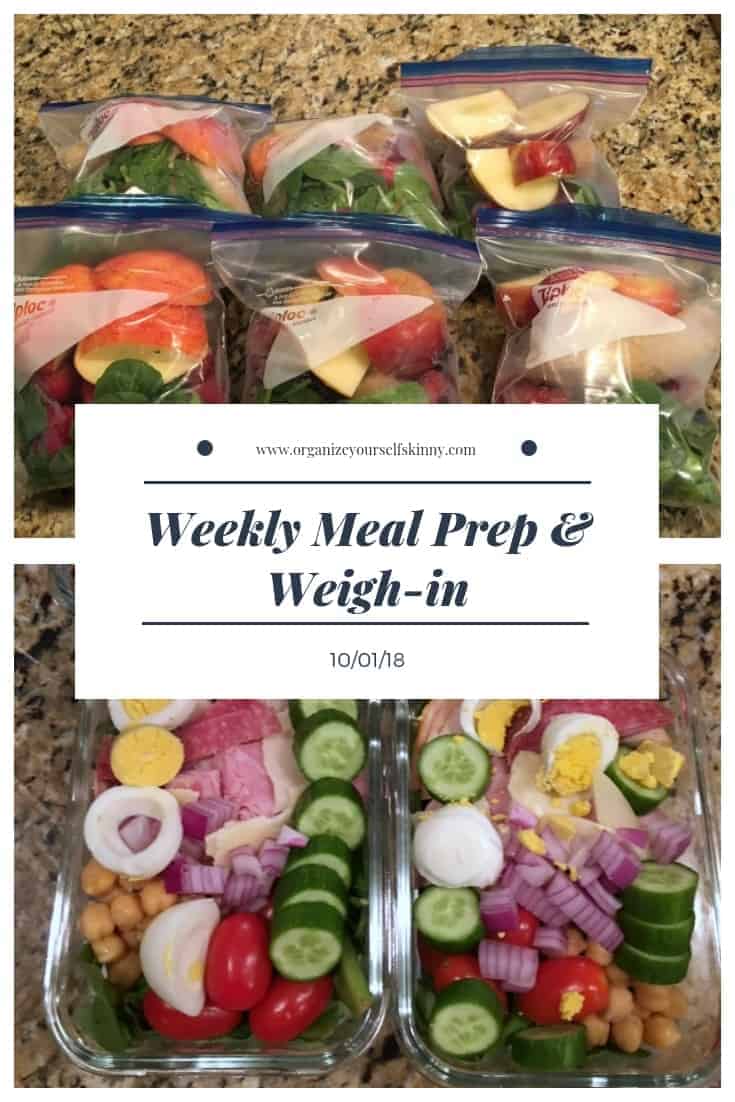 Welcome to October!
Well, it's been a whole month since my kids went back to school and I'm happy to report that I survived! I'm not going to lie, it's been very busy. We went from nothing going on over the summer to driving all over Western New York every day of the week. But since my kids are 13 and 11 I'm kind of a veteran when it comes to back to school strategies.
Here's what needs to happen for my week to go smooth.
Laundry needs to be done by Sunday night.
Mason jar salads need to be made on Sunday. Yes, I work from home but if I don't eat a good lunch I'll be hurting by 4:00pm when I'm taking my kids here, there, and everywhere.
I must bring healthy snacks when I go to grab my kids from school. I don't know what your kids are like but mine are like raging cage animals after school. They need a snack as soon as they get in the car. And if I don't have something I'll be spending money and, most likely, not on something healthy.
Let's keep going with the raging animal theme… My kids also need dinner as soon as we walk in the door so I make sure that the only thing we need to do is warm it up. If I have to make anything my kids are "STARVING"…insert eye roll here. But I get it, we don't get home till 6 or 7, so they are HANGRY. Having dinner ready to eat is essential.
Clothes need to be ready the night before. This is a must because I turn into psycho mom when I here 10 minutes before we need to leave "MOOOOOMMMMM I can't find anything to wear". So before my kids go to bed they need to get clothes ready.
I'm sure there's much more but those strategies are the essentials. What are your strategies for keeping sane during the school year?
Let's move on. A couple notes.
Last week, I put together a new beginner meal prep post. Check it out if you want some more tips on once a week meal prep. BTW it's over 3000 words!
Also, I've been chipping away at the Butcher Box meat I received a couple of weeks ago. So far, I made Asiago chicken with the chicken tenders and pasta Fagioli, tacos, and cheeseburger stuffed peppers with ground beef. Oh, and I also made beef stroganoff with top sirloin. I think the meat is fabulous. Every recipe I made tasted delicious. If you're interested, you can read my full Butcher Box Review.
One more thing. I recently hired a videographer to start bringing my recipes to life. I know most people love recipe videos – I do too – so plan to see more in the future. My plan is to have a video for each recipe on my blog. Hey, I like to dream big!
Let's get to my weigh-in.
Starting weight (October 2010) : 177 lbs
First goal weight: 145lbs
Final goal weight: 135 lbs
Last week's weight: 151.8 lbs
Current weight: 152.4 lbs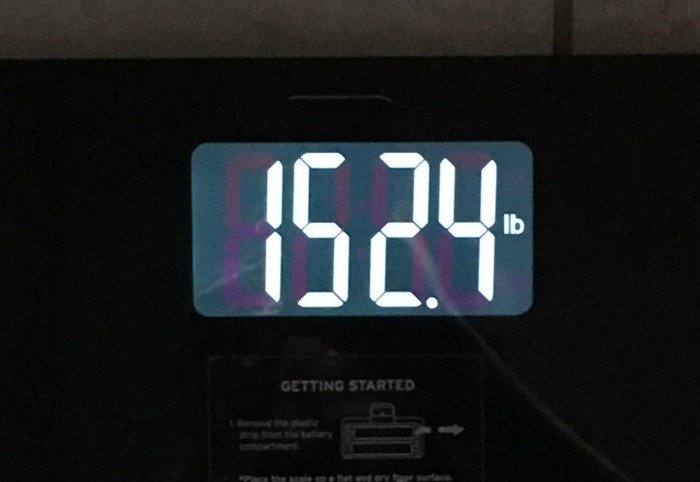 Ugh sooo close! I thought for sure I'd get below 150 this week. But the weekend got the best of me. This 1lb weight loss is the result of too much pasta and, most likely, a little too much sodium. Also, I exercised only 3 days last week. I need a solid 4-5 days a week to feel the effects. So 4-5 days of exercise is my plan for this week. And I really can't slack because we have a big Octoberfest weekend coming up. I'm going to need to bank as many calories as I can during the week.
Anyway, even though these last 10-20lbs are a struggle I do feel good. My clothes fit good and I feel confident in the way I look. Of course, I'd feel better with 10lbs melted off me but I just need to keep moving forward.
If there's one thing I've learned it's keeping food at 1500 calories a day, not eating past 7pm, exercising 4-5 days a week, and drinking water is THE recipe for weight loss – at least for me. That's when I feel my best so I need to stay focused.
Here's my exercise schedule this week:
Monday – Friday: Treadmill 40 minutes and toning.
Toning includes:
25 bicep curls
25 tricep extensions
25 – 30 squats
25 lounges on each leg
1 minute planks
50 – 75 crunches.
Let's get to my meal plan – because truthfully, that's where the real weight loss happens.
Breakfast
Meal prep tips
I made freezer smoothie kits yesterday. Drinking smoothies are a must for me – even when I don't feel like one I need to force myself to drink it. Smoothies keep me hydrated which make me feel better all around.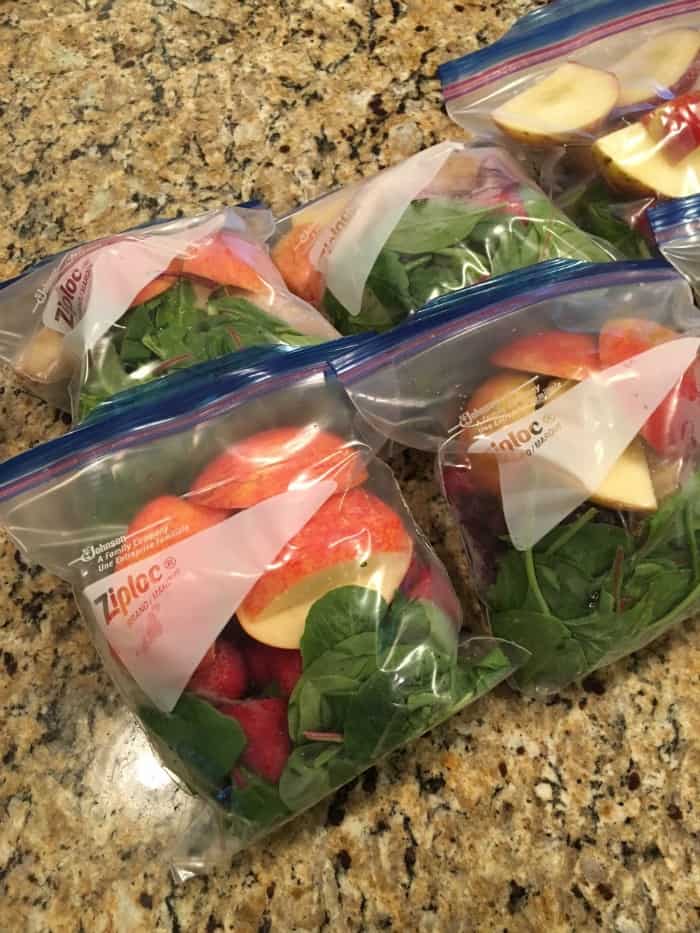 Mid-morning snack
KIND Bars or cheese stick
Lunch
Protein Power Mason Jar Salad
Meal Prep Tips
I made these salads yesterday.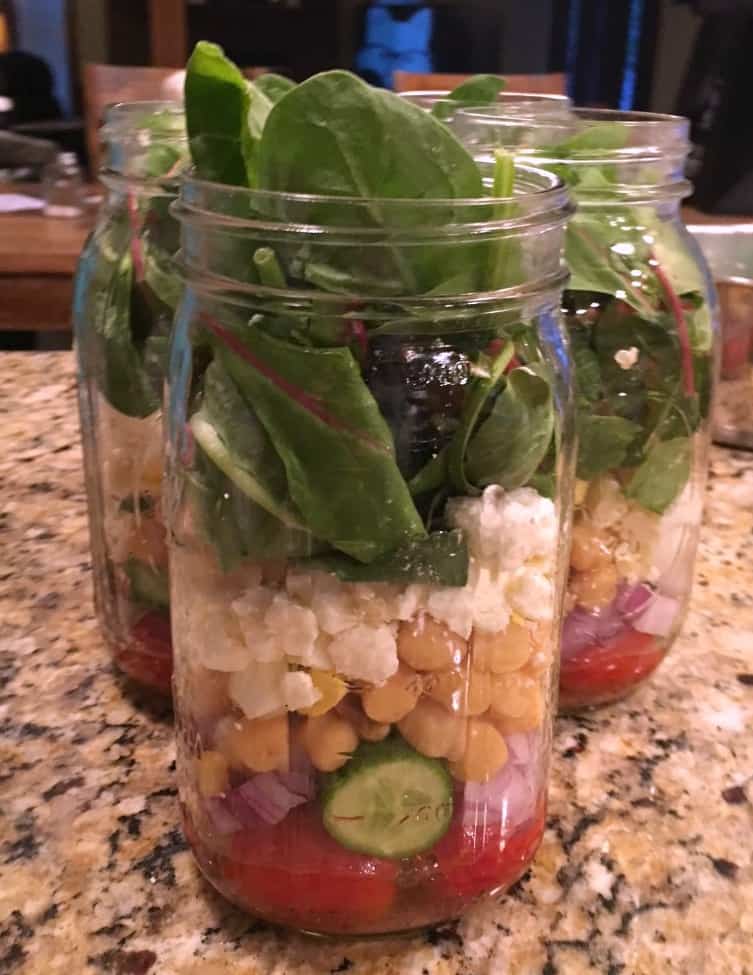 I also started Mike back on his salads. Now that he's off the road it's easier for him to eat salads. He loves these cobb-style salads.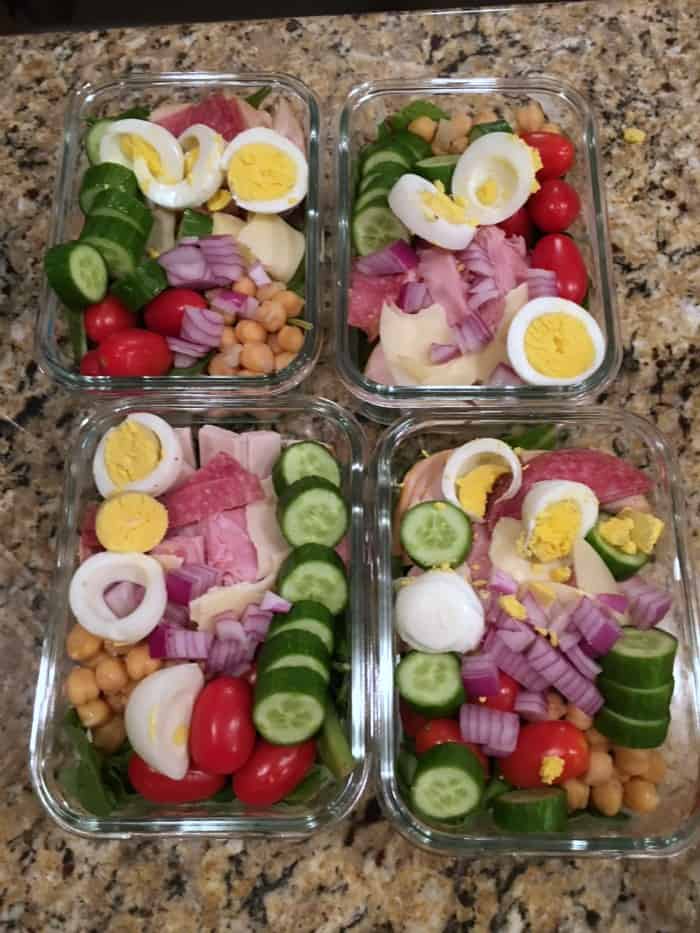 You can get both mason jars and these glass meal prep containers off Amazon.
Afternoon snack
Blueberry Coconut Yogurt Jars – new recipe
Meal prep tips
I made these today.
Dinner
Slow Cooker Thai Pork
Leftover Pasta Fagioli
Chicken Wrapped in Prosciutto over Mesclun Green <– this is a Hello Fresh Meal.
Meal prep tips
Stuffed peppers and Thai Pork were made today
Pasta Fagioli was made last week, I froze the leftovers.
Chicken will be made tomorrow.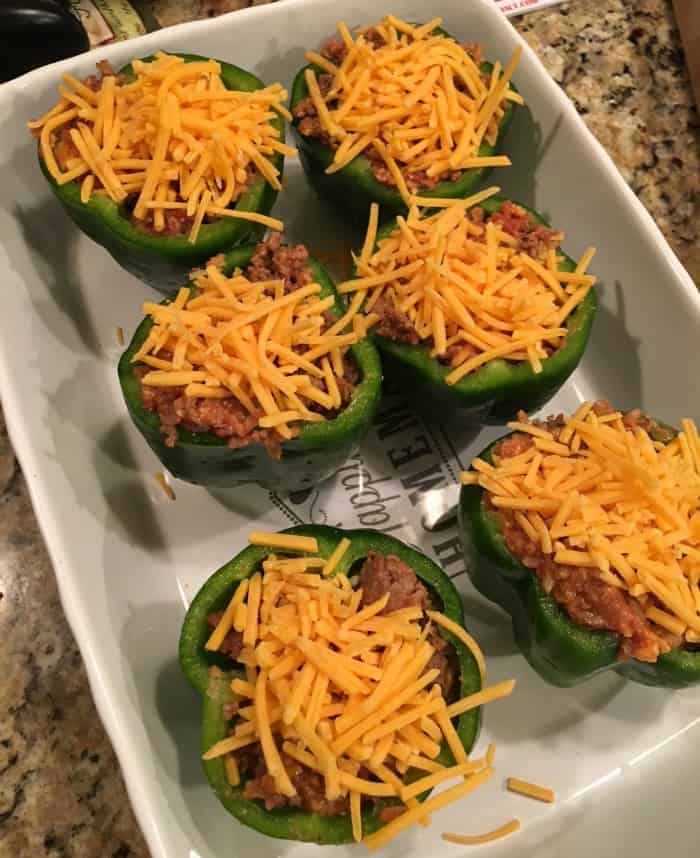 That's it for my week. How'd your weigh-in go this week? What's on your meal plan?
Have a great week!