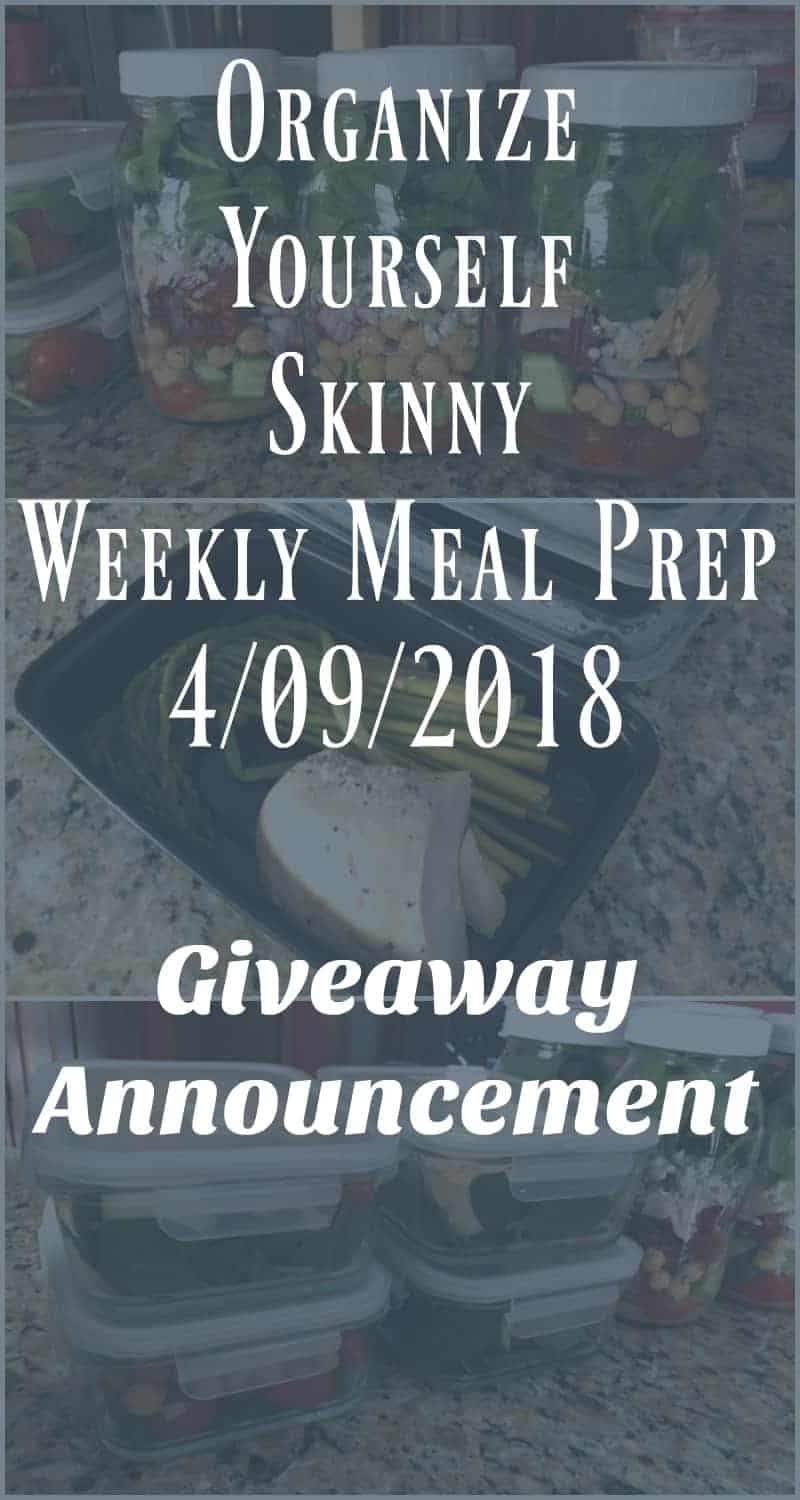 Hey hey! I hope the start of April is treating you well. Over here, in Buffalo, NY, Mother Nature has not been kind. We had a HUGE wind storm last week and it's been snowing on and off since the 1st. UGH! It feels like the warmer weather will never be here.
Last week, it was Spring break so Mike and I took the kids to a waterpark for a couple days. Yes we were still in freezing NY but it was nice to lay by a pool and pretend we were somewhere tropical. Of course, with it being vacation week, our schedule was totally off. Don't get me wrong, it was great to have everyone home, and not worry about running around, but I didn't get much of anything done. I didn't meal prep or exercise last week. That's the first time, in a long time, that happened. At first, I started to panic a little but then I just let go and spent time with my family.
Even though I didn't exercise, meal prep mason jar salads, or drink a daily smoothie, I don't feel I got completely off track. I actually packed "somewhat" healthy food and snacks to bring with us to the waterpark. We rented a villa of sorts that had a kitchen. This made it easier (and cheaper) to eat healthier foods.
However, I don't know my weight because as I type this post I realize I didn't weigh in last Wednesday and forgot to do it this morning. I'll weigh in tomorrow and then update this post.
Anyway, before I get to my meal plan I want to go over a couple announcements.
First, the Organize Yourself Skinny Ecourse is open for April enrollment – it opened today and will close on the 17th. We have 10 weeks before bathing suit season so if you've been on the fence with the OYS ecourse now is the time to jump on board.
Right now the ecourse is 50% off with code SPRING50. Purchase course here. Woohoo! This brings the ecourse down to $63 – btw this is a one-time fee that gives you lifetime access to all of this:
8 content-rich modules (25 lessons) walking you step-by-step through everything I know about building a healthier lifestyle. These lesson are self-paced, do them on your own time. Each lesson is video-based and also includes printable slides and action-steps. You can preview one of the lessons here. Just scroll down to the modules and click on the lesson marked for preview".
PDF copy of the 67-page Organize Yourself Skinny e-book.
Bonus "Getting Started" Checklist to get you moving on the strategies right away.
Bonus 5-week make-ahead meal plan complete with recipes, nutritional information, and make-ahead instructions.
Bonus 5-week "getting started" exercise plan.
Bonus list of additional make-ahead recipes.
Bonus Mason Jar Salad Tutorial and ecookbook.
Bonus Green Smoothie Tutorial and ecookbook.
Bonus Overnight Oats ecookbook.
Bonus weekly to-do list and goal-setting sheet.
And my favorite bonus! Access to the private Facebook Group created exclusively for students of the Organize Yourself Skinny ecourse. In this exclusive group I do a weekly live chat/coaching call to answer questions along with providing motivation and mentoring every step of the way. You don't have to go through this alone! This group will provide an amazing support system as you move through your weight loss journey.
Access to past Facebook Live coaching chats. All the past coaching chats are saved in the private group and in the ecourse for easy access.
Last, you have free lifetime access to all Organize Yourself Skinny ecourse updates. I create new stuff all the time! You get access to it all.
Read more and purchase the Organize Yourself Skinny ecourse here.
Second, it's been almost 1 year since I opened the doors to the Organize Yourself Skinny Ecourse – it's unbelievable how time flies.
Since then over 1150 people have signed up. It's been an absolutely amazing experience getting to work with everyone. I'm truly humbled daily by all the positive feedback.
To celebrate all the good that's come from the Organize Yourself Skinny ecourse I'm going to host a week of giveaways, during the enrollment period, in the general Organize Yourself Skinny Facebook group. If you haven't already, you can join the group here.
I'm going to give away all my favorite Organize Yourself Skinny things! For example, a huge supply of meal prep containers, an Instant Pot, a membership to Plan to Eat and Emeals, Thrive Market membership and $100 giftcard, a $100 gift card for Sun Basket, and a special HUGE giveaway at the end of the enrollment period. It's going to awesome!
I've never done giveaways like this before but I'm excited! I want to show gratitude to all my amazing readers while also bringing more exposure to the Organize Yourself Skinny ecourse. The giveaways are open to everyone.
Okay, let's get to my meal plan.
This week I'm all about getting back on track.
I spent about 3-4 hours yesterday cleaning out my refrigerator, pantry, and preparing food for the week. I'm not going to lie, by about 5:00pm I was whipped! But….it was worth it because when I woke up this morning all our meals were ready for the week. All I need to do is eat!
A couple things that were super helpful this weekend. First, I ordered a box of Hello Fresh that showed up the day after after we got back from vacation. Even though the meals are a little more carb heavy than I would like this week it's still AWESOME not to worry about dinner. I just need to watch portions and eat early. You can see my Hello Fresh Review here.
If you want to try out other meal delivery services then check out my other reviews.
Sun Basket Review – this one is great if you want to go low-carb or Paleo.
Home Chef Review – this one offers family-friendly classics
Green Chef – this meal delivery service offers all organic meals.
Second, I had the ingredients for my mason jar salads, snacks, and smoothies delivered by Wegmans using the website Instacart. Honestly, out of all the services out there to make meal planning and prep more convenient Instacart is hands down my favorite. To have my groceries shopped for, and delivered, is well worth the little extra money it costs. You can read my full Instacart review if you want more information on how it works.
Here's what I'm eating this week.
Breakfast
Meal prep tips
I have 2 detox smoothie kits left in my freezer. I purchase more smoothie ingredients to make the rest of the week.
Snacks
Apples and almond butter
Siggi Yogurts
Hard-boiled eggs
Meal prep tips
I cooked the eggs yesterday and organized all the snacks in the refrigerator.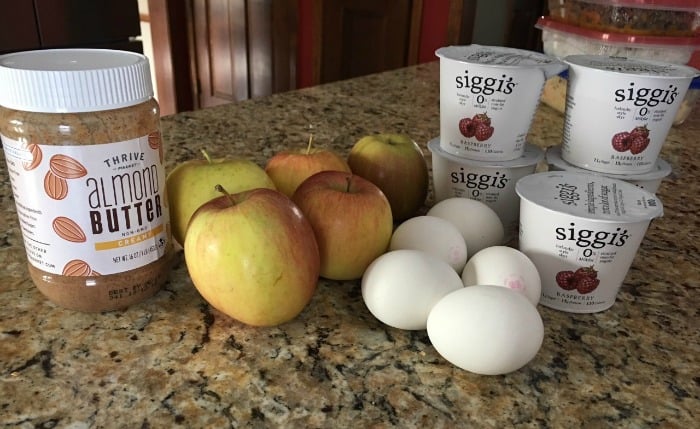 Lunch
Smoked Turkey, Chickpea, and Blue Cheese Mason Jar Salad
Meal prep tips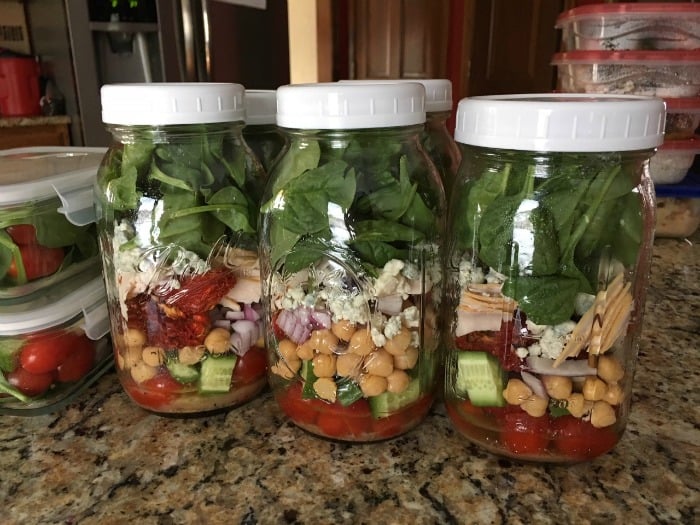 I also made these salads for Mike. They are basically what I have in my mason jar salad but in a different container and dressing on the side.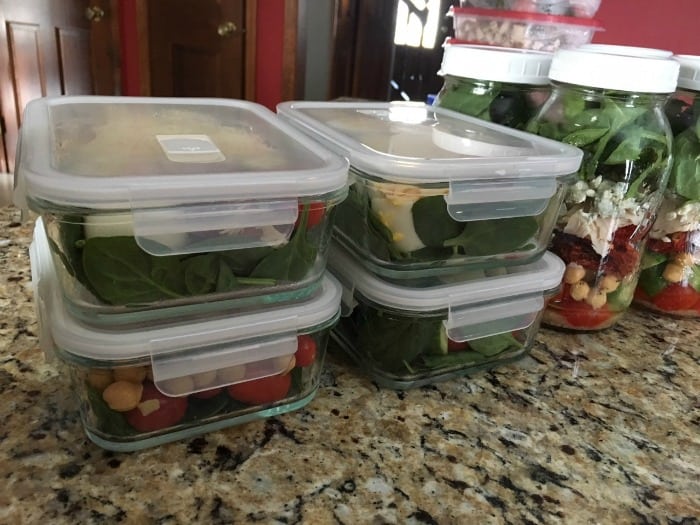 Dinner
Chicken and Aspargus
Hello Fresh Lobster Ravioli with Shrimp
Hello Fresh Sriracha Beef
Hello Fresh Chicken and Vegetables Flat Bread Pizza
Meal prep tips
I made all the dinners yesterday and stored them in the refrigerator using plastic and glass containers.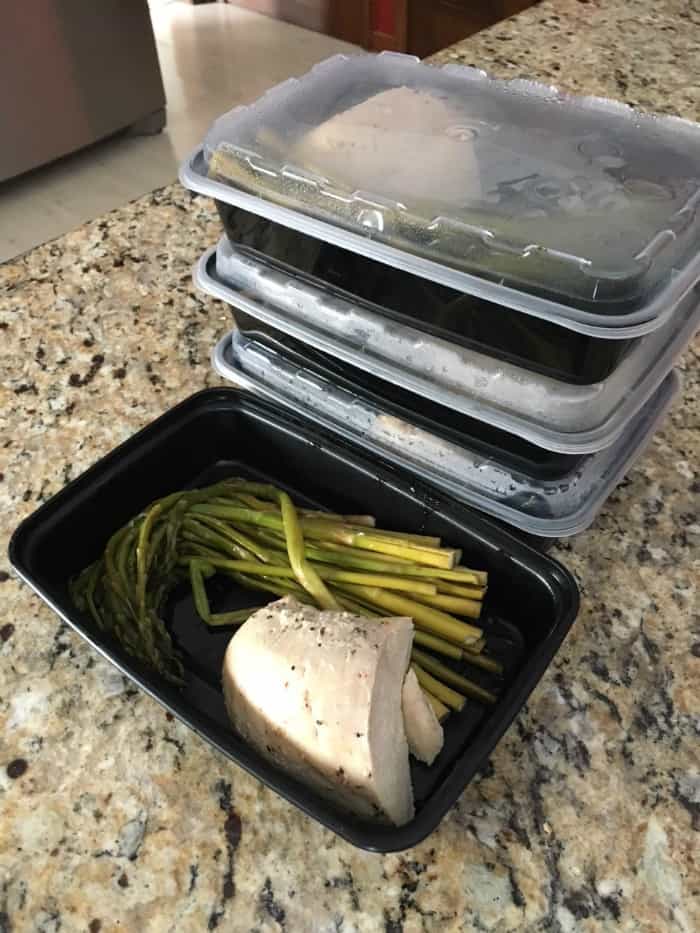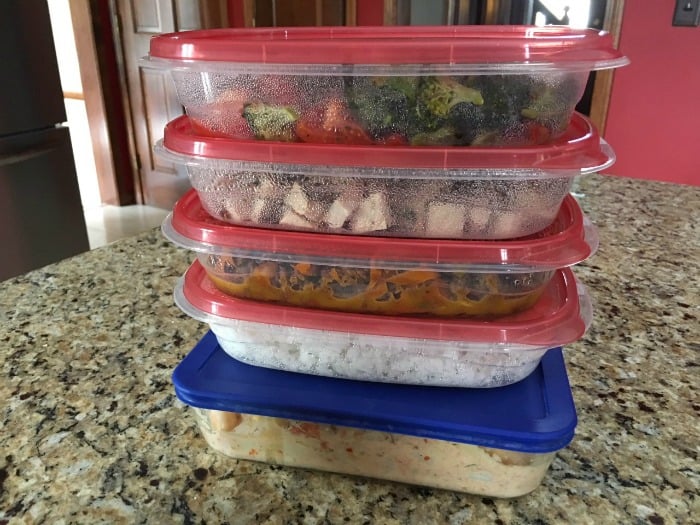 That's it for food.
I almost forgot to talk about my exercise routine this week.
Monday – Wednesday
1 hour on treadmill
30 squats
50 – 100 crunches
30 second – 1 minute planks
24 bicep curls using 5lb resistant bands
24 tricep extensions using 5lb hand weights
16 lounges on each leg
Thursday and Friday
1/2 hour on treadmil
15 minutes of the toning exercising above.
Have a great week! And don't forget the Organize Yourself Skinny ecourse is open for enrollment. Use code SPRING50 to get 50% off. Learn more and purchase the course here.
Get Instant Access to the 7-Day Getting Started With Meal Prep Email Series
Are you ready to learn how to meal prep? Awesome! Sign up now for a free 7-day Getting Started Meal Prep email series that I created exclusively for email subscribers! That's you. I will teach you my favorite meal prep methods and provide lots of delicious easy recipes to get you started with weekly meal prep. You got this, I can help!