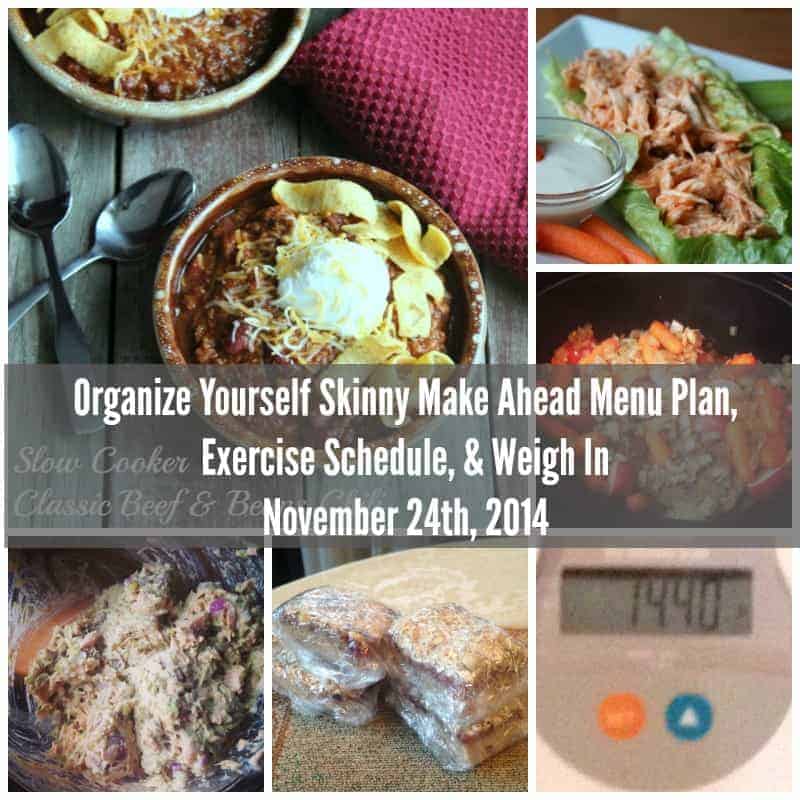 I find it incredible that Thanksgiving is this week. Even though my mom does all the cooking and planning I don't feel ready for the holidays. I think a lot of it has to do with my kids being off all last week because of the weather. I tried so hard to stay productive but with everyone home it was hard. Now this week I am trying to play catch up and I really only have 2 days to get everything done because the kiddos and hubs are home starting Wednesday. I guess I will do my best and then just enjoy the holidays with my family.
Let's get to my weigh in. The last one I posted was on November 10th. My goal is to get on the scale every week but some weeks – like last week – I get so busy I totally forget. Anyway, here are this week's numbers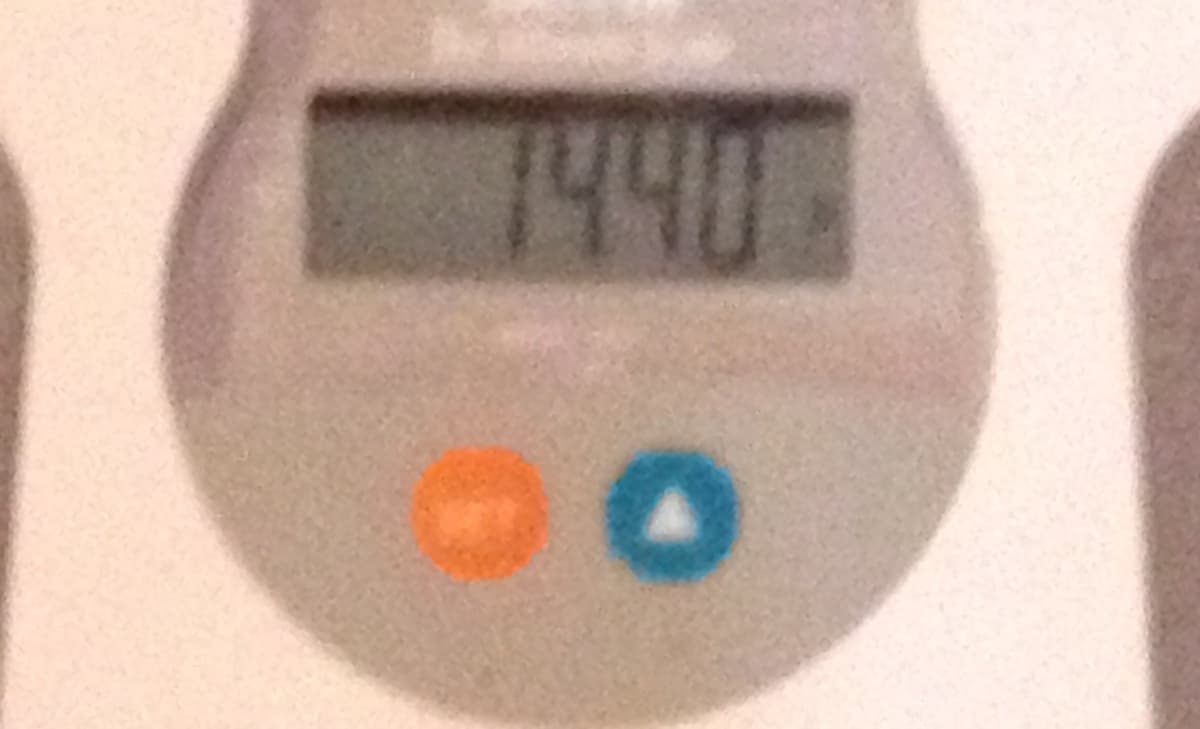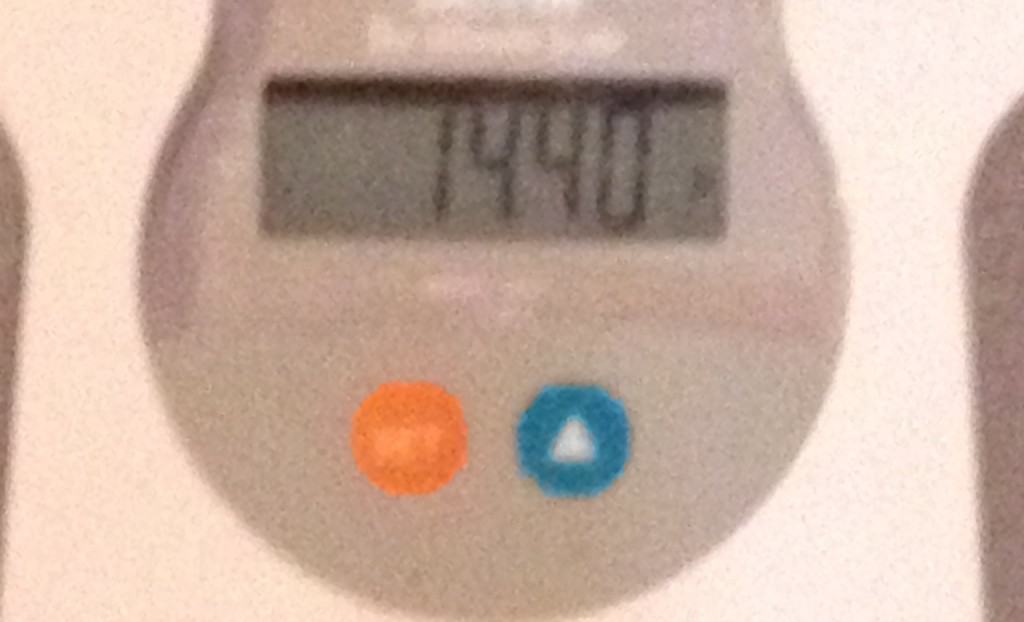 SW: 177
GW: 135
LWW: 143
CW: 144
PL: +1
Well it looks like I am still hovering around the 143-144 mark. These last couple weeks threw me off my game a bit but NO EXCUSES I am determined to get back on the wagon. I think one of the hardest parts with losing weight is letting yourself slip too much. It is fine to give yourself a break but when a day turns into 3 days, a week, or longer then it becomes a problem. I need to remember it takes about 3 weeks to form a good or bad habit. So if I slip too long then I will need to work that much harder to reestablish the healthy habits I have implemented over time. The good thing is at this stage, in my weight loss journey , I can recognize pretty quickly when I am getting off track. I don't see myself ever going back to 4 years ago but…I need to stay focused because I still have goals I want to achieve.
Let's talk about exercise. Every week I schedule 3-4 days of exercise into my week. When I am watching my food intake and exercising at this pace my weight stays around 135 – 138. However, when I slack on exercise and take a few extra bites here and there my weight becomes what it is now. Over the last few weeks I fell out of my morning exercise routine and only have been exercising about 2 days a week. I need much more than that! My goal moving forward is to focus on the exercise habit…. again. Meaning it needs to become natural for me to wake up and head downstairs to exercise – instead of a struggle.
Here is my exercise schedule this week.
Monday, Tuesday, and Wednesday
Cardio
Run 2-3 miles on treadmill.
Core
100 crunches
2 (30 second) planks
2 (30 second) Russian twists
Arms
16-24 bicep curls with resistant bands
16-24 tricep extensions with 5lb weights
25 modified pushups
Butt/legs
50 squats
50 lounges
My menu plan
Breakfast
Or
Eggs and toast
Make ahead tips
Smoothies will be made the morning of.
Mid morning snack
Cheese stick
or
Walnut raspberry streusel bars
Make ahead tips
I purchase pre packaged cheese sticks. Sometimes I buy a big block of cheese and cut it up but I find that I keep my portions better under control when I have prepackage cheese sticks on hand.
Streusel bars were made yesterday, wrapped up, and stored in the freezer. If I did not put these in the freezer they would be gone in 10 minutes!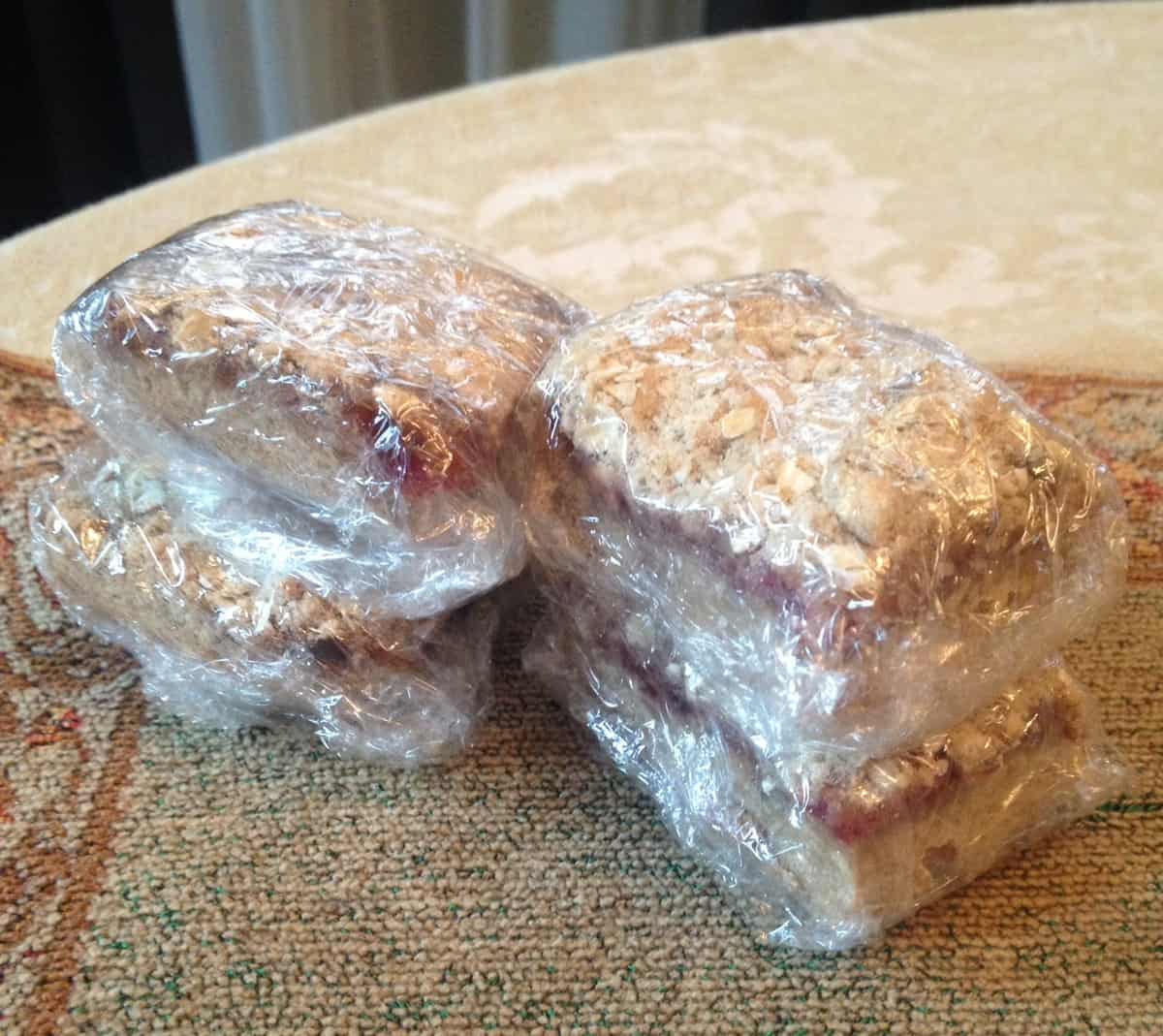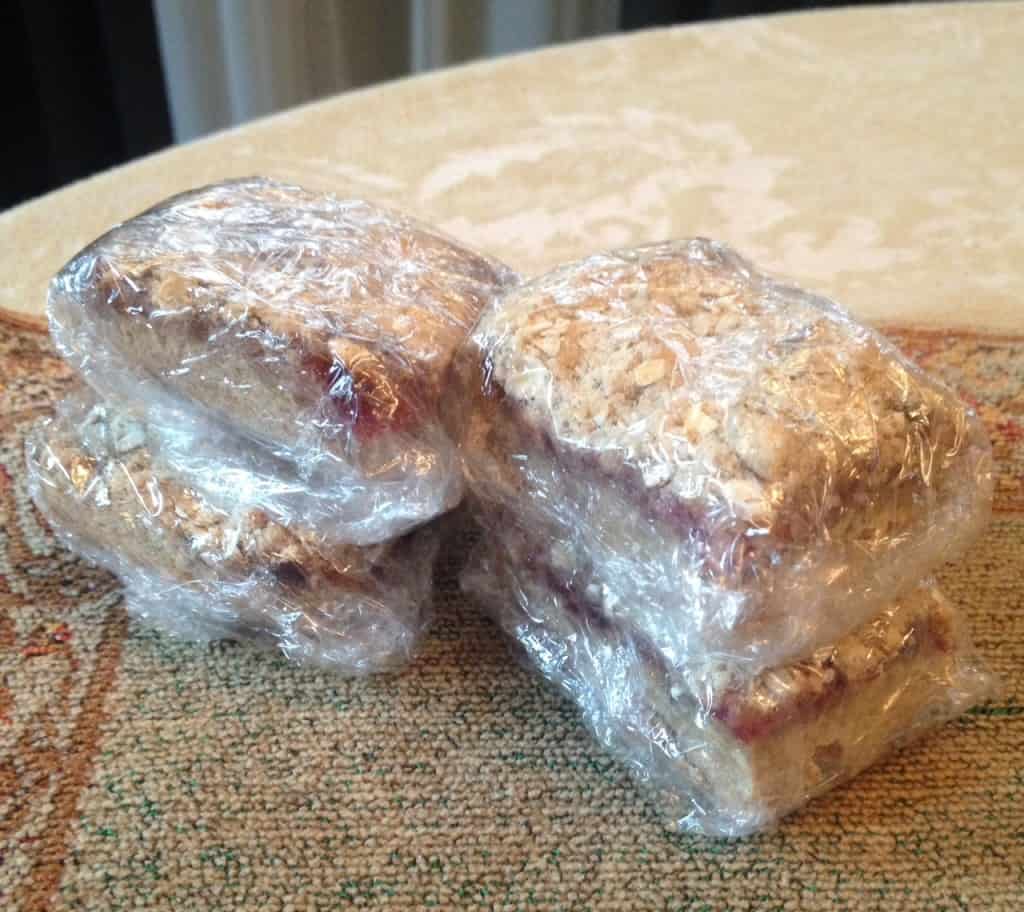 Lunch
No mayo tuna salad with crackers or vegetables
Tuna salad was made yesterday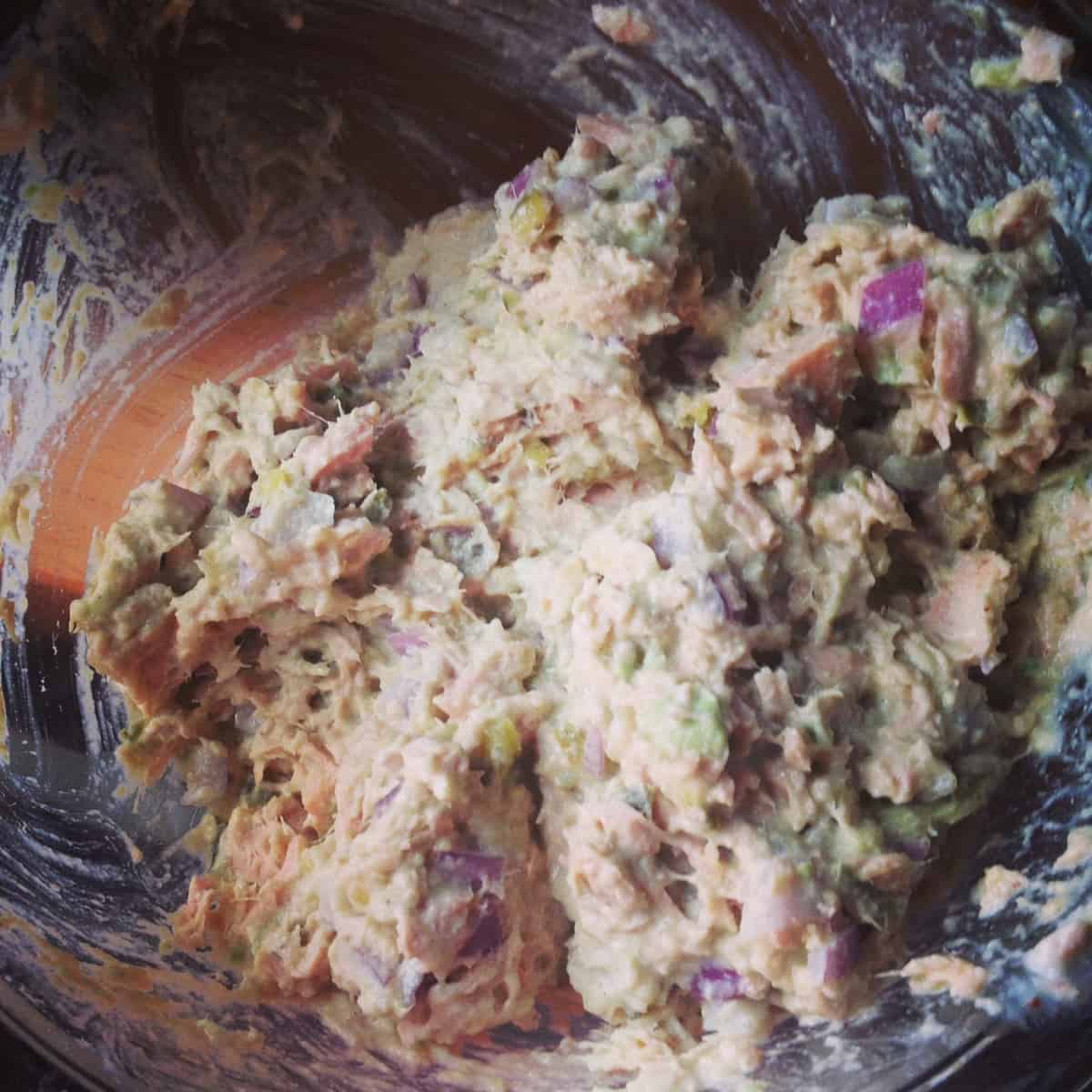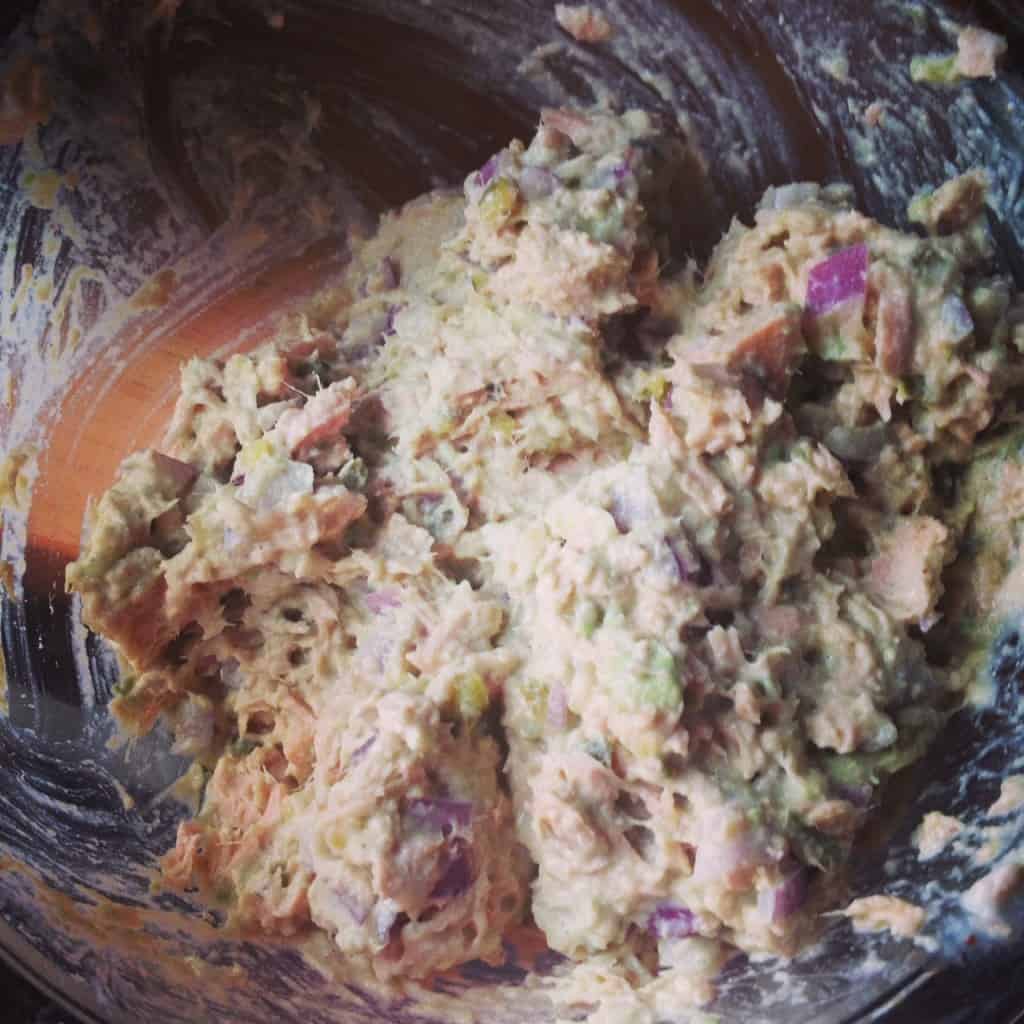 Mid afternoon snack
Homemade fruit on the bottom yogurt jars – new recipe
Make ahead tips
I will make these tomorrow or Wednesday.
Dinner
Slow Cooker Classic Beef Chili
Tex Mex Turkey Mac – new recipe
Slow Cooker Buffalo chicken lettuce wraps
Naan Pizzas with roasted vegetables
Thanksgiving and leftovers
Make ahead tips
Chili was made over the weekend. Leftovers will be portioned out and frozen for easy dinners.
short ribs are being made today.
buffalo chicken will be made in the slow cooker on friday or saturday.
roasted vegetables will be made on Friday.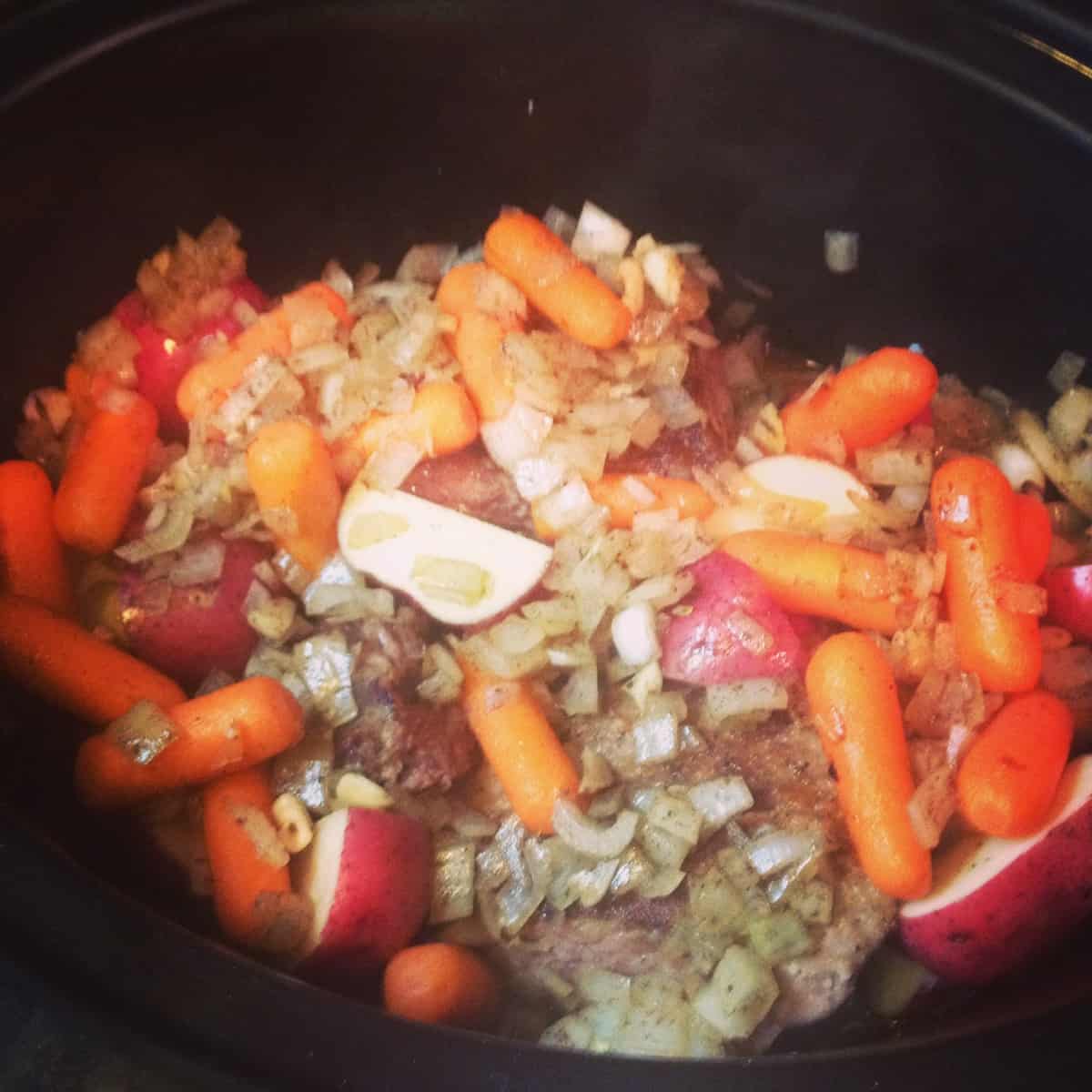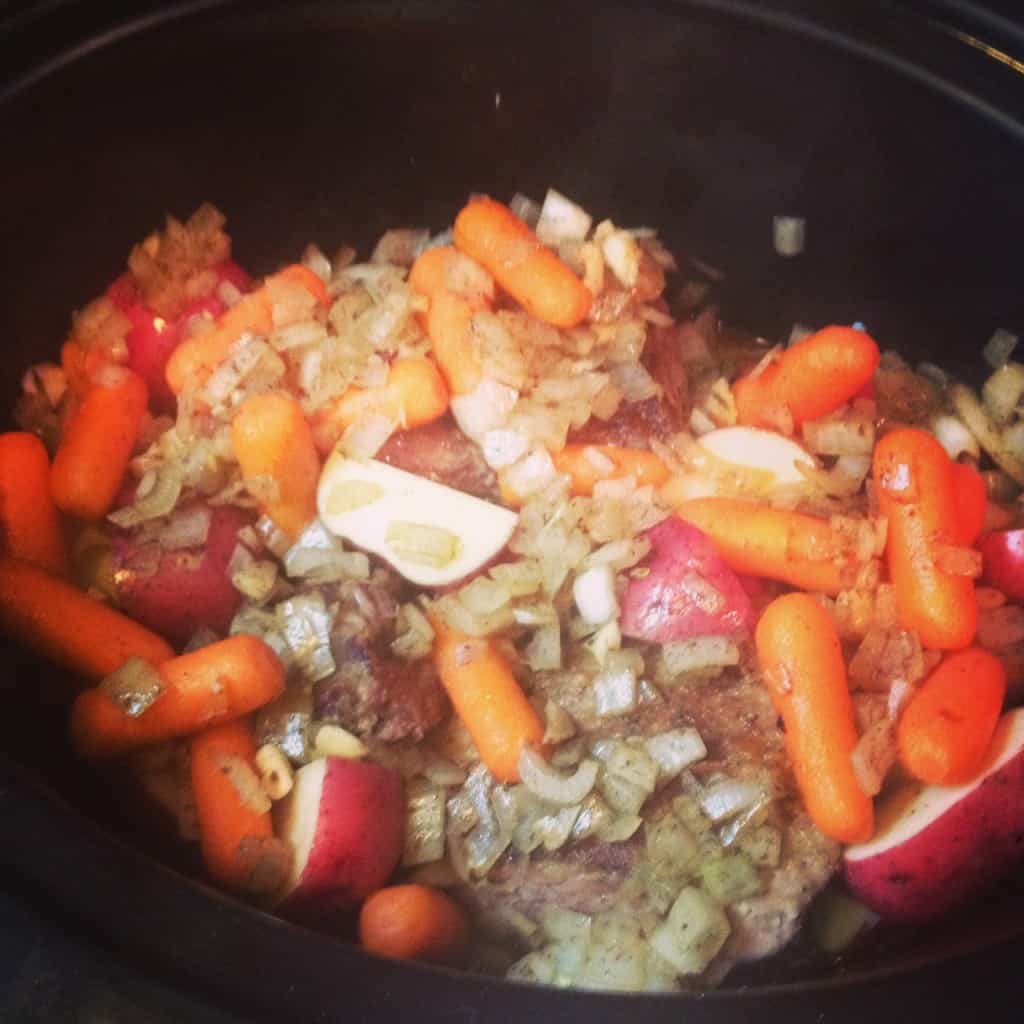 This is the slow cooker short rib recipe getting ready to cook. Btw it is almost done and smells amazing!
What's on your menu this week?