These Super Bowl Dips are guaranteed to be a crowd-pleaser! Not only am I sharing my most popular party dips of all time, but I am also going to give you some cooking tips on how to make these dips ahead of time and exactly what to serve along with each.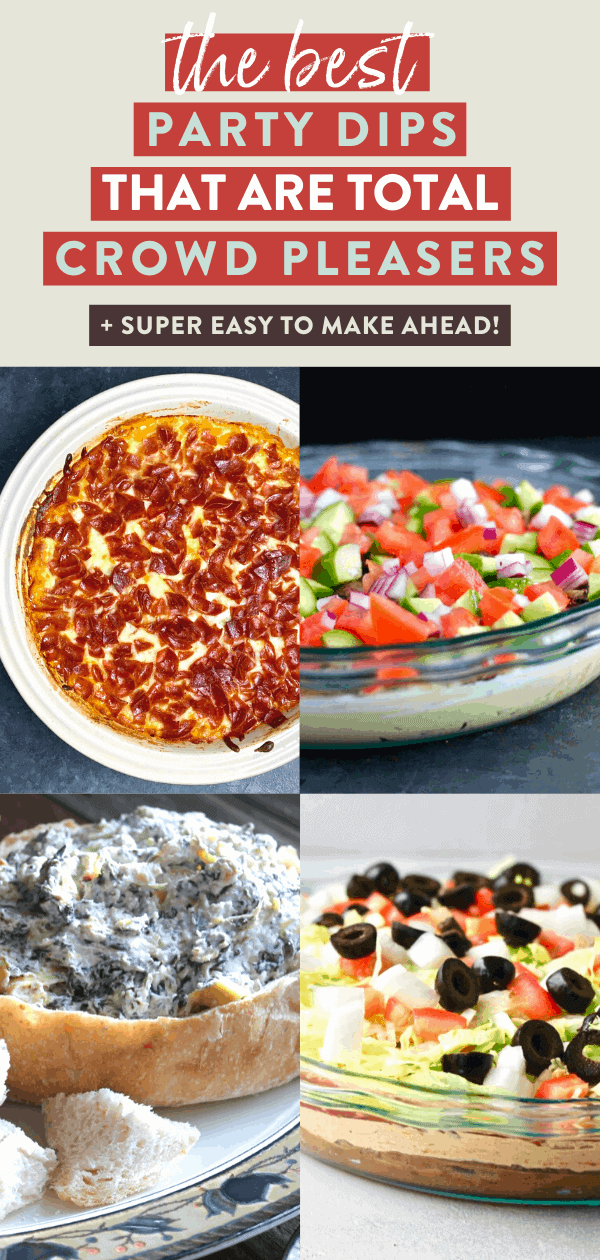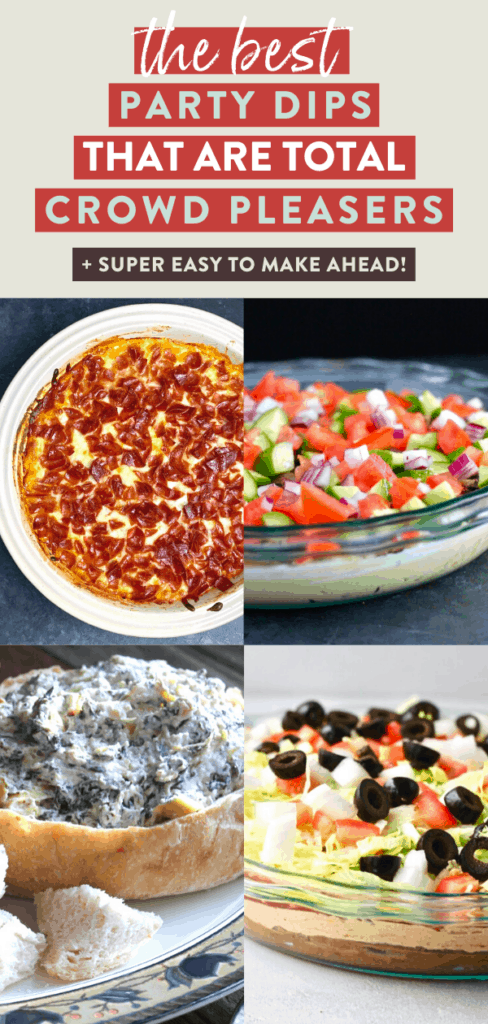 You guys know I am always up for a party and the Super Bowl is just another reason to have one!
Over the last 10 years, I've kind of become known for my dip recipes and I try to never disappoint. Every time I am invited to a party, I'm asked to bring at least 1 or 2 dips to share with everyone.
We laugh about it all the time, but it's true…whenever we throw parties at our own home, I get texts earlier in the day asking about which party dips I'll be making. By the end of each event, there are hardly any leftovers to be found.
Plus, it's not uncommon at all for me to get dozens of texts or in-person questions asking for the recipes so my friends can make them for themselves. Now I guess I can just direct them to this post! 🙂
Quick And Easy Cooking Tips For Party Dips
Before I jump into my famous party dip recipes, I just want to share some tips that I've learned along the way for making and serving up the best Super Bowl food:
Light Cheesy Foundation
Dips that tend to have a cream cheese foundation can be lightened up by using 1/2 full fat and 1/2 low-fat cream cheese. I also use light sour cream or plain greek yogurt in place of full-fat sour cream.
However, I will say you'll notice less of a difference with light sour cream. Greek yogurt does have more of a tang than sour cream. I never got complaints about either one but just something to consider.
For hot cream cheese dips, I recommend cooking the cream cheese and sour cream together first. This completely softens the base and allows the rest of the ingredients to be easily stirred in and evenly distributed. After all the ingredients are stirred in, then you'll cook the dip a second time.
I know this is adding an extra step but this is how I make all of my cream cheese party dips and I promise the extra effort is well worth it!
Added Protein
When dip recipes call for sausage, you can use chicken or pork sausage. You can also replace beef pepperoni with turkey pepperoni if you are looking for a low-fat option.
If you opt to keep the dip vegetarian, there are many plant-based and soy protein options to choose from nowadays.
Seasoning
Seasoning is everything when making dips that have lightened-up ingredients. Sometimes when you use low-fat versions of ingredients, you need to add some extra seasoning to make up for it.
Make-Ahead Tips For The Best Super Bowl Food
All of these party dips for your Super Bowl Party can be made ahead of time. In fact, I think all the dips tend to have a better flavor when made at least 24 hours in advance.
I like to cook these dips in an 8 or 9-inch ceramic casserole dish. You can also use a disposable pan if you need to cook and/or warm-up at a party and want something you can just toss after.
When you make cold dips, they can just stay in the refrigerator until you're ready to serve them at the gathering.
Warm party dips will need to be reheated before they can be served. I recommend heating it up in a 350-degree oven for 20 -25 minutes or until heated through. You might need to give it a couple stirs and heat it up once more for a few more minutes.
Make sure to cover these dips with foil to prevent browning!
The Best Super Bowl Dips That'll Make You Famous
Now that you know all my secrets to making an amazing party dip, here are some of my most famous (and go-to) dips to serve at your next Super Bowl party!
Spinach and Artichoke Dip
My adventure in party dip recipes started almost 20 years ago with this artichoke and spinach dip recipe. When I was working at the Olive Garden, I was obsessed with their spinach and artichoke dip so I decided to recreate my own version!
This warm cream cheese-based dip is filled with artichokes, spinach, and flavored with garlic and cheese. People go nuts for this dip!
Grab this spinach and artichoke dip here!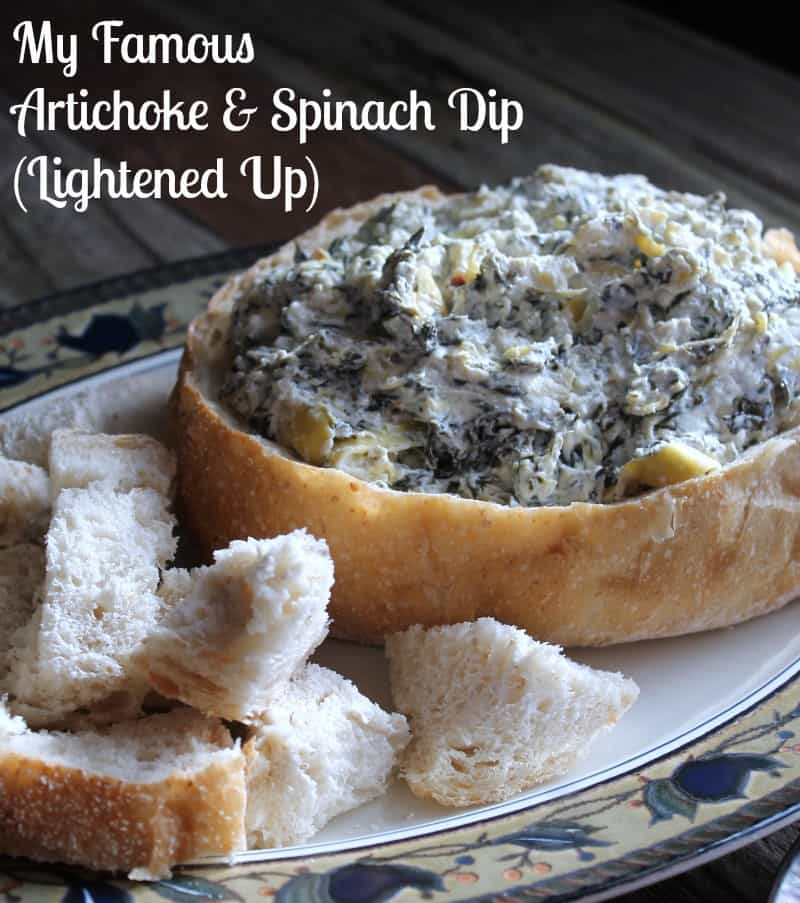 Stuffed Banana Pepper Dip
After tasting a friend's dip version of this popular Buffalo, NY appetizer, I decided to create my own – lightened up of course.
This dip is flavored with fresh banana peppers, gorgonzola cheese, and topped with a delicious buttery breadcrumb topping.
When I originally created this recipe, I wanted to use jarred banana pepper rings because it was easier. However, my husband and many friends convinced me otherwise and I went with fresh ones instead and I'm happy I did! You just can't beat the flavor of fresh banana peppers.
Grab this banana pepper dip and try it yourself to see what I mean!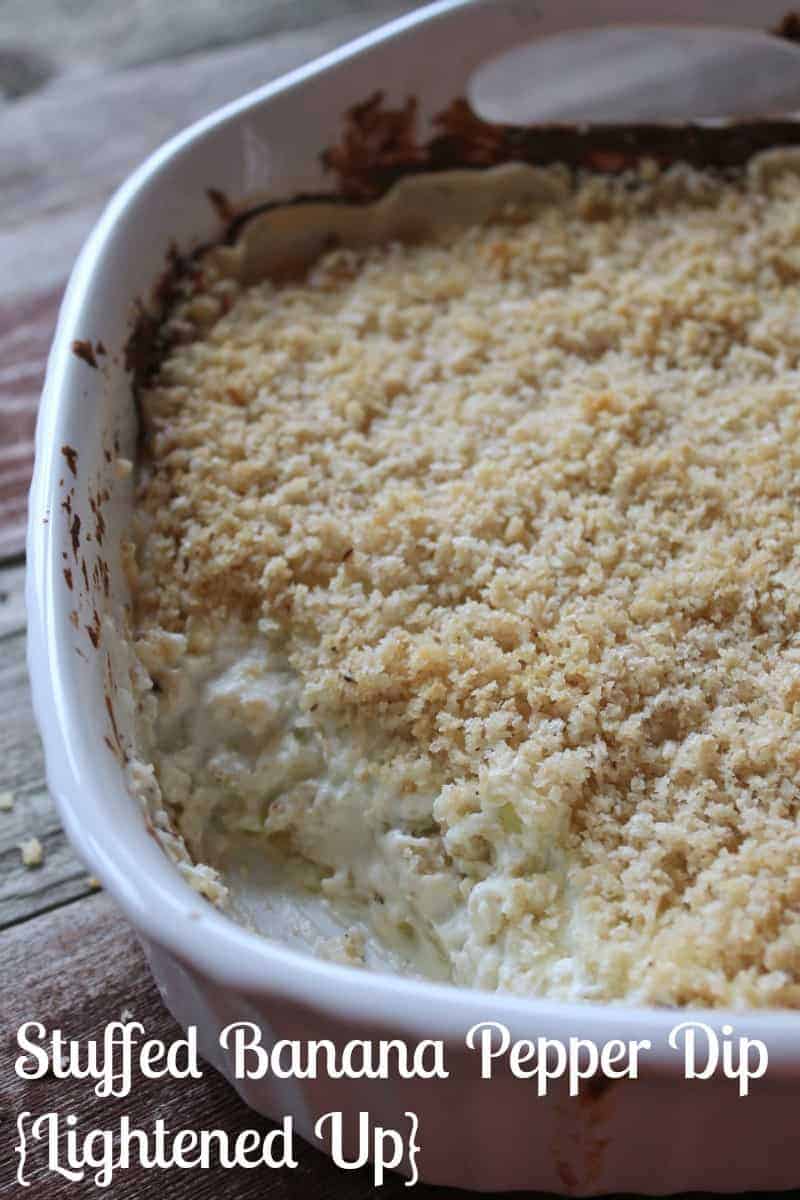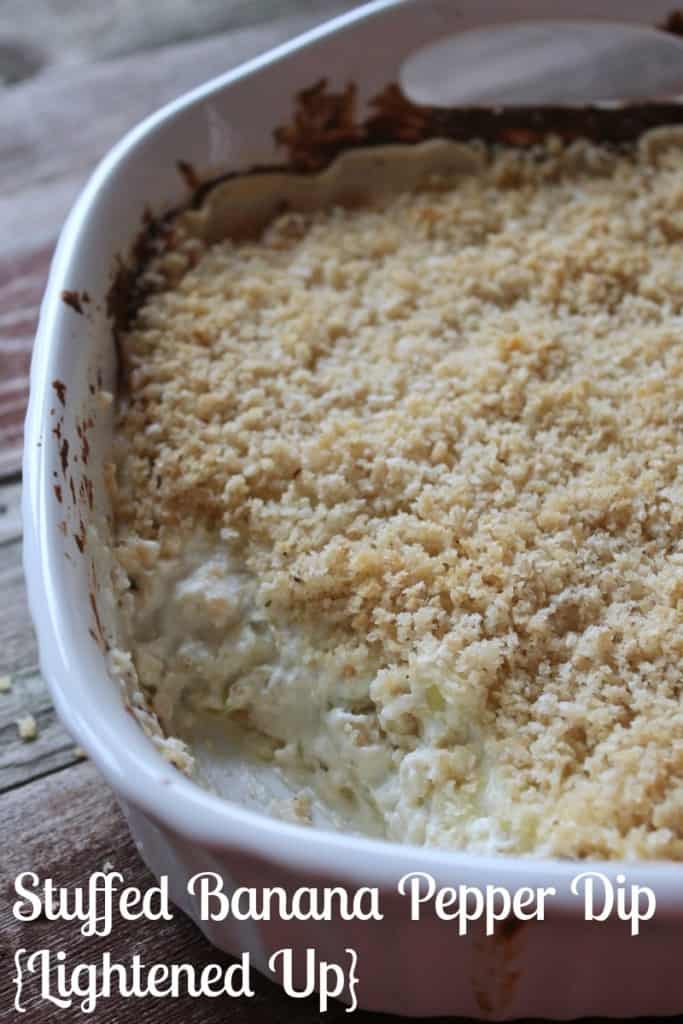 Spicy Sausage Dip
This is one of my newest dips and has quickly become one of the most requested party dips yet.
Last year, I added some spicy chicken sausage to my banana pepper dip (mentioned above), along with a few other few tweaks, and these changes elevated this party dip to a whole new level! I'm not kidding when I say the bowl was licked clean.
Grab this spicy sausage dip right here.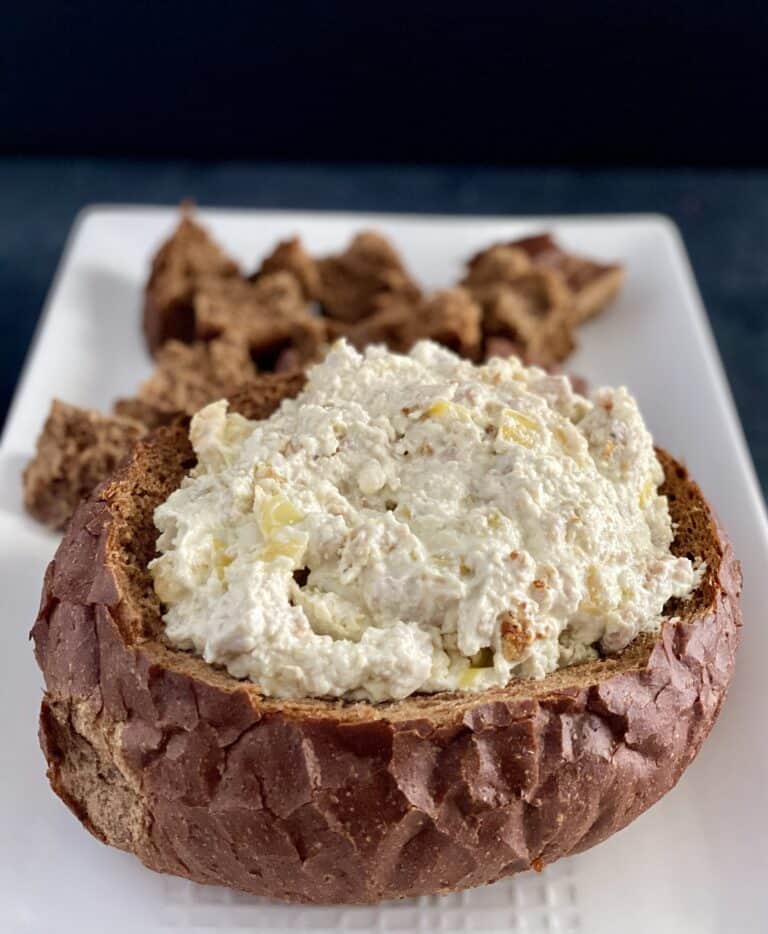 Easy Pizza Dip
Everything you love about pizza is baked into this creamy and delicious dip. This is a super easy dip to make when you don't have a lot of time or need a hot dip for that day.
My favorite thing about this recipe is how incredibly versatile it can be. You can make it nice and meaty or lean with tons of veggies—just like a pizza!
Try this yummy pizza dip recipe for yourself!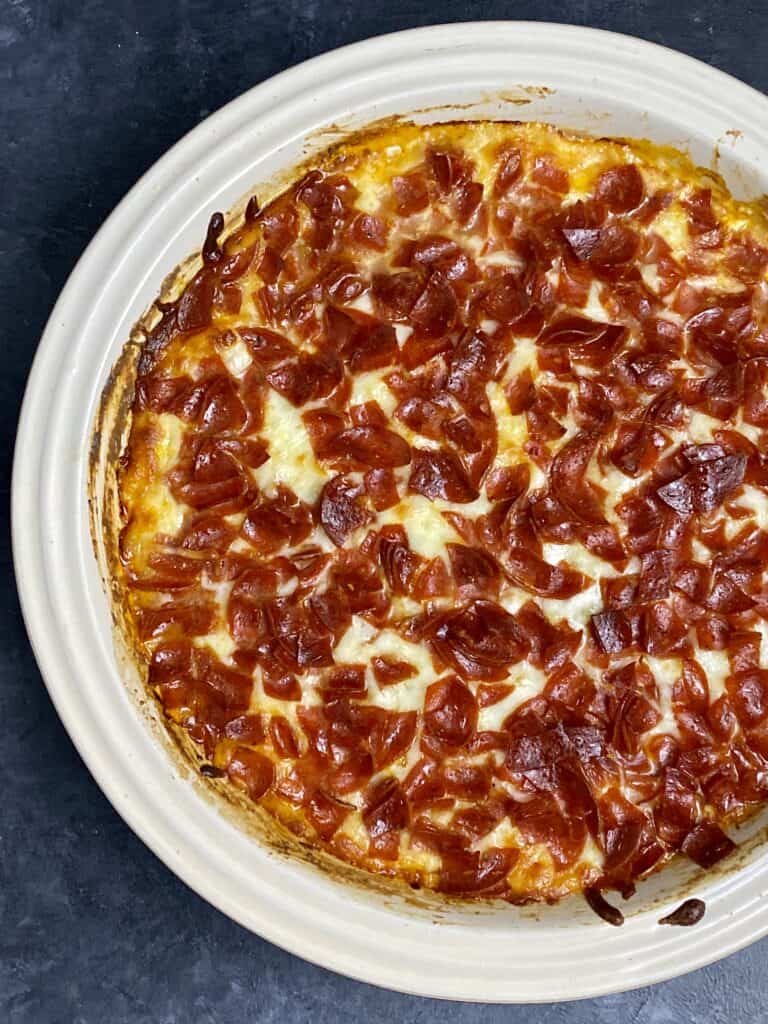 'Lightened Up' Taco Dip
Layered taco dip is a staple on our appetizer table. Play around with your favorite taco toppings (I like to a few jalapeños to make it spicy) and sauces to create a dip that's completely your own.
Tip: I like to serve this layered taco dip in a glass dish so my guests can see all the layers.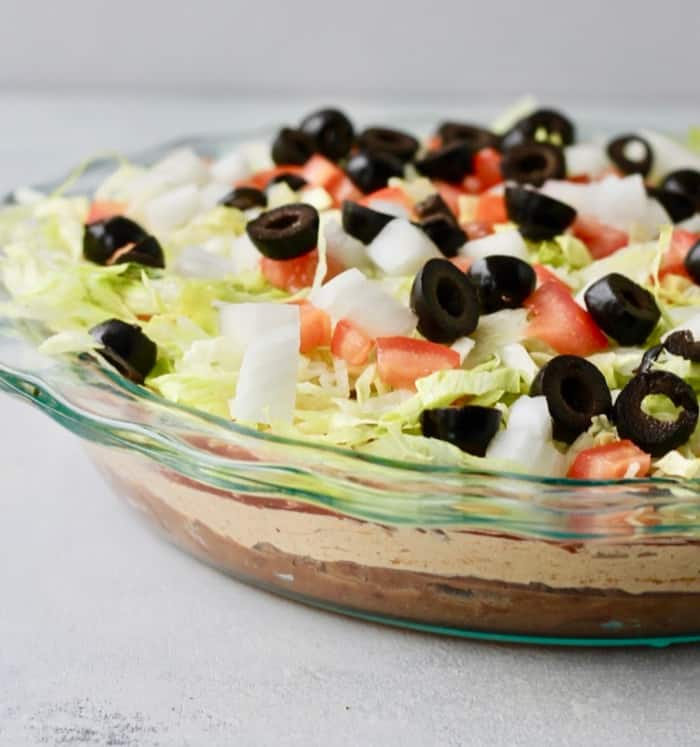 Layered Greek Dip
If you're looking for a unique appetizer, then this Greek dip is a must. If you are in a pinch, use some store-bought hummus and tzatziki sauce to bring this dip together quickly.
Throw in some pita chips along with some freshly chopped veggies and this party dip will be the only thing the guests will be talking about. Well…besides the commercials on tv!
Grab this yummy Greek dip here!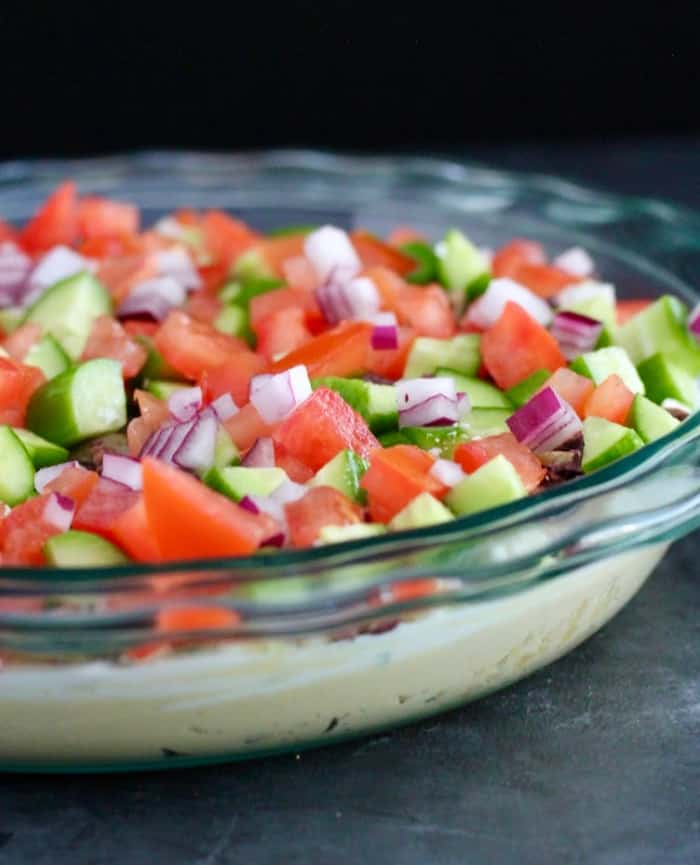 What To Serve With Party Dips
These Super Bowl dips are great in a bowl served with chunks of bread. Trust me, nobody is going to complain about that. Who doesn't love bread and hot cheese?
You can also serve these dips with crackers, pita bread or chips, or pretzels.
If you are trying to keep it on the low-carb side, you can also serve them right in the dish they're baked in. For a healthier option for sides, serve these party dips with some cut-up vegetables. Bell peppers are my favorite to use for any of these dip recipes!
What To Do With Leftovers
If by some (highly unlikely) chance you have leftovers of any of these party then you can use the leftover in a few different ways.
Spread some on a bagel in the morning with an egg.
Use as a sandwich or wrap spread.
Spoon over some chicken.
Stir into some pasta.
But, I'm betting you'll come home with nothing but a clean plate and a full belly. Have fun! 🙂
Make some of these Super Bowl dips to wow your guests and have an awesome Super Bowl party. Share a picture and tag me on Instagram or Facebook if you decide to try it!