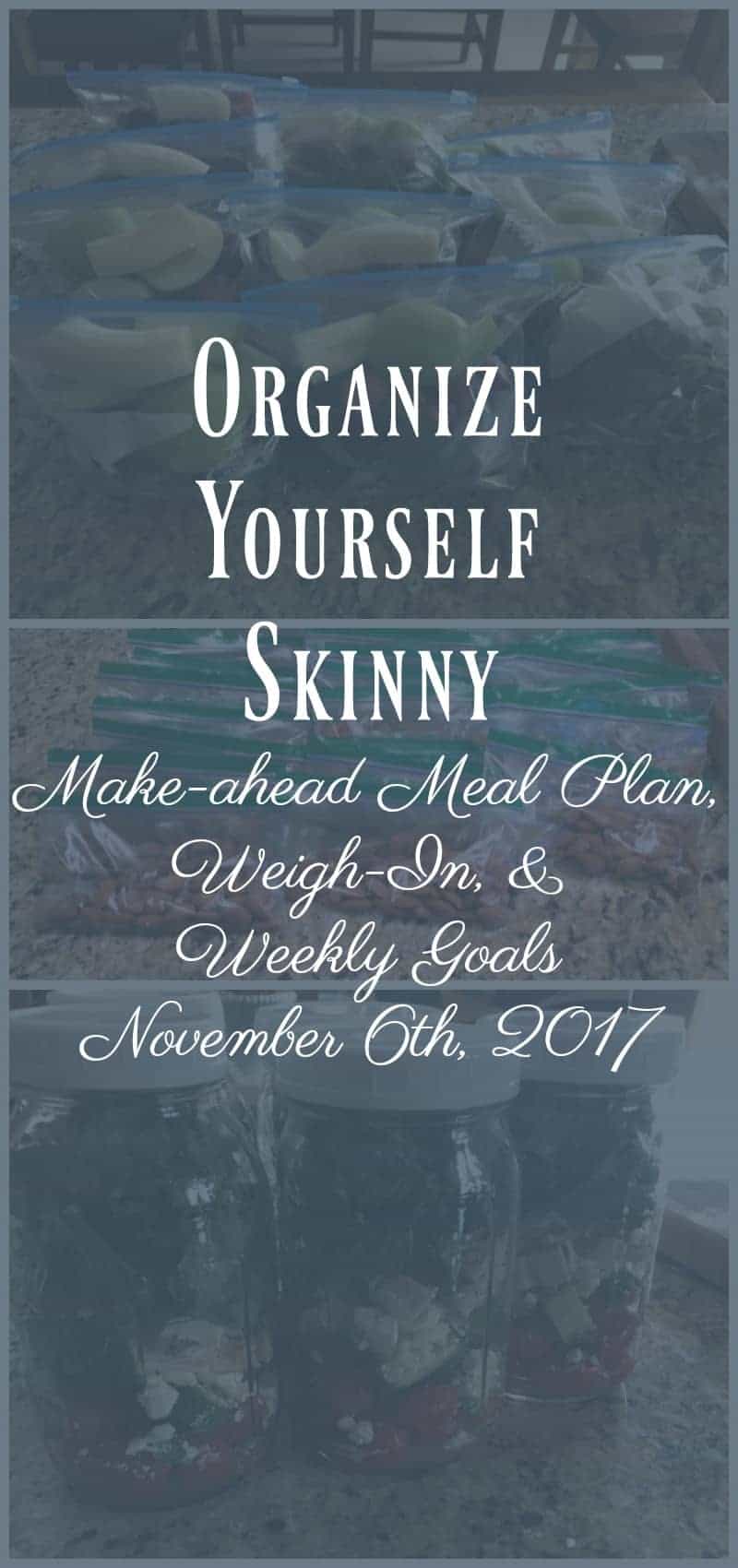 Hey hey! So I know it's been a few weeks since I last shared a meal plan but seriously my life has been crazy. Crazy in a good way, but still crazy. We just closed on our new home October 16th and since then it's been a whirlwind of painting, moving, and organizing. I'm about 85% settled. Of course, it feels like the work is never ending but I needed to take a break from the house and get back to some sort of normal with work and life.
I also needed to get back on track. Trust me, I had every intention of continuing with the gym and prepping food for the week but that might have been wishful think. Actually, I don't know what I was thinking. I wouldn't say I completely fell off track but we definitely ordered pizza more than usually.
Anyway, this past week I got my home gym set up, did a big food haul at BJ's Wholesale, and spent a couple days on meal prep. This morning I got in a solid workout and drank a detox smoothie so needless to say I'm starting this week off strong.
Also, I just have to mention my love for grocery delivery. This last month has been so busy, and if it weren't for Instacart or Thrive Market it would've been near impossible to get groceries. My local grocery store works with Instacart to offer online grocery ordering and delivery. It's pretty awesome.
I also ordered from Home Chef a week before the move so I didn't need to think about dinner. I don't know about you, but I'm definitely a HUGE fan of online grocery shopping and meal delivery services. Of course they're not for everyone but they were a huge life savor for me.
Alrighty, before I get to my meal plan and goals for the week let's talk about my weigh-in.
Here are the stats.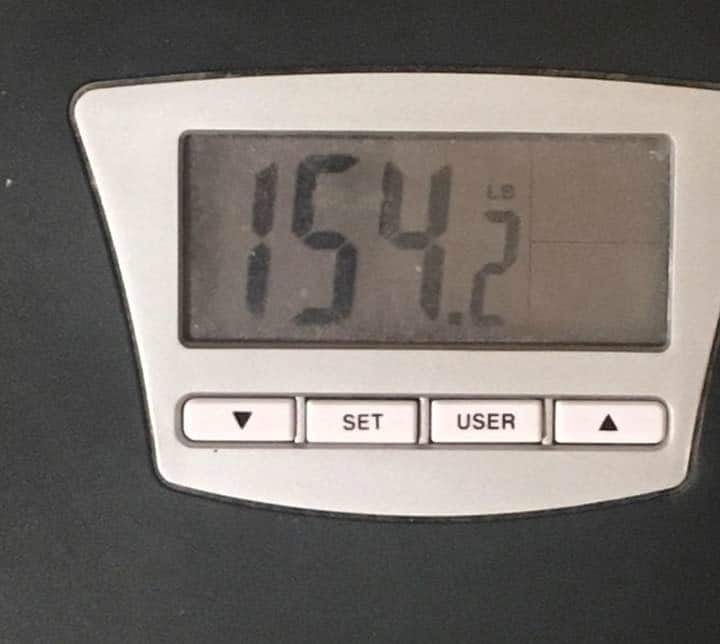 Starting weight (October 2010): 177
1st Goal Weight: 145
Final Goal Weight: 135
Last Weeks Weight: 155
Current weight: 154
Pounds lost: -1
Considering my lack of routine, I was very happy to see the scale go down this week. I think a lot of that was attributed to all the exercise I got from moving boxes. Moving is no joke and my arms are still killing me. Also, sticking with my eating cutoff time of 7:00pm was a huge help.
Oh and another thing that helped, and that I'm very proud of, is saying no to Halloween Candy. I didn't have 1 piece! Last year, I started a "no Halloween candy challenge" and that really help set the tone for the Holidays. This year I did it again and feel great!
My goal is to get below 150 by the New Year. I know this isn't a lofty goal but it's doable and I really want to start 2018 out of the 150s. So that's my focus.
Here's my meal plan to help.
Breakfast
Make-ahead tips
I made a bunch of green smoothie kits on Saturday. This should get me through a couple weeks since each bag makes 2 smoothies.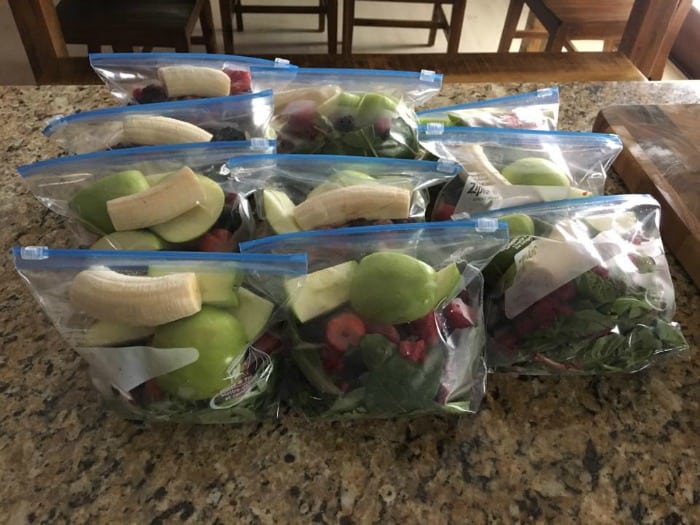 Mid-morning snack
Hard-boiled eggs
Make-ahead tips
I prepared the eggs this morning.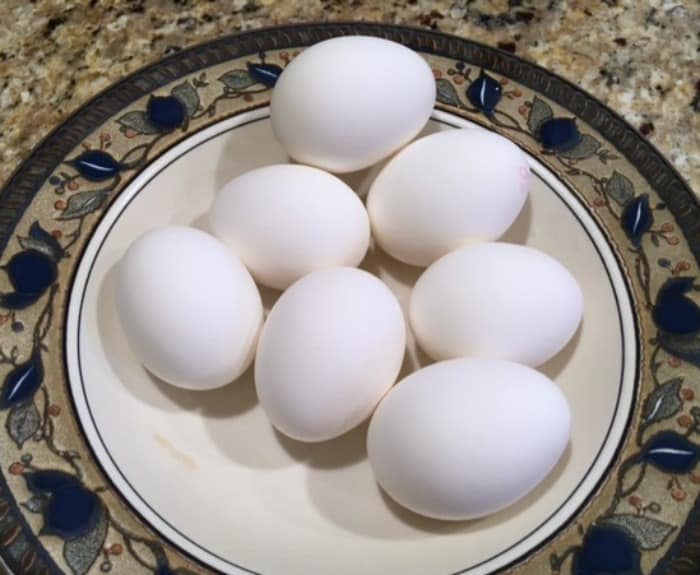 Lunch
A made a variation of this Kale Caesar Salad
Make-ahead tips
I made the mason jar salads on Saturday.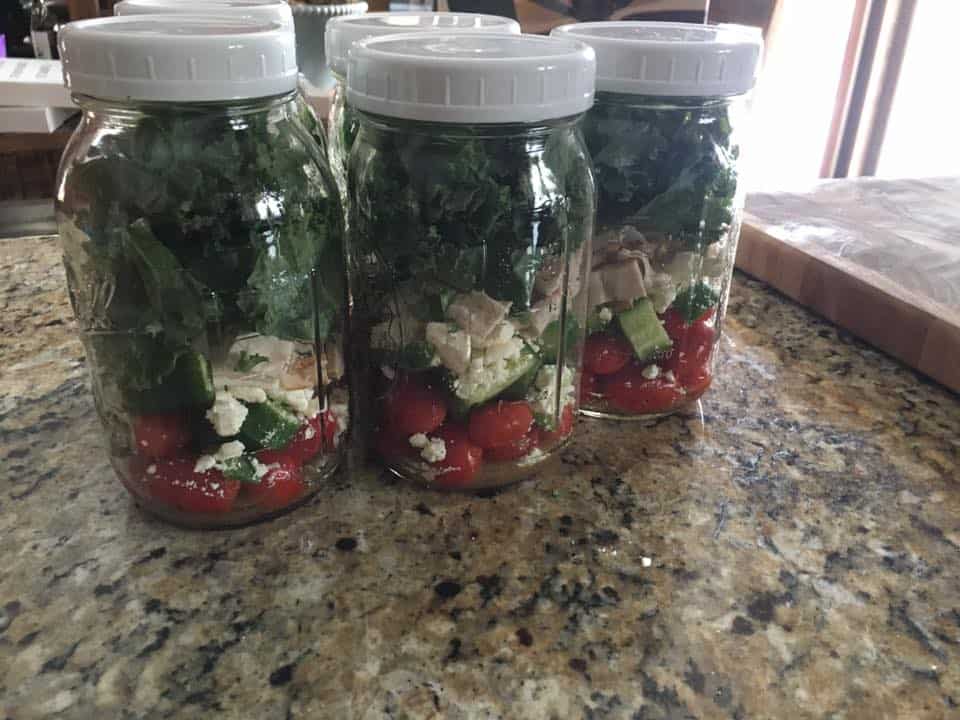 Mid-afternoon snack
Raw almonds
Yogurt
or Vegetables and hummus
Make-ahead instructions
I portioned out the almonds this morning. I bought a huge 3lb bag from Bj's Wholesale and portioned them out.
Dinner
Tacos
This Chicken Piccata from Cooking Light
Leftovers
Make-ahead tips
Soup was made on Friday.
Taco meat and macaroni and cheese was made on Saturday.
Chicken Piccata will be made the night we eat it.
Here are my goals for the week.
Now that I have my home gym set up I plan to exercise 5 times a week. 30-40 minutes on the treadmill and then 15 – 20 minutes of toning.
Drinking water all day.
Start planning for holidays, including purchase Christmas gifts.
Well that's it for now. What does your week look like?