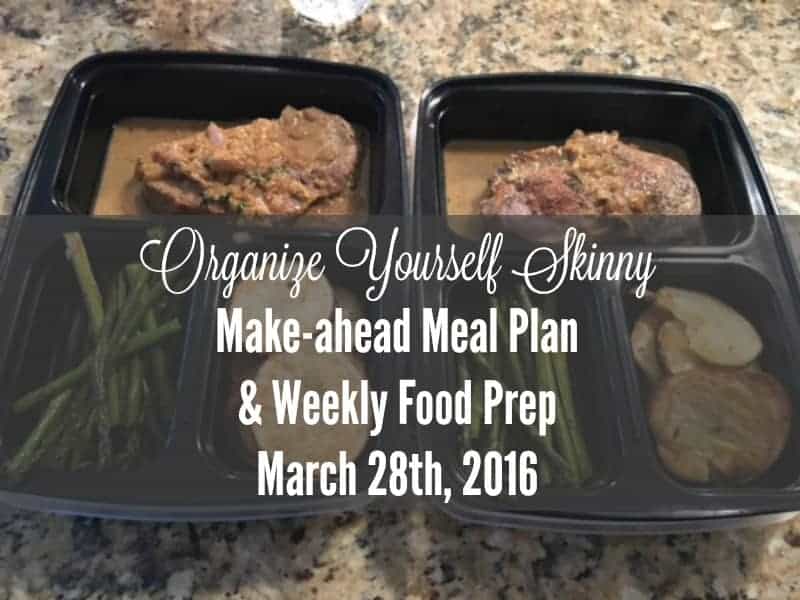 I could've slept ALL DAY today. Seriously! My kids had off last week and between slumber parties, play dates, shopping, hanging out with friends and family, and still keeping my household in order I AM WHIPPED. However, as much as I wanted to binge on Netflix today I needed to stay productive. April is going to be crazy busy so I really need to stay ahead of the game or I'll be drowning by the 2nd week.
My goal – and I swear I'm gonna do it – is plan my meals for the month. I'm doing this for a variety of reasons. First, like I said, we are going to be busy. My weekends will be filled with dance competitions and conventions and my weekdays will be filled with work and after school stuff. I truly can't wait for summer. I already told my kids this summer is going to be LAZY. And I mean it. No crazy camps or tons of plans. I want to lie by the pool and read, camp, and only do things that require relaxation . That's it. I know I say that now but I'm really going to try to keep our summer low key.
My second reason I'm planning our meals for the month is to budget better. In the past year or so I haven't been very intentional with our grocery budget and I know I can do better. Basically, I go to the grocery when I need to. As you know I plan our meals every week but I still have lots of random ingredients in the pantry and refrigerator. I want to get better.
Additionally, I REALLY want to master online grocery shopping. I've been using Hello Fresh for 3 weeks now and absolutely love it. I want to expand that to purchasing other groceries online from either Thrive Market or Amazon.
Also, I want to get back into shopping at BJ's wholesale club. I stopped there the other day for something and was blown away by all the natural and organic foods they had at amazing prices. I actually took pictures of the foods I purchase often from my local grocery store so I can compare prices. Anyway, if I shop at BJ's I only want that to be once a month. I know if I get into the habit of going to BJ's every week my grocery budget will be out of control.
Those are the reasons I want to plan our meals for the month. I should also mention that meal plan will include the recipes I want to create for Organize Yourself Skinny. Basically, I'm trying to plan in the beginning of the month so I can focus on other things the rest of the month. Sounds like a plan, right?
Here's my meal plan. As always, I organize my meal plan on Plan to Eat as well as posting it here. Plan to Eat works great for organizing recipes, creating a weekly meal plan, and quickly generating a grocery list. I plan to use Plan to Eat to help organize our meals for the month. If you decide to join then make sure to friend me (username organizeyourselfskinny) and you'll have access to my menus and recipes. They offer a free 30-day trial if you're on the fence.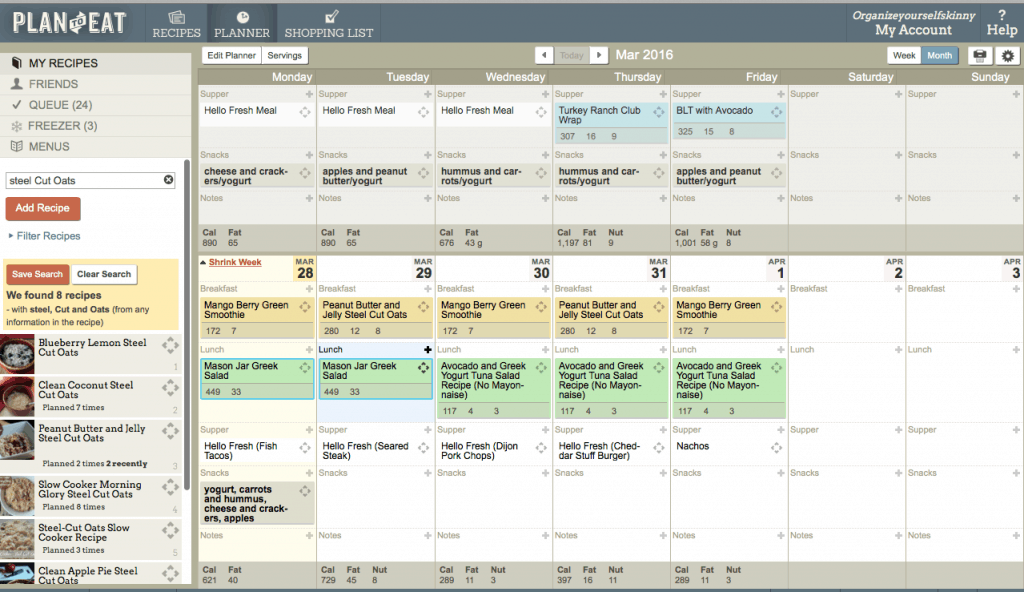 Like I said earlier, I'm continuing to use Hello Fresh meal service. I started with the Classic meal plan (3 dinners for 2 people) to see if my kids would like any of the meals. My youngest tried and loved everything. My oldest, to my surprise, tried and actually liked most of the meals. I'm not going to lie I was a little shocked considering my oldest has become quite a picky eater. However, I think they get excited when the box of food shows up every Saturday. It's new and different right now for them. Hey, whatever works!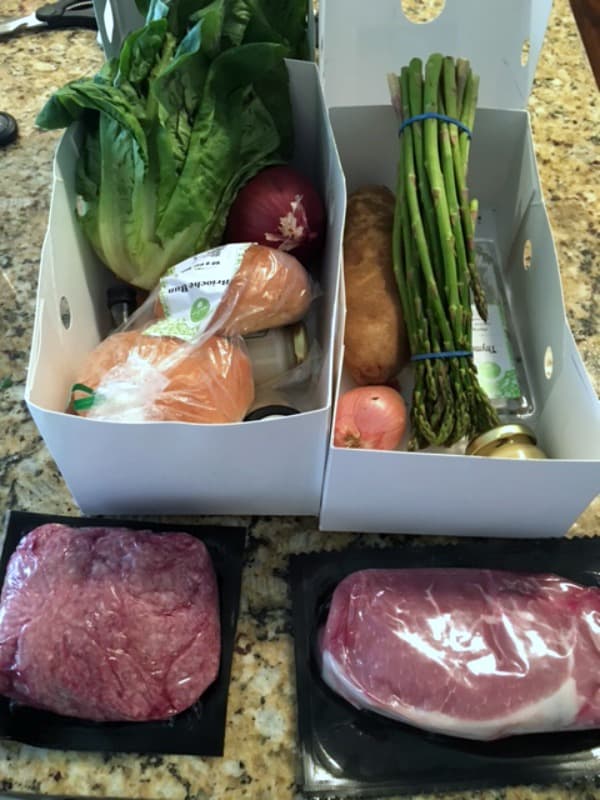 Now that I know my kids will at least try the meals I might bump my subscription up to 3 dinners for 4 people. This way I guarantee we have enough food for everyone and possible leftovers.
Like all the food I plan for the week I decided to prep these meal ahead of time. One issue for me was the time it took to cook these kits from scratch. It's not a huge amount of time but sometimes we don't get home until 6:30 or 7:00pm and my kids don't have the patience to wait 30 – 45 minutes for dinner. So this week I decided to prep some of the ingredients ahead of time.
The seared steak with vegetable succotash I made completely ahead of time and stored it in the refrigerator using these meal prep containers. I also made a salmon recipe this way a couple weeks ago and I found it to be extremely helpful.
The dijon pork chops I used 3-compartment meal prep containers. The recipe actually called to make potato cakes but I did not have the patience to shred potatoes. So I sliced them up, added some olive oil, and baked in the oven.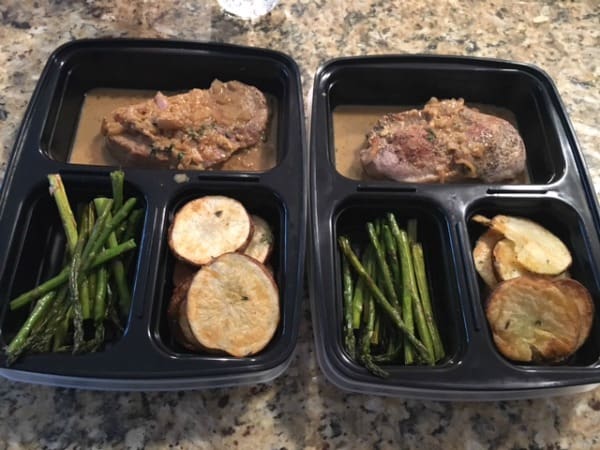 I also made the cabbage slaw and fish for the fish tacos. I stored that in the refrigerator. That other box and hunk of meat is for the burgers that I'll make later in the week.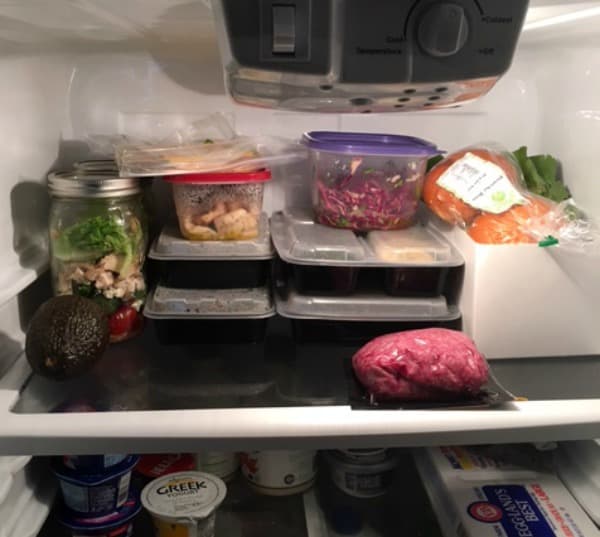 If you want to give Hello Fresh a try then go check out their website. Right now until the end of the month Hello Fresh is offering 50% off some of the boxes. Take a peak and see what you think. So far I really love it.
Here's the rest of my meal plan
Breakfast
Peanut Butter and Jelly Steel Cut Oats
Make-ahead tips
I'm going to make a batch of steel cut oats tomorrow. Most likely, I'll store the oats in a large plastic container but I might freeze into portions too.
Lunch
Make-ahead tips
I had a couple mason jar salads left over from last week.
I'll make the tuna salad tomorrow and store in the refrigerator using my glass pyrex containers.
Dinner
Hello Fresh dinners
Tacos
Make-ahead tips
Hello fresh dinners were prepped ahead of time.
Taco meat will be made tomorrow.
Snacks
Carrots and hummus
cheese and crackers
apples and peanut butter
Get Instant Access to My Best Weight Loss Tips & Strategies!
Sign up now for a free step-by-step 7-day email course that I created exclusively for my email subscribers! That's you. I will teach the best habits, strategies, and insider tips so you can enjoy a lifestyle that encourages and supports weight loss! Stop relying on willpower and take control back over your life! You can do this. Let me help!