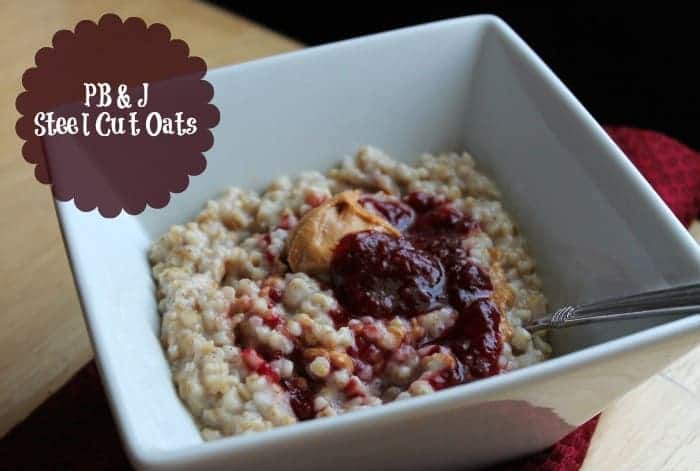 In the last couple months I have posted 3 different steel cut oat recipes – blueberry lemon, apple pie, and coconut steel cut oats. Each one is delicious and so simple to make. I was contemplating posting another steel cut oat recipe. I did not want you to be burnt oat on oatmeal but as soon as I was going to put this next recipe on the shelf I no sooner get a couple emails from readers asking for more steel cut oatmeal recipes. Well you don't have to ask me twice.
I love steel cut oats! In my opinion, they truly are the breakfast of champions. Seriously, whenever I eat a hearty bowl of steel cut oats I am ready to take on the day with a full and satisfied belly.
Besides being good for you, easy to make, and cheap to buy the flavor combinations for steel cut oats are endless. You can add in whatever spices, fruits, and other flavors you want to keep variety always going at breakfast time. Let's be honest eating a bowl of plain oatmeal can get pretty boring after a while.
For this recipe I decided to stir in two of my favorite ingredients – peanut butter and jelly. I also spiced it up with a little cinnamon and a touch of nutmeg. It turned out delicious! I used raspberry preserves but I am sure you can flavor this oatmeal with any flavor jelly, jam, or preserves you like. As with my other steel cut oat recipes I sweetened each serving with 2 teaspoons of maple syrup after it was cooked. I do not add any sugar to the base recipe because I do not feel it needs the extra sugar once you sweeten it with a little maple syrup. For me, this is the perfect amount of sweetness but if you need more then add a tablespoon or so of brown sugar to the oats as they cook. I encourage you to try it first without the sugar because I bet you will be surprise how much you like it.
I also like the added boost of protein the peanut butter gave this recipe. Between the fiber from the oats and protein from the peanut butter I was completely full until midmorning snack and even a little later.
This is such a delicious simple recipe. If you like PB & J and you like oatmeal then you will love this meal at breakfast time.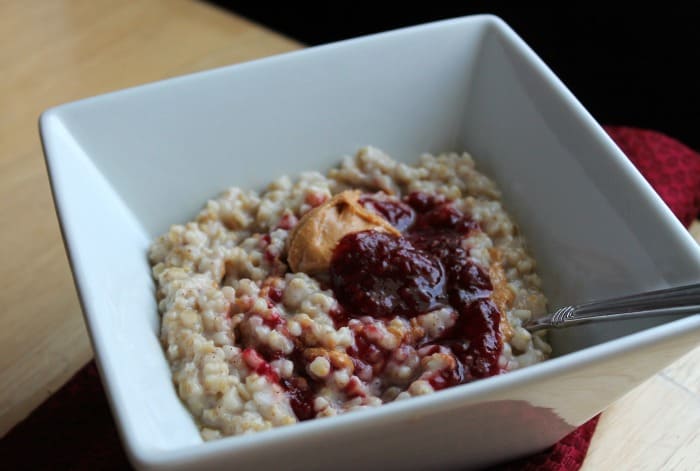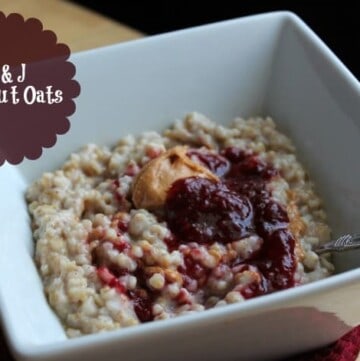 Ingredients
1

cup

dry steel cut oats

1

tablespoon

butter

3

cups

hot tap water

1

cup

1% milk

½

teaspoon

cinnamon

1/8

teaspoon

nutmeg

1/8

teaspoon

salt

5

tablespoons

natural peanut butter

5

tablespoons

raspberry fruit preserves

10

teaspoons

pure maple syrup
Instructions
In a medium saucepan melt the butter over medium heat. Add steel cut oats and cook until toasted and fragrant, about 3 minutes.

Add hot water to toasted oats. Bring to a boil then reduce and simmer for 25 minutes.

Stir in milk, cinnamon, nutmeg, and salt. Continue to simmer for about 20 -25 minutes, or until oats are tender but still firm.

Remove from heat and let stand for 5 minutes.The oats will still be a little "soupy" but after they stand for 5 minutes or so they will thicken up perfectly.

Divide into 5 servings then stir in 1 tablespoon peanut butter, 1 tablespoon fruit preserves, and 2 teaspoons maple syrup into each serving.
Notes
Make Ahead Instructions
The base recipe can be made ahead of time and refrigerated and/or frozen. Heat up in microwave then stir in maple syrup, peanut butter, and jelly.
Nutrition
Calories:
280
kcal
|
Carbohydrates:
37
g
|
Protein:
21
g
|
Fat:
12
g
|
Fiber:
7
g
|
Sugar:
8
g