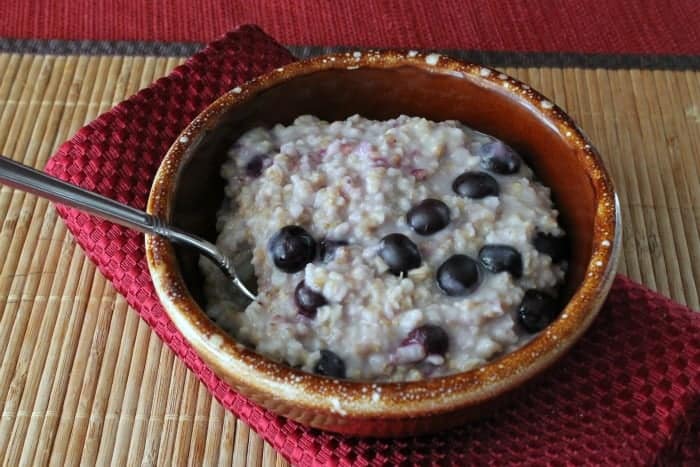 As I was going through my freezer over the weekend I noticed that I still have a bunch of blueberries frozen that I picked last summer. If memory serves I think I picked about 20 lbs of blueberries – that's a lot of blueberries. At first I thought about making a couple batches of Blueberry Greek Yogurt Muffins, but then thought differently. As much as I LOVE those muffins I didn't really like the idea of delicious muffins sitting on my counter begging me to eat them at all hours of the day. I know portion control is my friend but honestly I am not sure I would have been able to keep it in check this week.
Then I had a "genius to me" idea! Take the flavors of the muffins and put them into steel cut oatmeal. So glad I have these ideas because, let me just say, this blueberry and lemon oatmeal is my favorite oatmeal yet. I think I also said that with this steel cut oats recipe – but seriously this is so good! It tastes just like the blueberry lemon muffins.
Now, just like coconut oatmeal, I did not add sugar to the recipe. So if you eat it straight from the pan you will get the lemon pucker face for sure. Each bowl of oatmeal is sweetened perfectly with just 2 teaspoons of pure maple syrup after it is cooked.
I used frozen blueberries but I am sure fresh would work just as well.
This recipe can (and should) be made ahead of time. It takes about 45 minutes to make so, for a lot of us, it would be hard to make the morning we want to eat it. After the oatmeal is done cooking, let it cool a bit, then place in a container and stick in the refrigerator. You can even freeze it. Warm up in the microwave for 2 minutes or until hot. Add maple syrup after it is warmed up.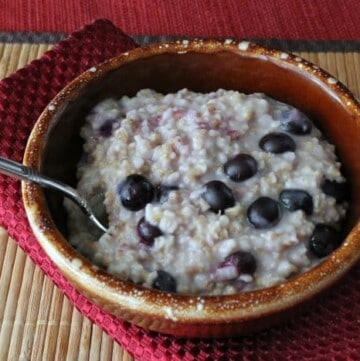 Ingredients
1

cup

steel cut oats

1

tablespoon

butter

3

cups

hot water

1

cup

1% milk

1

teaspoon

pure vanilla extract

small pinch of salt

1

tablespoon

lemon juice

1/2

teaspoon

lemon zest

1 – 1 1/2

cups

frozen blueberries

pure maple syrup
Instructions
In a medium sauce pan melt 1 tablespoon of butter then add oats and toast until golden and fragrant.

Add 3 cups hot water into the oats. Hot water can come from the tap, you don't need to heat it up on the stove. Bring to a boil then turn to a low simmer for 25 minutes.

Add in milk, vanilla extract, salt, and blueberries. Stir then add in the lemon juice and zest. Let it simmer for another 15 – 20 minutes or until the oats become a porridge consistency. Remove from heat and let sit for 3-5 minutes.

Serve hot drizzled with 2 teaspoons of maple syrup per serving.
Notes
Make Ahead and Freeze Instructions
These steel cut oats can be made ahead of time and kept in the refrigerator. Or you can portion out and freeze. Heat up in microwave then add maple syrup.
Nutrition
Serving:
1
g
|
Calories:
225
kcal
|
Carbohydrates:
37
g
|
Protein:
7
g
|
Fat:
6
g
|
Fiber:
5
g
|
Sugar:
6
g