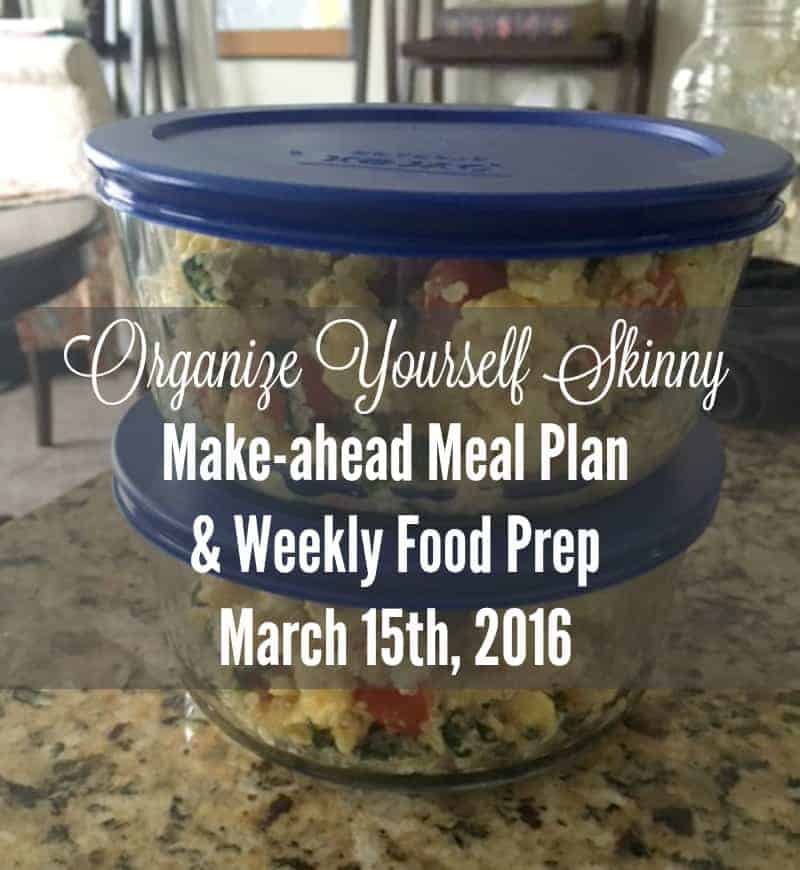 Sorry I'm a day late with my meal plan post. One of these weeks I'll get ahead of the game. I'm so programmed to grocery shop on Sundays that it's taking an act of god to get me to the store Friday or Saturday. If I could just reprogram my brain it would make my personal and blogging life so much easier. I would shop on Fridays, prep on Saturdays, and post on Sundays. That's ideal of course but, as you know, life happens so I just trot along and make the best out of the time I have.
I will say this…I'm trying different things to help organize grocery shopping. I already have the meal planning and grocery list down thanks to Plan to Eat. However, my issue is finding and making the time to shop for groceries. So far I found two possible solutions for this. I'm not ready to say these solutions are the answer to my grocery shopping prayers but I do think both could be helpful.
The first solution is online grocery shopping. Personally, I think shopping for groceries online can prove to be a busy parents dream come true. However, there is definitely some extra organization and time management that comes with that. If it's Friday and I need groceries by Monday then online grocery shopping isn't going to work. If I plan my menu out 2-3 weeks in advance, or at least a week ahead of time, I think online grocery shopping could work quite well. I've bought groceries from Thrive Market (all organic and natural) and Amazon Pantry. Both have great prices and low to free shipping. As I try online grocery shopping further I plan to share more of my thoughts.
The second solution I'm trying out this week is a meal delivery service called Hello Fresh. Since I create and cook recipes for my blog I never thought a meal delivery service would work for me. However, my girlfriend nagged encouraged me to try it. She sent me a free week so I figured why not?
I picked the classic box for 2. There's also a veggie box. And they have family boxes.
This is what showed up at my doorstep. Obviously it was in another box with dry ice to keep food cool and fresh. But here are the meals.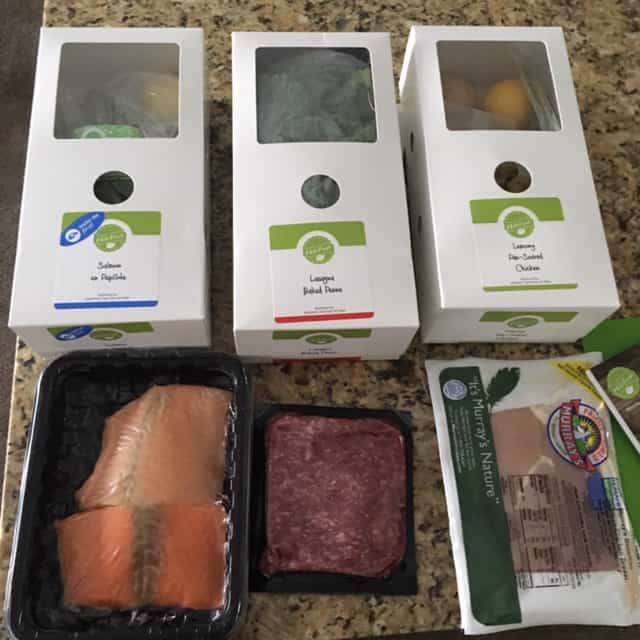 I find it difficult to put into words the joy that comes from food showing up on my doorstep. It's like not eating pizza for a year and then all of the sudden a delicious hot cheese and pepperoni gets delivered. It's awesome. Especially meals that are portioned out ahead of time. I was pumped!!
I haven't cooked the meals yet so I can't speak on whether or not they taste good. But I can say having 3 dinners prepped and ready to cook seems like a dream come true for me. I'll write more about this after I test the recipes.
Okay, look for more grocery shopping solutions in future posts.
Let's get to my meal plan.
Breakfast
Greek Quinoa Breakfast Bowl – new recipe and will be posted soon.
Banana Spilt Breakfast Jars _ new recipe and will be posted soon.
Make-ahead Tips
The quinoa breakfast bowls were made yesterday and stored in glass pyrex containers. I didn't portion out the bowls. I will do so when I'm ready to warm up and eat in the morning.
Breakfast jars were made yesterday and stored in the refrigerator.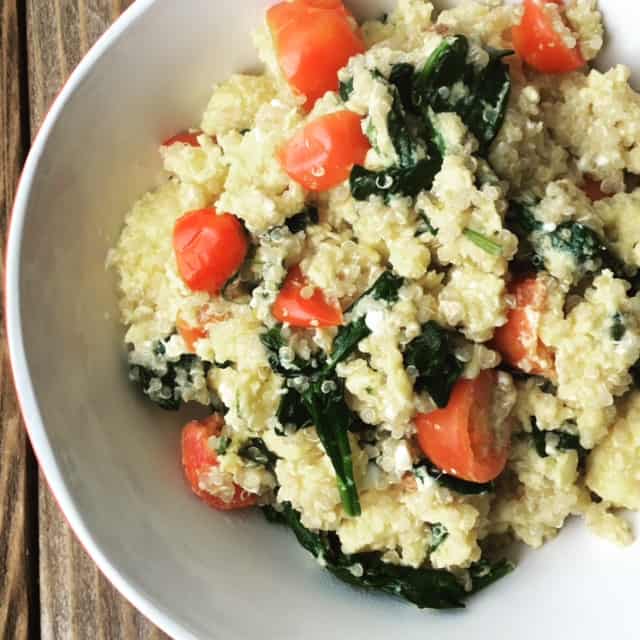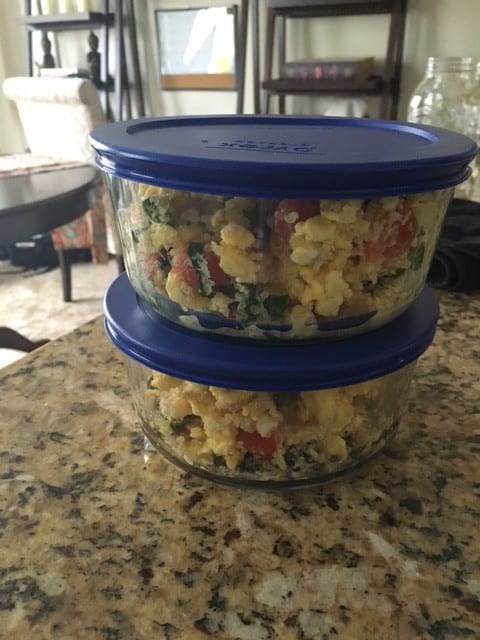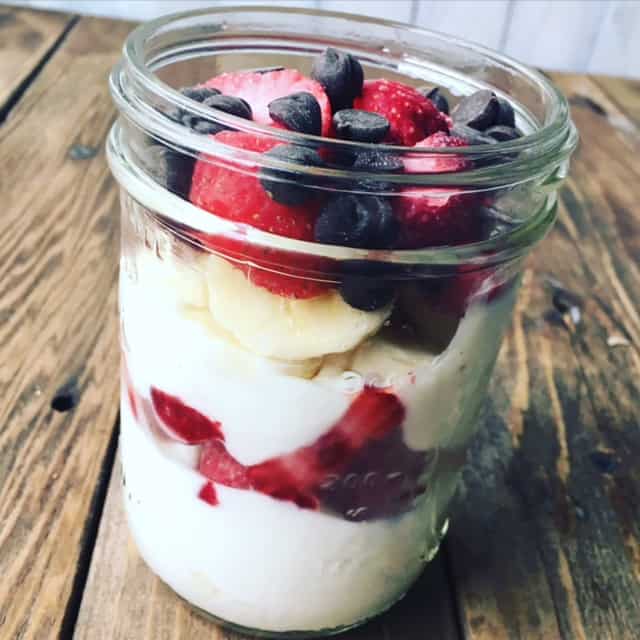 Mid-morning snack
Cheese stick or yogurt
Lunch
Make-ahead Tips
Salads will be made today.
Mid afternoon snack
Make-ahead tips
These will be made the day I drink them.
Dinner
Reuben Mac n Cheese – new recipe!
Make-ahead Pasta and Veggie Jars
Make-ahead tips
Mac n Cheese and meatloaf were made yesterday.
Pasta Jars were made on Sunday
Hello fresh meals will be made the night I eat them.