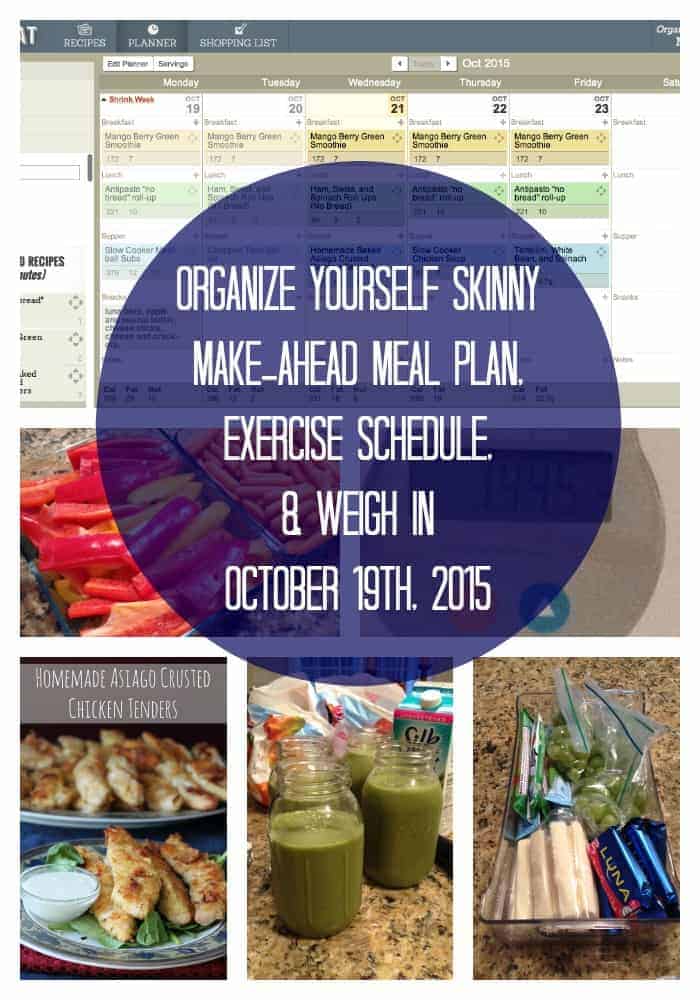 Hey everyone! Sorry I am a couple days late with my meal plan. After prepping smoothies and snacks, for the week, on Sunday I was exhausted. Of course, I told myself I would get my meal plan posted first thing Monday…but obviously that did not happen. Then yesterday I had a ton of laundry staring at me that needed to get washed, folded, and put away. After that I found myself cleaning and organizing. It was just one of those days where I had to put aside the computer and get things done around the house. I know you get it. Now that my house is cleaned and organized I can focus again.
Let's get right to my weigh in.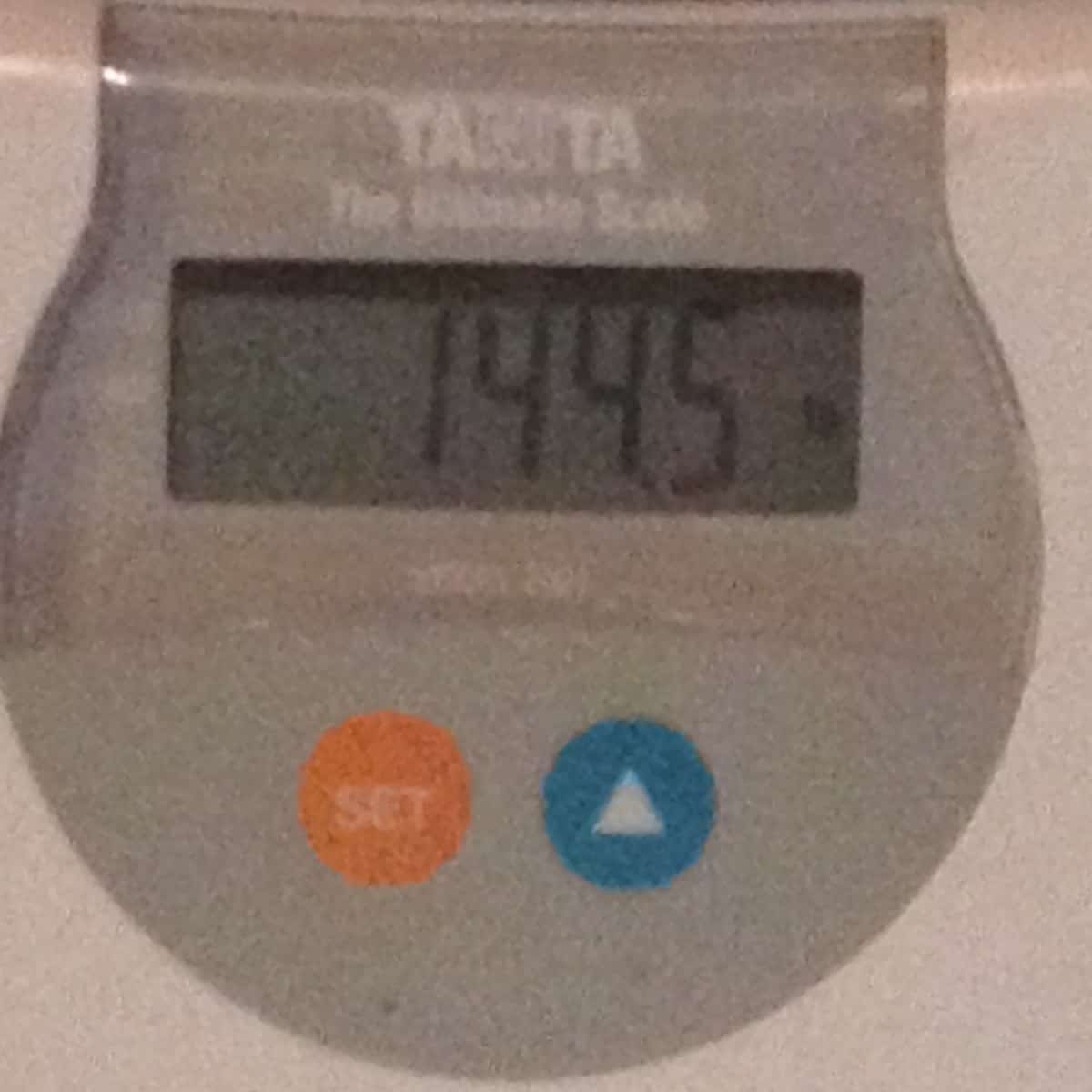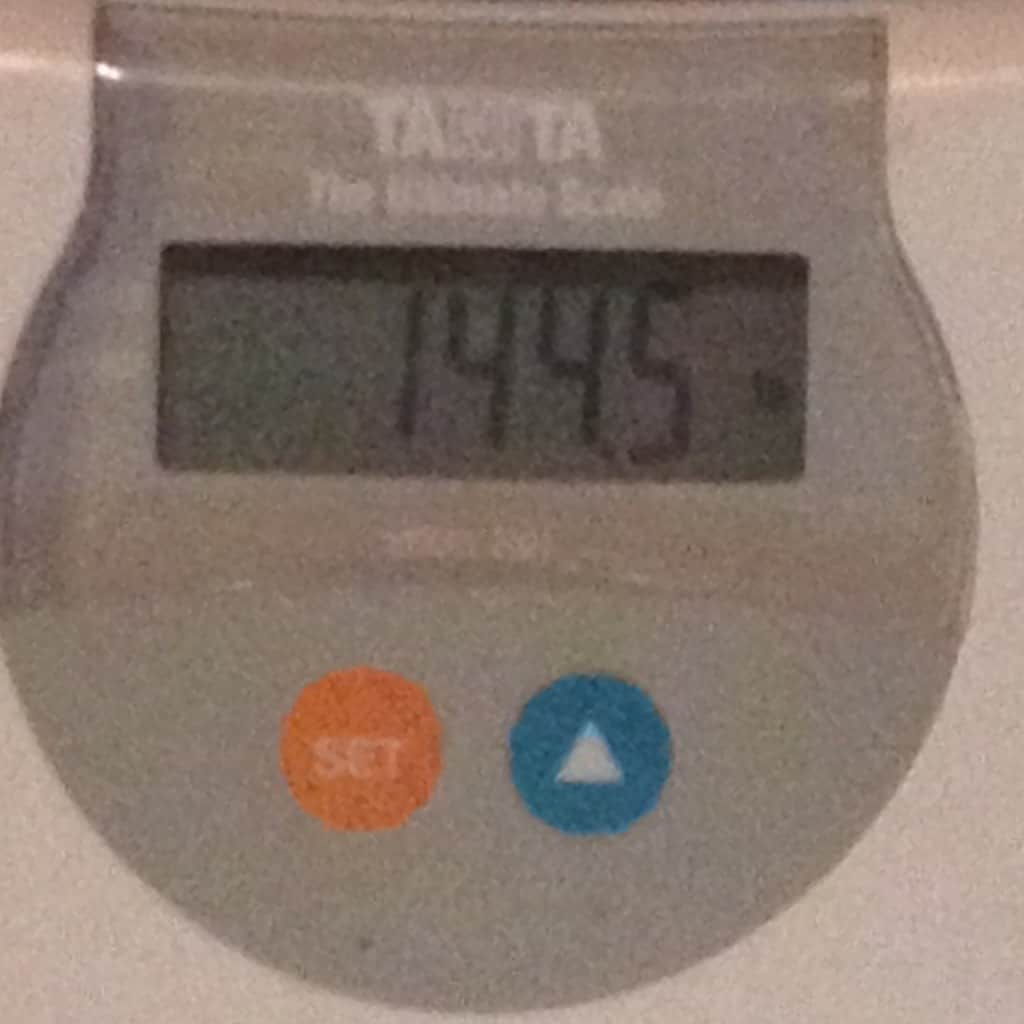 SW: 177
GW: 130
LWW: 145.5
CW: 144.5
PL: -1
Down 1 lb this week! Yay! I am 14.5 lbs away from my goal weight. These last 15 pounds are killer. Seriously. Sometimes I think I need to be happy and content at 145 because it seems my body just wants to stay there. However, I know that I don't feel or look my best at 145 lbs. Sure I feel much better than I did at 177 but I know the way I felt when I got down to 135 lbs a couple years ago and that's where I want to be again. I set my goal to 130 lbs just to give me a little wiggle room.
The issue is… I am comfortable. I created a nice balance of running, smoothies, and chocolate to keep me at a perfect 145. Ha! I know if I want to FINALLY break through this weight loss plateau I need to shake things up and stay consistent. I saw a quote the other day that said "This month's choices will be next month's body". Soooo true! I need to keep that in my mind as I start and go about my days.
Now let's talk exercise. In September, I did a 30-day running challenge and felt amazing. This month I started off strong but then life started to take over and running took a back seat most mornings. I still hopped on my treadmill 2-3 days a week but I know – we all know – that's not gonna cut it.
My solution…
Another focused running challenge. I am going to keep up with this challenge until exercise becomes a habit that I don't compromise. My entire life is better when I run so I need to keep going with this.
One more challenge I am going include into the mix is a plank challenge. While I do planks and stomach exercises every week I never pushed my core limits. The next 4-6 weeks I am going to put laser focus on my midsection. Hmmm maybe I should take some before and after pics? Look for some before pictures and more information about my challenge next week. I will take this weekend to prep for the challenges.
Here is my schedule:
Thursday, Friday, Saturday, and Sunday
Run 3 miles on my treadmill or outside.
2 (30-second) planks
25 squats
2 (8-rep) bicep curls with resistant bands
2 (8-rep) tricep extensions with 5lb hand weight
My weekly meal plan
This week I am going to stay focused and disciplined with my meals. There's no point in putting lots of effort into my workout schedule if my eating habits are going to be subpar.
As always, you can find my weekly meal plan over at Plan to Eat. If you are a PTE subscriber to then make sure to friend me (username organizeyourselfskinny) so you can access all my menus and recipes. You will also be able to print out grocery lists.
Now is the time to test out the Plan to Eat free 30-day trial. This way you can decide if it's for you and snatch up their huge Black Friday 50% off annual membership sale at the end of November. This is the best time of year to sign up for Plan to Eat. It's truly a steal!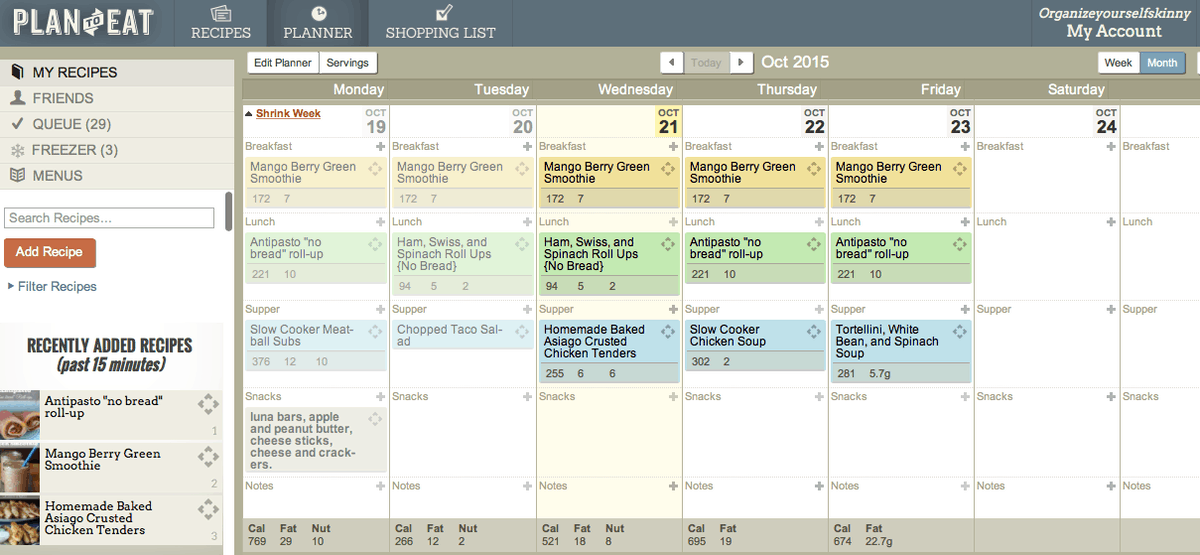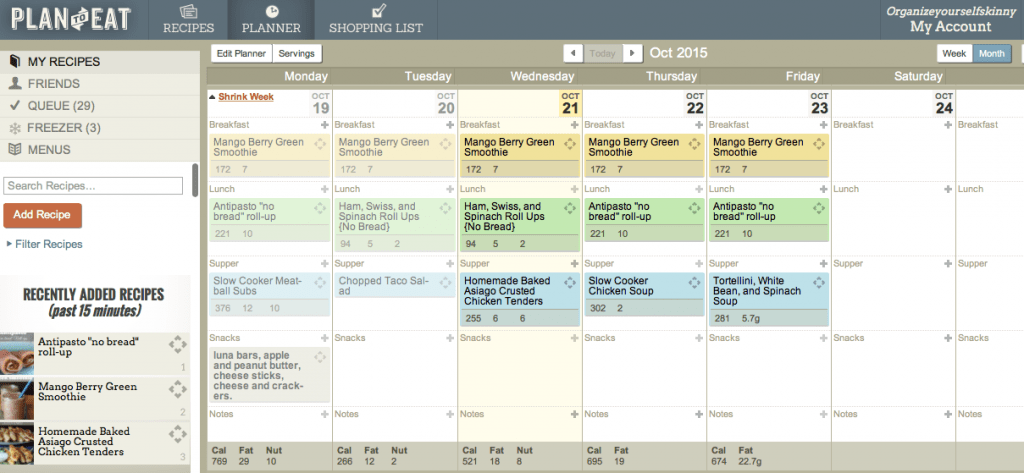 Breakfast
Make-ahead food prep tips
I made a few smoothies on Sunday night for the week, I stored them in my refrigerator and freezer. You can see my freezer instructions here.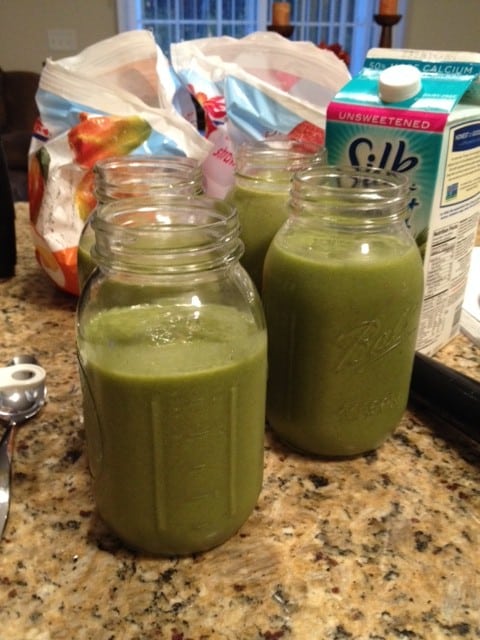 Midmorning Snack
Cheese and crackers
Or yogurt
Lunch
Ham and swiss "no bread" roll ups
Make-ahead food prep tips
These will be made the day I eat them.
Midafternoon snack
Apples and peanut butter
Cheese stick
Veggies and hummus
Make-ahead food prep tips
I cut up bell peppers and stored in the refrigerator for the week. I also put baby carrots in a glass container too. Off topic kind of but I purchased these new Pyrex glass simply store containers this week and love them. They are perfect for food prep.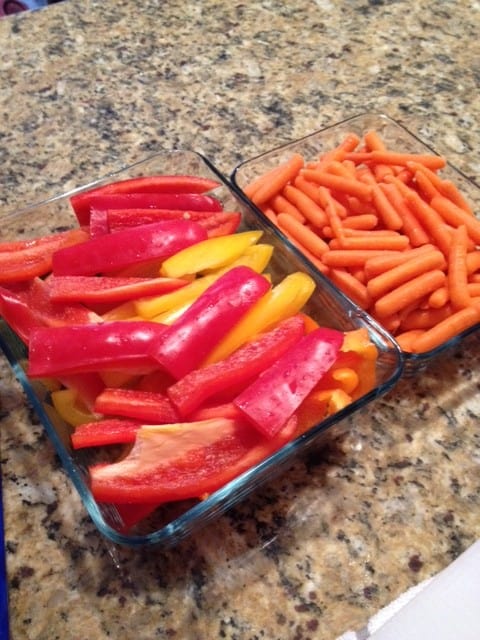 I also put together a refrigerator snack kit.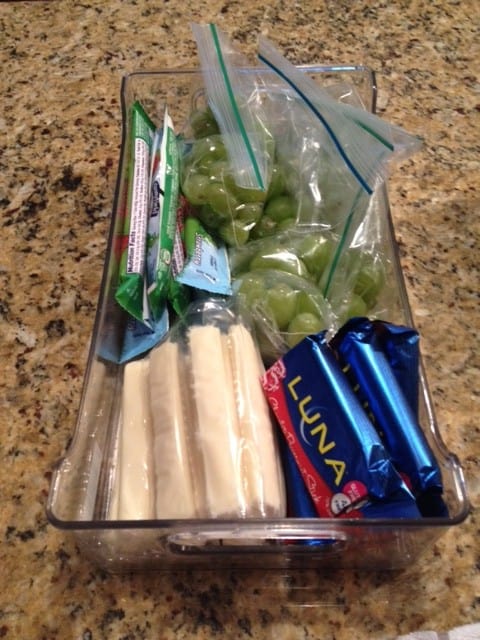 Dinner
Homemade asiago chicken tenders served with Annie Mac n Cheese and green beans
Tortellini, white bean, and kale soup – new recipe
Make-ahead food prep tips
Each dinner will be prepared the day we eat. I ran out of time and energy to prep dinner this week.
Meal planning has made a huge difference in helping me lose weight. It keeps me focused, intentional, and organize with the foods I eat. You can read all about this weight loss strategy and the others I use in my new ebook, Organize Yourself Skinny: 5 Strategies to Help Busy People Lose Weight and Create a Healthier Lifestyle. I also include a free bonus 4 week make ahead meal plan with purchase! If you are a blogger check out my affiliate program.
Also, don't forget to check out the new OYS 4-week Make-ahead Meal Plan, Exercise Challenge, and Habit Challenge Package.