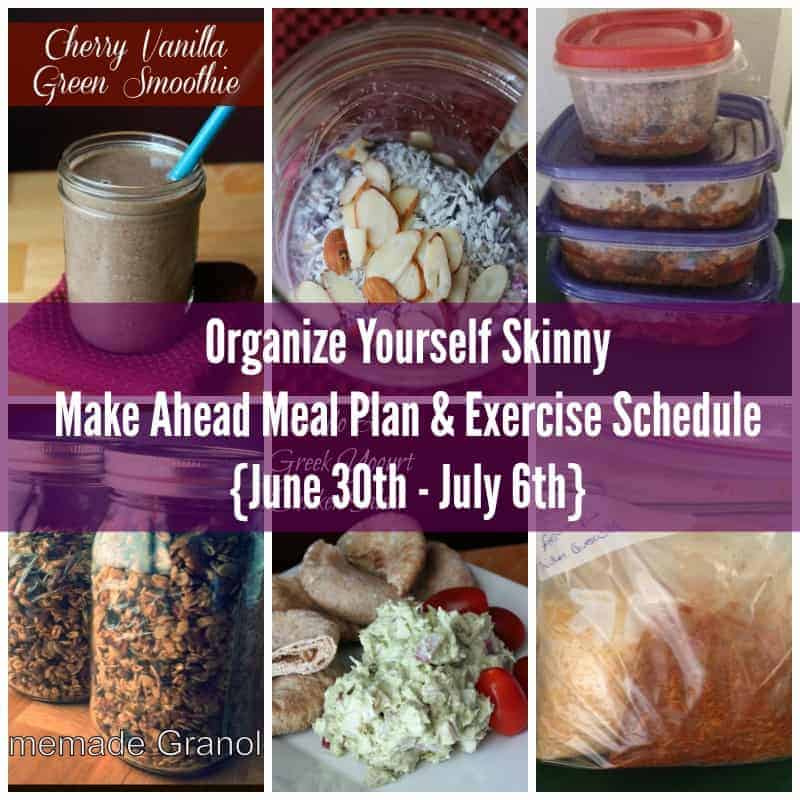 The first week of July is upon us! I can't believe it. Seriously, where did the last 4 weeks go? June completely flew by.
July is going to be an interesting month because this is the first time I am home for the entire month with my husband and kids. Matt is a teacher so he is usually the one home in the summer taking care of business. Now it is both of us. Oh boy! Wish me luck.
Last week, I did a bunch of freezer cooking so I feel good about having food ready for meals. I plan to do a little freezer cooking each week just so I can keep my freezer stocked with goodies. You can follow my freezer cooking sessions on Instagram and I will put together blog posts and post here when I am done.
Let's get to exercise. I have a lot more flexibility this month to exercise so I really do not have an excuse (except for laziness) to not exercise. The only obstacle I see is traveling and when we stay at our cabin. However, like I always say "If something is a priority then you make it happen". I live by those words.
Here is my exercise schedule:
Monday, Tuesday, Wednesday, Thursday, Friday
45 – 60 minutes on the treadmill (warm up 10 minutes, run 20-30 minutes, incline 5 -10 minutes, cool down 5 minutes)
Core exercise (everyday) 100 crunches, 30 – 60 second Russian twists, and planks. You can see more core exercise here.
Arm exercises (M, W, F) 50 girl push ups and 16 bicep curls and tricep extensions using resistance bands. You can see more arm exercises here.
Butt exercises (T, W, TR) 50 squats, 25 lift and points, and 25 donkey kicks. You can see more booty exercises here.
My menu plan:
Breakfast
Make ahead tips
Smoothies will be made the morning of.
Overnight oats will be made the night before.
Lunch
Avocado and greek yogurt chicken salad
or
Homemade granola with greek yogurt
or
Cheese and crackers
Make ahead tips
Chicken salad will be made today.
Granola was made last week during my freezer cooking session.
Cheese will be cut up today.
Snack
Hard boiled egg
Make ahead tips
Eggs will be cooked today for the week.
Dinner
Tacos
Grilled vegetable pita or naan pizzas
Greek pasta salad – new recipe
Make ahead tips
Chicken was frozen in marinade last week.
Quesadilla kits were put together and frozen last week.
Taco meat was frozen last week.
I will grill vegetables later in the week.
What is on your menu plan this week?
Get Instant Access to My Best Weight Loss Tips & Strategies!
Sign up now for a free step-by-step 7-day email course that I created exclusively for my email subscribers! That's you. I will teach the best habits, strategies, and insider tips so you can enjoy a lifestyle that encourages and supports weight loss! Stop relying on willpower and take control back over your life! You can do this. Let me help!