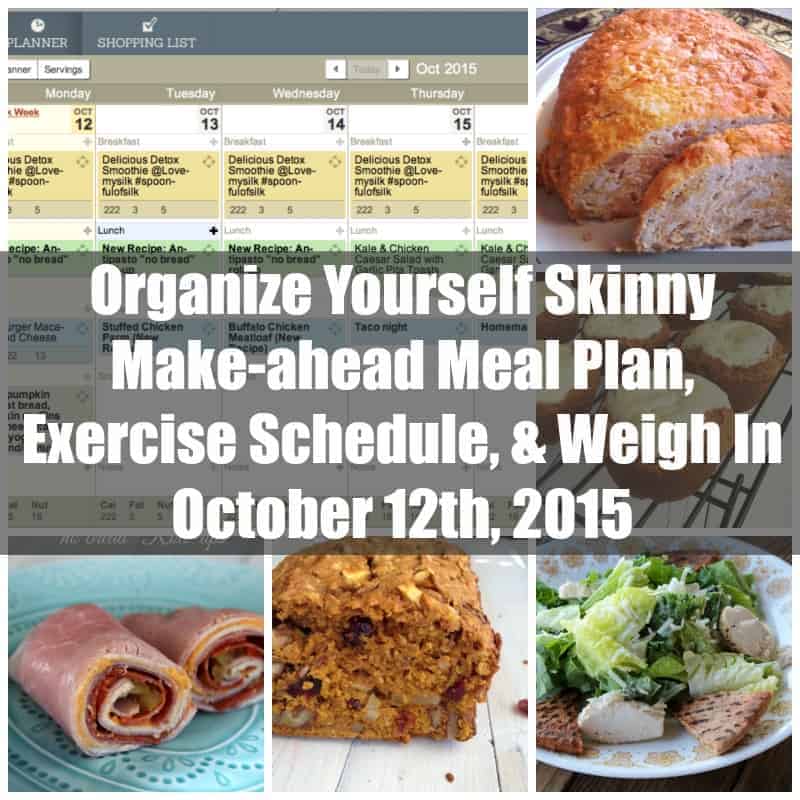 What's better than a GORGEOUS fall day in October? Nothing! Today is so beautiful. The sun is shining, there is a slight breeze, and it's just cool enough for leggings and Uggs. I live for days like today.
The only issue, with a beautiful day, is it's hard for me to focus on work. I was a recipe-developing machine this weekend. However, instead of spending all day today typing and scheduling new recipe posts – like I planned – I decided to take a long walk. Oh well, I know it will get done. It was more important to take time to think about life and enjoy the scenery. I have all night to work. Well kinda. I have like 3 hours while the kiddos dance.
Okay let's get to my weekly weigh in.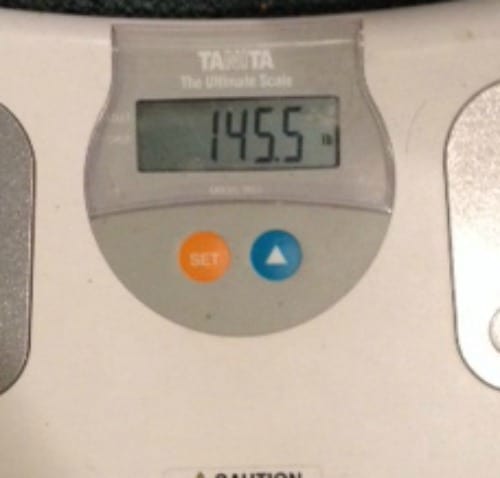 SW: 177
GW: 130
LWW: 145
CW: 145.5
PL: +.5
This week is not a WOOT WOOT week in the weight loss department. I blame all my recipe testing this weekend and my obviously lack of self control when testing pumpkin muffins. **Mental note: Get on scale BEFORE I make meatloaf, chicken Parmesan, pumpkin muffins, and apple pumpkin harvest bread. Haha! But seriously…I did lots of taste testing this weekend so I'm lucky I didn't see a bigger weight gain.
Food is my biggest issue. Not that I don't eat clean(er) healthy foods, because I do. It's those darn extra bites. Grrrrrrr…every week they get me. It's becoming clear I might need to do a strict food tracking challenge. Last month I did a 30-day running challenge and that got me back on track with exercise. Doing the same, but with food, I know will help tremendously. Like I said, I am confident in the quality of food I eat it's just the extra bites I take throughout the day or when I am developing recipes that gets me.
Sometimes we just need to step back and refocus our efforts – I know I do. Life gets busy and it's easy to fall back into old habits. Or maybe we get comfortable and we need to shake things up. By we I mean me. I think it's time to shake things up.
Anyway, I will keep you posted on my food tracking challenge. If I do the challenge I won't start until November 1st.
Let's talk about exercise. Like I said, in Septemeber I did a 30-day running challenge. I tried to keep up with my daily running but have slacked just a tad this past week only running 3 days. That's still good but I need to do more. My goal is 4-5 times a week.
Here is my schedule this week:
Tuesday, Wednesday, Saturday, and Sunday
Cardio
Run/ or powerwalk 3 miles (this takes me about 48 minutes so obviously I am not a fast runner)
Toning routine
Bicep curls with resistant bands (3 sets of 8-reps each)
Tricep extensions with 5 lb weights (3 sets of 8-reps each)
Modified push-ups (1 set of 25)
Lunge curl with resistant bands (3 sets of 8-reps each)
Squat and twist with body bar (1 set of 10-reps)
Crunches with exercise ball (2 sets of 25-reps)
Planks (2 sets of holding for 30 seconds)
Now for my meal plan.
As always, you can find my meal plan over at Plan to Eat. If you subscribe to PTE and friend me (username organizeyourselfskinny) you can access all my menus and recipes. From there you can adapt as you need to and print out grocery lists. Plan to Eat offers a 30-day trial. If you haven't tried them yet then now is the time. Every year, on Black Friday they offer 50% off their yearly membership. Try them out now and be ready to snatch up that deal. That's when I started my membership a few years ago. It's so worth it!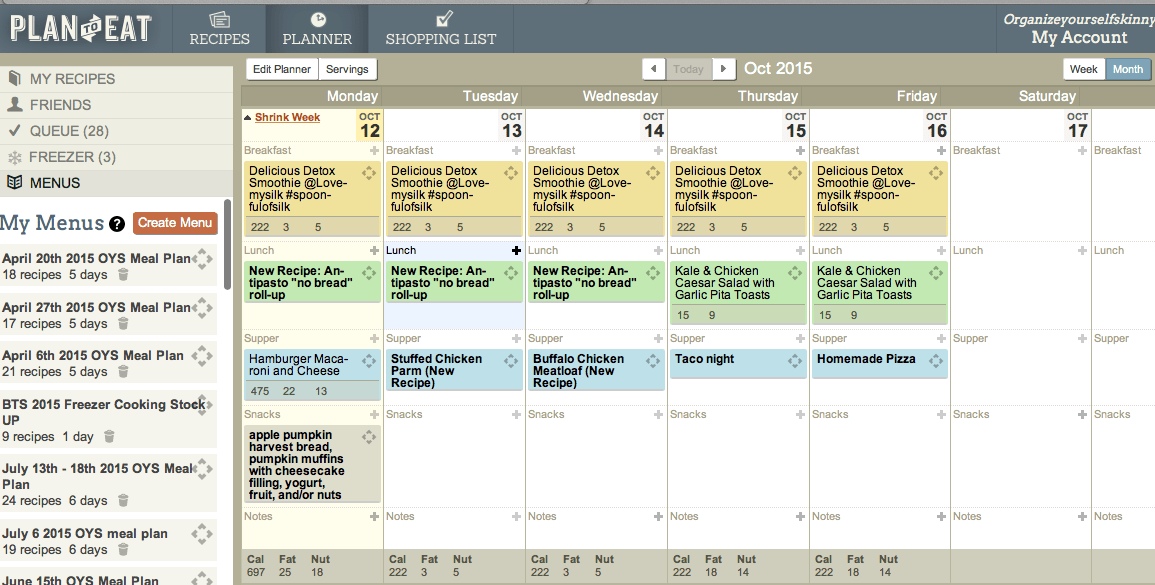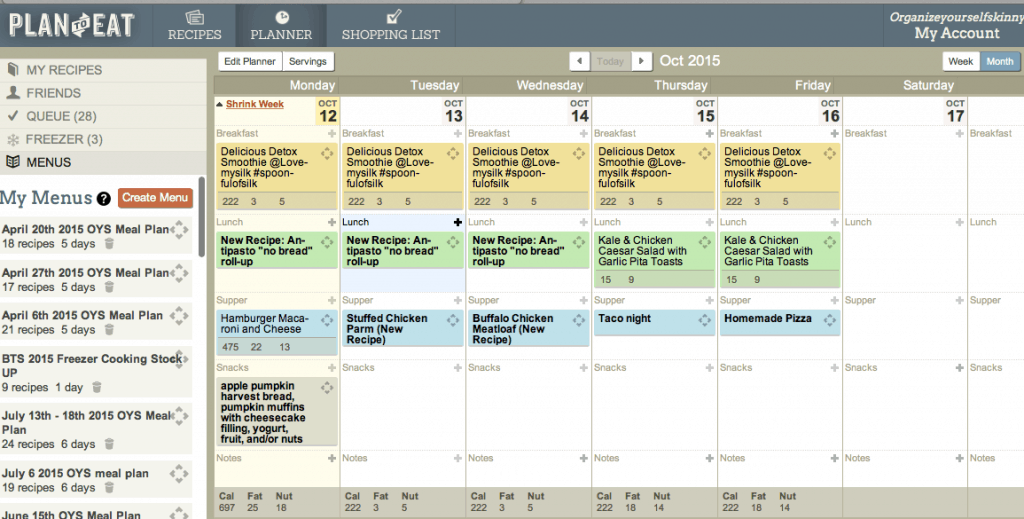 This week's meal plan has a few leftovers from last week. That's what happens when it's recipe-testing time in my house. Look for all the new recipes to be posted this week and next.
Breakfast
Make-ahead tips
I plan to make a double or triple batch of smoothies tomorrow to keep in my refrigerator and freezer. You can see my freezing instructions here.
Mid-morning snack
Apple Pumpkin Harvest Bread – new recipe
Or yogurt
Make-ahead tips
I made the bread yesterday, cut it into portions, and stored in the refrigerator.
Lunch
Anitpasto "no bread" roll-ups – new recipe
Make-ahead tips
Roll-ups will be made the day I eat them.
Chicken will be made tomorrow and stored in the refrigerator for salads this week.
Dinner
Buffalo Chicken Meatloaf –new recipe going up this week
Stuffed Chicken Parmesan
Taco night
Homemade pizza
Make-ahead tips
Macaroni and cheese was made last week after my kids begged for me to make it.
Meatloaf was made yesterday. I sliced it into portions and stored it in the refrigerator for this week.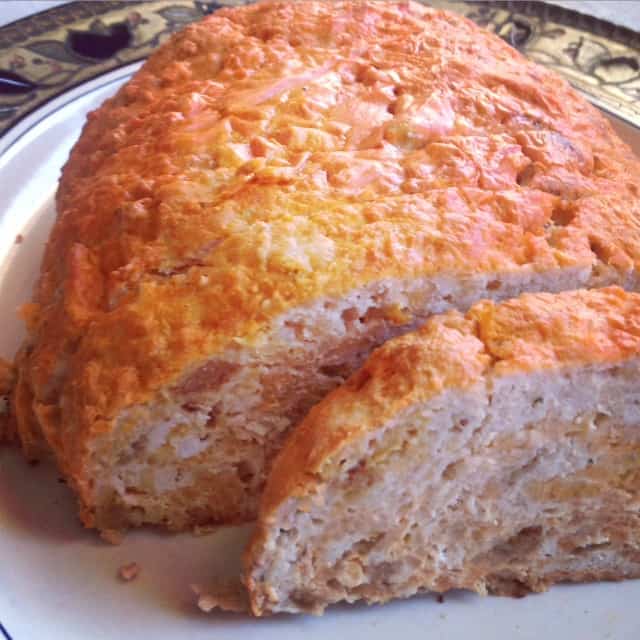 Chicken parmesan, tacos, and pizza will be made the night we eat them.
Meal planning has made a huge difference in helping me lose weight. It keeps me focused, intentional, and organize with the foods I eat. You can read all about this weight loss strategy and the others I use in my new ebook, Organize Yourself Skinny: 5 Strategies to Help Busy People Lose Weight and Create a Healthier Lifestyle. I also include a free bonus 4 week make ahead meal plan with purchase! If you are a blogger check out my affiliate program.
Also, don't forget to check out the new OYS 4-week Make-ahead Meal Plan, Exercise Challenge, and Habit Challenge Package.
Get Instant Access to My Best Weight Loss Tips & Strategies!
Sign up now for a free step-by-step 7-day email course that I created exclusively for my email subscribers! That's you. I will teach the best habits, strategies, and insider tips so you can enjoy a lifestyle that encourages and supports weight loss! Stop relying on willpower and take control back over your life! You can do this. Let me help!