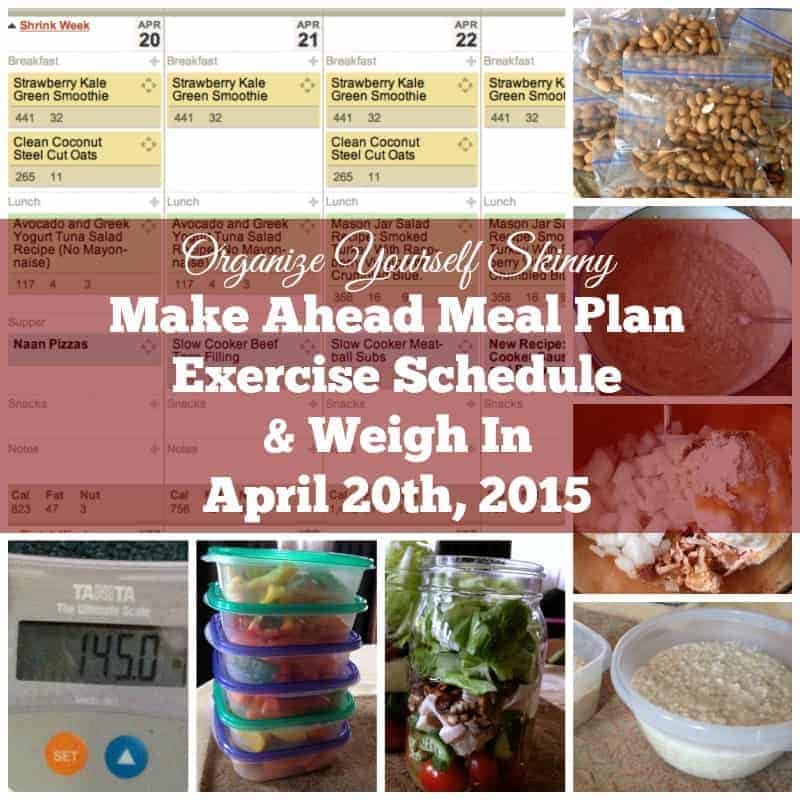 Hey everyone! Are you proud that I got my meal plan up on time this week? I know I am. Last week got the better of me and I did not even get a meal plan posted. Ugh! I hate when that happens, but some weeks that is just the way it goes. Just so you know I have 4 years worth of meal plans on my blog so if I happen to skip a week you can always go back into the archives and find one that tickles your fancy.
Before I get down to business let's talk about this past weekend. I had so much fun! I spent some time with Jennifer from Mother Thyme and friends from the Rainier Fruit Company. We had a wonderful dinner Friday Night and then enjoyed the Buffalo Wine Festival on Saturday. I am embarrassed to say that I am a born and raised Buffalonian – have been of drinking age for 19 years – but never attended the Buffalo Wine Festival before. Crazy, I know! Anyway, it was great and I am so glad I had the opportunity to go.
The Rainier Fruit Company went to the wine festival to showcase their Lady Alice Apples.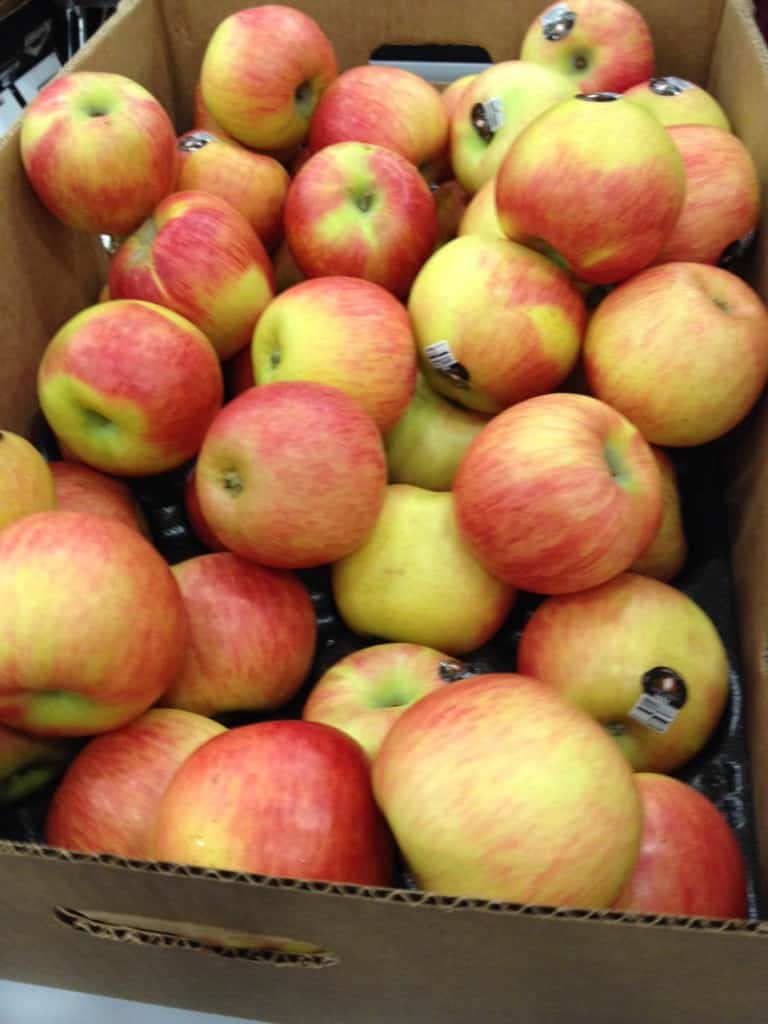 I was sent some ahead of time to try and also did a little more taste testing at the festival. These apples are delicious! They are crisp, sweet, and a little tart. Think of what you want in the perfect apple and these are them. I enjoyed some later that night with a little wine and cheese. Yum!
My kids loved them too. Emma – just like her mommy – enjoys hers with a heaping spoonful of peanut butter.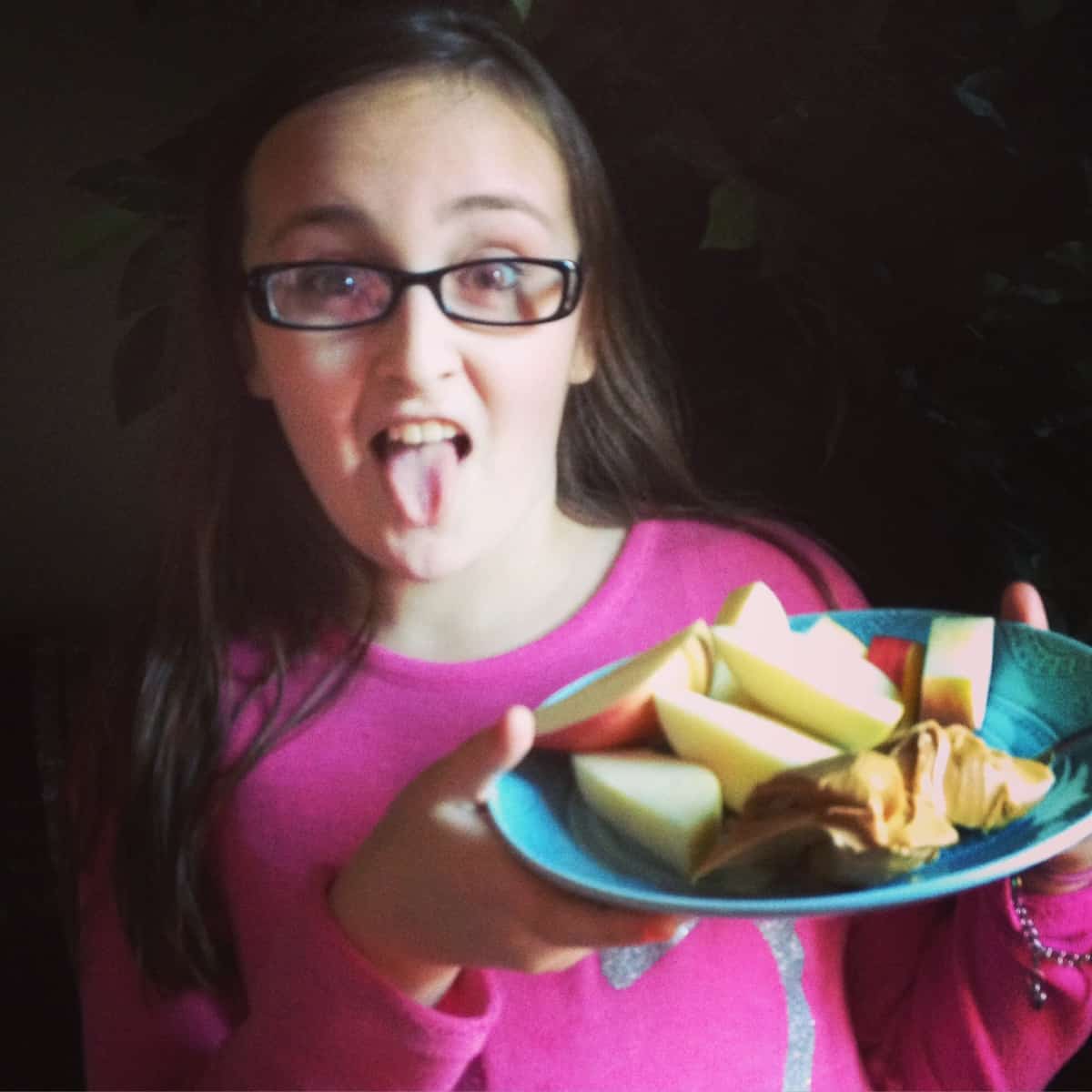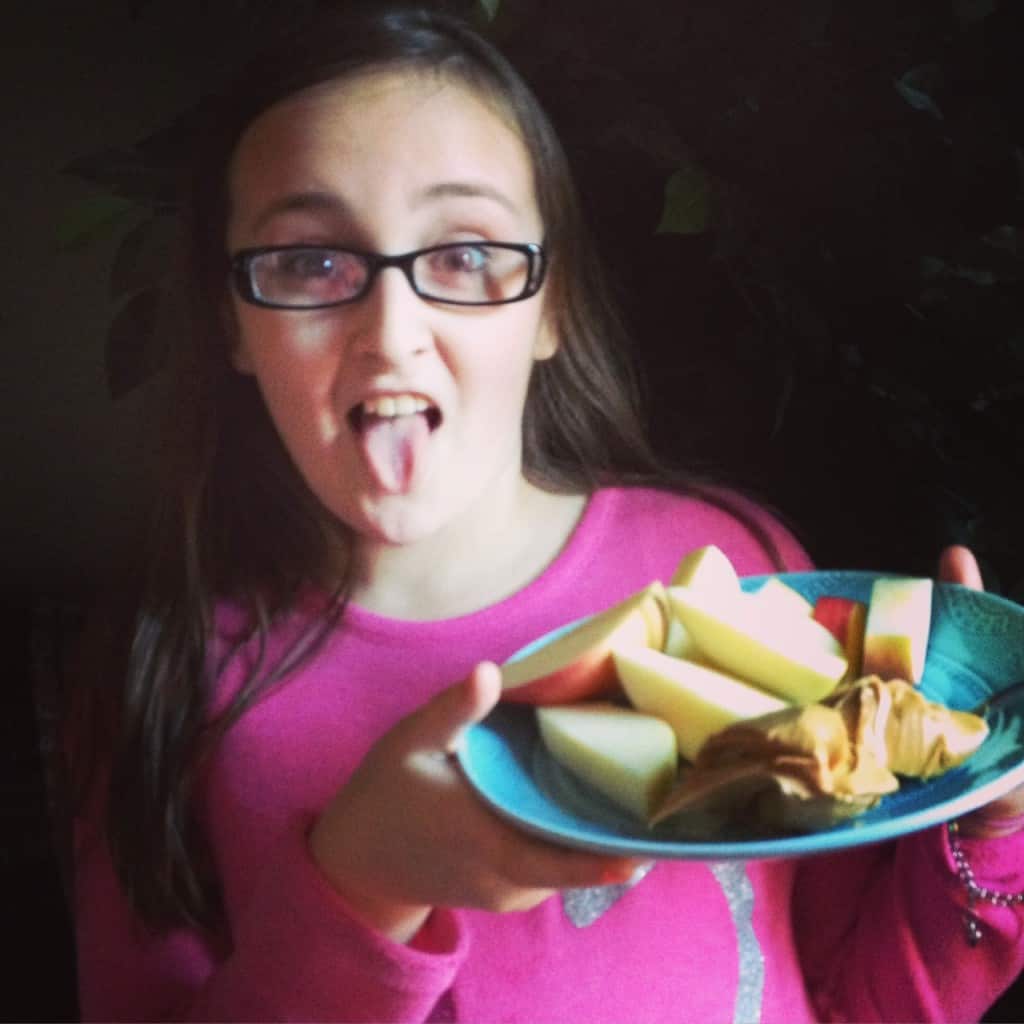 Aubrey – like her daddy – just chows down.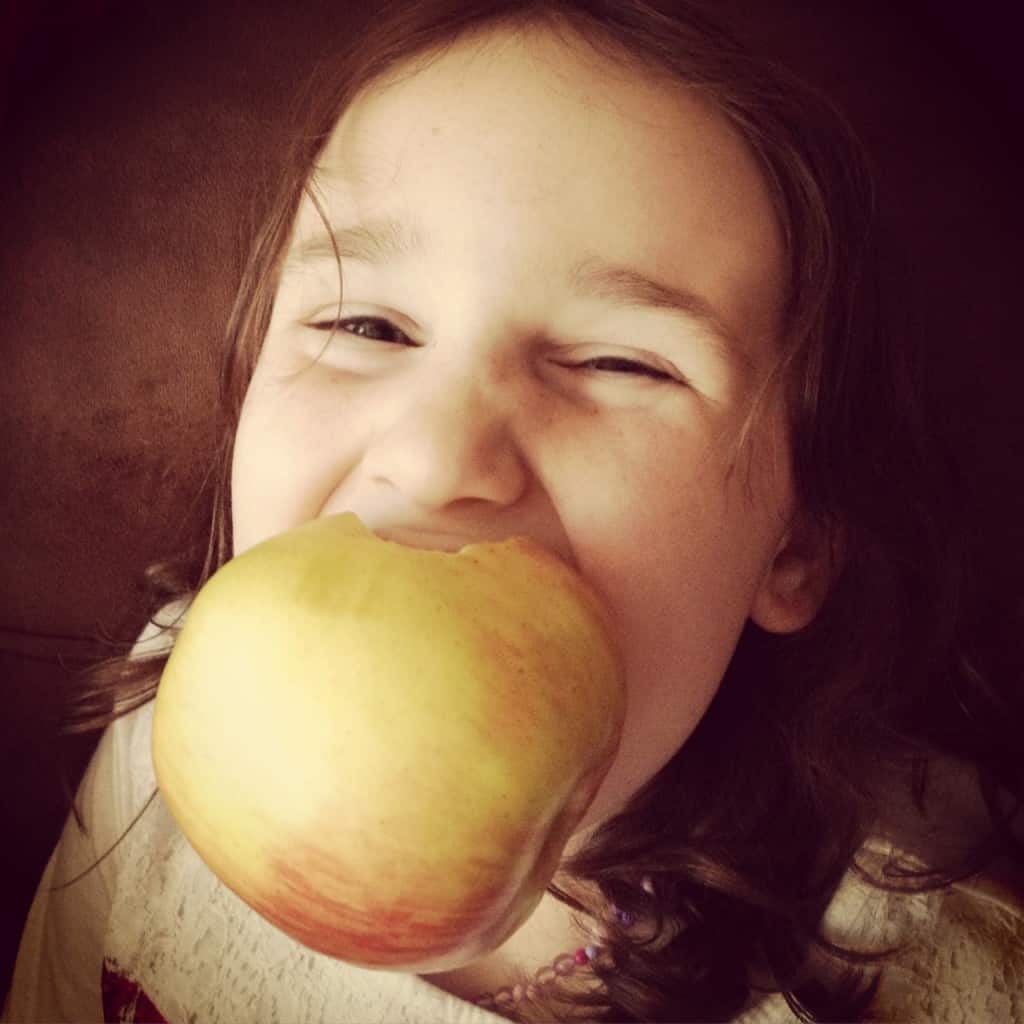 Let's get to my weigh in.
So … how many free "weigh in" passes do I get a year? I missed last week and the week before. Ugh! Accountability is so important with losing weight and I just keep dropping the ball. I don't want to dwell but I will say this…if I don't meet my goal weight I have no one to blame but me. Getting on the scale week after week is what keeps me focused. When I don't I tend to ignore or excuse the extra bites, treats, or glasses of wine. Don't get me wrong it is totally fine to treat yourself but to stay on track you have to account for all the extras.
Okay with all that said here is my weekly weigh in.
SW: 177
GW: 130
LWW: 143.5
CW: 145
PL: +1.5
I gained the same 1.5 pounds I lost a few weeks ago. Grrrrr. I know I have no one to blame but myself but it makes me nutty sometimes. Okay, enough of the complaining. Let's move on.
Last week, I wrote a post about staying consistent with your weight loss efforts. So on a positive note while I have not lost my final 15 pounds I still have lost over 30 pounds. I did this by staying consistent with my weight loss efforts. Sure I slip up at times but staying consistent is what has kept my weight off. See glass half full 🙂
Exercise time. Last week was not a good exercise week. Wow, I am batting zero today. Oh well at least you see I am human and live in the real world like every other busy working mom out there.
This week I am going to shoot for 3-4 days of exercise.
Here is my schedule.
Cardio
Treadmill – 30 – 45 minutes
Arms
16 bicep curls
16 tricep extensions
20 modified push-ups
Legs/Butt
25 squats
10 lunges on each leg
Core
2 (20 second) planks
50 crunches
For my arm, leg, and core exercises I will use my new exercise ball. I purchased this one and really love it (BTW it looks to be on sale right now). It comes with a pair of exercise bands. I see great things in my future using this – I just need to consistently use it.
I thought I would start adding some exercise videos to this section of my meal and exercise plan post. These are videos ones I found not ones I made. Trust me you don't want to see me making an exercise video. Haha I just LOL typing that! Anyway, I was thinking it would be helpful for you to see a visual of a plank or a lunge instead of my just writng about it. I know visuals help me.
Here is a video that shows you how to do planks correctly
And here is one for lunges.
Let's get to my meal plan. I am starting to fizzle out so I am going to make this short and sweet.
As always, if you subscribe to Plan to Eat, you can find my recipes and meals plan over there. As a subscriber you can adapt the meal plans to meet your needs and print out grocery lists.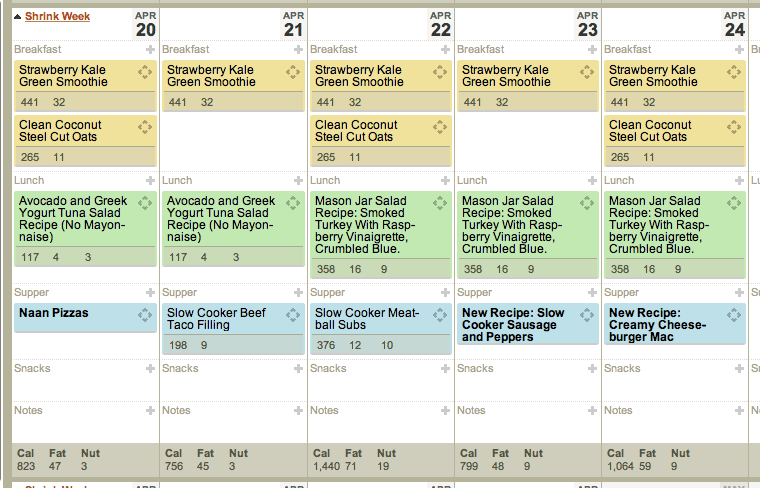 Breakfast
Make ahead tips
Smoothies will be made the morning of. You can read more about green smoothies in my tutorial.
I made the steel cut oats today. I will keep half in the freezer and most likely freeze the other half. Read here for instructions on freezing steel cut oats.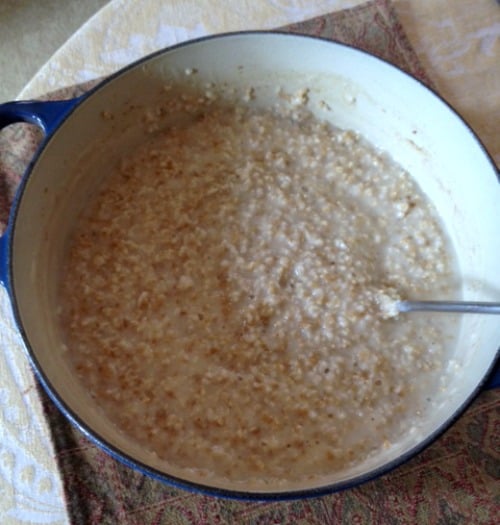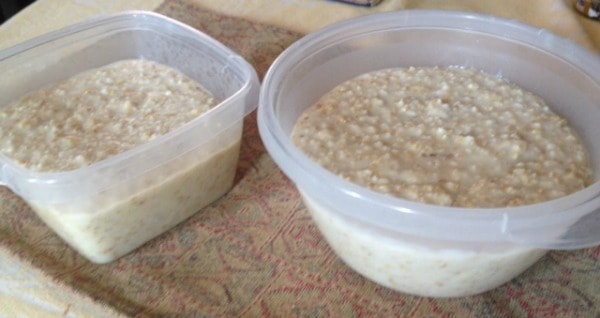 Lunch
Mason Jar Salad – I made one similar to this smoked turkey recipe.
No mayo tuna salad with vegetables and/or pita
Make ahead tips
Mason jar salads and tuna salad were made today and stored in the refrigerator. If you have questions about mason jar salads then check out my tutorial.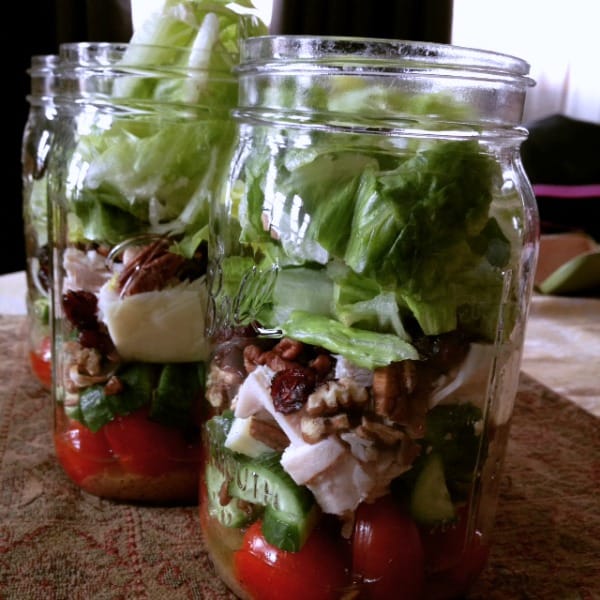 Snacks
Raw almonds
Veggie snack packs
Yogurt
Cheese
Make ahead tips
I portioned out the almonds today into ¼ cup servings.
Veggie snack packs were made today. I used carrots and peppers.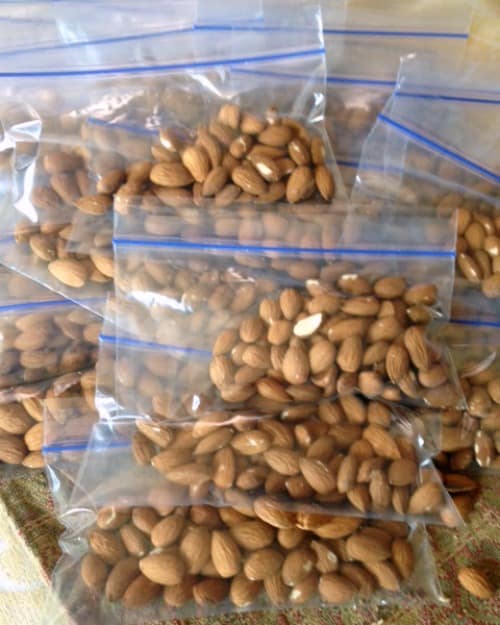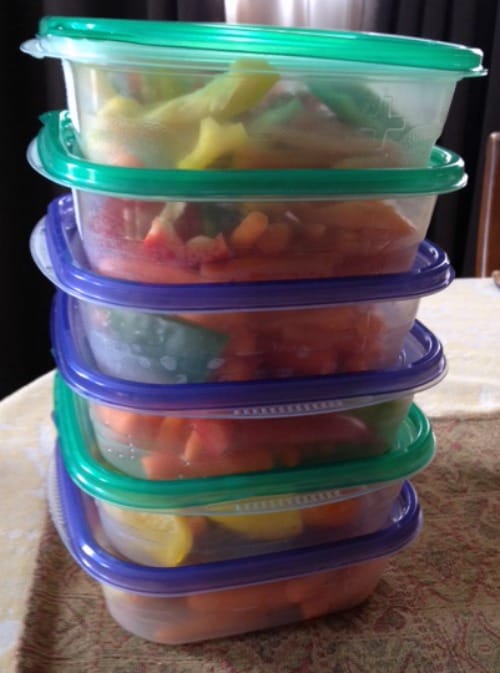 Dinner
Naan pizzas like this one
Creamy Turkey Cheeseburger Mac – new recipe
Slow Cooker Sausage and Peppers – new recipe
Make ahead tips
I ran out of time to prep any of my dinners. I will prep slow cooker meals the night before. Cheeseburger mac will be made the night we eat.
There's my week! Here is everything in the fridge.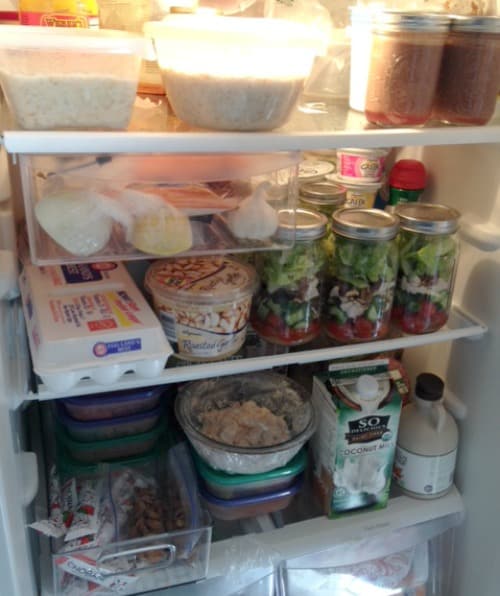 Meal planning has made a huge difference in helping me lose weight. It keeps me focused, intentional, and organize with the foods I eat. You can read all about this weight loss strategy and the others I use in my new ebook, Organize Yourself Skinny: 5 Strategies to Help Busy People Lose Weight and Create a Healthier Lifestyle. I also include a free bonus 4 week make ahead meal plan with purchase! If you are a blogger check out my affiliate program.
Get Instant Access to My Best Weight Loss Tips & Strategies!
Sign up now for a free step-by-step 7-day email course that I created exclusively for my email subscribers! That's you. I will teach the best habits, strategies, and insider tips so you can enjoy a lifestyle that encourages and supports weight loss! Stop relying on willpower and take control back over your life! You can do this. Let me help!