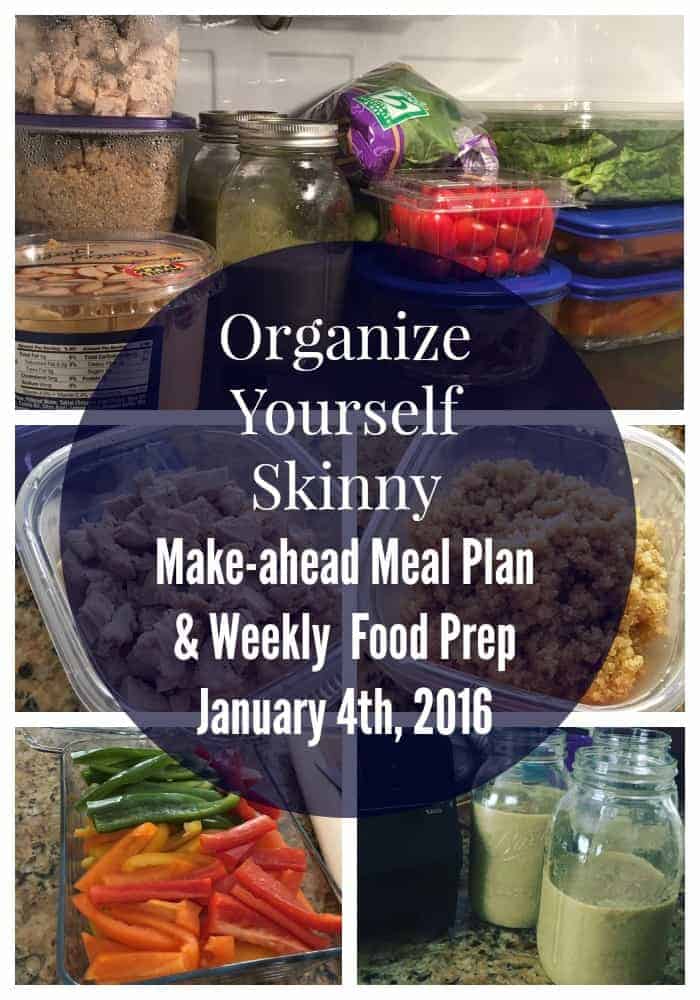 Happy New Year!! 2016 here I come! I know it is going to be an amazing year.
I'm a true believer that change can happen anytime of the year. You don't have to wait for January 1st to make big life changes. But I do recognize there is something magical about the New Year. It's like the one time of year we get an imaginary reset button and can completely change our lives.
The only catch is…
It takes more than pressing that imaginary button. You need to want it AND be willing to work for it. You need to be okay with getting knocked down and then jumping back up to do it again…and again. You need to plan for it. You need to KEEP GOING, especially when you want to give up.
New Year's is a great motivator. But remember motivation gets you started…habit is what will keep you going. Creating healthy habits take time and effort…some more than others. But it's possible and I believe in all of you. Use this time right now to lay the foundation. Don't expect to drop 50 lbs overnight or even in a month. Focus on changing your habits little by little. Soon those little changes will equal big results.
Okay let's talk about what you can expect with my weekly meal plans this year. Last year, I jammed my weigh in, exercise schedule, and meal plan all into one post. I'm not sure yet if I want to keep doing that. I think I want my weekly meal plan posts to stay focused on food and meal prep. But who knows, I can change my mind a few weeks in. But for now my weekly meal plan post will just be the food I'm eating for the week.
I pretty sure my weekly weigh in is going to move to Instagram. I'll start posting it tomorrow. I might even do a weekly Youtube video talking about my weigh in, challenges I'm having, and some quick tips. But don't hold me to it because I'm super critical of myself with video. My Buffalo accent drives me nuts when I hear it on video. But I know lots of you LOVE videos sooo I will try it out at least once. Plus, I can be quite funny (at least I think so and so do my kids) so maybe you'll be entertained. I don't know, we'll see.
This week's meal plan is all about getting back on track. I think everyone is on the same page because there was not a bag a kale to be found at the grocery store yesterday. Seriously. I ended up purchasing spinach for my smoothies, which is fine, but just saying I can't remember the last time I couldn't find kale.
Also, while we are talking about shortage of food I went to THREE different grocery stores and could not find unsweetened cranberries ANYWHERE. I will never get those hours back of my life ever. This is the reason I'm starting to gravitate more to online grocery shopping. My time is precious and I don't have it to waste looking for cranberries. I ended up purchasing sweetened because I really want to make a new chicken salad recipe that includes cranberries. I keep having a recurring chicken salad with cranberry dream so I must make it.
Anyway, this week's meal plan is filled with smoothies and salads. I have lean proteins and even purchased some salmon. Obviously, since I run this here blog, I tend to eat healthy. But….I would be lying if I said I was a clean eating machine the last few months. Life has been stressful and when I'm stress…like really stressed…I want to eat pasta and sleep. Of course, I feel better with smoothies and running but sometimes a girl needs pasta and the couch. That was me the last few weeks.
But I'm ready to move on from my funk and dive head first into salads and quinoa. Oh and smoothies. I live for smoothies. They make me a happy girl.
Here's my meal plan along with some food prep pictures. This week I prepped a lot of meal components ahead of time. For example, I prepared a bunch of quinoa, chicken, ground turkey, and salad ingredients. Having these ingredients ready ahead of time will make it easier to get lunch and dinner made.
Breakfast
Cherry and Blueberry Green Smoothie
Make-ahead tips
I prepared 3 days worth of smoothies and stored them in the refrigerator. I will make a another batch on Wednesday.
Supplies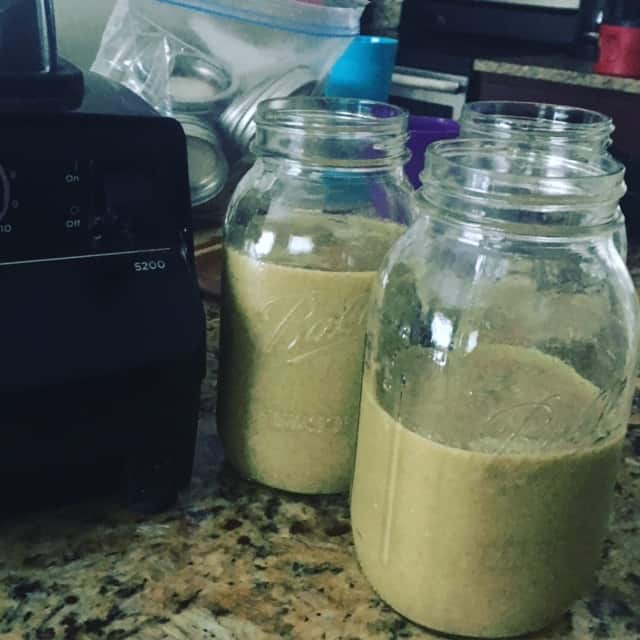 Lunch
Chicken salad with cranberries and pecans – new recipe
Power quinoa salad – new recipe
Make-ahead tips
I baked and chopped the chicken today.
I prepared the quinoa today.
I also rinsed the beans for the salad.
Supplies
After the chicken and quinoa were cooled I store them in a plastic container in the refrigerator.
I also stored the beans in a plastic container too. I prefer glass but I ran out of glass containers today. #foodprepproblems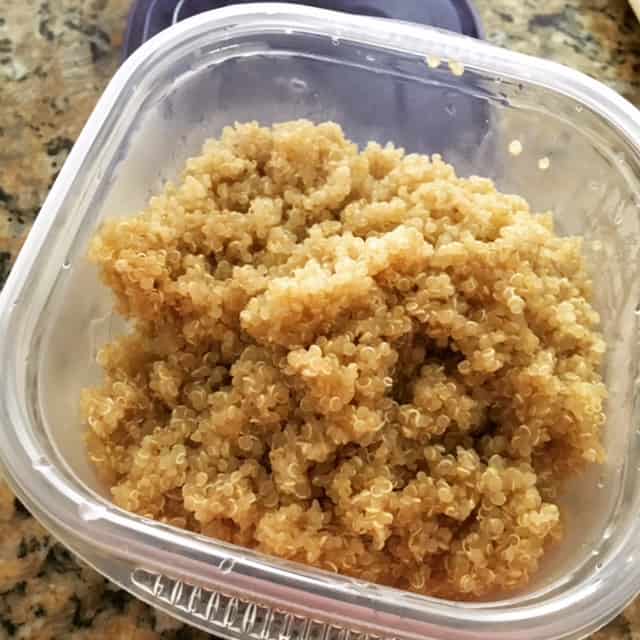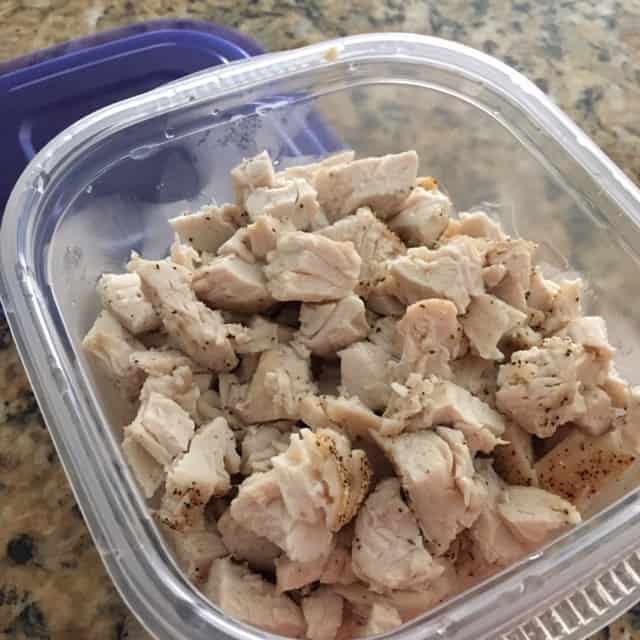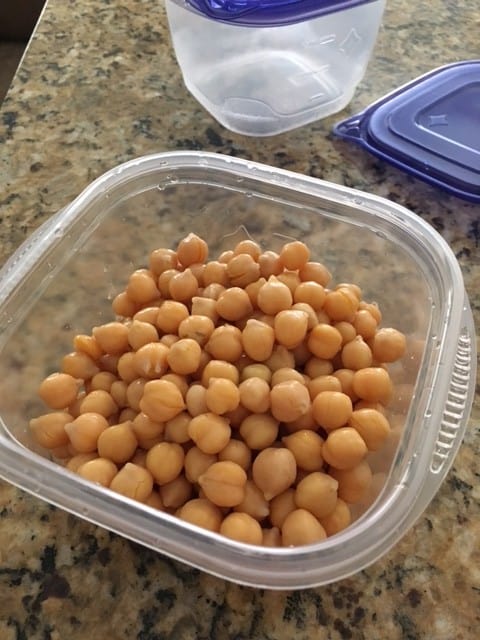 Snacks
Vegetables and hummus
Greek yogurt
Make-ahead tips
I cleaned and sliced the vegetables today.
Supplies
I prefer to use glass containers when storing vegetables. In my experience, I find the vegetables stay crisp longer. I love these Pyrex simply store containers.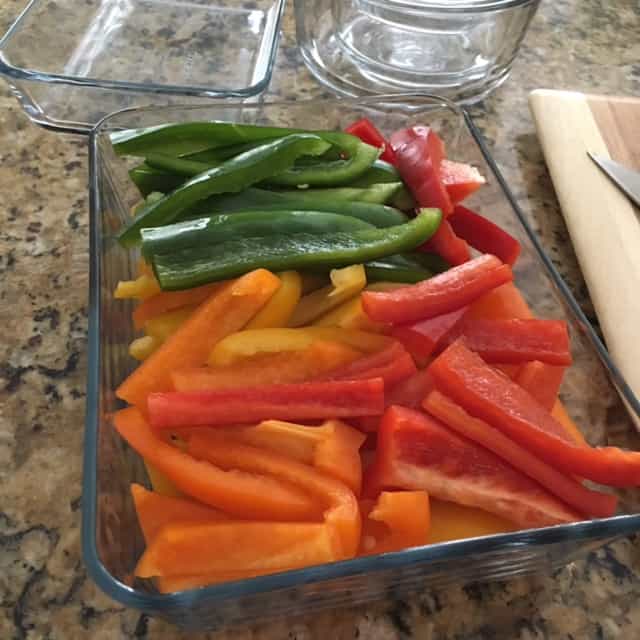 Dinner
Salmon with Quinoa – new recipe
Cheeseburger Salad – new recipe
Tuna Melts using this mayo free tuna salad
leftovers
Make-ahead tips
Quinoa was made ahead of time.
Turkey was made ahead of time
Salmon and tuna will be made tomorrow.
**I anticipate leftovers this week which is why there are only 3 dinners.
Supplies
Pyrex glass containers for the turkey.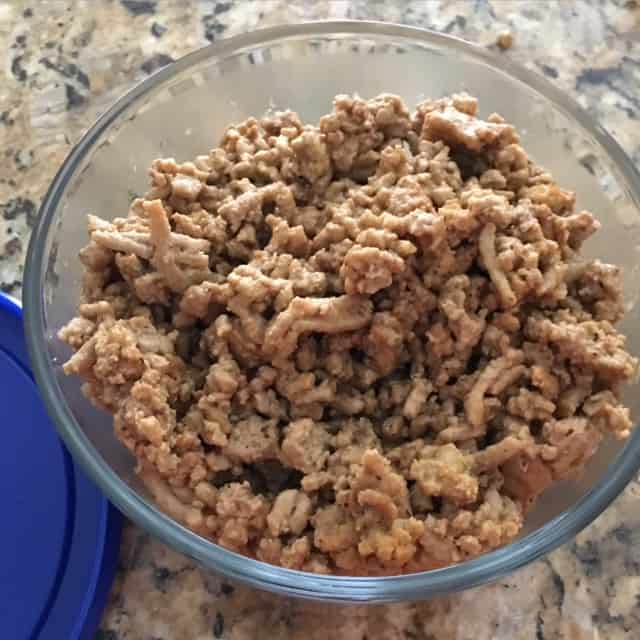 And here is everything so far nice and pretty in my fridge.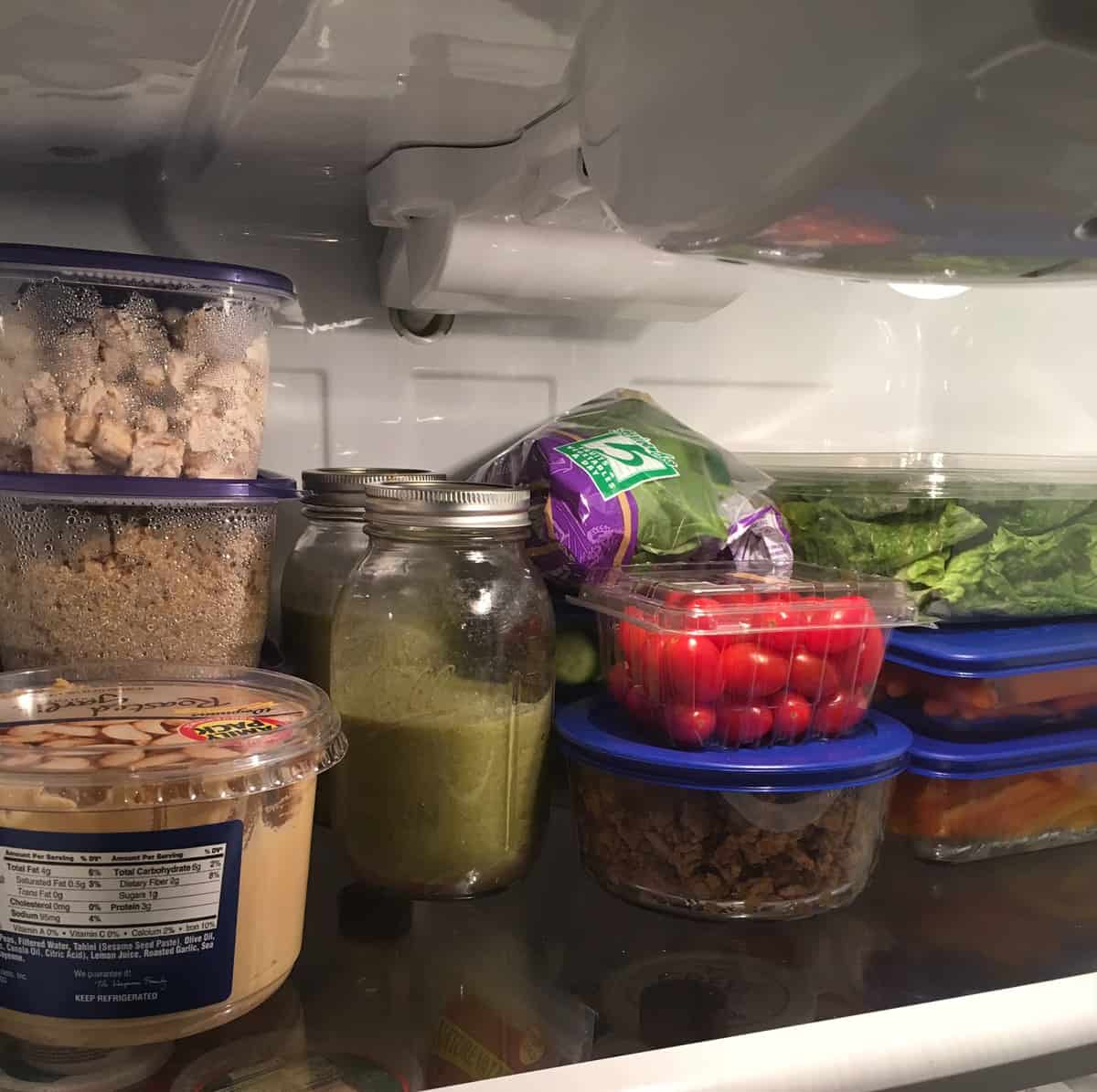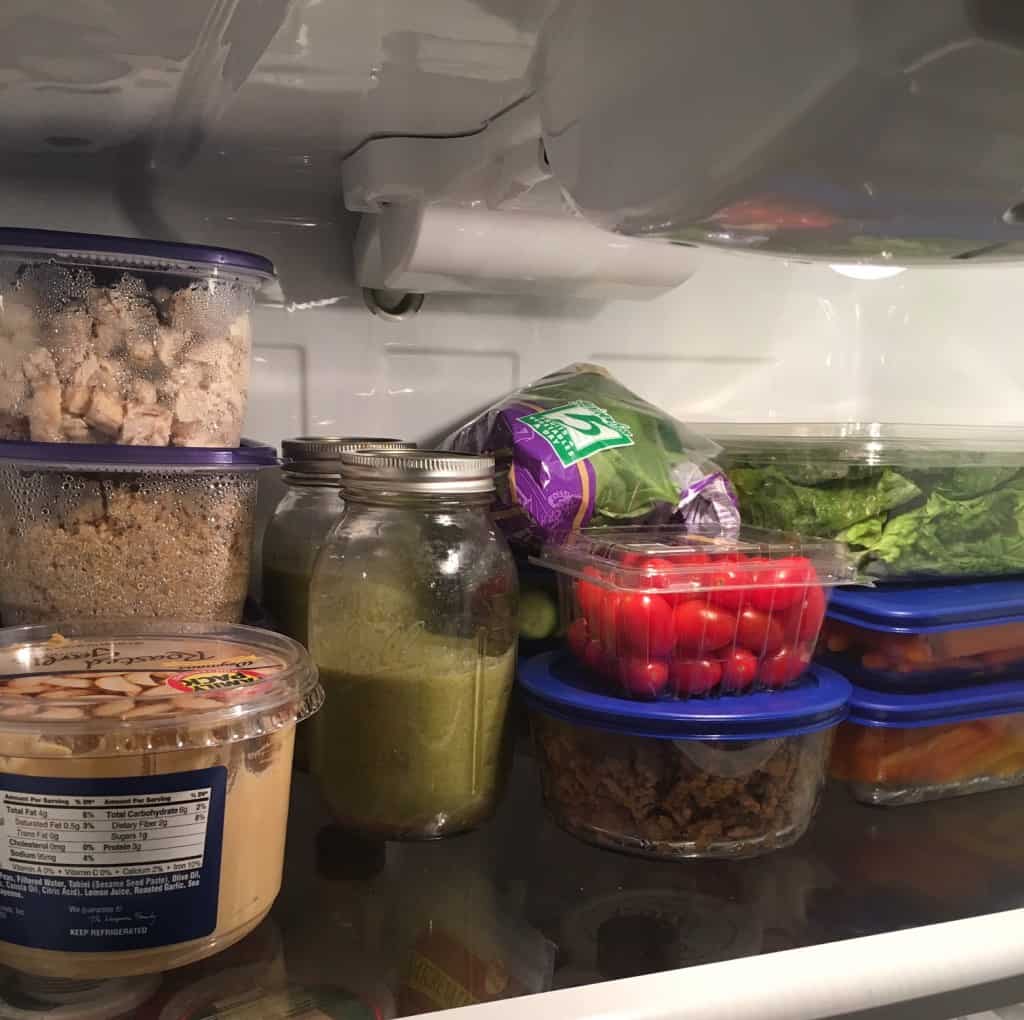 Did you get a chance to food prep this weekend? What did you make? Let me know if you have any meal or food prep questions.