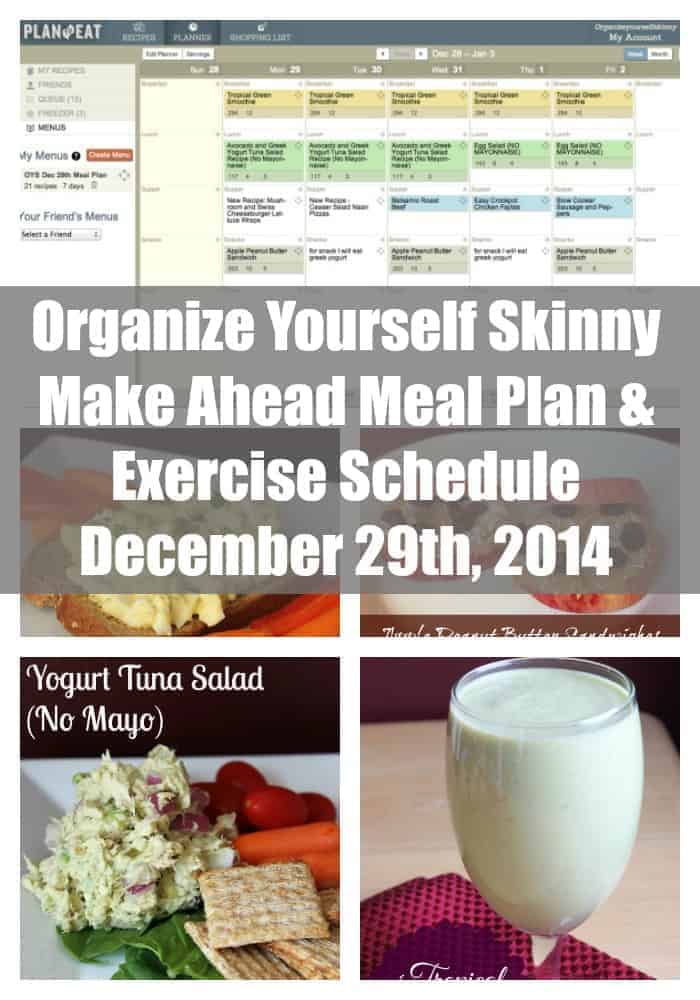 This holiday season has been a whirlwind of activity and I am feeling totally burnt out. In fact, it is taking every ounce of energy for me to write this post tonight. Don't get me wrong I had an amazing time with my family over the last week but I think the late nights, Lambrusco, and extra cookies are finally catching up with me. I think I could sleep for the next 2 weeks if I allowed myself too.
Anyway, Christmas is now behind me and 2015 is only a few days away. I love ringing in the New Year. I always take time to reflect on the past year and plan out goals for the next 12 months. In the next day or so I will share my reflections and goals along with some tips on preparing New Years resolutions that stick.
I don't have a weigh in again this week. This is one of my goals for the New Year – don't forget to weigh in every week. Sorry, I know a lot of you look forward to seeing my weight. I promise to do better with this in 2015.
Let's get to my exercise schedule. I am very proud of myself these last couple weeks with exercising. Not only did I fit in 3 days of indoor exercise but I also woke up at 6:30am this morning and ran OUTSIDE in the cold – 3 miles! Now I have to admit I would never be this motivated on my own. My girlfriend texted me last night to go running this morning and I, of course, said yes. I am not gonna lie…I was hoping she would text me in the morning and say "just kidding" because it was cold. But she didn't and I am glad she stuck with it because by the end of our run I felt amazing. This is where peer pressure comes in handy. Lesson learned…it helps to have a friend that can push and challenge you to exercise harder when all you want to do is stay in bed.
Here is my exercise plan this week.
Exercise Schedule
Tuesday, Wednesday, Thursday, Friday, and Saturday
Cardio
Treadmill – 45 minutes (10 minutes warm up, 20 minute run, 10 powerwalk incline, 5 minute cool down)
See more cardio exercise here and here.
Arms
16 modified push-ups
16 bicep curls using 5lb weights
16 tricep extensions using 5lb weights
See more arm exercises here.
Legs
25 squats
25 lunges
See more leg exercises here.
Core
2 (30 second) planks
100 crunches
50 Russian twists
See more core exercises here.
Here is my weekly meal plan. I am trying to keep it somewhat low carb because I still feel very sluggish after all the carbs I ate last week. Also, I did not get a chance to do any prep today. Everyone is off this week so I am thinking this won't be such a big deal. We will see.
You can view this meal plan on Plan to Eat. If you are a subscriber then friend me (username organizeyourselfskinny) so you have access to all my recipes, meal plans, and print grocery lists.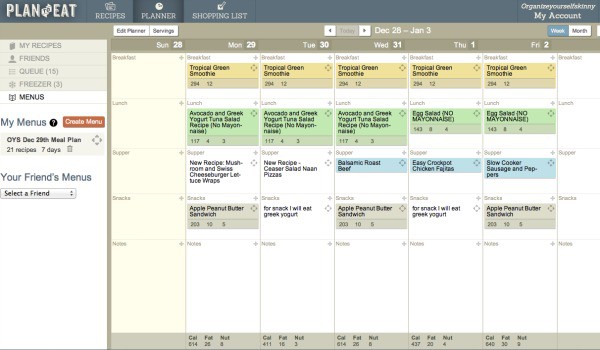 Breakfast
Make ahead tips
Smoothies will be made the morning of. If you have any green smoothie questions check out my tutorial here.
Lunch
Make ahead tips
Tuna salad will be made tomorrow. Egg salad will be made Thursday.
Mid-morning and afternoon snacks
Greek Yogurt
Apples and Peanut Butter Sandwiches
Dinner
Slow CookerBalsamic Shredded Beef – new recipe
Mushroom and Swiss Cheeseburger Lettuce Wraps – new recipe
Slow Cooker Italian Sausage and Peppers – new recipe
Slow Cooker Chicken Fajitas – new recipe
Ceasar Salad Naan Pizzas – new recipe
This week I am making all new recipes for dinners. I don't usually do this but these recipes are relatively easy so I don't think it will be a problem. I will post the recipes as soon as I can.
What is on your meal plan this week. If you need some assistance with meal planning then check out my meal planning services page. Also, check out my ebook page for other healthy eating resources.
Get Instant Access to My Best Weight Loss Tips & Strategies!
Sign up now for a free step-by-step 7-day email course that I created exclusively for my email subscribers! That's you. I will teach the best habits, strategies, and insider tips so you can enjoy a lifestyle that encourages and supports weight loss! Stop relying on willpower and take control back over your life! You can do this. Let me help!