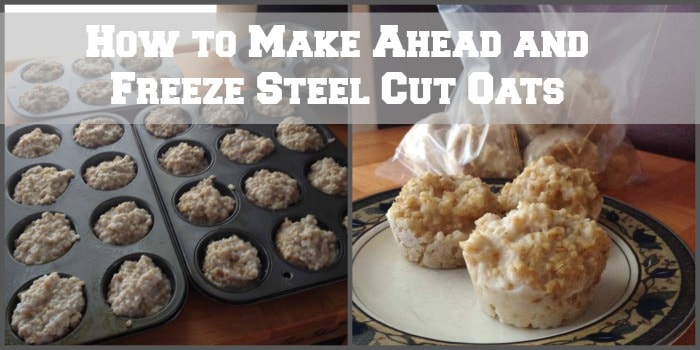 Steel cut oats are one of my go to breakfasts – I love them! They are filling, comforting, and can deliciously take on many different flavor combinations. Over the last few months I have prepared some tasty oatmeal concoctions. My favorites include: apple pie, blueberry lemon, coconut, and peanut butter and jelly. Yum yum yum!
The only issue with steel cut oats is they take a long time to prepare – 40 to 45 minutes to be exact. And when your busy trying to survive the morning rush making a batch is next to impossible. I know I could also make these in the slow cooker, and I have, but I prefer them made on the stove. I like the texture better and I feel I have better control over them as they cook. I may or may not be a control freak.
Steel cut oats can be made ahead of time and usually I will make a batch on Sunday to eat throughout the week. However, I wanted to make more than 1 batch and I wanted to freeze them so I did not need to commit to eating them everyday for the week.
A couple weeks ago I froze steel cut oats and the results were just what I wanted – they froze and reheated perfectly! I was so excited. That time I portioned the batch out into plastic Ziploc bags and froze. This worked great but it seemed kind of wasteful to me. I really hated throwing all those bags away.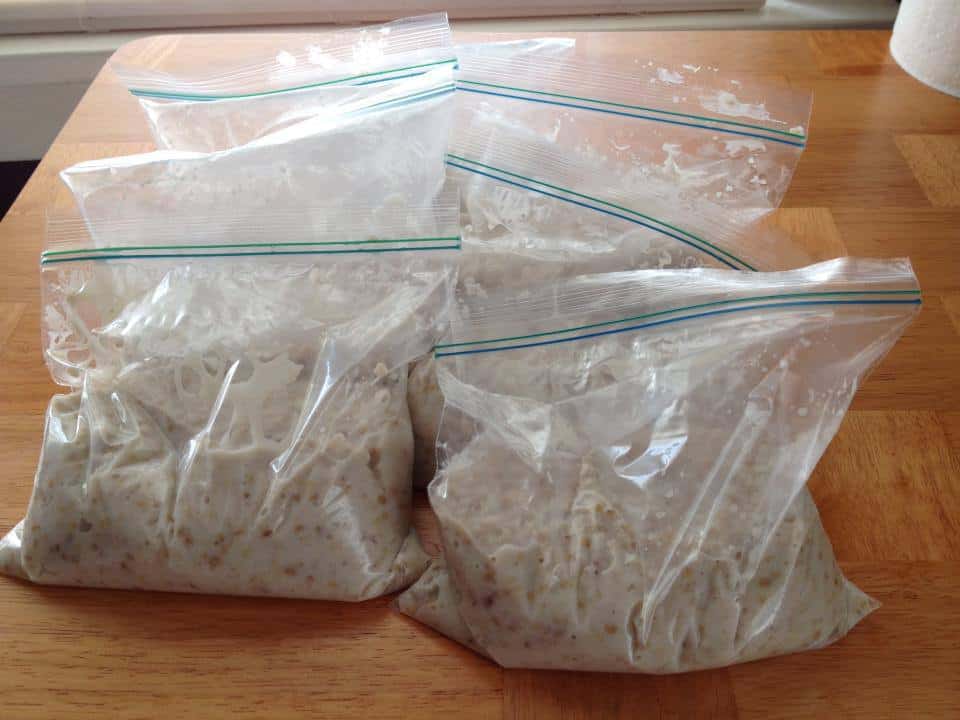 This time around I wanted to make a triple batch of steel cut oats to freeze but I did not want to use over 30 plastic bags so I racked my brain to figure out what to do. Then I thought muffin tins! Seriously, after writing this blog for over 2 years now you think I would already think of these things. But obviously I am still learning along the way.
I was a little nervous because I never tried this before and if it did not work I would have wasted a lot of oatmeal. But I was willing to take a risk. And I am glad I did because it worked perfectly! The feeling of excitement when I popped the oats out of the tins could only be understood by all of you.
Simple instructions to making ahead and freezing steel cut oatmeal.
Step 1. Make a batch or two or three of steel cut oatmeal. I made a basic batch (I used this recipe minus the shredded coconut) because I figured I could add fruit or other things to it after I warm it up. I am sure you can flavor it up ahead of time and it would freeze fine.
Here is a fantastic video on making steel cut oatmeal. He offers some great make ahead tips. He also talks about the different oatmeal varieties so if you are confused between steel cut oats and rolled out then you will learn the difference in this video.
Step 2. Let the steel cut oatmeal cool completely. This might take ½ hour or so depending how big the batch is. You don't want to put this in the freezer hot because it will reduce the temp of your freezer and that is not good for the other food in there.
Step 3. Spray a muffin tin (or tins) with cooking spray. Portion oatmeal out into the muffin tins. I portioned mine into ½ cup servings and this seemed to be the perfect size.
Step 4. Place into the freezer for 4-5 hours or until firm. This is also called flash freezing. Please note you will need room in your freezer for these. So think about that ahead of time before you start cooking.
Step 5. Remove from muffin tins. This is where I got scared. But no need because they came out perfectly. Some twisted out easily others just need a little help by pouring warm water over the bottom of the tins. Just make sure you hold onto the oats because you don't want them falling into the sink.
Step 6. Place frozen steel cut oat portions in a large plastic bag, label, and freeze.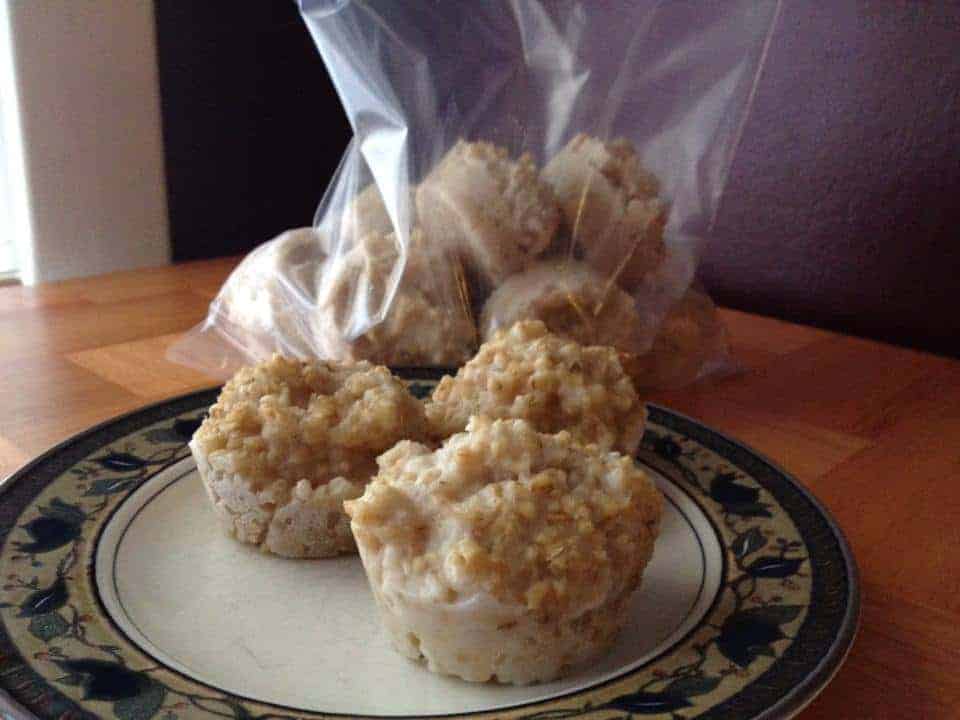 Step 7. When ready to eat, take the number of portions you want, place in microwave safe bowl, and heat for 3-5 minutes or until hot. Stir in maple syrup and eat.
Now you can have steel cut oats ready when you want.