My first 30 pounds came off as a direct result of changing my eating habits. Once I began to track my food, reduce my portions, and focus on the quality of the food I was eating I immediately started to see the pounds come off. In fact the first week I lost 7 pounds and after that the pounds started to come off at 1-3 pounds a week – it was AMAZING!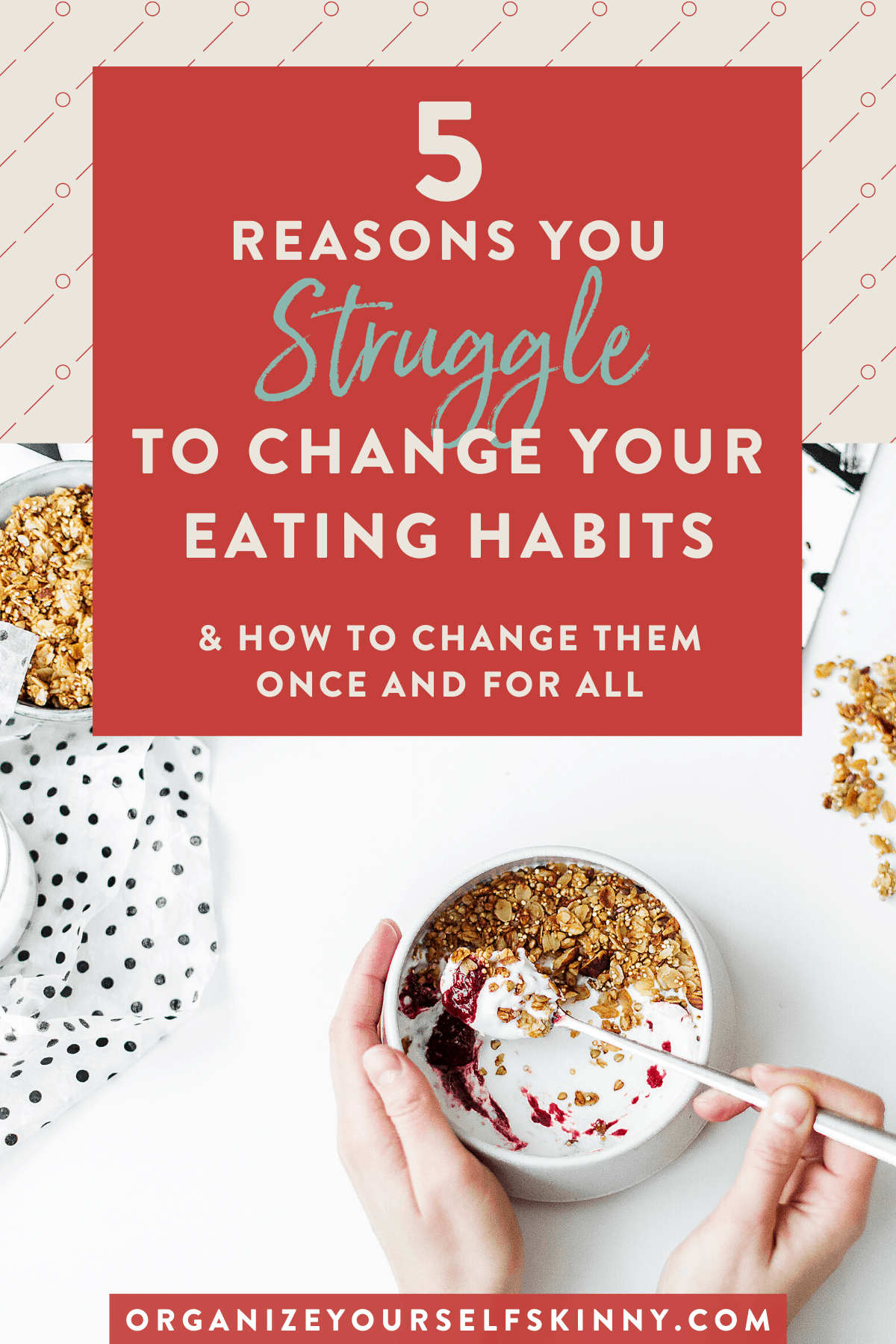 I couldn't believe it. Honestly, up until that point I tried so many times to change my eating habits and always failed miserably. I just could not seem to get it together and did not understand why I would always struggle with this. Now that I have lost the weight and sustained my weight loss for over 3 years I have a pretty good idea what I was doing wrong.
Below are the 5 main reasons I struggled with changing my eating habits. I am sure many of you will be able relate to my experiences. Along with the reasons I also included some tips and resources to overcome these struggles. I know changing any habit – especially eating habits – is never easy but it certainly can be done.
#1 Depriving yourself
Losing weight is not about removing foods groups or eating as little as possible. However, for some reason many of us have turned to these methods at some point or another when trying to drop the pounds. Don't deprive yourself! There is no need to. You can eat the foods you love and still lose weight – I did. You may have to switch some things up and reduce your portions but you never have to completely give up a food or follow strict eating rules.
That's not to say you can go hog wild on chips and chocolate and expect to squeeze into your skinny jeans. Sorry, I wish. Unfortunately, it doe not work that way. You will need to become intentional with your food. This basically means you need to think before you eat. But this is a good thing trust me. When you take a few moments to think about your food ahead of time then you can make room for that extra slice of pizza or birthday cake if you want to. It's when you start to eat without thinking that the mindless calories start to sneak in and pounds sneak on.
Helpful tips:
Figure out how many calories you need a day to lose weight. You can do this by using My Fitness Pal. Once you are aware of the amount of calories you need daily you will know how much to eat.
Track your food. In my experience the best and only way to eat intentionally is to track your food. You can pretty much eat anything as long as it falls within your daily limit. So if you want a piece of pizza have it but just make sure you keep track of it. If you can't remember what you ate yesterday then more than likely you ate too much. I am not suggesting to be over the top with tracking every bite but if you don't have control over your eating and are struggling to lose weight than this might be a good first place to start.
Create eating guidelines for yourself. I am not a fan of restrictive diets at all but I do think it is helpful to create a set of eating guidelines to follow. These guidelines serve as a roadmap as you make food choices throughout the day. Your guidelines should focus on the type of food you would like to eat (clean, vegetarian, paleo, a little of everything, etc), how much food you want to eat (calories and portions), and when you should eat (3 times a day, 5 times a day, not after 7:00pm, etc). You can view my eating guidelines here. Keep you guidelines simple and realistic. They will evolve over time so don't try to overhaul your eating habits in one week.
Helpful links:
#2 The "I'll start Monday" weekend binge
We have all been there. Yep, you know what I am talking about. The "I am going to start my diet on Monday so I will eat whatever I want this weekend" binge. This is bad news for a few different reasons.
First, you are going into changing your eating habits already thinking you have to give up all your favorite foods forever – why else would you want to eat every single one of them on a Saturday night. Like I already said you don't ever want to feel deprived.
Second, if you start off depriving yourself then it is likely that change will only last a few days if that. So now you just ate an obscene amount of calories and you still went back to your old eating habits anyway.
Third, creating healthier eating habits does not happen over night. It is a gradual process that takes time. It is very unlikely you will wake up Monday morning – after spending the entire weekend eating whatever you want – with brand new healthy eating habits ready to go. It does not work that way.
Helpful tips:
Take you eating habits one day or week at a time. If you find yourself getting of track over the weekend – or even during the week- don't throw all your work out the window. Just go back to the basics with tracking, planning, and exercise.
Allow yourself some flexibility on the weekends or at special events. There are always going to be times where you want to eat a little extra. But just try to keep it under control and choose your food and drinks wisely. Sometimes it is worth it (luscious homemade chocolate cake) and sometimes it is not (soggy cold fries).
Keep tracking. I find it much harder to binge when I am plugging my food into My Fitness Pal. Accountability is the weight loss king (or queen) – remember that.
Helpful links
# 3 You think you are eating healthy
When I began my weight loss journey and started to track my food I was totally shocked with the amount of calories I was eating. The first day I clocked in over 3000 calories. I could not believe it. Honestly I thought I was eating healthy. I did not eat fast food or drink soda or anything of the sort. But I was eating too much and a lot of processed junk. These two together, plus my lack of exercise, were the reasons I gained over 50 pounds.
I also fell into the "diet food" trap. When I would get motivated to lose weight I'd run out and stock my freezer with lean cuisines and weight watchers frozen meals. Then I would stock my pantry with "diet" granola bars, snacks, and everything else. My entire kitchen was stocked with what I thought to be healthy food. But what I found was that food did not satisfy me or fill me up and when it was gone I would just order out cause I could not be bothered with cooking. It was truly a vicious cycle.
It wasn't until I started eating clean foods and cooking for myself did I understand the true meaning of healthy eating. When you fill your body with nutritious wholesome food you feel better, look better, and overall perform better.
Also, I know I have mention this a few times already but I am going to say it again. Track your food. This is so important because even though you may be eating healthier foods you can still be eating too much. Too much food – regardless if it is healthy or not – will cause the pounds to come on. I see a lot of people say that if you eat clean you don't need to track calories but I respectfully disagree. I think when you are starting you need to have that structure until you understand and get your portions under control. Once that happens you can pull back again. However, I will say whenever I have gotten off track one of the first things I do it go back to tracking. Works like a charm every time.
Helpful tips:
Do a food overhaul. If you have not taken a real look at the food you are eating on a daily basis then don't assume you are eating healthy.
The quality of the food you eat matters. When you eat real minimally processed food you will feel satisfied much longer.
Portion and calories also matter. Don't get caught up in the "it's healthy" so I can eat as much as I want. Too much food is still too much food.
#4 Not prepared
I can almost guarantee that if I do not plan and prep my meal and snacks ahead of time I will most certainly eat junk – never fails. One of the worst feelings in the world is sitting at my desk and being hungry with no healthy food options available. I start to get anxious and desperate because I am hungry and know sugary fattening processed vending machine junk or starving are my only two options. I am sure you can relate. Therefore, in my experience, the best way to make sure you eat healthy foods is to have them ready when you need them. This goes for when you are home and when you will be out of the house all day long. Taking a little extra time on the weekend and/or at night to prep meals for the next day will help immensely with developing healthier eating habits.
Helpful tips:
Create a weekly menu plan and grocery list. Make sure to save them because you can use them again especially on weeks you don't feel like putting together something new.
If you hate menu planning consider checking out a menu planning service like emeals or Once a Month Meals. Both of these service are awesome, inexpensive, and provide you with menu plans and grocery lists. Basically they do all the work for you.
If you like to menu plan but feel unorganized with recipes then check out the service Plan to Eat. I love this service because you can plug in your own recipes and recipes from the around the web. Then you can create a menu plan and grocery list based on your recipes. And what I love the most is you can input or import all the nutritional information, which then shows up, in your menu plan. By doing this you are essential creating your own weight loss menu plan.
Helpful links:
#5 Depending on willpower instead of being disciplined
Willpower is a word often used when we talk about changing our eating habits. However, in my experience and that of many others who have sustained their weight loss, creating healthy eating habits is about being intentional and disciplined with your food not constantly having to tell yourself no. When you are disciplined you are creating a lifestyle that is supportive of your eating habits. Therefore, you take the time to think about and plan your meals in advance. Willpower should be reserved when you are in an environment you do not have control over. For example, when people bring donuts into work, you are at a party, or something of that sort.
Helpful tips:
Do not bring junk food into the house. I think it is totally fine to splurge once in a while but if you cannot resist pretzels and chocolate – like me – then do yourself a favor and keep them out of your environment.
Always have water or healthy snacks on you. A lot of times when you are hungry you might just be dehydrated. Try drinking some water before eating, wait 20 minutes, and see how you feel.
Plan out your meals. I know I say this ALL THE TIME but trust me you will thank me for it.
If you find that you need extra willpower when heading to restaurants then take some time to put together a restaurant eating strategy, especially if you go out often.
I hope you find this information helpful as you start to create healthier eating habits. What have been your biggest struggles with creating healthier eating habits?